Along with being a vibrant, youthful city boasting an incredible food scene, fascinating history, blonde beaches and centuries-old architecture, there's yet another reason to visit Tel Aviv: it's the perfect base for exploring Israel.
Think of Tel Aviv as a hub, home to the main international airport, train stations connecting it with cities throughout the compact country, and quick access to the smooth highways for road trippers. There are also plenty of operators in town who can organize Israel tours for those who prefer a guide.
Famous spots like the Dead Sea, Masada and Jerusalem are reachable in just an hour or two, which makes it easy to add to your Israel experience while still making it back to the city in time for dinner. From hiking to waterfalls and UNESCO World Heritage Sites to exploring the ruins of opulent palaces perched high above the desert, here are some of the best day trips from Tel Aviv.
QUICK FIND:
It's very important to note that the conflict between Israel and Palestine, which has been happening for decades, is constantly in flux which can sometimes lead to high tensions or dangerous situations in the country. Tourists taking part in one of the organized Tel Aviv tours into Palestinian cities like Jerusalem and Bethlehem typically won't encounter any violence or issues, but travelling unaccompanied into settlements or areas like the Gaza Strip or West Bank is not recommended. Be sure to exercise caution at all times, particularly around demonstrations and signs of police or military activity. In the event an air raid siren goes off, the concrete stairwells found in hotels are typically the safest place to go.
On the Israel side:
Ein Gedi Nature Reserve
This oasis on the eastern edge of the Judean Desert is one of the best spots for hiking in Israel, beloved for its variety of serene nature walks that have a big payoff with minimal effort.

One of the most popular jaunts in Ein Gedi for day-trippers is the Lower Wadi David trail, where a well-marked pathway winds through an arid landscape of acacias, jujubes and thorn trees accented by freshwater pools and springs, ending at David's Waterfall (named for King David, who once visited this breathtaking spot).
It only takes about half an hour to get to the gorgeous falls which are one of the most visited in the entire country, and those who take the longer Upper Wadi David trail will also enjoy the karstic Dodim's Cave, archeological sites like the Chalcolite temple, and views all the way out to the Dead Sea.
Making the trip out to Ein Gedi is one of the best day tours from Tel Aviv for green thumbs, as it's home to the densest concentration of tropical plants in Israel including rare trees like the Moringa peregrina and Maerua crassifolia. Animal lovers will want to keep an eye out for wild goats, rock hyrax, red foxes and even hyenas, wolfs, or the elusive leopard.
Masada National Park
Located just a 15 minute drive from Ein Gedi, the plateau of Masada is known for its unusual shape–a result of it detaching from the fault escarpment, surrounded by Wadi Ben Yair and Wadi Masada, creating somewhat of a natural fortification rising 450 metres above the Dead Sea.
Sensing an opportunity despite being in the middle of an unforgiving desert that typically only gets 30 mm of rain per year, King Herod ordered that a palatial fortress be built among the limestone to serve as his luxury getaway; think Las Vegas, but 2000 years ago.
Thanks to the site's UNESCO World Heritage List designation, many of the ruins remain intact to this day including a synagogue, the Tombs of the Zealots, storerooms, a siege wall and the Northern Palace, built precipitously into the side of the mountain so Herod could enjoy spectacular views from the comfort of his bedroom.
Masada also holds a place in history as the spot where the last bastion of Jewish freedom fighters fell against the Romans at the end of the Second Temple period, in a bloody siege that lasted months. When it became clear to the rebels that the forces were closing in, the nearly 1000 residents decided it was better to take their own lives rather than live as Roman slaves.
Only a few women and children survived, and today Masada is considered a Jewish cultural icon and symbol of humanity's struggle for freedom from oppression, making it one of the more notable Israel day tours.
Book a day trip to Masada:
To get up to Masada, visitors can either hike about 40 minutes up the so-called Snake Path, or take a quick cable car ride to the top where they're greeted with sweeping views of the Dead Sea and craggy Mount Eleazar. Be sure to budget at least a couple hours to wander through the sprawling site, scamper over to the lookout points, and soak up the history.
Globe Guide tip: If you're an early bird, book a sunrise tour of Masada
The Dead Sea
A Dead Sea dip should top your list of must-take day trips in Israel–after all, the feeling of weightlessness you'll experience is the next best thing to being in outer space! The phenomenon is thanks to the water's high salinity, which means literally all you have to do is get in the water and without even trying you'll find yourself floating, which is a mind-boggling feeling.
Aside from the fun of it, a visit to the Lowest Place on Earth (400 metres below sea level) does wonders for your skin, since Dead Sea minerals like sodium, potassium and magnesium are renowned for their healing properties. Go for a salty swim, then coat yourself in the warm, thick mud found around the shoreline and let it dry before rinsing off–your baby-soft skin will thank you!
READ MORE: The do's and don'ts of swimming in the Dead Sea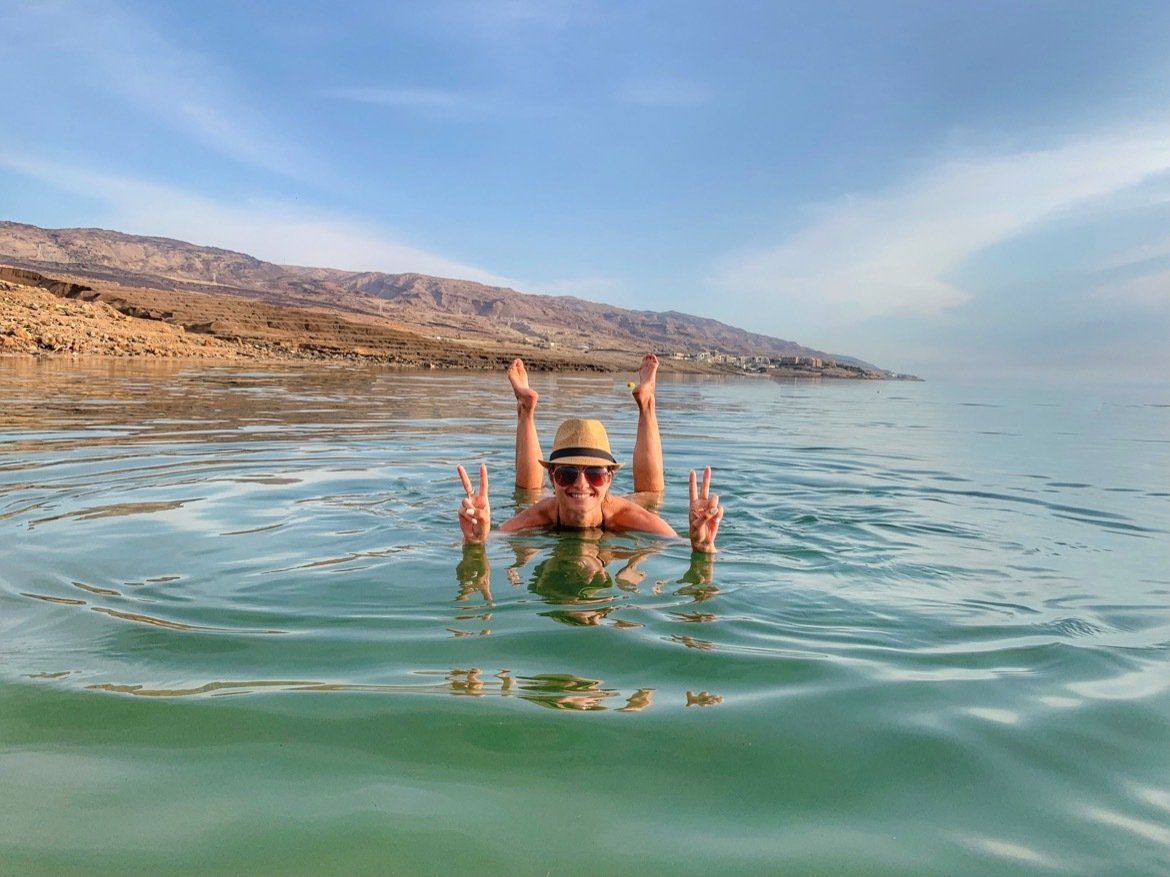 Globe Guide tip: Not all Dead Sea beaches are created equally. While some feature peaceful, sandy shores and amenities like loungers, umbrellas and juice bars (high five to Kalia Beach!), others (find out which ones here) are a tacky mess with endless queues, scarce food options and dirty bathrooms, so choose your Dead Sea tour from Tel Aviv wisely.
Check out these Tel Aviv to Dead Sea tours:
Haifa
A trip out to picturesque Haifa is one of the easiest day tours from Tel Aviv, as it's just a one hour train or bus ride between them.
Nestled on the slopes of Mount Carmel along the pretty Mediterranean Sea, the coastal city is one of Israel's largest, best known for The Bahá'í Gardens. Also referred to as the Hanging Gardens of Haifa, more than half a million people visit the UNESCO site each year, where a series of 19 lush, terraced gardens slope along the northern side of Mount Carmel up to the golden-domed Shrine of Báb which was the final resting place of the Prophet-Herald of the Bahá'í Faith. The perfectly-manicured flower beds, hedges and pathways frame the city, revealing postcard-worthy views across the sparkling bay towards 'Akko and the Galilee Hills.
There are a few other attractions worth checking out during a Haifa tour, most notably:
The Cave of Elijah, a Jewish pilgrimage site where the prophet Elijah was said to have taken shelter
Mount Carmel National Park, which is the largest national park in Israel at over 10,000 hectares and a protected UNESCO biosphere reserve. Trails wind among pine, cypress and eucalyptus forests, and archaeological sites where there's evidence that humans lived within the caves more than 100,000 years ago.
Relaxing on the sandy shores of Dado Beach or Carmel Beach to soak up the sun and wander along the palm-fringed promenades.
Globe Guide tip: If you have a full day, it's worth stopping in the nearby ancient port cities of Ceasarea and Acre (Akko), and ducking into the caves in Rosh Hanikra as part of your tour from Tel Aviv. Many organized excursions combine all these stops, which includes a private guide and entrance fees. Click here to book
Nazareth
Follow in the footsteps of Jesus and visit Nazareth, an ancient city that's home to many places named in the bible.
Considered one of the top Israel day trips for pilgrims, important religious sites include:
The Basilica of the Annunciation: This towering, two-storey church is one of the top things to see in Nazareth, as it was built right over the cave where the Virgin Mary is said to have lived, and where she received the news from the archangel Gabriel that she would be giving birth to Jesus. It's decorated with massive, limestone facades, statues of both Mary and Jesus, and features a large viewing platform looking down at the grotto.
The Church of St Joseph: Slightly cozier and much more understated than the Basilica of the Annunciation, this church was built above what may have been Joseph's workshop, and visitors can head right down into the caverns for a peek. Some believe the cave system may have been the holy family's home at one point.
Church of the Multiplication of the Loaves and Fishes: The site is exactly what it sounds like: the spot where Jesus is said to have fed five-thousand people with just two fish and five loaves of bread. The 4th century church features well-preserved Byzantine mosaic decorations featuring flora and fauna from the surrounding area, including an intricate one near the altar commemorating the miracle. (Note: the church is located just outside of Nazareth, in Tabgha.)
Globe Guide tip: Be sure to allot plenty of time to properly explore the sites in the Nazareth city centre, since traffic can be tough to navigate and parking is almost non-existent in the historic area (remember, this is a place that's been around since long before civic planning existed!). Also brace yourself for crowds during high season, as the city is a popular stop on holy land tours.
Yardenit: Baptism in the Jordan River
If you've ever wanted to get baptized, you might as well do it in on a trip to Israel in the same waters that Jesus did!
Every year, more than half a million people visit Yardenit, a tranquil, holy site on the banks of the Jordan River where Jesus is thought to have been baptized by John the Baptist. A verse from Mark's account of it (translated in over 80 languages) lines the pathway leading towards through the beautiful visitor's centre toward the emerald water, and there are a handful of lookout points offering a vantage point of the spiritual setting below which is framed by lush foliage and towering palms.
Pilgrims can don a flowing, white robe (available to rent or buy on site–swimsuits must be worn underneath) and head down to the waterfront for an unforgettable baptism ceremony, either self-led or with the assistance of a pastor (which can be organized by Yardenit in advance). There are a dozen different baptismal pools on site, and the service includes a baptismal certificate, towel and entrance to the showers and change room facility.
Capernaum
Continue your Holy Land tour in Capernaum, nestled on the shores of the Sea of Galilee (which is actually a freshwater lake also known as Lake Tiberias). The historic fishing village dates back to the Bronze Age, and is best known as the site of the House of St. Peter where Jesus is said to have lived for a short time and performed the miracle where he cured Peter's mother of a great fever.
Today, visitors can wander through the beautiful, well-preserved Byzantine ruins of the village, 4th century synagogue and church that remain to this day, as well as the new synagogue that was built right over the old one to preserve the history below.
Book these Holy Land tours:
Jerusalem
Along with being one of the oldest cities in the world, Jerusalem is also regarded as holy by three different religions. The walled town is absolutely spellbinding to walk through, particularly in the evening when lanterns cast a soft glow over the stone streets that wind through the Jewish, Muslim, Christian and Armenian quarters.
The souks and markets overflow with traditional handicrafts and delicacies, the sound of meat sizzling on a grill and merchants hawking their wares flow through the covered passageways, and it's not uncommon to turn a corner and happen across a haunting music performance.
Most Jerusalem tours start at Damascus Gate, a grand entrance dating back to the 1500s that's marked by stone turrets leading straight into a bustling bazaar. From there, get lost the maze of laneways that wind through the old city, ducking into side streets concealing unexpected discoveries like an Armenian monastery, gypsy quarter, Ethiopian church and more falafel stands than you could imagine even existed.
There are three major sites which are not to be missed while visiting Jerusalem:
Dome of the Rock: This iconic Islamic shrine built on Temple Mount is famous for its glittering golden dome, which has such a lustre it can be seen from as far away as the outskirts of Bethlehem. Considered a holy site for both Jewish people and Muslims, it dates back to the first century and the walls were built around Mount Moriah where Abraham is said to have offered his son Isaac as a sacrifice, and Muslims believe this is where Mohammed made his 'Night Journey.' Today, visitors can explore Temple Mount by wandering around the expansive plaza surrounding The Dome of the Rock, but only Muslims are permitted inside the shrine.
The Western Wall: Also known as the Wailing Wall, this stone site is the western support wall of Temple Mount, which was ordered built by King Herod in 20 BCE during the expansion of the Second Temple. Jewish people gather here to recite prayers, sometimes writing them down on slips of paper which they slide into cracks in the wall. While men and women have separate sections, the wall is open to everyone all day long, year-round, and visitors are asked to dress conservatively.
Church of the Holy Sepulchre: The site of Jesus' crucifixion, burial and resurrection, this grand, holy site holds the Stone of Anointing where His body is said to have been anointed before burial, a chapel enclosing the Holy Sepulchre, and the opulent Altar of the Crucifixion.
Globe Guide tip: Avoid going to Jerusalem on the weekend when Jews observe Shabbat, as almost everything in the usually lively Jewish Quarter will be closed from around sundown on Friday through Saturday evening. Double-check admission times for The Dome of the Rock before heading over; it has very specific opening hours for tourists and non-Muslims, closes for many holidays, and only Muslim men are permitted inside for prayers on Friday and Saturdays. Be sure to line up early, as queues can be enormous.
Bethlehem
While Christmas carols refer to this special spot as the "little town" of Bethlehem, there's so much to explore in the birthplace of Jesus that it's worthy of much more time on an Israel itinerary than just a day trip from Tel Aviv. The main spots to check out during a Bethlehem visit are typically:
Church of the Nativity: This massive, fortress-like church overlooks Manger Square, and was built on the site Jesus is said to have been born. Spoiler alert: it wasn't actually in a manger, it was a cave! The interiors of the church features 4th century mosaics, and encompasses Greek-Orthodox, Catholic and Armenian denominations which makes for an eclectic mix of decor. Head down to the Grotto of the Nativity where there's a 14 point star marking the place where Mary gave birth, and the manger where baby Jesus was placed.
The Catholic Church of St. Catherine: Located beside the Church of the Nativity, it's believed this is where Jesus came to Catherine of Alexandria in a vision and predicted that she would die a martyr.
Chapel of the Shepherd's Field: A rather underwhelming site (let's face it, this is basically just an empty field), it's nonetheless important to pilgrims as the place where the angels announced Jesus' birth to the shepherds. There is also a small church on site.
READ MORE: 10 authentic things to do in Palestine
Globe Guide tip: If you plan on visiting the Church of the Nativity, pack your patience. During high season (March, April, October and November) the line to get down into the cave can take more than three hours, so plan your time accordingly or visit during a different month. It's also worth noting that there can be so many people jockeying for position inside the Grotto the Nativity and you'll be hurried along, making for anything but a religious experience.
One of the best things to do in Bethlehem is head to the Israeli West Bank Barrier, to get a greater sense of the conflict between Israel and Palestine. The enormous, concrete wall was ordered built by the Israeli government following a series of attacks by Palestinians, and it effectively keeps Palestinians in their own territory save for those permitted to travel past the security checkpoints with a special permit.
Despite construction of the wall being met with widespread outcry and the International Court of Justice declaring it illegal, it still stands today.
In Bethlehem, parts of the separation barrier have been transformed with street art illustrating the artists' feeling of oppression, and sharing messages of peace and hope for resolution. It's fascinating to walk along and gain new insight into the impacts of the conflict, and see a different perspective than you would likely get during one of the typical day trips from Tel Aviv.
Best hotels in Tel Aviv, Israel
Link Hotel & Hub: This inspired property which is part of the popular Dan Hotels chain opened in late 2018, and does an exceptional job of creating a welcoming space where guests actually want to hang out. "The Hub" is anchored by a kitchen and bar that's great for grab 'n go food, which is surrounded by a pool table, video games, plush loungers and large workspaces that encourage collaboration and interaction among guests.
Perfect for millennials, business travellers and longer-term stays, on-site amenities include a fantastic gym, spa and free laundry (!!). The friendly staff have an 'everyone does everything' attitude, and are always happy to help with anything from restaurant recommendations to navigating train schedules or helping book Tel Aviv day tours.
Located within easy walking distance of the arts district and hip Rothscild Boulevard, all public spaces and rooms feature vibrant, contemporary street art commissioned from local artists in a nod to Tel Aviv's creative energy. The sleek, modern rooms are outfitted with mood lighting, air conditioning, a small fridge, workspace, luxe linens and rain showers. Click here to book
Globe Guide explored Israel as a guest of Tourist Israel, The Link Hotel & Hub and the Palestine Ministry of Tourism & Antiquities. As always, hosts have no editorial influence on articles.
YOU MIGHT ALSO ENJOY:
SHARE THE PINSPIRATION! CLICK THE IMAGES BELOW TO PIN:
This post may contain affiliate links, which Globe Guide receives compensation for at no additional cost to you.