It's hard to imagine there could be an easier way to see the world than by booking a vacation with Viking Cruises. How else could you possibly wake up in a brand new city each day, explore it with insider tips from an experienced local guide and enjoy gourmet meals, all without those pesky travel side-effects like packing and unpacking, navigating airports and coordinating an outrageous number of hotel stays?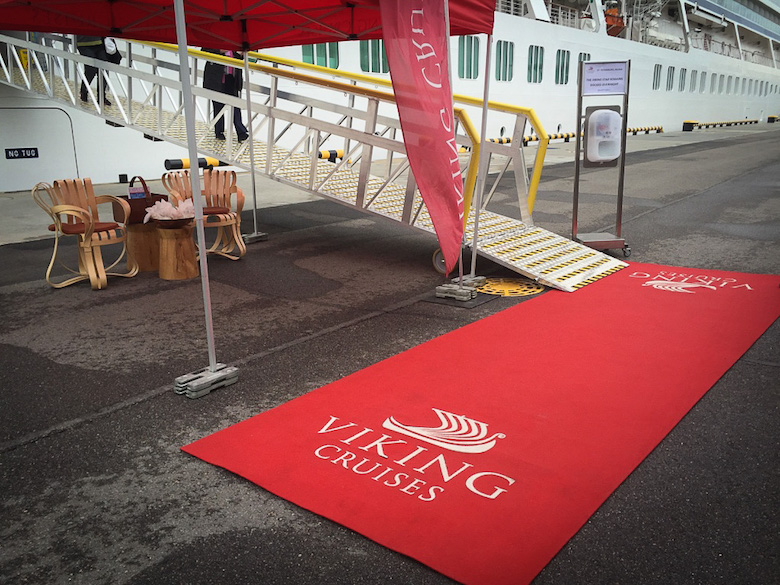 I've been fortunate enough to try out two of the company's offerings: a river cruise along the Danube to visit Europe's famous Christmas Markets, and a jaunt around the Baltic Sea on one of their dazzling ocean liners, the Viking Star. While Viking Cruise staples such as impeccable customer service, fantastic food, luxury staterooms and all-inclusive pricing are the same for both their river and ocean cruises, there are some major differences between the ships which make for a completely different experience depending on which one you choose for your getaway. Here are just a few of the differences between a Viking River and Viking Ocean cruise.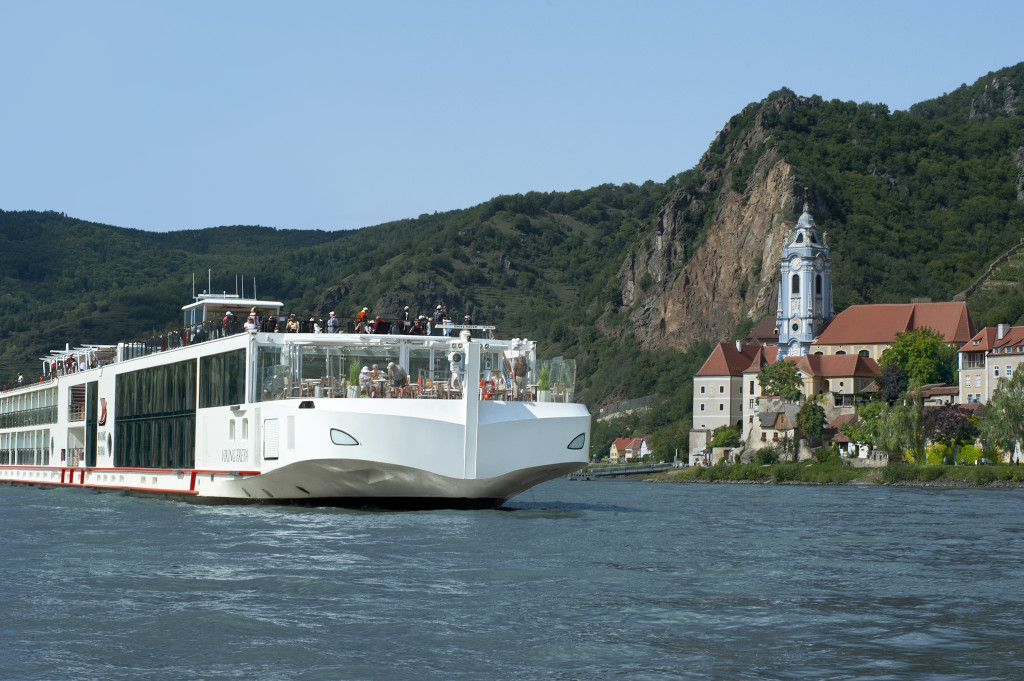 The Size
Both ships are elegantly-appointed, with all staterooms boasting ample storage, bathrooms with in-floor heating, and large windows that let the sunshine stream in while leading to private balconies. However, that's pretty much where the similarities end. Viking's river boats are intimate, and with capacity for only about two hundred guests it means everyone gets to know each other quickly. In contrast, Viking's ocean liners hold 930 passengers, spread out over multiple decks. While that may seem like a lot, the ship is still small enough to allow it to navigate into ports that mega-cruise ships can't access—plus, who in their right mind wants to be stuck on a boat for a week with 3,000+ people?

While Viking does a great job managing guests on the ocean cruises so it never seems too crowded, there's something rather charming about making fast friends on their river cruises that's particularly memorable.
The Amenities
You've probably realized that a larger ship means much more space, and the ocean liners make the most of it. On board, you'll find free laundry facilities (you don't even need to bring detergent), a movie theatre, a well-stocked gym to work off those extra calories you're sure to consume, a salon, a few boutiques and a spa.

The spa is truly in a league of its own, offering services like massages and facials alongside a steam room, saunas, hot tub, plunge pools and even a snow grotto. Yes, you're actually encouraged to detox in the steam room or sauna, before hopping into the Snow Grotto to literally cool off! It's designed around a Scandinavian concept of alternating between hot and cold treatments, which is said to benefit the circulatory system and is undeniably refreshing.
There's another special spot on the ocean liners that the river boats don't have: the infinity pool. Positioned on the hull of the ship stretching out toward the sea, the turquoise pool and adjoining hot tub are wonderful places to soak as you pull away from port, enjoying the scenery stretched out below.


No matter which boat you pick, you'll find common areas such as a business centre with computers, bars to enjoy an evening cocktail, a library stocked with classic novels and board games, and a top deck where you can get in on a game of shuffleboard or simply relax and watch the sunset.
The Ports
One of the best things about Viking Cruises are how port intensive their itineraries are, which are designed to maximize the time that guests have to explore each destination. One thing you'll find on an ocean cruise versus a river cruise is there's occasionally a "day at sea" built in, as the ship travels navigates a longer stretch of sea (say, between Estonia and Poland on the Viking Homelands trip). Fortunately there's so much to do on board that you'll likely enjoy the day of forced relaxation—breakfast in bed or a spa day, anyone?
Another factor to consider when choosing an itinerary is what you'll see while sailing. The river cruises have the advantage of sailing on narrow water bodies, meaning excellent views of things like towering castles or vineyards bursting with grapes right outside your window. As ocean cruises are typically in open water, there may be long stretches where you see nothing but waves all around. On that note, those prone to seasickness will be particularly appreciative of the river cruises, as there aren't any waves!
The Dining Options
If there's one certainty on a Viking cruise, it's this: you'll never go hungry. Being greeted with bubbly champagne as you board the ship, returning from a late-night tour to find sandwiches in your stateroom, or marvelling that the sushi chef has prepared a plate of your favourite sashimi in the off-chance you wanted some for dinner are just some of the ways the crew goes above and beyond. Every meal seems to be an event, whether its the overflowing breakfast buffet with custom waffle and omelette stations, or a Bavarian-themed dinner as you sail through Germany.

While the food quality is the same on each ship, the way meals are served on each is very different. On river cruises everyone eats each meal together in the dining room at set times, breaking bread at large tables that are a seating free-for-all. Though introverts might not initially be crazy about being forced to dine with perfect strangers, it's actually a fantastic set up for getting to meet other people on the ship and trade stories—and isn't that half the fun of travelling? The format does mean there isn't much flexibility in regards to timing, which can be a bit awkward for those running late for dinner.

In contrast, the ocean cruises have so many different dining options that you never even have to leave your room to eat. That's right—there's 24 hour room service! Other options are the buffet style World Cafe, The Restaurant which offers sit-down service, the Wintergarden for afternoon tea, as well as Manfried's and the Chef's Table where you can reserve a spot at in advance to enjoy Italian fare or a tasting menu complete with wine pairings. While you can easily get a table for two at all of the above eateries, they're close enough together that most guests end up chatting with the table next to them at some point.
The Entertainment
No matter which ship you're on, you can expect some form of entertainment every single night which is relevant to the destination—say, a belly dancer on the Egypt cruise, or opera singers while sailing past Vienna, Austria. Guests on ocean cruises can also enjoy a nightly show from a dedicated group of entertainers, who perform tributes the likes of ABBA and the Beatles along with musicals.
Both ships also have port talks, where speakers are brought on to provide context to the destinations, such as a professor of Russian history or a wildlife expert. The only major difference is that the talks are recorded on the ocean cruise ships, meaning you can watch them from the comfort of your stateroom if you're so inclined.
The Planning Process
Type-A personalities will appreciate how organized Viking Cruises is. Prior to the cruise, all guests are mailed a box containing things like cruise documents, luggage tags, information about what to expect on board, tour information and destination overviews. Those reserved on a river cruise will even get a printed book detailing the history of the river they're sailing on, including kilometre-by-kilometre details about what they'll see along the way. Once they board the ship, guests can either choose to simply show up for each day's included walking tour, or pay for a spot on one of the optional tours.
The planning process is a bit more rigid for those heading on an ocean cruise. A few months before (depending on stateroom class), guests are directed to the My Viking Journey website, which is a booking interface where guests can pre-schedule and pay for every tour they'll like to go on, along with spa treatments and restaurant reservations. While it's a good idea to reserve as much as possible in advance to ensure there's availability, everything can also be booked on the ship upon arrival.
Have you been on a Viking River or Viking Ocean cruise? Do you have a preference for which one you prefer? Share in the comments below!

YOU MIGHT ALSO ENJOY:

19 reasons to book a Viking River Cruise
5 important tips for booking a cruise
On a boat: How to save money on your cruise

5 things to know before visiting a European Christmas market
Globe Guide experienced the cruises in partnership with Viking Cruises. As always, hosts have no editorial influence on articles.
SHARE THE PINSPIRATION! CLICK THE IMAGE BELOW TO PIN: