Have you ever had a lacklustre time in a destination, and felt like you needed to go back to try and figure out why people think it's so great? Unfortunately that was my experience with my trip to Manila Philippines, after staying there at the tail end of a spectacular few weeks exploring the islands of Boracay and Bohol.
I guess the trouble with our Manila trip started when our cab driver from the airport had a ridiculously hard time finding our hotel, and drove in circles before we finally spoke up over fears he was simply trying to run up the meter. After a few phone calls he finally 'found it,' and it turned out we had been about a block away nearly the whole time.
While there were no complaints at all about our hotel which was located in a 'good' area near the popular shopping centre Robinsons Place Manila, that's about where the enjoyment ended.
Fresh off the heels of several weeks backpacking southeast Asia, we felt well-travelled enough to explore Manila on our own, but began seriously doubting that decision as we kept stumbling into suspect alleys that were rather unnerving. While we were just a couple of blocks away from the main thoroughfare, the unwelcoming looks we got from those holed up in the ramshackle buildings we passed made our spidey-senses tingle, and we couldn't get out of there fast enough.
In an effort to calm our nerves and build up my mom's souvenir mug collection, we headed to a nearby Starbucks. That's when we were accosted by begging children, who were relentless in following us down the street with their hands stretched out while their parents silently watched just steps away.
It broke my heart that the beautiful little children spent their days harassing foreigners for change alongside a busy roadway, instead of playing games or doing schoolwork.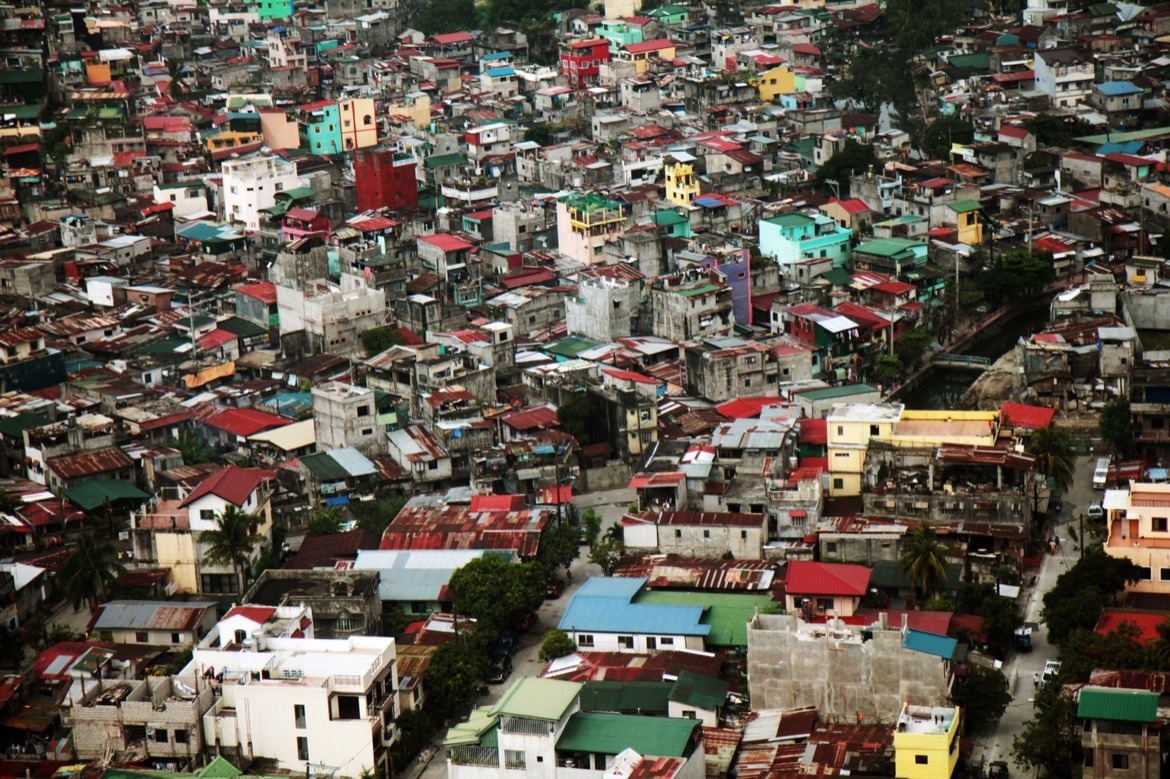 We continued on to Rizal Park, which is a beautiful area dedicated to Filipino hero Jose Rizal that's considered one of the top places to go in Manila. Monuments dot the sprawling lush green lawn, and you can often find men in the middle of a chess game or people strolling through the park.
But as I took photos, the extent of the city's poverty became even clearer. Some smiling boys happened to be in front of a monument I was taking pictures of, and when I put my camera down and began to walk away they followed us demanding money. It seemed that no matter where we went, we were purely seen as a payday.
We found some relief when we stumbled into the Orchidarium and Butterfly Pavilion, which is full of fragrant flowers including—you guessed it, orchids—as well as little ponds and a 'Trellis of Waves' made of hanging vines. The quiet space was a peaceful respite from the chaos of the city, as well as the soaring heat, and made for a nice stop on our Manila itinerary.
After enjoying the gardens then passing the grand National Museum of the Philippines, we decided to forgo the walk back in lieu of a typical Filipino experience: hopping on a tuk-tuk. The brightly-coloured electric trikes grabbed my attention, and I thought it would be a fun way to get back to the hotel. Well, I'll say this: it was memorable.
My heart pounded as our driver made quick maneuvers through the clogged traffic, having countless near-misses with huge trucks and Jeepneys before it inevitably happened: he actually hit someone! Fortunately we weren't going too quickly and the poor pedestrian was only bruised, but that was enough to convince me that Manila was officially not my favourite place in the world.
It pains me to share that I had such a negative experience in Manila, as many of the Filipinos I met during my time in the Philippines were incredibly sweet, and who am I to judge their country?
There is no question that for every story like mine, you'll find someone else who thinks the city is fascinating and enjoys the fast-paced environment and culture.
That being said, I can only speak to my experience, and as much as I fell in love with the Philippines' stunning islands, I'll likely skip the stopover in Manila next time.
Manila day trips
The good news is there are some awesome Manila day trips you can book to enjoy an incredible experience away from the city. Here are a few to consider:
YOU MIGHT ALSO ENJOY:
This post was originally published in August 2015 and updated in February 2020
SHARE THE PINSPIRATION! CLICK THE IMAGES BELOW TO PIN:
This post may contain affiliate links, which Globe Guide receives compensation for at no additional cost to you.