Passau, Germany is on the confluence of three rivers, borders both Austria and Czechia and is steeped in history— yet chances are you've never heard of it.
Admittedly, I didn't know it even existed until I was invited on a Viking River Cruise along the Danube which included a stop there. Silly me, I didn't even think there'd be all that much to see.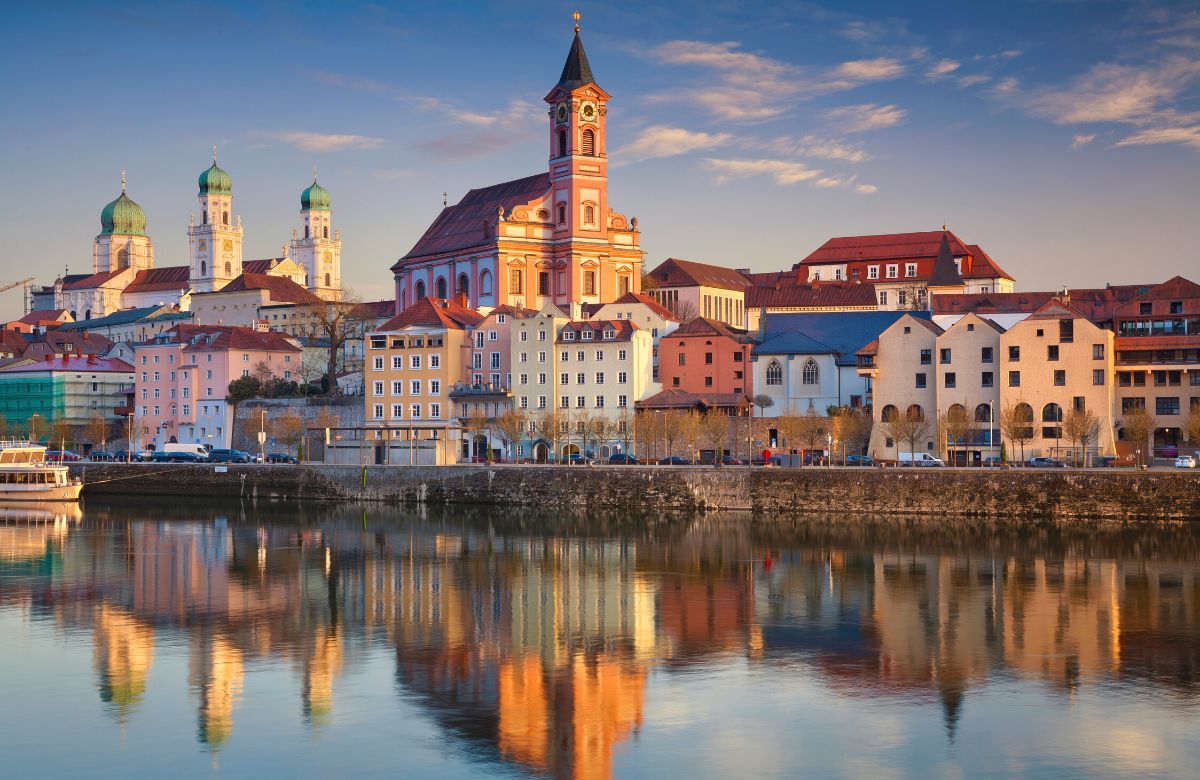 Oh, how wrong I was. Turns out there are plenty of great things to do in Passau, and it's truly just the cutest (as many off-the-beaten path destinations are).
I'm still trying to figure out why it cast such a spell on me, but in the meantime here's what to do in Passau if you're lucky enough to find yourself here.
Visiting St Stephen's Cathedral
St. Stephen's Cathedral dates back several centuries, and I kid you not is the most stunning church I have ever set foot in. And I've been to Notre Dame.
Its pure white facade and twin green domes look somewhat unassuming from the outside, but the real masterpiece is the interior.
St. Stephen's nearly burned to the ground during a devastating fire in 1662, and was painstakingly rebuilt by the Italians over the next 50 years. The result is a stunning baroque masterpiece, including beautifully painted frescos, towering columns, intricate sculptures and a gold gilded bishops stand.
I sat quietly on a pew trying to take it all in, noting the fragrant incense and how perfectly maintained everything around me was. That shouldn't come as a surprise, as Passau residents must pay an additional eight per cent of their income tax to the diocese, or essentially risk being excommunicated.
However, St. Stephen's does have one other revenue source: its famed pipe organ.
The instrument has nearly 18-thousand organ pipes and 233 stops, making it the world's largest cathedral organ. From April to October everyday except Sunday, there are performances which show off its incredible acoustics.
That alone would make a visit to Passau memorable, but since it was too cold for the organ to play when I visited during the winter I didn't get to listen. So why did I love Passau so much? Maybe it was…
Eating fresh baked gingerbread
…the heavenly smell of fresh baked gingerbread, which wafted over me as I neared Simon Confiserie. Founded back in 1903, the family-run bakery is famous for its lebkuchen, which consists purely of honey, flour and spices.
On a brisk December day, we were greeted with warm smiles and steaming mugs of glühwein as our group huddled together to watch father and son demonstrate how they make the traditional treat.
Different varieties of the cookies were passed around for us to nibble on, including a batch topped with marzipan which turned out to be my favourite.
After filling our bellies with sweet treats, we headed inside to Cafe Simon, which was packed full of people sipping on espresso while tucking into cakes and strudels.
Strolling by the glass display cases showing off the mouth-watering desserts, I had to restrain myself from grabbing full tins of the delicious gingerbread to take home.
So since I didn't actually gorge on gingerbread, what was it about Passau that so enthralled me? Maybe it was…
Learning about Passau history
…the fact that for such a small city, Passau has a rather fascinating, slightly dark history.
Aside from the aforementioned great fire, it's also been badly affected by flooding. Many of the buildings have markings demonstrating how high the water levels have been, with 2013 being one of the worst years when the river rose about 40 feet higher than usual.
The Old Town
Fortunately, the Old Town has still maintained its charm, and the winding, cobblestone streets take visitors through underpasses and archways, alongside baroque churches, the town hall, shops, cafes and homes.
Much of the Altstadt is pedestrian only, and people tend to conglomerate in areas like the square in front of St. Stephen's.
This means there are many occasions when one finds themselves all alone, affording a perfect opportunity to soak it all in.
Links to Hitler in Passau
The waterfront affords a glimpse of a piece of history that Passau isn't proud of: its links to Adolf Hitler. The Nazi-leader lived in a red-roofed home near the brewery when he was a toddler, which also marks the spot where history could have been changed forever.
It turns out that when he was a child, Hitler fell into the freezing river and was saved from drowning thanks to the brave actions of a neighbour who dove in to rescue him.
It's easy to imagine how conflicted that Good Samaritan felt decades later, learning who he'd saved from certain death.
Veste Oberhaus
Behind that infamous home, perched high on a hill looking down over the city is one of Passau's most famous landmarks—Veste Oberhaus.
The fortress was built in 1219 by the bishops of Passau, drawing from gothic, renaissance and baroque influences. Today, visitors can hike up the hill, explore the grounds during a guided tour and admire the views from the Linde Battery.
READ MORE: 13 magnificent Bavarian castles near Munich, Germany
But I didn't have time for the walk up, because instead I went…
Go shopping in Passau
…to Ludwig Street in the Old Town which is full of adorable little boutiques selling beautiful home decorations, clothing, and knickknacks like candles and homemade jam.
And who could forget the Christmas markets. Every year, wooden stalls pop up in front of St. Stephen's, selling treats like glühwein, gingerbread (yes, Simons has a stall here too!) and locally made handicrafts and ornaments.
All merchants are required to only sell traditional goods, so you won't find any "Made in China" labels here.
Oh, and let's not forget about the famous half-metre bratwurst. Yes, that's really a thing, and good lord is it ever delicious.
But I only had one bite of bratwurst, so that can't be what made such an impression on me. Maybe it was…
Wander along Passau's waterfront
…the waterfront, where the Danube, Inn and Ilz rivers meet. The phenomenon has earned Passau the moniker "City of Three Rivers," and the perfect spot to see it is about a 20 minute walk from the city centre at what's called Conjunction Point.
The area has green space, a playground and benches, making it a great place to relax.
So why did I love Passau so much?
Maybe, just maybe, it was something as simple as the peaceful feeling I had while standing on the edge of the city, with nothing between me and the still water below, quietly soaking in the amazing view.
Book one of these fun guided tours in Passau, Germany:
YOU MIGHT ALSO ENJOY:
SHARE THE PINSPIRATION! CLICK THE IMAGES BELOW TO PIN: