There's just something perfectly endearing about Halifax, Nova Scotia.
Maybe it's the bustling waterfront that comes alive during the summer months, the energy as young people pour out of the lively bars along Argyle Street, or the fact that the city is steeped in history at every turn. Whatever it is, the maritime city has come a long way since its early days as a trading hub on the Atlantic, and has been charming visitors with its east coast hospitality ever since.
For those making the trip to Nova Scotia's capital, here are the top 10 things to do in Halifax.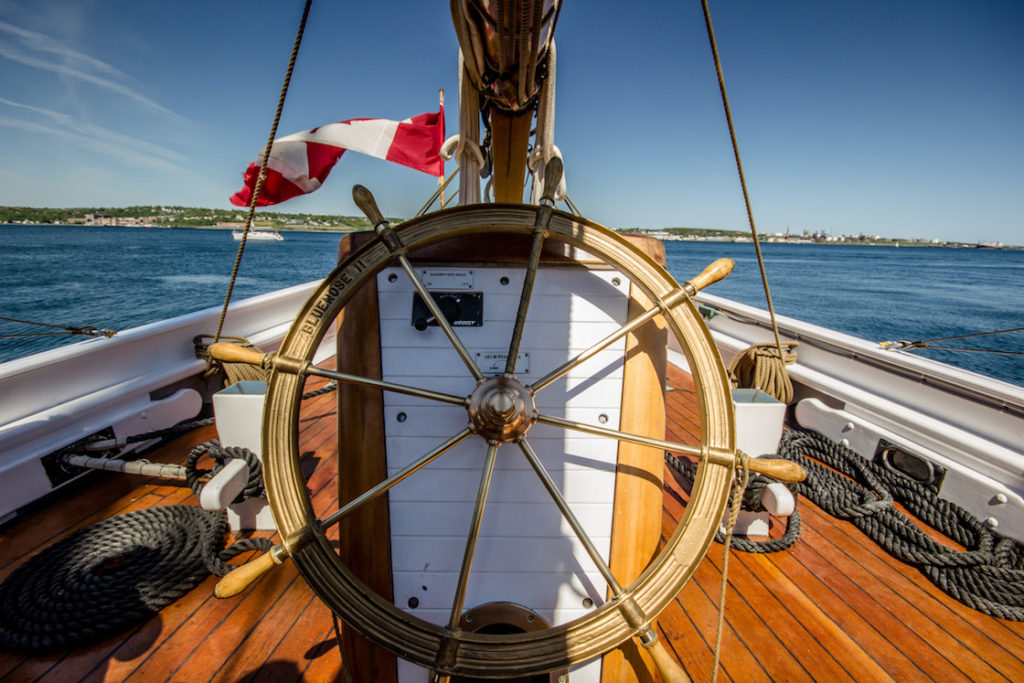 #1: Walk along the waterfront in downtown Halifax
The best way to start a trip to Halifax is by strolling along the four-kilometre Harbourwalk, which winds along the colourful waterfront.
Start off at the Historic Properties, where three blocks-worth of warehouses and Victorian-era buildings dating back to the 1700s have been beautifully restored. Not only do the facades make a nice backdrop, but they also house some of the city's most popular dining spots including Lower Deck, Salty's, Gahan House and COWS Creamery.

Continuing along the wharf, visitors pass an information centre, the harbour where boat tours and whale-watching excursions depart from, and the Maritime Museum of the Atlantic which has a collection of artifacts from the Titanic. Halifax was the closest major port to where the storied ship sank, which is why all of the recovered bodies and wreckage eventually ended up in the city.

The boardwalk ends at the Farmers' Market and the Canadian Museum of Immigration at Pier 21, meaning you can see most of the top Halifax attractions without ever straying too far away from the water.
#2: Book an Alexander Keith's brewery tour
Who likes a little history with their beer? Apparently a lot of people, which is why a tour of the Alexander Keith's brewery is one of the most fun things to do in Halifax.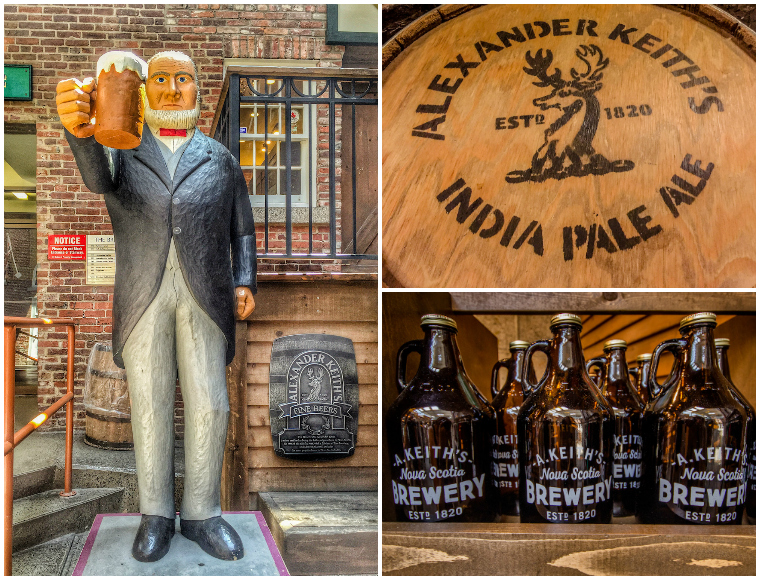 Founded in 1820 by Alexander Keith who served three terms as the city's mayor, the brewery sits on Lower Street just off the waterfront. While production has since moved to a larger location off-site, actors in period costumes take guests around the historical property, outlining the company's history, explaining the brewing process and of course, handing out lots of beer! In true east coast fashion, there's also musical entertainment and stories.

Hour-long tours run year-round, and all ages are welcome. Of course the kiddos can't actually drink said-beer, so they're offered lemonade or iced tea instead.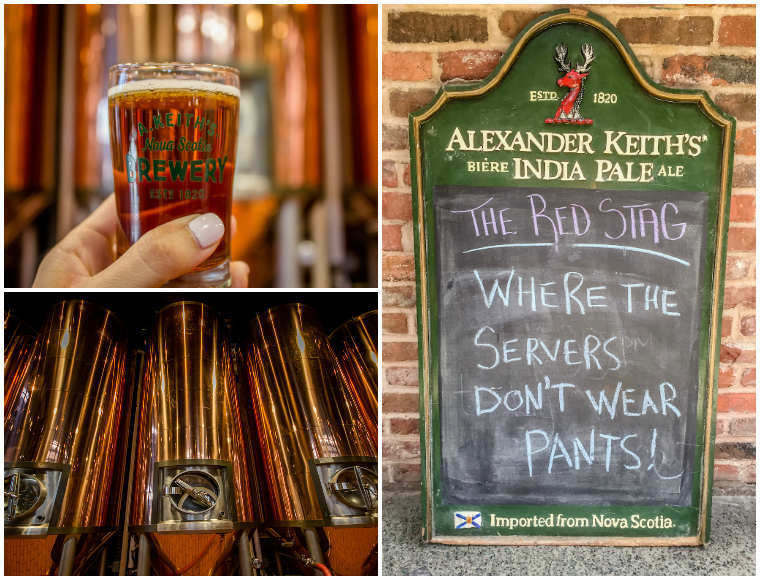 #3: Eat at King of Donair
A favourite of the late, great Anthony Bourdain, dropping into one of Halifax's King of Donair locations to chow down on one of their famous donairs should be one of your first stops in downtown Halifax.
The chain has been serving up their meaty wraps since 1973, and the combination of tomato, onion, meat and a special sauce has since elevated it to legend status in the area. In fact, the chain has experimented with pop-up shops in other areas of the country such as Calgary, where there were so many people rushing to get their hands on one that the lineup wrapped around the block for hours.
Insider tip: Make sure you have lots of napkins on hand!
#4: Enjoy the view from the Citadel
Getting the best view usually means heading up—and in Halifax, that hilltop spot is the iconic Citadel. Built back in 1749 to protect the city, the star-shaped fort overlooks the harbour and is essentially responsible for the founding of Halifax, as the British military was drawn to the easily-defendable perch on what is now called Citadel Hill.
Parks Canada currently operates the popular site, which offers guided tours explaining what life was like in the fort back in the early days. There's also a daily firing of the gun, and fun signature experiences such as Soldier for a Day where you can get outfitted in a uniform, practice marching drills and even get to fire an old-fashioned rifle.
#5: Trace Canada's roots at Pier 21
If you're even the least bit patriotic, you'll want to make time to visit the Canadian Museum of Immigration at Pier 21, which is considered one of the best things to do in Halifax.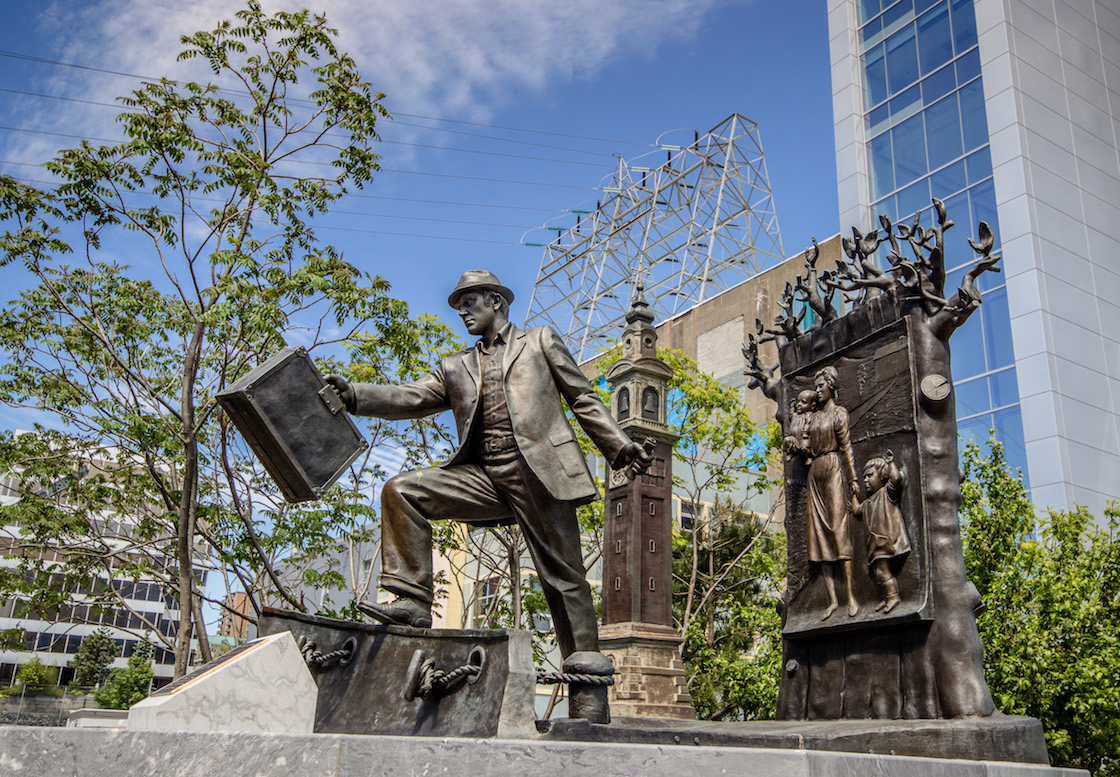 Located on the waterfront, the National Historic Site was the first point of entry for many immigrants who travelled to Canada between 1928 and 1971. It has since been turned into a museum, with beautiful exhibits detailing the experiences of those who made their way to Canada on ships through first-person accounts, photos and artifacts.
There are also interpretive displays, information about how immigration has shaped what Canada is today, and opportunities for visitors to map their own family tree.

One can't-miss activity in Pier 21 is watching 'In Canada', an inspiring documentary that shares the stories of a number of immigrants who've moved to Canada over the past century. It's so touching that anyone with half a heart is guaranteed to be ugly-crying by the end! The film is about 20 minutes long, and shown numerous times throughout the day.

#6: Visit the Halifax Seaport Farmers' Market
Right beside the museum you'll find the Farmer's Market, which has been around since 1750 making it North America's longest operating farmers' market. Originally housed in the Bank of Montreal building downtown, it moved around to several different locations in the city before finally settling into its current spot in the seaport.

Today visitors will find a two-storey market overflowing with fresh produce, and stalls serving up the likes of lobster rolls, freshly-squeezed organic juice, sweet lemonade and desserts. There's also an area to pick up flowers and handcrafted goods like beautiful wooden cutting boards, jewelry and greeting cards, making it a one-stop shop—just be sure to come with an empty stomach and full wallet!

#7: Stroll through the Halifax Public Gardens
Halifax may be a relatively laid-back city, but it can still get a bit hectic in spots like the waterfront, particularly during the busy summer months. For a reprieve from the crowds, head up to the Halifax Public Gardens along Spring Garden Road.
Spanning 16 acres in the heart of the city, the Victorian gardens have been open to the public since 1867, and were designated as a National Historic Site a century later. The entrance to the serene, peaceful gardens is marked with an ornate wrought iron gate, and from there visitors can follow the winding pathways which pass numerous fountains, 140 different species of trees, gardens overflowing with vibrant flowers, carpet beds and statues.
Seeing as it's one of the prettiest spots in Halifax, it's also a popular spot for couples to get their engagement or wedding photos taken.
#8: Shop on Spring Garden Road
Since you're already on Spring Garden Road, you might as well head over a couple blocks for some shopping. Spring Garden is the city's best spot for fashionistas, with over nine blocks-worth of shops, restaurants and services.
Visitors will find Canadian favourites like Lululemon, as well as many independently owned stores. There are also lots of great spots to grab a drink in the area, including the hipster-favourite Stillwell which serves up Nova Scotia craft beer, sausage, pretzels and ice cream in a fun outdoor space.

#9: Grab a drink at an outdoor patio
Speaking of outdoor patios, there's nothing Halgonians love to do more on a warm day than grab a drink and soak up the sun. There's no shortage of places to do so, particularly along the harbour where pop-up patios appear in the summer months.
Popular watering holes include picture-perfect Bicycle Thief which has one of the prettiest patios in the whole city and serves American/Italian fare, as well as The Gahan House which was founded in neighbouring Prince Edward Island and specializes in handcrafted, east coast ales.
Just around the corner you'll find Lower Deck, a Halifax institution that is THE place to party and has live entertainment every single night. While it technically doesn't have an outdoor patio, it's well-worth a mention for those wanting to meet the locals and get a taste of east coast hospitality.
#10: Eat lobster
One of the best things to do in Nova Scotia is eat lobster, lobster and more lobster. The good news is there are many different dishes to try it in aside from the classic lobster dinner, such as by grabbing a lobster roll from the Farmers' Market, where the seafood overflows from a soft, fresh-baked bun.
For the ultimate lobster fix, head over to Stubborn Goat Gastropub on Grafton Street, and order their famous Lobster Mac 'n' Cheese. Sure it probably has the equivalent of a whole days' worth of calories, but the cheesy goodness is sooo worth the splurge.
Halifax tours
Have a few extra days to spare? Head to Peggy's Cove to see its iconic lighthouse, sail around the harbour on a tall ship, or take a road trip to the picturesque seaside towns of Mahone Bay and Lunenberg.
Halifax accommodations
There are all sorts of options when it comes to places to stay in Halifax, from charming B&Bs to glitzy, modern hotels. Popular picks include:
The Westin Nova Scotian: The hotel's renovated rooms are luxe, and the location can't be beat as the Westin is right on the waterfront, just a quick walk from attractions like Pier 21 and the farmer's market. Click here to book
The Halliburton: This historic property is actually made up of three heritage townhouses that have been converted into a charming boutique hotel. Some rooms include wood-burning fireplaces or private balconies, and the hotel is located in a great spot downtown just a few blocks from the water. Click here to book
Prince George Hotel: This modern, pet-friendly hotel in Halifax boasts an indoor pool, outdoor patio and fine dining, and guests rave about the great service. Click here to book
YOU MIGHT ALSO ENJOY:

Globe Guide explored Halifax in collaboration with Tourism Nova Scotia. As always, hosts have no editorial influence on articles. This post was originally published in October 2016 and updated in August 2018.
SHARE THE PINSPIRATION! CLICK THE IMAGE BELOW TO PIN:

This post may contain affiliate links, which Globe Guide receives compensation for at no additional cost to you.