Bolivia may be well off the beaten path, but the effort of getting there is well worth the effort even if it's only to do one thing: an Uyuni salt flats tour.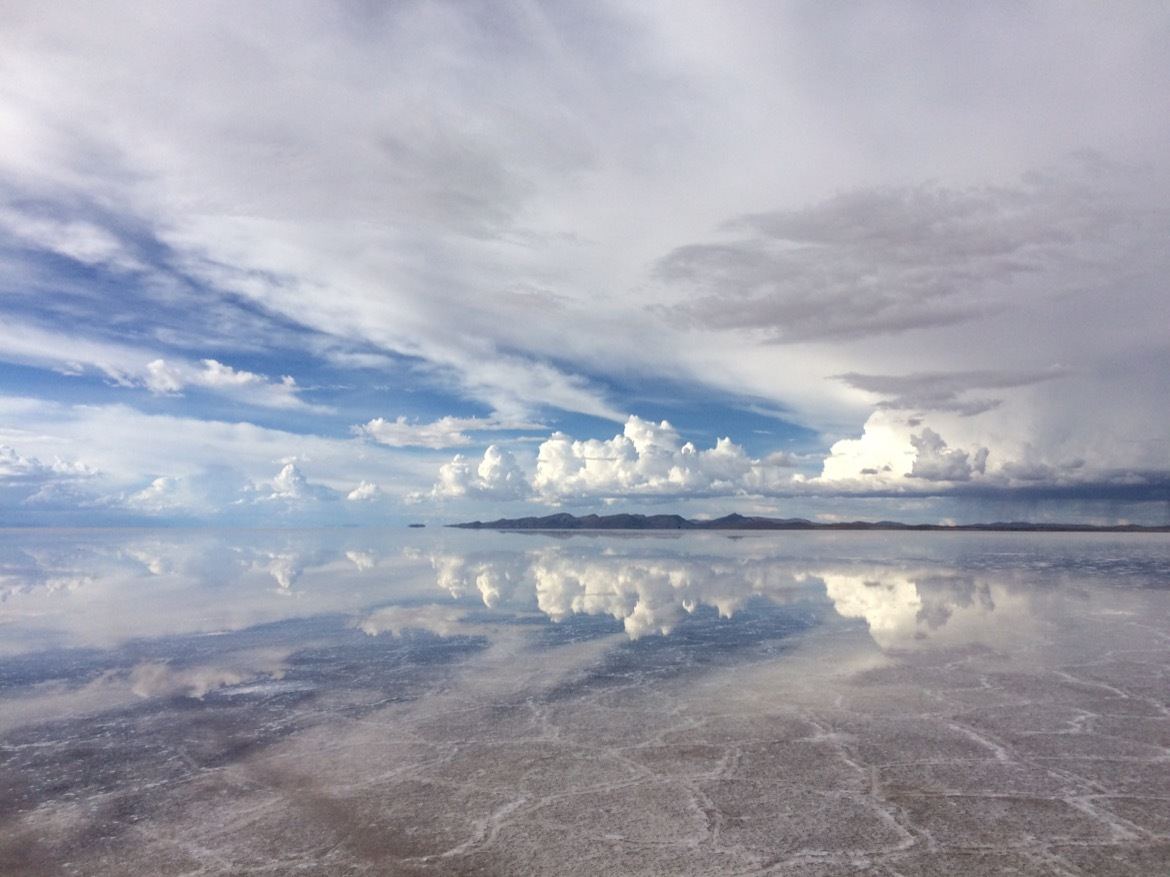 Salar de Uyuni is one of the driest places on earth, and its stark landscape sees a vibrant blue skyline frame the sparkling white earth below, which is made entirely of salt. The sight is absolutely mesmerizing, particularly during the wet season which makes for enchanting reflections.
How to book a Bolivia Salt Flats tour
Salar de Uyuni tours require the services of a guide, and excursions last anywhere from one to three days. It's only necessary to book a one day tour if you just want to see the salt plains, but if you extend your trip you'll get to venture out to see volcanoes, a red lake and flamingos.
You can also continue onward to Chile this way, so it's a great option for backpackers who plan to travel beyond Bolivia. Keep in mind that the Bolivian wilderness is by no means comfortable, so expect freezing temperatures in camp at night and no shower facilities. Also, make sure the price of your tour includes a sleeping bag rental!

Most Uyuni salt flats tour companies use 4x4s that fit about six passengers, meaning you'll likely spend your day in the company of a small group. There have been many concerns raised about a lack of safety, including guides who don't speak English or who drive while under the influence, so choose your company wisely.
We booked our excursion through Red Planet Expedition which was highly recommended online, and they did not disappoint. Honestly, our guide was THE BEST GUIDE we have EVER HAD ANYWHERE. No, I did not get paid a cent to say that! Most one day Salar de Uyuni tours cost around 350 BS ($50) and takes about seven hours, starting from the dusty town of Uyuni.
Book a single or multi-day Salar de Uyuni salt flats tour:
The best stops during Salar de Uyuni tours
The train cemetery
Your first stop after getting to Salar de Uyuni will likely be the train cemetery, which is actually quite interesting and makes for great photos.
Back in the 1800s, the British sent some trains over to Bolivia and even built a railway, in hopes of transporting minerals to the coast. However, the trains did not have enough power to make it over the towering Andes, and would crash back down and derail.
Eventually, the whole idea was scrapped and the cars were left to corrode wherever it was they ended up. Thus, the train cemetery was born.
Visitors are allowed to walk through the site as they please, and climb inside the trains, on top, under…whatever suits your fancy. Expect to spend about 20 minutes there, before heading off to the next stop: Colchani.
Colchani
The town of Colchani is where all of the salt mining that the area is famous for happens—but other than that, there isn't much to see. About 80 families live in the area, which consists of dozens of tiny houses and one forlorn strip of shops set up to try and sell souvenirs to the visitors who pass through every day.
As with any tourist trap, your guide will probably make you hang out here much longer than necessary.
The first order of business is to see first-hand how the mining process actually works. You'll see the large piles of untreated salt piled up in yards, then tuck into a tiny home and watch how it's processed. It all starts with a trip through a furnace-like machine to remove impurities, then is scooped into tiny bags and sealed with a blow torch. It's pretty shocking to learn that a big bag of salt only sells for about $5—which explains the poverty you'll see in this part of Bolivia.
After the quick demo, it's time for lunch, and if you book with Red Planet you're in for a treat. We got a delicious meal of chicken, fresh tomatoes and homemade bread, finished off with what just might be the world's best apple pie.
Globe Guide tip: Use the public washroom here before heading off into the salt flats (which don't have any such facilities until you hit Fish Island). Be warned though: it's one of those bathrooms where you need to scoop water from a bin outside to flush…so bring hand sanitizer!
The Uyuni Salt Flats
Now for the fun part, the reason you've travelled so far: the salt flats! The first glimpse is breathtaking, with miles and miles of dazzling white salt stretching out in front of you, with a bright blue sky being the only contrast.
At the entrance, you'll see mounds of salt that look like little pyramids dotting the landscape. Feel free to climb up or jump off of them for pictures—but keep in mind the spongy surface is hard to land on! The sensation on your feet is similar to anyone who has ever walked on hard snow during a chilly day, and makes the same crunching sound.
There are a few sulphur pools as well, which are said to have healing properties (similar to the Dead Sea) and you can expect to see at least one person lounging around with their feet in the water. Stick one finger in, then watch as it quickly crusts over—bizarre!
A quick drive in the 4×4 will bring you to total isolation. All you'll see for miles is bright blue sky which offsets the blindingly white hexagon formations of salt—perfect for those famous perspective photos.
Photography tips for the Uyuni Salt Flats:
What to bring: Make sure to bring props (or line up a guide who has fun ones, like little dinosaurs) and get creative!

How to get perspective shots: Our driver was fantastic, and has clearly done this once or twice, bringing special mats to lay down on so he could get comfy while he turned the landscape into a mini photo shoot for our group. If you aren't as lucky and have to set up the photos yourself, the key is to get whoever is taking the photos to lay flat on the ground, then set everyone else up from there.

Posing: There are all sorts of crazy poses you can do: eating someone off of a spoon, making someone look tiny beside you, standing on someone's shoulder, being chased by a dinosaur…the possibilities are endless! All it takes is a couple of props and a lot of imagination to return with some pretty memorable photos.

What to wear: Dress in bright colours to really stand out in photos. Also, don't forget your sunglasses, as it is CRAZY bright out there.
Fish Island
The last stop on your tour will likely be an hour-long jaunt to Fish Island, which is incredible. It's basically a mountain right in the middle of the otherwise desolate flats, covered in large boulders and cacti. There are even signs of life here, with the odd llama making an appearance.
It costs 30 BS admission (about $4) to tour the island, which is payable at the entrance, and there is also a washroom on site. From there, visitors are welcome to explore the area at their leisure, and it takes about 45 minutes to walk up and around the whole area. This is a shutterbug's heaven, and there are tons of secluded spots where you can enjoy the incredible view of the surrounding flats.
It can actually get quite hot here—it is a desert after all—so make sure to slop on some sunscreen before heading out to hike. When you're all wrapped up at Fish Island, it's time to head back to reality with one last drive across the flats towards Uyuni.
How to get to Salar de Uyuni
A trip to Salar de Uyuni is unforgettable- and unfortunately, so are the transport options to get to the town of Uyuni. The options are either an hours-long bus ride—not including likely delays—down a bumpy highway full of hairpin turns, or flying into Uyuni from La Paz which could potentially turn out to be the worst flight ever.
Uyuni is tiny so you'll be able to walk around easily if that's where you've based yourself. However, getting in and out can pose a problem. If you arrive via plane, there will likely only be a few taxis to be waiting outside, meaning you won't be in a great negotiating position. Expect to pay around 250 BS ($35) each direction.
READ MORE: How to get to Salar de Uyuni, Bolivia (and the why it's the worst flight ever)
Where to stay during a Salar de Uyuni tour
There are a few cheap hostels in the town of Uyuni that are full of backpackers, but keep in mind there is virtually nothing else to do. A fun, bucket list-worthy option is to stay in one of these salt hotels in the Uyuni desert—I mean, when else would you get a chance to stay in a hotel made of SALT?!
READ MORE: What it's like to stay in a salt hotel in Bolivia
Final tips for booking an Uyuni Salt Flats tour
Currency: Bolivianos (BOB), but USD is also accepted in some places. Credit cards may not be, so make sure you have cash on hand, including tips for your guides.
When to tour Uyuni: The best season is between April and November, when the weather is mild. December to March is the rainy season, which is the perfect time to go if you want to see those incredible reflections that make it look like you're walking on water. However, there's a chance your vehicle could get stuck or the tour cancelled altogether due to washed out roads.
This article was originally published in January 2014 and updated in November 2020
YOU MIGHT ALSO ENJOY:
SHARE THE PINSPIRATION! CLICK THE IMAGES BELOW TO PIN:
This post may contain affiliate links, which Globe Guide receives compensation for at no additional cost to you.