The awe-inspiring sight of craggy, towering peaks, gem-toned alpine lakes and bighorn sheep grazing on the side of the road are just a few of the reasons to go hiking in Kananaskis, a much-loved getaway in the heart of the Rocky Mountains.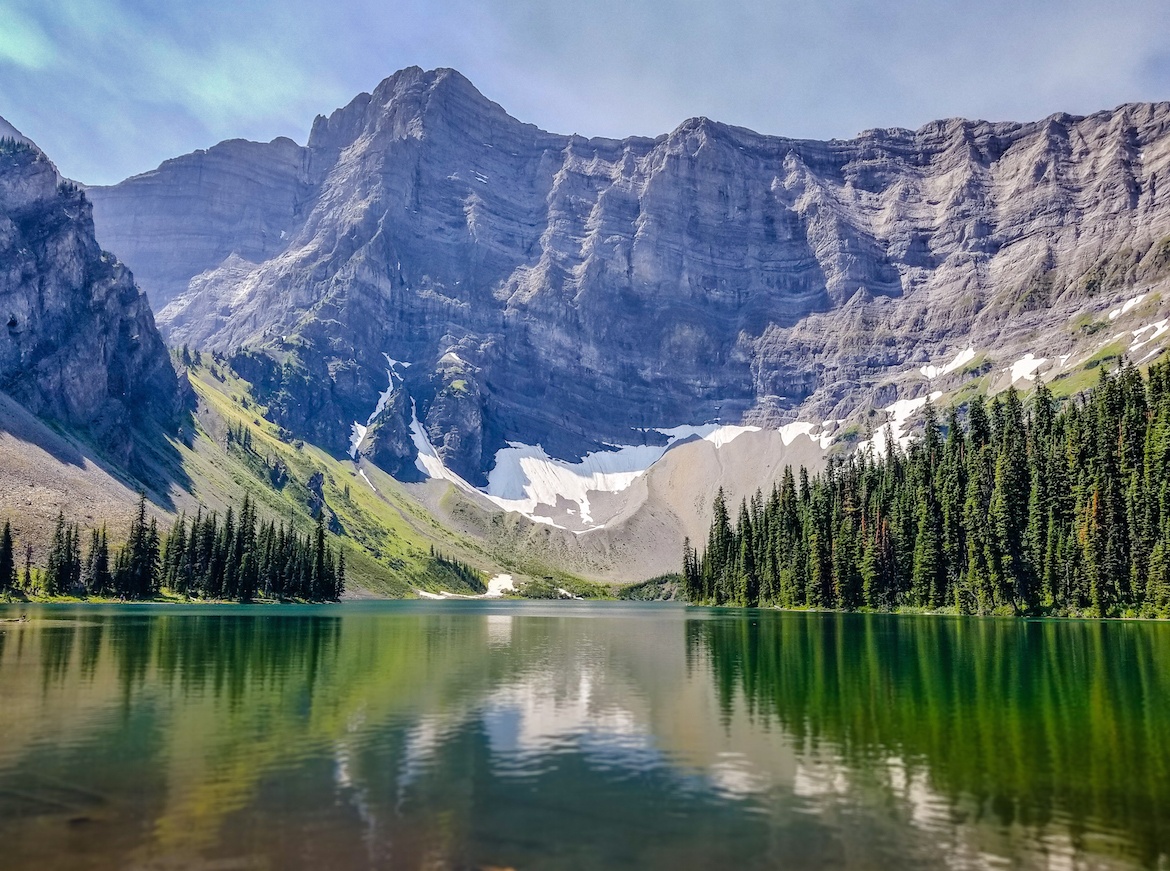 Found just a one hour drive from Calgary, 'K-Country' is a backcountry paradise with wooded pathways, campsites shrouded in pines, quiet picnic spots and wildlife watching (read: plenty of bear sightings!).
While tackling the trails is the best way to explore the area, this year-round destination also has activities like scenic helicopter rides, rafting, horseback riding and fishing, while the winter months bring snowshoeing, ice walks and dog sledding.
One of the best things about Kananaskis is that the scenery is just as incredible as what you'll find in the popular, neighbouring towns of Canmore and Banff, but with far less crowds. It's not uncommon to pull off the side of Highway 40 and find yourself gazing at a tranquil pond which casts a perfect reflection of a surrounding mountain range, and marvel at the fact there's not another soul in sight.
Here are 10 of the best hikes in Kananaskis that guarantee incredible views, a good diversity of landscapes, and are good for most skill levels.
Rawson Lake and Sarrail Ridge
Distance: 7.8 km roundtrip to Rawson Lake, 11.3 km for Sarrail Ridge
Where: Peter Lougheed Provincial Park
Time: About 1:30-2 hours roundtrip for Rawson Lake, about 4-5 hours roundtrip for Sarrail Ridge
When to go: April to September
Difficulty: Moderate to challenging
This wow-worthy spot is one of the best Kananaskis hikes when it comes to getting a big payoff with minimal effort.
Starting from the south side of Upper Kananaskis Lake, the well-travelled, wooded trail has a moderate incline (300 metres) and hugs Rawson Creek. About an hour in you'll come to a wooden bridge that crosses over a small waterfall, and soon after you'll see vibrant Rawson Lake pop out through the trees on the right, framed by towering Mount Sarrail.
Eventually the tree line breaks and you'll get to the rocky shoreline, which is a great place for a picnic or a turnaround point– the reflections are stunning!
Those up for a challenge can continue up the steep cliffside, to ascend Sarrail Ridge. It's a total grind since it's pretty much a straight shot up, but the hard work pays off thanks to the mesmerizing views from the top. Be sure to pack crampons if you're doing this hike in early spring as it can still be icy in parts, and poles are also a good idea.
Chester Lake
Distance: 8 km
Where: Peter Lougheed Provincial Park
Time: About 3 hours roundtrip
When to go: Year round
Difficulty: Moderate
If you're a local, this is one of those Kananaskis trails that's so mind-blowingly gorgeous that chances are you'll wonder "how have I never thought to come here before?!"
The Chester Lake hike is a great option year round, since there are great cross-country skiing and snowshoeing routes in the winter. Starting from the trailhead shared with the Burstall Pass hike across from the Smith-Dorrien Trail, the well-marked path has a good mix of both tree cover and wide-open valleys.
The moderate ascent makes this a great trail for families, and delivers jaw-dropping views of the surrounding mountain ranges. The real fun starts when you get to Chester Lake, which has gorgeous reflections in every direction that are so pretty it feels like you're in a painting.
Enjoy lunch or go fishing at one of the sun-soaked spots off the side of the trail, or continue around the lake and pick your way over the scree to complete the full loop before heading back home.
Ptarmigan Cirque
Distance: 3.5 km
Where: Highwood Pass
Time: 1-2 hours
When to go: June to November
Difficulty: Mild to moderate
Ptarmigan Cirque is a good pick for family-friendly hiking in Kananaskis, with wide, well-marked pathways leading to a beautiful bowl just a couple kilometres from the trailhead.
This route starts in the Highwood Pass which means you'll enjoy great mountain views right away, and is particularly enchanting in fall when the autumn larches have turned a golden yellow.

The parking lot is actually across the highway from the trail (in a spot frequented by bighorn sheep!), so you'll start by walking along a wooden boardwalk through the Highwood Meadows before crossing the road. The toughest part of the trek comes next as you face a short, steep climb through the trees, but soon after the trail opens up and it's not long before you'll find yourself in an alpine valley enjoying sweeping views of Ptarmigan Cirque.
Black Prince Cirque
Distance: 4.8 km
Where: Peter Lougheed Provincial Park
Time: 2-5 hours depending how far you go
When to go: Year round
Difficulty: Mild to challenging
Featuring an easy, scenic walk to a pristine lake, Black Prince Cirque is another one of the best hiking trails in Kananaskis for families and also a popular spot with snowshoers in the winter months.
This route along the Smith-Dorrien trail heads along a mostly-flat pathway through thick brush, forest and wildflowers, eventually coming to a fork where you can head to the right to learn more about the area thanks to the interpretive posts. It's not long before you'll arrive at Warspite Lake, which has gorgeous reflections of Mount Black Prince, and lots of rocks for the kids to play on or build inukshuks.
Most families end their hike here, but if you're up for it you can continue up to Black Prince Lakes, and this is where things get much more challenging.
It's definitely a grind to get up there, on a narrow, extremely steep pathway that leads past a gorgeous waterfall and affords incredible views of the valley if you look back. It takes a couple of hours to finally climb up to the pristine cirque at the top, where you'll find yourself in the middle of a sprawling meadow surrounded by towering mountain ranges. There's also a lake here, though it's often dried up.
Nahahi Ridge
Distance: 12.7 km
Where: Little Elbow Provincial Recreation Area
Time: 4 hours
When to go: May to October
Difficulty: Moderate to challenging
This popular Kananaskis hike keeps things interesting with a mostly vertical climb up that requires bouldering in some spots, rewarding you with sweeping views of the alpine valley once you get out of the tree line.
You have to walk about a kilometre to connect to the trailhead from the parking lot, at which point the Nahahi Ridge trail switchbacks all the way up to Nihahi Ridge where there's a panoramic viewpoint of the Elbow River Valley. The area with the scree is where most people enjoy a leisurely lunch with an unforgettable backdrop, before turning back to head home.
Despite the incline and obstacles (there can be snow here early in the season) the route isn't terribly challenging and is also pet-friendly.
Upper Kananaskis Lake trail
Distance: 15 km loop
Where: Peter Lougheed Provincial Park
Time: 5-6 hours for the full loop, or just relax along the waterfront
When to go: March-October
Difficulty: Mild to moderate
This is one of those routes that seems to catch everyone by surprise, meaning you head off expecting to make a quick loop around the glistening lake, and end up returning several hours later having logged nearly 10 miles. Oops.
The cobalt-blue lake is a popular day use area, particularly in the summer months, so many people only intend to walk around "a bit of the lake" to work off their lunch. But here's what happens: the alpine scenery is gorgeous, the trail is mostly flat, and before you know it you've been walking for an hour and find yourself a good chunk of the way around, so you figure you'll just continue forging ahead to finish the loop.
But here's the thing: eventually the path takes a turn away from the lake, and you find yourself up on peaceful trails shrouded in pines and framed by jagged peaks, well away from the water. At this point you're definitely committed to completing the entire loop, which just so happens to be 15 kilometres and includes sights like Upper Kananaskis Falls, Mount Indefatigable and a spot called the Palliser Slide where you'll walk through a field of massive boulders created by natural landslides.
Regardless of whether or not you showed up that day with intentions of doing the entire hike, the Upper Kananaskis Lake trail is one of the most beloved hikes in Kananaskis and great for all endurance levels.
Globe Guide tip: Bring bear spray for this one, as animal sightings are common particularly in early season.
West Wind Pass
Distance: 4.7 km
Where: Spray Valley Provincial Park
Time: 3 hours
When to go: June to November
Difficulty: Moderate
This is one of the most impressive Kananaskis hiking trails when it comes to the views from the top. The West Wind Pass is a short but steep hike between Canmore and Kananaskis, with an elevation gain of less than 400 metres despite how high up you'll feel when you get to the summit.
The two hour hike up is mostly treed-in, aside from one section when you'll see Spurling Creek and navigate some steep cliff bands on the right hand side. As you approach the peak, the trail opens up and you'll see Windtower mountain on the right and the Rimwall Ridge Route on your left. At the top, there are mesmerizing views in every direction of Spray Lakes, rock slides and scree, and a seemingly-endless lush green valley.
One of the best parts about completing the West Wind Pass hike is rewarding yourself with a dip in Spray Lakes–the ice cold water is a great way to refresh those tired feet!
Pocaterra Ridge
Distance: 12 km return
Where: Peter Lougheed Provincial Park
Time: 6 hours one way
When to go: June to September
Difficulty: Moderate
Larches turn the valley a deep golden hue during the fall, making Pocaterra Ridge one of the most spectacular and popular Kananaskis Country hikes in autumn.
Marked by a fun creek crossing, a steep elevation climb and alpine lakes, hikers pass over four different peaks along the ridge. The views are absolutely incredible: sweeping valleys, a glacier, Elbow Lake and claw tooth peaks are just a few highlights.
Globe Guide tip: One thing to consider is taking two separate cars, since most people prefer to do Pocaterra Ridge as a one way hike. You'll want to leave one car or bikes at Little Highwood Pass, then drive back to the Highwood Pass parking lot and get to the trailhead from there.
Buller Pond to Spray Lakes
Distance: 1 km
Where: Spray Valley Provincial Park
Time: 1/2 hour
When to go: May to October
Difficulty: Mild
While it's not technically a hike, a stop at Buller Pond is well worth it if you find yourself along this portion of the Smith-Dorrien Trail. The Buller Mountain Day Use Area is just off the highway near Mount Engadine Lodge, and has a flat pathway leading to Spray Lakes.
This is one of those hidden gems that chances are you'll end up having all to yourself, and the perfect place to enjoy lunch since there are a number of picnic tables and washroom facilities. The water casts a flawless reflection of Mount Buller and Mount Engadine, which makes for some rather epic photo-ops.
A quick, easy walk through a forest brings you to Spray Lakes, which makes this one of the best trails in Kananaskis if you're out adventuring with little ones.
Prairie Mountain
Distance: 6.4 kilometres
Where: Near Bragg Creek
Time: About 3-4 hours roundtrip
When to go: Year round, a good off-season option
Difficulty: Challenging
Not for the faint of heart, this short-but-gnarly trail is a grind that will get your blood pumping, thanks to its steep incline. With an elevation gain of nearly 700 metres it's often compared to Vancouver's Grouse Grind, and is one of the best short hikes in Kananaskis for getting a quick workout.
The Prairie Mountain hike is treed-in a good chunk of the way up, including an incredibly steep portion about a third of the way in. When you finally get to the rocky, barren summit and catch your breath, you'll enjoy views of Moose Mountain and can pose beside the Canadian flag planted at the top for a well-deserved photo-op…and proof that you completed one of the toughest hikes in Kananaskis.
Book one of these excellent tours in Kananaskis Country:
YOU MIGHT ALSO ENJOY:
SHARE THE PINSPIRATION! CLICK THE IMAGES BELOW TO PIN:
This post may contain affiliate links, which Globe Guide receives compensation for at no additional cost to you.