This post may contain affiliate links, which Globe Guide receives compensation for with each click or purchase at no additional cost to you. Thanks for your support!
Karma is real. I know this because I figured I had some of the good kind coming my way after the s#$% way that 2015 ended, and sure enough 2016 was one of my best years yet! Here's what y'all may have missed…
After returning from a winter trip to Europe, I rang in the new year by trying out freelance life and actually focusing on this website, which is something I'd never had the chance to do as I'd always had a full-time job as well. Who needs evenings and weekends anyway, right? I quickly got into the swing of things, and enjoyed working from home in my sweatpants (OK, pajamas) with my puppies curled up at my feet. I powered through articles, drafted a business plan, incorporated my company (#GirlBoss) and basically got my life in order, while still having time for fun things like cleaning, errands and working out. Isn't life glamorous?
Fortunately, being on a freelancer schedule (AKA nowhere to be) meant that when I was invited to visit destinations, my answer was now "Great, when's my flight?" instead of "Erm, let me check how many vacation days I have left." Because of that, in less than a month I managed to head to Quebec City for the famous Winter Carnival, spend a week in the Yukon experiencing its winter activities, and head off on a solo road trip along the incredible Icefields Parkway to Jasper. I also had to turn down trips to Oaxaca, Mexico and the Cayman Islands due to scheduling conflicts which I'll probably never get over, but that's another story.
Then suddenly, my short-lived freelance life quickly came to an end.
In mid-February, a former colleague passed my name on to an organization he'd heard was looking for someone with my skill set, and recommended I meet with them. To be honest I wasn't looking for a job at the time (because wearing pajamas is awesome), but I figured I had nothing to lose by going for a coffee and seeing what this other gig was all about.
And just like that, I was back to being a downtown office worker.
But THIS time, I had my own office with a view, flexible hours and absolutely lovely co-workers. Like, the kind who treat everyone with respect, value each other's opinions, make the effort to recognize accomplishments, go bowling, and fill an entire office with balloons to celebrate a birthday. Did I mention my colleagues are awesome? All in all, it's been a really great fit and you know what they say: everything happens for a reason.
As you can imagine, getting back into the workforce so quickly put a bit of a damper on my 2016 travel dreams, but thanks to the ability to shift my schedule around I still managed to take some of the bigger trips I'd been planning.
I spent a few spring weekends exploring Alberta's Rocky Mountains (including a fun ladies pajama party at the fabulous Jasper Park Lodge—what is it with me and PJs?!) before heading off on what turned out to be one of my favourite vacations ever: a two-week cruise around the Baltic Sea.
As you might recall I first travelled with Viking Cruises last December on a river cruise through Hungary, Austria and Germany to explore the festive Christmas markets. I was thrilled to be invited back just a few months later to check out their sparkling new ocean liner, and picked their Viking Homelands itinerary—I mean, who would pass up the chance to visit the best spots in Scandinavia, along with two full days in Russia (!!) from the comfort of a five star ship?
The hubs and I had an absolute blast. We got to visit both of our ancestral homelands (Sweden and Poland), meet up with a friend in Finland, watch the ballet in Russia, cycle through historic Tallinn, Estonia, drink beer in Berlin, cruise the canals in Copenhagen, explore a Viking graveyard in Denmark, and finish off our trip by cruising through the Norwegian fjords. I've been lucky enough to visit some pretty extraordinary places in my lifetime, and can say without a doubt that was one of the best experiences ever.
It just so happened that another trip we'd been planning for months kicked off just a couple weeks later, so in June we flew across the country to Halifax, Nova Scotia. I know so many people from Halifax who have nothing but great things to say about the city, and I can now personally vouch that it's a pretty special place. From the lively waterfront to the friendly people and fresh seafood, we enjoyed a wonderful few days before hitting the highway and exploring the rest of the province. Guys, Nova Scotia is AWESOME! We had the thrill of a lifetime while tidal bore rafting in the Bay of Fundy, went wine tasting in Wolfville, visited iconic Peggy's Cove and lovely Lunenburg, then headed to what might be the friendliest place on earth: Cape Breton.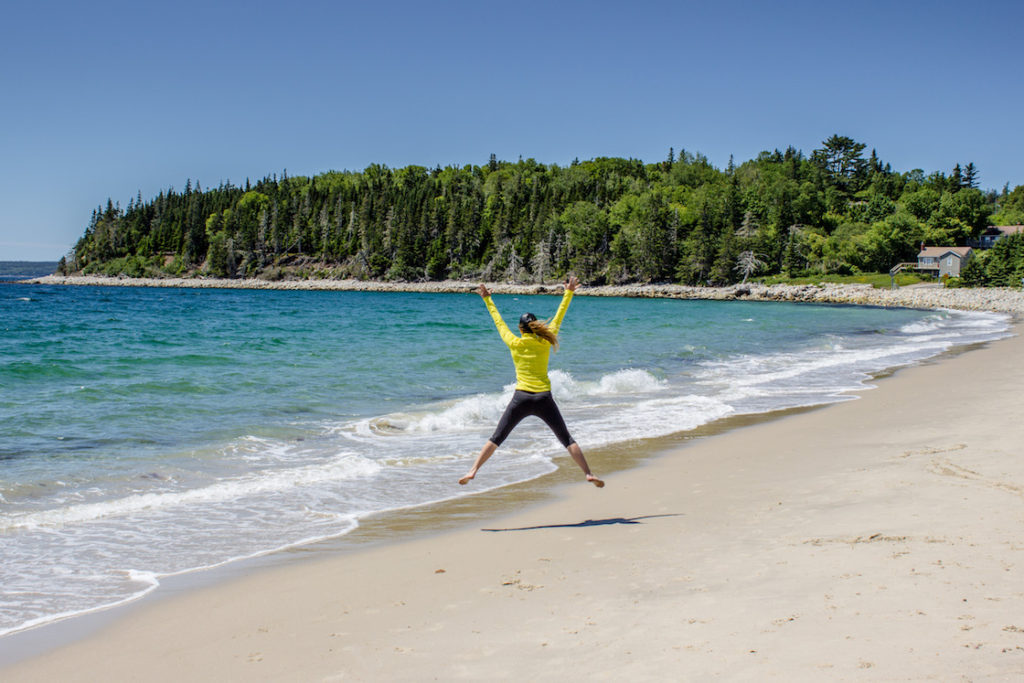 I was attending a travel media conference on the island, so we had nearly a week there to enjoy the east coast hospitality, celtic music and lobster (so much lobster!) before spending a few days driving the iconic Cabot Trail and glamping in the national parks. Everyone should add that trip to their bucket list! We finished up with four days in Prince Edward Island, and got to sample some of the best the province has to offer: Anne of Green Gables, the Greenwich sand dunes, the red sand beaches and watching the Canada Day fireworks in the birthplace of confederation.
Two weeks after arriving back home, I headed off for a few days of exploring B.C's incredible Bugaboos during a heli-hiking trip with Canadian Mountain Holidays—holy scenery, batman!
And then, it was wedding season.
My sister-in-law finally (!!) tied the knot, so we headed to Saskatchewan at the end of August to celebrate the nuptials with the whole fam-jam. Unfortunately it was a quick trip as one of my friends was getting married near Cancun later that week, so we had to rush back to make it to the airport in time for our flight south. I'd been to Mexico a few times but never the Caribbean side, so it was fun to not only get to explore a new area but also watch my girl Chrystal marry the love of her life. What a fun wedding—Zika be damned! (Top tip: If you happen to find yourself in the Yucatan from May to September, book an excursion to swim with the whale sharks—you can thank me later).
Since 2016 was the year of Canada travel (because the dollar), I finished off the year with trips around this lovely country including Quebec City and another travel media conference that took me to Niagara Falls, Toronto and Montreal. Then, my favourite—B.C.! I enjoyed a girls' getaway in Vernon during fall harvest, then headed to the Kootenays as soon as the snow fell for a weekend in Fernie, which included an evening in their ice bar (who knew?).
So what's next? Well, I'm thrilled to say I'll be partnering with a couple of Canadian companies that I'm very passionate about, as well as Lonely Planet (spoiler alert: be sure to keep an eye on their Instagram feed!). In terms of travel, I'm focused on making 2017 the year of crossing items off my bucket list, so fingers crossed that I finally make it to Africa or India!
As always, a million thanks for reading—I seriously wouldn't be here without your support (Google Analytics are a real thing, people). Cheers to an amazing 2016, and I hope you all have a fantastic year ahead!
Globe Guide's 2016 Stats

Countries visited: 10. Canada, Mexico, Sweden, Finland, Russia, Estonia, Poland, Germany, Denmark, Norway.
Travel days: 101
Number of flights: 27
Favourite destination: Norway. From the majestic fjords to the perfectly preserved cities, soaring mountain peaks and countless waterfalls, the country is paradise for nature lovers, outdoor adventurers and photographers alike.
Biggest fail: I didn't visit the USA once in 2016…not even on a layover. How is that possible?! Oh, and my plane got hit by lightning one minute after taking off from the tarmac during a trans-atlantic from Zurich to Calgary. We just kept going.
Bucket list accomplishments: 2—eating lobster on Canada's east coast and seeing the northern lights.