Glittering skyscrapers, a cultural mosaic of bustling communities, colourful markets and street art hidden in otherwise unassuming alleyways.
Toronto, Ontario is a visual feast, which is why many travellers return to the city time and time again and still find yet another eclectic neighbourhood to explore, another Instagram-worthy shot of the modern architecture that continues to spring up, or happen upon the perfect spot to watch the sun set along the tranquil shores of Lake Ontario.
Fortunately, many of Toronto's must-see spots also happen to be great spots for photography, meaning those who want to capture the city in its best light can also experience the city's top sights at the same time. Here are some of the best spots.
Distillery District
Over a decade ago, a group of derelict Victorian industrial buildings was completely transformed into one of the city's most visually-pleasing destinations.
The 47 brick buildings that made up the Gooderham & Worts Distillery were revamped to make room for trendy art instillations and stores, alongside cafes and bistros with outdoor patios that spill out onto the laneways.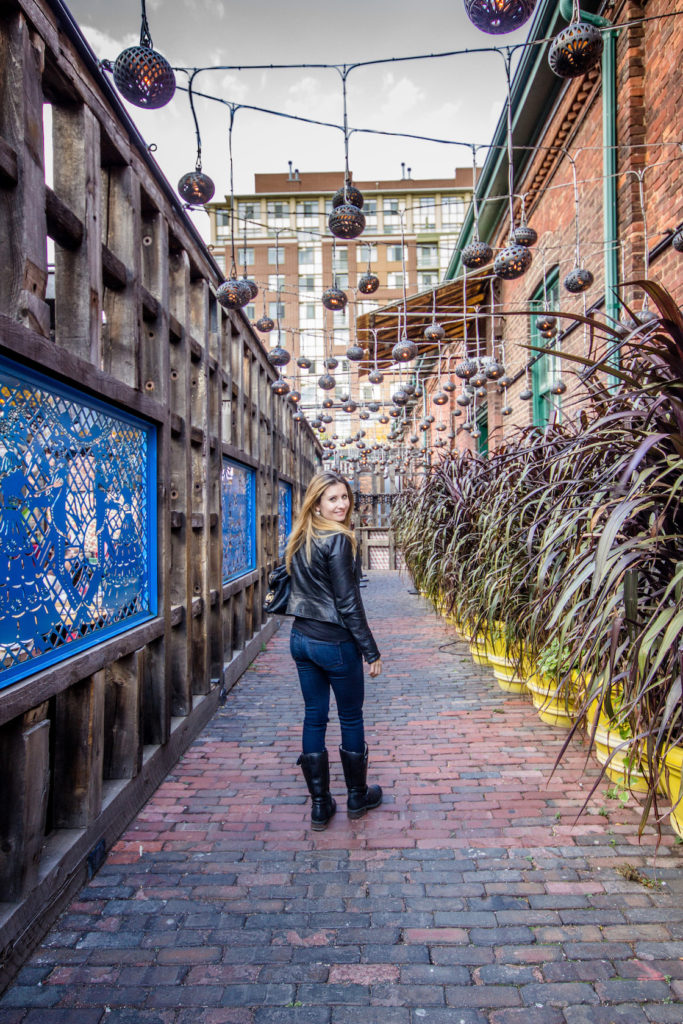 Similar to New York City's hip Meatpacking district, Toronto's Distillery District has since become a popular spot for cool boutiques, great restaurants, galleries and even a brewery. Book a tour
Nathan Phillips Square
The ingenious minds behind Nathan Phillips Square clearly had photographers in mind when they designed the urban plaza. Anchored by a massive fountain, the water creates striking reflections of new City Hall and the Toronto sign that frames the square.
During warm months the plaza hosts outdoor exhibits, concerts and a farmers' market, while winter sees Nathan Phillips Square transformed into a skating rink.
Kensington Market
Billed as one of the best street markets in North America, this funky district combines seemingly every corner of the globe. The colourful, eclectic neighbourhood is home to a dizzying array of vintage boutiques, bustling cafes, storefronts displaying exotic produce, fusion restaurants and even blink-or-you-might-miss-them marijuana dispensaries.
It only takes one afternoon in Kensington Market to see first-hand how so many different cultures have seamlessly integrated to make Toronto the vibrant, multi-cultural destination it's come to be known as.
CN Tower
It's not hard to get a clear shot of the CN Tower—it is one of the world's tallest buildings at 553 metres high, after all. But while the tower itself is fun to photograph, shutterbugs will want to head up, way up, to get snaps of the city from the top of the building.
High speed elevators transport guests up to the Glass Floor level, where those who aren't afraid of heights can stand on the transparent panes for a birds-eye view of the streets below. Better yet, get a dinner reservation at the revolving 360 Restaurant and enjoy a fantastic meal while watching the sunset. Click here to book
WATCH: A ride up the CN Tower high speed elevator
Insider tip: Admission fees to get up the CN Tower are waived with reservations at 360 Restaurant—a savings of $35 per person.

Gooderham Building
The Gooderham Building—commonly referred to as the Flatiron building in another nod to NYC—is one of Toronto's more historical landmarks. The red brick building sits on busy Wellington Street and Front Street, is surrounded by shops and has views of the CN Tower.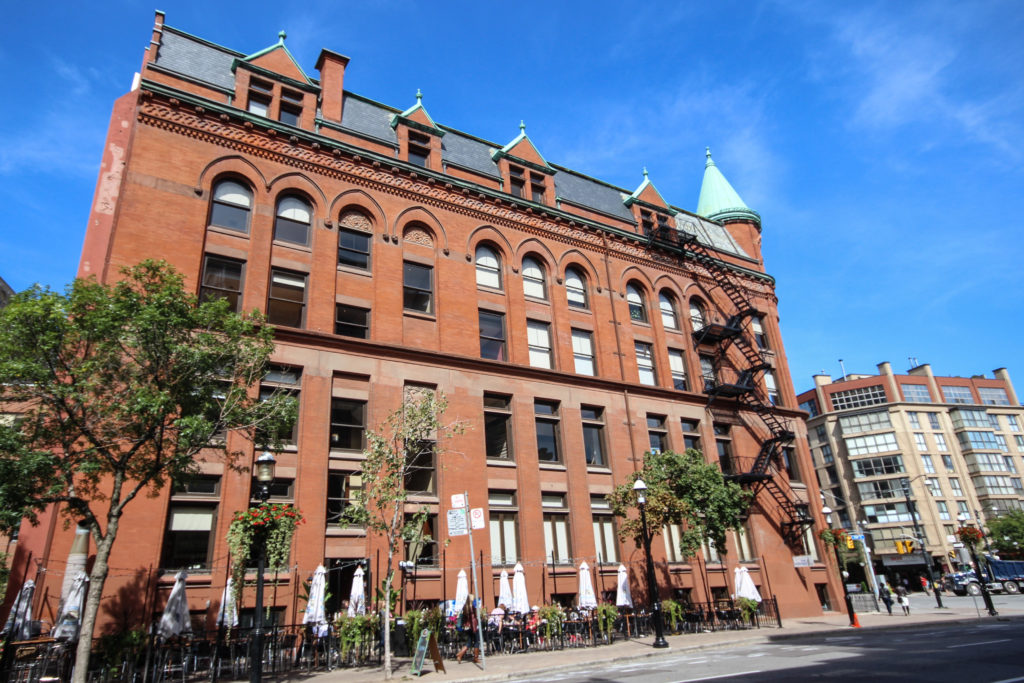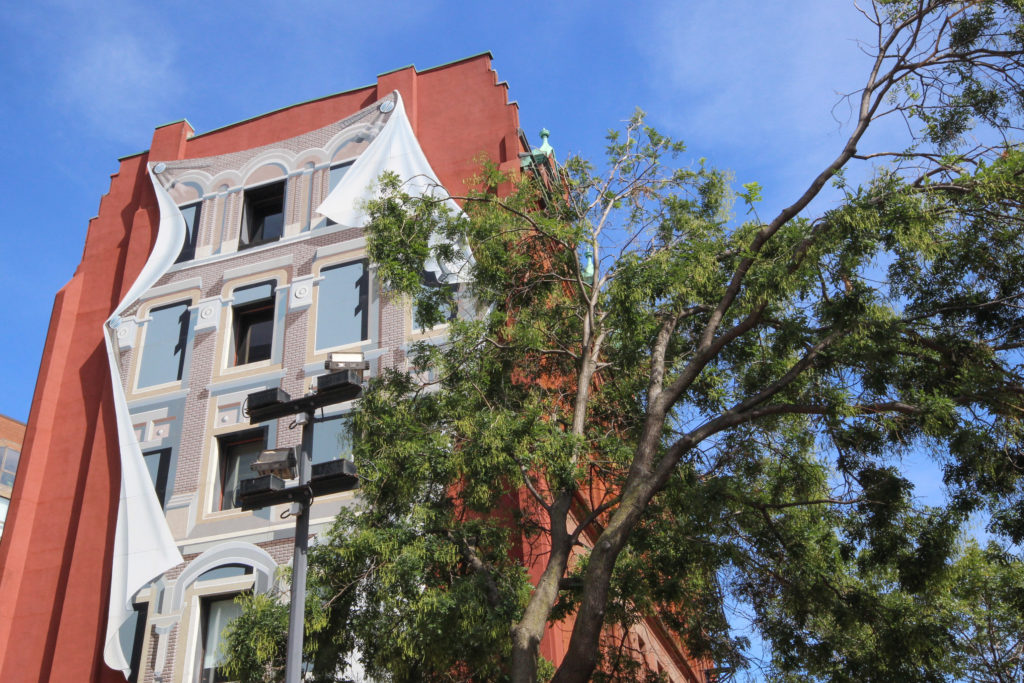 St. Lawrence Market
Just down the road from the Gooderham is St. Lawrence Market, which has been a fixture in Toronto for over two centuries.
Every week, more than 120 vendors set up shop, and their colourful displays bursting with the likes of organic produce, fresh-baked goods, homemade jam and Canadian cheeses are photo heaven. Book a food tour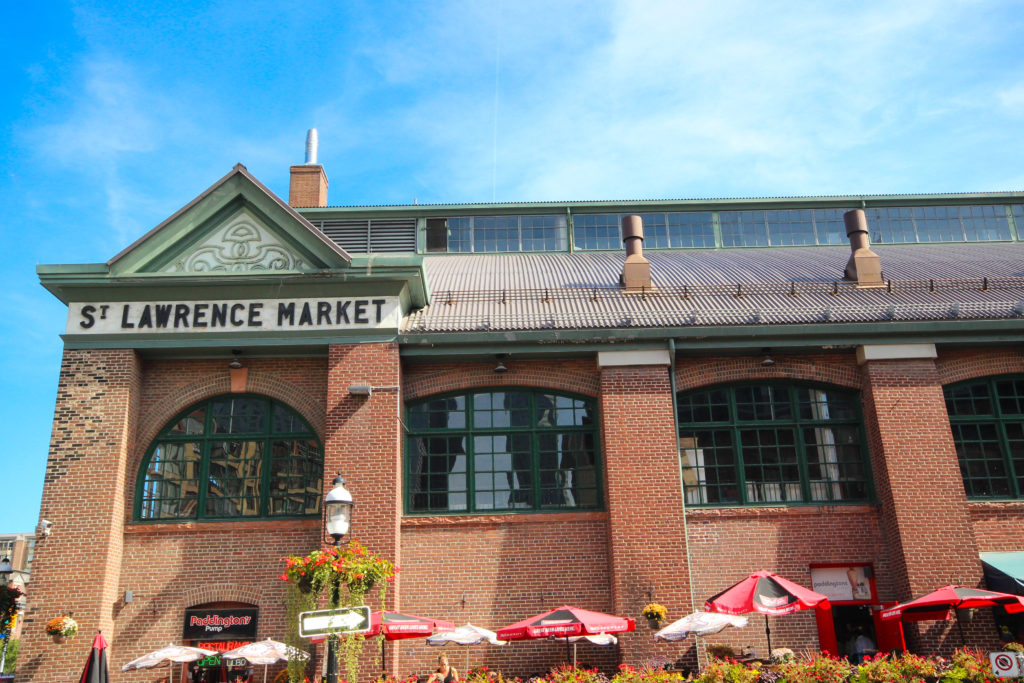 The Cathedral Church of St. James
Every photographer knows that a towering cathedral makes for amazing images, which is why the Cathedral Church of St. James is well worth a stop.
The grand, gothic building was originally built as a wooden church in the late 1700s, and has since been transformed to a sandstone wonder with a towering spire, framed by pretty gardens which overflow with blooms in the summer.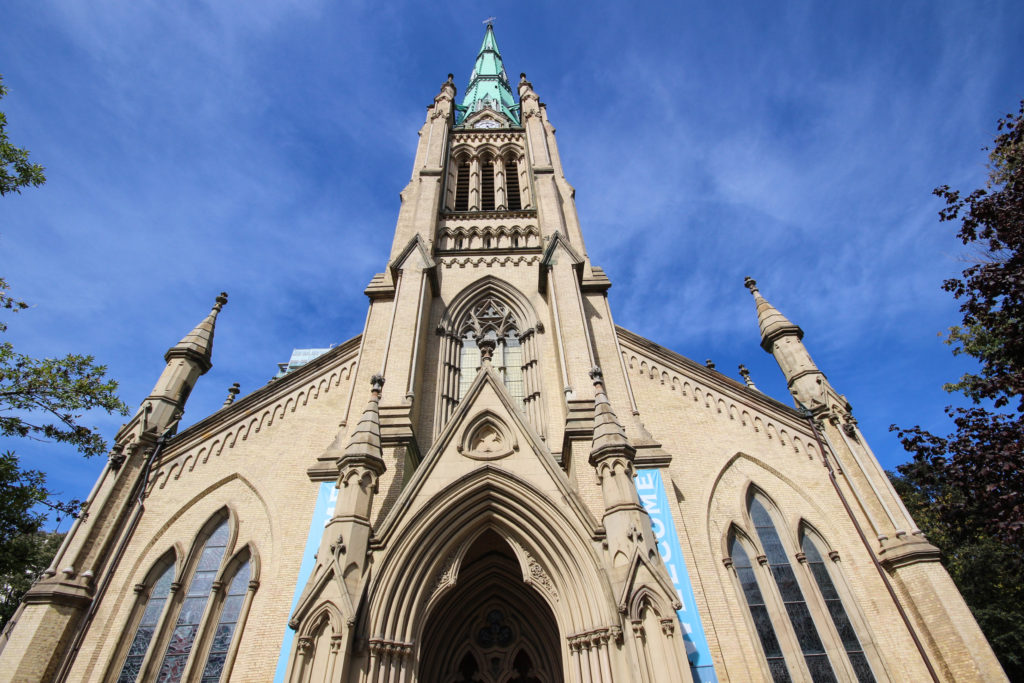 Fun fact: The cathedral has been visited by Britain's royal family (Queen Elizabeth, Prince Philip, Prince Charles, Princess Diana, Prince William and Prince Harry) and numerous Canadian prime ministers.
Graffiti Alley
If you didn't know Graffiti Alley existed you'd probably drive right by it, which is part of what makes this edgy spot even more fun to explore.
Located in an alleyway sandwiched between Augusta Avenue and hip Queen Street West, there's about one kilometre of ever-changing street art including pieces by local favourite Uber 5000.
Fairmont Royal York
It doesn't get much more classy than the iconic Fairmont Royal York hotel, and photographers will want to hightail to its luxe lobby which features chandeliers dripping with crystals and a stately, old-fashioned clock marking a winding staircase.
Union Station
The Fairmont is joined to Union Station, the city's main train station, by the underground walkway system called PATH. However, the best spots for photography are actually outside where its massive limestone pillars are in stark contrast to the modern cityscape surrounding it.
Considered one of the most opulent buildings in Canada when it was first built by the railway over a century ago, it was often compared to the Acropolis in Athens or Rome's Colosseum and has since been designated as a National Historic Site.
Art Gallery of Ontario
The building housing the Art Gallery of Ontario just so happens to be as beautiful as the artwork inside.
Designed by Toronto architect Frank Gehry, the exterior features sharp angles and glass that blend in with the skyscrapers surrounding it, while the inside has softer, bright feel including the winding staircase that links visitors with the AGO's 80-thousand works of art and special exhibits. Skip the line
Brookfield Place
Brookfield Place may look like just another office tower from the outside, but it's the interior that will really get photographers snap-happy.
The building features the gorgeous Allen Lambert Galleria which was designed by famed Spanish architect Santiago Calatrava, where metal frames arch to evoke the feel of an urban, tree-lined canopy.
Yonge-Dundas Square
The closest thing to Times Square on this side of the border, Toronto's Yonge-Dundas Square is considered the heart of the action. A popular venue for concerts, events and demonstrations, its bright lights and fountains make for great photo-ops.
Casa Loma
As a city known for modern architecture, it might come as a surprise that Toronto is home to a full size castle. Casa Loma is fittingly located near some of the city's most exclusive neighbourhoods, and is a popular spot for visitors to the city.
Thanks to its turrets, secret passageways, nearly 100 rooms and gorgeous gardens, the castle regularly hosts special events and provides the backdrop for many film productions.
Toronto Islands
They're only accessible by ferry, but the views from the Toronto Islands make the ride out worth every minute. The chain of islands are a welcome respite from the busy city during the summer months, and have an amusement park, lighthouse and farm among other attractions.
Photographers go crazy for Sugar Beach, thanks to its pretty pink umbrellas which are a worthy addition to any Instagram feed. Grab a spot on the sand and soak up the sun, then head back to the city as darkness falls to get an incredible shot of the city skyline at night. Click here to book
YOU MIGHT ALSO ENJOY:
SHARE THE PINSPIRATION! CLICK THE IMAGES BELOW TO PIN:
Globe Guide explored Toronto in collaboration with Tourism Toronto. As always, hosts have no editorial influence on articles.
This post may contain affiliate links, which Globe Guide receives compensation for at no additional cost to you.