Guys…I somehow ended up at the Saskatoon children's museum, and it totally blew my mind.
*Pause*
Seriously, it's all sorts of amazing!
*Long, awkward pause*
*Crickets*
OK let's back up a sec. Yes, I know you're used to me sharing stories about luxury adventure travel like that time I canoed under a castle in the Loire Valley, or trekked across a glacier in Patagonia and scooped up some of the ice for my happy hour cocktail. Oh, and I'm also not a mom. So you're probably like, how in the AF did you end up in a museum made for 6-year-olds who spend their days watching Paw Patrol on repeat, and why the heck are you writing about it? (Confession: actually had to Google the show Paw Patrol, because that's legit how little I know about kids these days).
Well…
I happened to be exploring Saskatchewan the same week that the Nutrien Wonderhub opened its doors in downtown Saskatoon, in the space formerly occupied by the Mendel Art Gallery. Having half an hour to kill and the opportunity to get a sneak peek before it opened to the public, I figured I had nothing to lose by checking it out. And whaddya know…turns out I could have spent the ENTIRE DAY there and they pretty much had to push me out the front door to leave because HOLY INSTAGRAM STORY HEAVEN, BATMAN!
This kids museum is chock-full of fun, interactive exhibits that combine play with learning, by encouraging curiosity, collaboration, inclusivity and the development of motor skills through the larger-than-life, colourful stations spread out over three floors. Admission grants access to the entire play place which includes things like a air cannon, mini townscape complete with food trucks and a working grocery till, and even a gorgeous light installation meant to mimic Saskatchewan's famous Aurora Borealis.
Here's why visiting the Wonderhub is one of the most fun things to do in Saskatoon with kids…whether you're 3 or *ahem* 33-years-old.
You can put in a (fun) day's work
In a nod to Saskatchwan's important potash industry (and Wonderhub's title sponsor), most of the lower level is dedicated to the Discovery Mine which mimics Nutrien's operations. Kiddos suit up in full construction gear and channel their inner geologist, engineer or mechanic, then "take an elevator" down the shaft which opens up to a "working mine" complete with things like a rotor borer machine and a conveyor belt used to "transfer ore.'
Oh, there's even a spot to learn how to change a tire…a skill that it's safe to say most of us adults could use a refresher course on.
There are flying balls
In the Airways section, you get to stuff fuzzy pom poms into a big fancy wind machine, which eventually burst out near the ceiling and rain down on you. And it is EVERYTHING.
You can up your Insta-game
While the kids are busy crawling all over the Cosmic Connection, fuel your Instagram feed by snapping shots of this colourful climbing structure. Designed by world-renowed artist Toshiko Horiuchi MacAdam, the dangling, crochet pods have small holes to slip into which creates a maze-like web leading into the centre. Your minis are sure to be occupied for a while trying to navigate toward the middle, giving you enough time to snap your weekly #OOTD post against an influencer-worthy backdrop.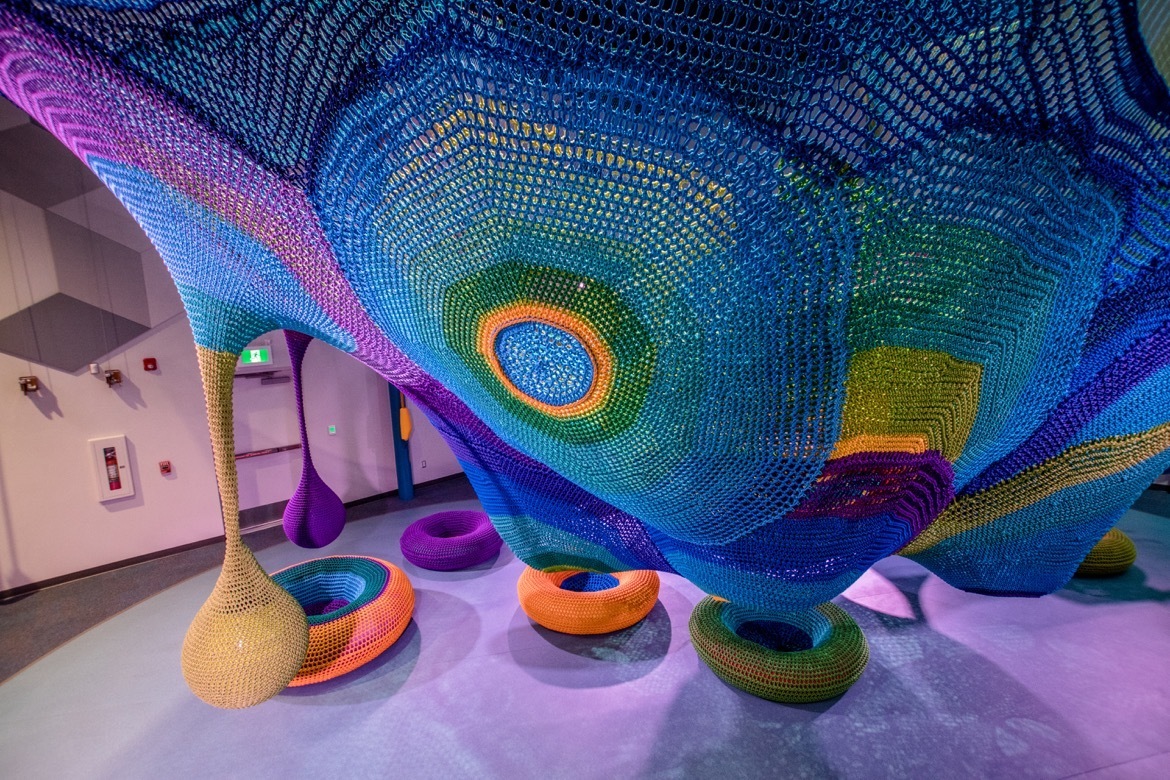 You can go camping. Without any bugs
Saskatchewan's national parks are front and centre in the Spotlight Area, where a Parks Canada exhibit includes animal footprints, details about the province's fish, and even the fuzzy mascot Parka. The highlight is the adorbs oTENTiks setup which includes mini versions of Parks Canada's famous red Adirondack chairs, and is like glamping but with additional perks like easy bathroom access and no mosquitos. So, totally winning.
There's a life-sized Lite Brite
So remember like 100 years ago when you played Lite Brite, the game where you stick plastic pegs into a light box to create a cool design? Well, the Little Bridges section of Wonderhub has a version that's about 17 times bigger, in case you didn't know that was totally missing from your life. Though it's worth noting this sensory play environment is a gated area aimed at those aged 0-36 months, so you might get some weird looks for hopping the fence.
You get to channel your inner diva
Ready for your 15 minutes of fame? Then you'll want to make a beeline for the aptly-named Boxes o' Fun section, where each structure houses displays aimed at building sensory skills by experimenting with light, sound and movement. Look at the solar system under a blacklight, bang on the drums, or best of all, pay a visit to the Recording Box which is your ticket to YouTube stardom (or at the very least, a viral video).
There are really no words for the amazingness you're sure to produce inside this gem, where users stand in front of a green screen, select a background, and accessorize from a box of props that are absolute perfection (sparkly microphones! Unicorn heads! Mermaid tails!) before hitting the big green 'record' button.
What happens next? Well, that's up to you…
So this happened…@Jody_Robbins and I having WAY too much fun at the @Wonderhubsk in #YXE which opens tomorrow!#Saskatooning #ExploreSask #GenTravMedia pic.twitter.com/1DbkzYP4jS

— Tamara Elliott (@Tamara_Elliott) June 27, 2019
Tips for visiting Nutrien Wonderhub
Admission is $8 per person (free for infants), so families with a few children interested in visiting the museum multiple times throughout the year may be better off purchasing the $200 annual membership valid for up to six people.
Pack socks for your tyke, since there are a few shoe-free areas.
Strollers are allowed inside, and to make moving around easier for everyone smaller umbrella-type strollers are recommended.
The museum is open every day except Mondays, Christmas and Thanksgiving.
Accessibility is important, so the Wonderhub allows service animals and provides sound-reduction earmuffs, Irlen glasses, squigglets, and gloves for visitors with sensory sensitivities.
Nutrien Wonderhub hosts special events like birthday parties, summer camps and adult-only nights, which are guaranteed to quickly become one of Saskatoon's top attractions.
Globe Guide had a blast at Nutrien Wonderhub in collaboration with Tourism Saskatchewan. As always, hosts have no editorial opinion on articles
YOU MIGHT ALSO ENJOY:
5 ways to get your wellness fix in Saskatoon, Saskatchewan
Saskatoon's sweet sips: Fruit-infused drinks you need to try
10 Calgary Stampede hacks that you need to know
SHARE THE PINSPIRATION! CLICK THE IMAGES BELOW TO PIN: