Most people can't say that they drove into the crater of a volcano, coated themselves in mud, soaked in natural hot springs then rinsed off under a cascading waterfall all in a single day…unless, of course, they've been to Sulphur Springs, St Lucia.
Bathing in these therapeutic waters is one of the best things to do in Saint Lucia, not only for the relaxation and health benefits but because, c'mon, where else can you literally drive into a volcano?!
Here's everything you need to know about visiting the St Lucia volcano, mud bath and sulphur springs.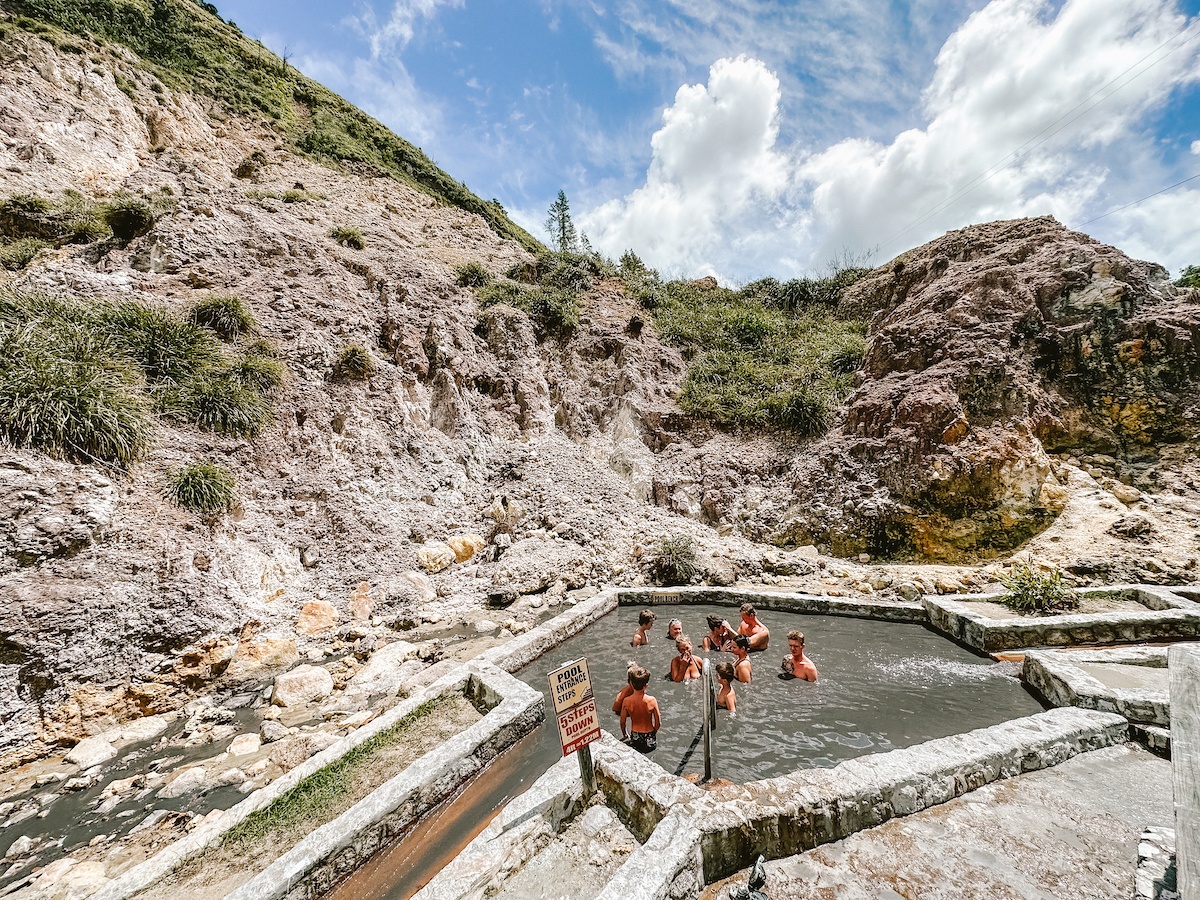 History of the Soufriere volcano and Sulphur Springs, St Lucia
The Soufriere drive-in volcano is found on the west coast of St. Lucia, near the famous twin peaks of the Pitons, the historic town of Soufriere and some of the country's most exclusive resorts.
The volcano last erupted in the 1700s, and is the youngest and only 'live' (likely to erupt again) volcanic centre in the island. The Soufrière Volcanic Centre is located near the town to monitor it, and today visitors to the site can still see wisps of vapour rising up and smell the thick scent of sulphur.
What makes this volcano unique is that instead of a pointy cone shape, it's cratered in, and a road leads right into it making this the world's only drive-in volcano. While that's novel enough, the real attraction here are the St Lucia hot springs and mud baths.
Soaking in the mud baths at Sulphur Springs, St. Lucia
As soon as we got out of the car a strong sulphur smell wafted over us, and our guide from Island Routes Tours led us past a long line of souvenir stalls to the entrance.
A bridge spans above the site, serving up a great birds-eye view of the four pools below which were once featured during an episode of The Bachelor.
The St Lucia Sulphur Springs are renowned for their therapeutic properties, and the mineral waters are said to have health benefits like helping to reduce inflammation, arthritis and eczema symptoms, detoxify, and soothe sore muscles.
The hot pools range in temperature with the one closest to the entrance being the hottest, and all ages are welcome here–in fact, this is a popular activity for local families who typically come in the morning or late afternoon to avoid the crowds.
The first step in this unique experience is to take a quick dip in a pool (30 seconds should do it, although I found it so relaxing I opted for a longer soak), then get out and grab a bucket full of mud and start caking it on!
A combination of minerals like magnesium and sulphur are found in the mud, and besides helping to improve circulation it leaves your skin feeling baby-smooth afterwards.
Cover yourself from head to toe (yes, even your face), then stand for five to 10 minutes in the hot sun to let it bake on you.
Once it turns white that means it's ready to rinse off, but not before you paint yourself and your travel companions with black mud. It's purely decorative, yet makes for great photo-ops.
The final step is to get back in the water and rinse all the mud off, which takes quite a bit of scrubbing. Then, simply sit back and relax, and enjoy the hot healing waters while you gaze out at the smouldering volcano.
Swimming under the Toraille Waterfall
While most people are content to just visit the hot springs, St Lucia has another natural wonder nearby: the picturesque Toraille Waterfall.
It takes about 15 minutes to drive there, and it's worth it for the breathtaking sight of the 50 foot falls cascading over a cliffside into a gem-toned pool below, surrounded by lush rainforest.
Surprisingly, the water isn't that cold so most people hop right in and stand right under the waterfall. Chances are, this is the most invigorating shower you'll ever take.
Some St Lucia mud bath and waterfall tours like this one also include a stop at the nearby Diamond Falls Botanical Gardens, or other scenic spots around the island.
FAQ about Sulphur Springs, Saint Lucia
How to get to Sulphur Springs: The site is a 15 minute drive from Soufriere, and about 90 minutes from the capital, Castries.
Facilities: There are washrooms on-site, lockers, change rooms, massage services and a row of stalls selling snacks and souvenirs.
What to wear: Darker swimsuits are recommended, since the mud and springs can leave some residue behind without a good washing. Don't bother with a hat or sunglasses, since everything is bound to get dirty!
What to bring: A towel, change of clothes and lots of water. Leave the fancy camera behind so it doesn't get damaged; an iPhone works great, and they're also water resistant in case you accidentally drop it.
Sulphur Springs St Lucia entrance fees:
How to book St Lucia tours to Sulphur Springs
Guided tours aren't required, as the site is accessible to walk-up guests as well. However, most international visitors do book a guided excursion as it usually includes transportation, lunch and visits to other sites around the island.
Another bonus is that your guide can help take photos when your hands are too muddy! Here are some of the best options, including this one which includes stops around the island.
Book with Viator:
Book with GetYourGuide:
Globe Guide visited Sulfur Springs, St. Lucia as a guest of Island Routes Tours which offers both group and private tours around the island.
YOU MIGHT ALSO ENJOY:
SHARE THE PINSPIRATION! CLICK THE IMAGES BELOW TO PIN:
This post may contain affiliate links, which Globe Guide receives compensation for at no additional cost to you.