Why go to Greenland? That's a question I got a lot once I started telling people I was going to the world's largest island, and the answer is this: snow-covered mountain peaks, fascinating Inuit culture, glassy fjords, icebergs and incredible wildlife watching.
At the heart of it all is the capital city Nuuk, perched on the southwest coast just below the Arctic Circle which makes it the world's northernmost capital. The strikingly beautiful Sermitsiaq Mountain provides a dramatic backdrop from many vantage points around the city, and most of the top things to do in Nuuk, Greenland centre around outdoor adventures and learning about its rich heritage.
The population of Nuuk is only about 19-thousand people despite it being the largest city in Greenland, which makes it feel like you have the whole place to yourself while out exploring the trails, admiring the modern, Danish-influenced homes, shopping downtown and walking along the waterfront.
From where to find the best souvenirs and local food to scenic spots, here's what to do in Nuuk.
How to get to Nuuk, Greenland
Nuuk is one of the world's most remote capital cities which makes it tough to get to: the only way is by plane, ferry or boat (I traveled there during an expedition cruise with Adventure Canada). While a new international airport is in the works, currently the main airport in Greenland is actually farther north in Kangerlussuaq which is a one hour flight away.
Icelandair operates a direct flight to Nuuk from Reykjavik, and there are domestic connections with Air Greenland from Ilulissat, Sisimiut, Maniitsoq, Paamiut, Narsarsuaq and Kulusuk.
Get out on the water
Exploring the idyllic fjords is one of the best things to do in Nuuk in the warmer months (between April and October) and was the highlight of my entire trip to Greenland–pure magic!
Floating icebergs accent the piercing blue water, and ancient glaciers loom in the distance. Wildlife spotting is abundant, with the likes of humpback whales, puffins, seals and white-tipped eagles calling this area home.
Head out paddleboarding, deep sea fishing or for a kayak session with Nuuk Water Taxi which is based out of Nuuk's harbour. Their sunshine-yellow boats whisk passengers away on whale safaris, hikes, out to remote cabins and for northern lights viewing, and there are also kayak and SUP tours to paddle among the icebergs.
Enjoy the scenic views
With a juxtaposition of colourful, structured homes set into the rugged landscape, snowy peaks in the distance and soft, ethereal lighting, the photo-ops in Nuuk are endless.
Sermitsiaq Mountain can be seen from all different angles, and there are fantastic viewpoints all around the city with views of the dramatic landscape or rainbow-hued houses.
The beautifully preserved colonial buildings lining Nuuk's waterfront makes it feel like nothing has changed in hundreds of years, like the red wood-panelled Church of Our Saviour which dates back to 1849.
One of my favourite photo spots is walking up the hill to the Hans Egede Statue for panoramic views, and the cemetery near Ilisimatusarfik where there are gorgeous mountain views and a picture-perfect wooden bridge. I don't recommend actually walking over it though, since it's quite steep and gets very slippery with frost.
Click on this map to see where I've highlighted some of the best viewpoints around Nuuk.
See the disappearing Mother of the Sea statue
Now you see it, soon you won't.
That's what happens depending on what time of day you make it down to the waterfront, where the well-known Mother of the Sea statue rests in the ocean. Similar to the famous Little Mermaid statue in Copenhagen, this one depicting the sea goddess Sedna is revealed with low tide and disappears when the water rushes back in.
Visit the Greenland National Museum and Archives
A short walk away is the Greenland National Museum and Archives, which holds a vast, fascinating collection of artifacts detailing the history of the Inuit.
From ancient tools and traditional clothing to beautifully crafted art pieces that provide profound insights into their way of life, visitors come away with a deep appreciation for the resilience and creativity of the Indigenous Peoples who survived in the challenging Arctic environment.
Exhibits also shed light on Greenland's colonial history, offering a comprehensive look at the Danish influence on the island. This historical context is essential for understanding modern Greenland and its complex relationship with Denmark.
One of the museum's standout features is the famous Qilakitsoq mummies, which are incredibly well-preserved bodies from the 15th century that were discovered in Greenland's frigid permafrost. The mummies provide an eerie yet fascinating glimpse into the past.
There's also a massive kayak used by the Thule people back in the 17th century for hunting and fishing, made from driftwood secured by sealskin straps.
Hit the trails
One of the best ways to get out and explore Nuuk is by hopping on a bike which is what I did–you'll cover a lot more ground this way and can get into the surrounding neighborhoods and viewpoints…as long as you don't mind a few hills!
The bike lanes/pedestrian walking paths are well marked alongside the main roads, and there are also a few extreme trails within city limits to do a bit of mountain biking (which turn into snowmobiling tracks once winter sets in).
As for hiking, the Lille Malene and Store Malene trails lead to towering viewpoints where you can marvel at panoramic views of the city, fjords, and surrounding mountains.
For a more relaxed outing, the Quassussuaq and Qaqqarsuaq trails wind through lush, moss-covered terrain, offering a peaceful escape into nature. Along the way, keep an eye out for Arctic flora and fauna, including the possibility of spotting Arctic hares or reindeer.
Globe Guide note: Nuuk is quite walkable, especially when sticking around the downtown and waterfront area. For reference, it only takes about 30 minutes to walk from there to the cruise terminal. Buses are cheap and frequent, and there are also taxis though they're quite a bit more expensive and require a bit of waiting.
Drop by the Katuaq Cultural Center
Designed to mimic the curves of the Northern Lights, the Katuaq Cultural Center's striking exterior and shimmering glass façade makes this one of Nuuk's most iconic landmarks.
This multi-use gathering space is also the city's cultural hub, hosting all sorts of Greenlandic performances and events like concerts, art exhibitions and movie screenings. Be sure to drop by Cafetuaq inside, a popular hangout spot which serves up traditional Greenlandic fare like charcuterie platters of game meats and a 'Hot Sled Dog' made from musk ox.
Eat traditional Greenlandic food
Speaking of great eats, a must-do in Nuuk is sampling local foods, which are mostly fresh seafood, caribou, seal and whale meat (mattak). I have to admit, while the caribou is quite good and tastes similar to beef, the blubbery, chewy mattak is definitely an acquired taste.
Head down to the old town to see Kalaaliaraq Market, a local hunters and fish market where you can check out the haul of the day. Beer lovers will want to head to Godthaab Bryghus, which is the country's largest brewery.
Go shopping in downtown Nuuk
To take home some treasures from your time in the Arctic, go shopping along Imaneq, the main street in Nuuk.
Nuuk Center is just past the cultural centre, and was Greenland's (somewhat controversial) first shopping centre, and also home to the country's first escalators and underground parking. There are a couple dozen shops and restaurants inside, including Pascucci which is a fantastic cafe.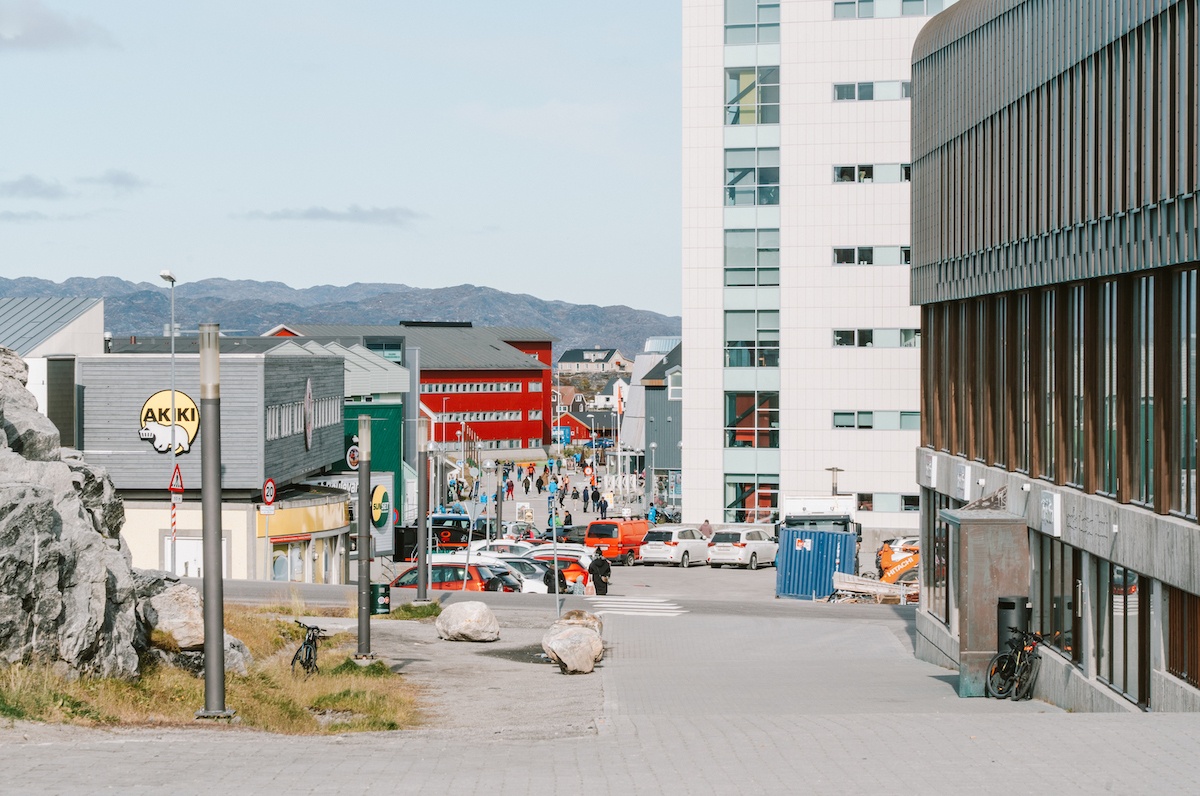 Continuing along the downtown strip there are various art galleries showcasing contemporary Inuit art, and another standout spot is Qiviut. This is where you'll find luxurious handmade wool sweaters, hats and scarves, and sealskin items like rugs, pillow cases and even overalls. Be prepared for some sticker shock though–Nuuk can be quite pricey!
Globe Guide note: There's no haggling over prices, and tipping is not required in Greenland since the service charge is already included.
Take a dip in the Malik Swimming Pool
If you're in the mood for a swim but don't want to brave the icy waters around Nuuk, head to the Malik Swimming Pool.
Winning numerous awards for its beautiful design shaped like a wave (malik means wave in Greenlandic), its large glass facade means swimmers enjoy lots of sunshine and views of the mountains and sea.
Open since 2003, there's a multi pool and warm water pool, accessible lift, steam and sauna. Lifeguards provide swimming lessons three afternoons per week, and there's also 'silent swimming' every second Friday night with dimmed lighting, quiet music and candles for a more serene swim.
Watch the Northern Lights
Greenland is one of the best places on the planet for viewing the Northern Lights, which makes this one of the absolute best things to do with a little bit of good timing and luck.
Get away from the bright city lights to see this natural phenomenon in all its glory, by booking a Northern Lights tour. Expect to be outside for a couple of hours (dress warmly!) as you head out into a prime viewing area to watch the emerald, pink and purple hues dancing overhead.
Book one of these tours in Nuuk, Greenland
Where to stay in Nuuk, Greenland
HOTEL SØMA Nuuk: This spot on the hillside overlooking Nuuk harbour has a minimalist Scandinavian vibe and is a 15 minute walk to downtown. There's a restaurant on site, and rooms are quite spacious. Click here to book
Hotel Hans Egede: Conveniently located near downtown Nuuk, this property boasts two restaurants, a bar, gym, business centre and laundry facilities. There's also a complimentary breakfast buffet, and free Wi-Fi (a rarity in Nuuk!). Click here to book
YOU MIGHT ALSO ENJOY:
SHARE THE PINSPIRATION! CLICK THE IMAGES TO PIN: