The sprawling city of Toronto on the shores of Lake Ontario is the most populated city in Canada, and one of the most diverse.
This makes it an incredible place to visit, with plenty of unique restaurants, shopping boutiques and quirky districts, and it has even been ranked as one of the best cities in the world.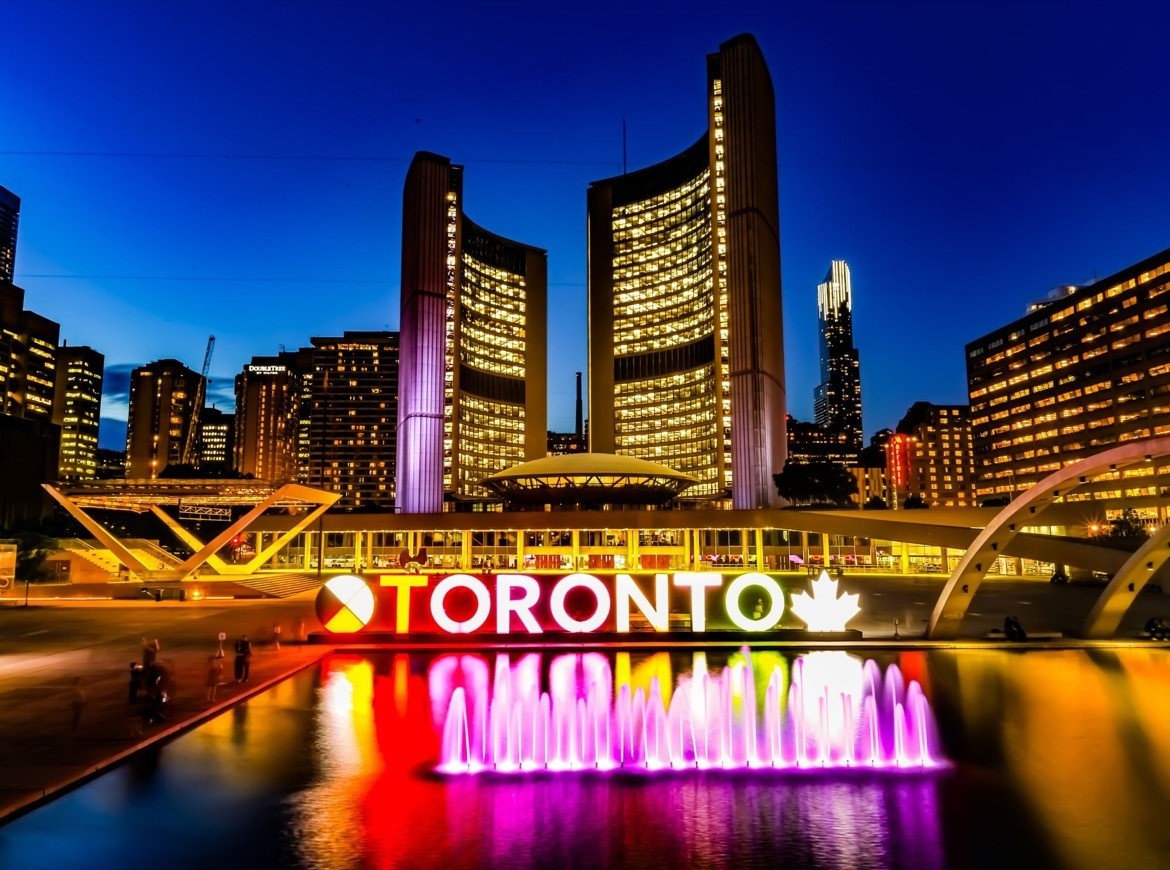 This post may contain affiliate links, which Globe Guide receives compensation for with each click or purchase at no additional cost to you. Thanks for your support!
While most people explore areas like the Distillery District, Kensington Market and Nathan Phillips Square by day, another great time to see the city is at night when the bright lights illuminate the skyline.
Here are three fun ways to spend a night in Toronto.
Dine at the CN Tower
The CN Tower stretches an incredible 553 metres high, which means a trip to the top will give you a view of the entire city which is particularly chanting at night. There's even a glass platform you can stand on that looks straight down to the pavement below.
Enjoy dinner at the 360 Restaurant, which will set you back about $40 just for an entrée but is worth the price tag. Not only is it delicious, but the restaurant rotates so you'll get to see Toronto from every angle as you dine.
Go indoor skydiving
Since you usually can't jump from a plane after dark, head to iFly out in Oakville for the next best thing.
Learn how to skydive indoors with a simulator where you'll free fall in a wind tunnel, which is completely safe yet thrilling at the same time. IFly is open until 9 p.m. on weekdays, and 10 p.m. on weekends.
Hang out in the Distillery District
A group of once-derelict Victorian industrial buildings have been completely transformed into one of the city's most visually-pleasing destinations: the Distillery District.
The 47 brick buildings that made up the Gooderham & Worts Distillery were revamped to make room for trendy art instillations and stores, alongside cafes and bistros with outdoor patios that spill out onto the laneways.
The area bustles with shoppers and foodies during the day, and at night you can enjoy a glass of wine or hang out at one of the breweries, and there's also a Christmas Market during the holiday season.
See Niagara Falls lit up
No trip to Ontario is complete without seeing Niagara Falls, which are one of Canada's most popular attractions. Located a 90 minute drive from Toronto, the spectacular waterfall is well worth a visit to see it all lit up at night.
A fun way to witness the illumination is to enjoy dinner at one of the restaurants overlooking the falls, like the Revolving Dining Room Restaurant in Skylon Tower. At 775 feet high, it has indoor and outdoor observation decks and panoramic vistas of the falls, city and even Buffalo, New York.
Another option is to head to the Watermark Restaurant which sits 33 storeys above the falls and has floor-to-ceiling windows for great views. Play one of these online slots Canada games if you want to keep the party going late into the evening.
Go to a sporting event
Toronto is a great spot for sports enthusiasts, as it's home to pro leagues for hockey, football and baseball just to name a few.
During the summer months you can watch a Toronto Blue Jays baseball game down at the open-air Rogers Centre right under the CN Tower, and from October-April (and maybe even later if they make the playoffs!) a ticket to watch the iconic Toronto Maple Leafs is one of the hottest tickets in town.
Walk through Yonge-Dundas Square
The closest thing to Times Square on this side of the border, Toronto's Yonge-Dundas Square is considered the heart of the action.
A popular venue for concerts, events and demonstrations, its bright lights and fountains make for great photo-ops.
Sleep with the fishes at Ripley's Aquarium
For a fun alternative to the bar scene, visit Ripley's Aquarium at night.
While day visits are more popular with kids, there are plenty of things for adults to do in the evening including jazz nights, a Paint Nite and Plant Nite where you can learn how to build a terrarium.
You can even book a sleepover, where you'll learn more about the animals living in the aquarium and sleep in the Dangerous Lagoon shark tunnel.
The ingenious minds behind Nathan Phillips Square clearly had photographers in mind when they designed this urban plaza with a massive fountain.
The water creates striking reflections of new City Hall and the Toronto sign that frames the square, and it's stunning when lit up at night.
During summer there are outdoor exhibits, concerts and a farmers' market in the plaza, while winter sees Nathan Phillips Square transformed with a skating rink.
These are just some of the incredible things to do in Toronto, Ontario at night!