My skis sliced through the snow, the fresh crisp air filling my lungs as I zipped my way down the forest-framed run.
The craggy peaks of mountain vistas spread out ahead without another soul in sight, and the only sounds aside from the snow crunching underfoot as I carved tracks were hoots and hollers of other riders echoing through the valley.
Moments like this are why Panorama Mountain Resort is one of the most popular ski areas in British Columbia, Canada, and a highlight of any winter visit to the Columbia Valley.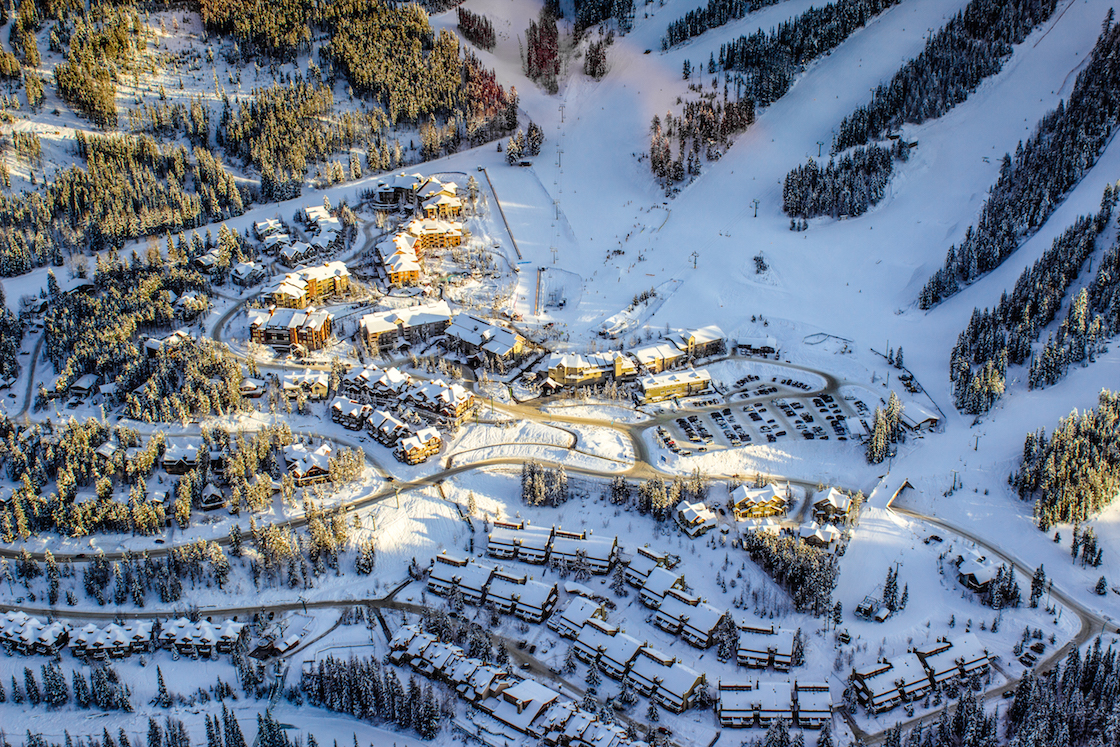 This post may contain affiliate links, which Globe Guide receives compensation for with each click or purchase at no additional cost to you. Thanks for your support!
Nestled in the heart of British Columbia's Purcell Mountains, the hill boasts one of North America's top 10 verticals, has a prime spot on the aptly-named Powder Highway, and nearly three-thousand acres of skiable terrain including notorious Taynton Bowl which challenges even the most confident skiers.
The all-season resort has plenty of activities to keep visitors of all ages occupied, and really comes alive during the winter thanks to its location just 20 minutes west of Invermere, BC, ski-in/out accommodations and bragging rights as the home of Canada's largest outdoor on-mountain hot pools.
Besides the hill and its buzzing base, Panorama offers some unique adventures–helicopter rides and paragliding on skis, anyone?
Here's an insider's guide on the best things to do in Panorama Mountain Resort, with secret tips you won't find anywhere else.
How to enjoy the Panorama Springs Pools without crowds
The village boasts Canada's largest slopeside hot pools, with two large pools (one currently under construction), a couple of smaller hot tubs and even a sauna just steps from the hill.
No surprise, they can get quite busy during weekends in winter so one trick is to book a mid-week stay if you're looking for solace.
Better yet, many of the on-hill condos and lodges have their own hot tubs so reserve a room in one of those and you just might find yourself soaking in your own private pool.
RELATED: Things to do in Invermere, BC in winter during a girls' getaway
You can get a special ride to the top of Panorama resort
Sure, chairlifts are handy but have you ever been dropped off on the top of a mountain by helicopter?!
Skiing Panorama looks a little different, with a handful of elevated options to take your day on the slopes to the next level.
Snowcat rides at Panorama Mountain Resort
Whizzing down a double-black diamond ski run while dodging moguls and trees is guaranteed to get the heart racing, and the best way to access this extreme terrain is by hopping on one of the Monster X snowcats.
'Jekyll' and 'Hyde' shuttle advanced skiers and snowboarders over to 950 acres of inbounds, backcountry-style runs in Taynton Bowl, including a steep, open pitch in the centre which locals fondly nicknamed 'The Monster' years ago.
The best lines are between Spectre and Get Out–while these are open for anyone, unless you take the snowcat it's quite a hike to traverse over.
Cat-skiing operates from Thursday to Sunday and certain holiday Mondays, and pricing starts at $22 for single ride tickets.
Take a helicopter ride to the top of the Panorama ski hill
Panorama Resort kicks apres-ski up a notch, thanks to its private helicopter offerings.
Pre-COVID, guests booking a tour through RK Heliski could enjoy a helicopter ride up to Summit Hut, nosh on steaming pots of gruyere cheese fondue paired with meat, and enjoy sunset while tucking into chocolate fondue.
While this experience has been sidelined for a few years, it's still possible to book private helicopter tours (in fact, the resort recently hosted a hilltop wedding), so keep an eye out or reach out directly to inquire about this unforgettable experience.
Panorama heli-skiing with RK Heliski
Is there anything more bucket list-worthy than a day spent shredding untouched pow in the backcountry?
You can do just that with RK Heliski which operates from the base of the resort. The operator has guided thrill-seekers through the Purcells for decades, building a loyal clientele from all over the world who quickly become addicted to the chest-deep snow drifts and high elevations typically only found in this area.
A Bell 212 helicopter plays chairlift for the day, dropping skiers and snowboarders onto towering glaciers at heights of up to 3,000 metres, then vanishes over the horizon leaving the group to be expertly guided down the slopes.
Alpine adventures are fully customizable, and typical packages include three to four long runs as well as a hearty breakfast and slopeside lunch—safe to say your legs will be screaming for a break by the time you make it down from your third session!
READ MORE: An alpine adventure with RK Heliski in Panorama, BC
Tandem paragliding in Panorama, BC
Bet you've never seen someone paraglide over a ski resort before!
Panorama is one of the only places on the planet that offers this unique winter activity, where guests can try tandem paragliding right from the hill.
The activity lasts an hour (actual flight time is 10-15 minutes, which to be honest is plenty given the cold temperatures), starting with some demonstrations and safety training by pilot Max Powers.
Then, it's time for liftoff! Guests strap into their skis and a harness, start heading down the hill and soon find themselves gracefully gliding up, up and away over the Columbia Valley.
It's hard to beat the serene feeling of silently gliding above the tiny chairlifts and skiers below, channelling your inner bird as you soar high above the hill and soak in one of the best views in the entire region.
View this post on Instagram

READ MORE: 10 unique things to do in the Columbia Valley, BC during winter
You don't have to know how to ski to enjoy Panorama winter activities
There are so many fun things to do in Invermere, BC in winter that don't involve skiing or snowboarding, and a few of them are in Panorama so you hardly have to leave the resort.
Skating in the Panorama Mountain Village
Lace up your skates and go for a glide at the rink in the Upper Village, which is open all day long and lit up at night with pretty lights.
Cross-country skiing in Panorama
Over at the Panorama Nordic Centre in the lower village, more than 20 kilometres of groomed trails await for snowshoeing and cross-country skiing along scenic Toby Creek.
Snowmobiling near the Panorama resort
To get your adrenaline going, spend a day ripping around on a snowmobile with Toby Creek Adventures which is one of the best things to do in Panorama.
Get all geared up, take a quick practice ride around their headquarters which are just a five minute drive from the Panorama ski area, then head out into the backcountry.
With over 32-thousand acres of terrain to explore, guests of all ages and skill levels can expect to do everything from weaving through old-growth forests to ripping around Paradise Bowl to enjoying panoramic views from eight-thousand feet up.
The 4-5 hour excursions include a coffee break at a charming, wood-stove heated cabin next to an abandoned 1900s silver mine, a slopeside barbecue back at the cabin, and walking to a frozen waterfall on the way back down.
Where to find the best breakfast
There are lots of options for grabbing breakfast down in the village, including Fireside Café in the Approach Hotel and the cafeteria-style The Great Hall.
However…
My recommendation is to head up the chairlift first thing in the morning to get the freshest tracks of the day, do a few runs, then make your way to the Summit Hut.
Not only can you take a break, enjoy great views and warm up around the wood-burning stove, but they also serve the best damn breakfast sandwich you've ever had in your life.
It was so good I didn't even take a photo before devouring it, so you'll just have to trust me on this one.
You can pretend you're in Europe
Didn't make it to the Alps this year? Pretend you're in Switzerland by heading to the Elkhorn Cabin for Raclette.
This Swiss tradition sees cheese melted and served over meat, veggies and bread, somewhat similar to fondue. Enjoy it as a quick lunch stop, or book a table during après ski and enjoy a guided ski back down the hill after dinner, lit by a headlamp.
There's also a cheese fondue party that can be booked in advance for larger groups, topped off with an optional chocolate fondue. Pricing starts at $40 per person, e-mail [email protected] for reservations.
The cozy, slopeside cabin gets absolutely packed on weekends and can be quite a fun scene; there are also so many Europeans who make the trip across the pond to ski here that chances are you'll hear someone at the next table speaking German or Czech and feel like you're in the Bavarian Alps!
Where to find the best views at the Panorama ski resort
Looking for the perfect backdrop for capturing a group shot of your ski getaway, or just want to enjoy epic scenery as you whiz down the hill?
Some of the best views at Panorama Mountain Resort are:
From the Elkhorn cabin, midway down the Rollercoaster run
In Sun Bowl, on the far side of the mountain
At Summit Hut (take the Summit quad to get there) to enjoy panoramic views from 2,365 metres up
The Hayfever run, or Founder's Ridge area for a cool perspective of the village
While paragliding, obviously!
Panorama accommodation: Best places to stay for Invermere skiing
Whether you're visiting Panorama Mountain Village during a couple's getaway or spending a fun weekend away with a larger group, the resort has pretty much every type of accommodation imaginable.
There are seven different hotels and lodges on the mountain, which are all just steps away from the chairlifts, restaurants and hot pools.
The village is divided into two sections (upper and lower), and those staying in the lower section can hop on the free Village Gondola that shuttles people back and forth all day long (the rides only takes a few minutes).
A good option for Panorama ski-in/ski-out accommodation is the newly-refurbished Approach Hotel, which is right in the centre of the action.
Its no-frills, minimalist approach focuses on the basics, and rooms have all sorts of configurations from one queen-size beds and lofts to family-style rooms with bunk beds that sleep six people. Click here for pricing
There are also hundreds of privately-owned houses, townhomes and condos that are rented out by owners; check out these listings on Booking.com for smaller suites, and these ones on VRBO for larger homes which are ideal for groups.
How to get to Panorama, BC
This Invermere ski hill is a 20 minute drive west of town, and the closest airport is in Cranbrook, BC. However, most visitors come from Calgary which has a major airport (YYC) and is less than four hours away.
International visitors typically include a stop in Banff along the way, and tack on trips to nearby ski spots along the Powder Highway like Golden, Revelstoke, Fernie and Kimberley.
Panorama Mountain Resort offers shuttle transfers from the Calgary airport, and there's also a free shuttle that goes between Invermere and Panorama.
YOU MIGHT ALSO ENJOY:
SHARE THE PINSPIRATION! CLICK THE IMAGES BELOW TO PIN: