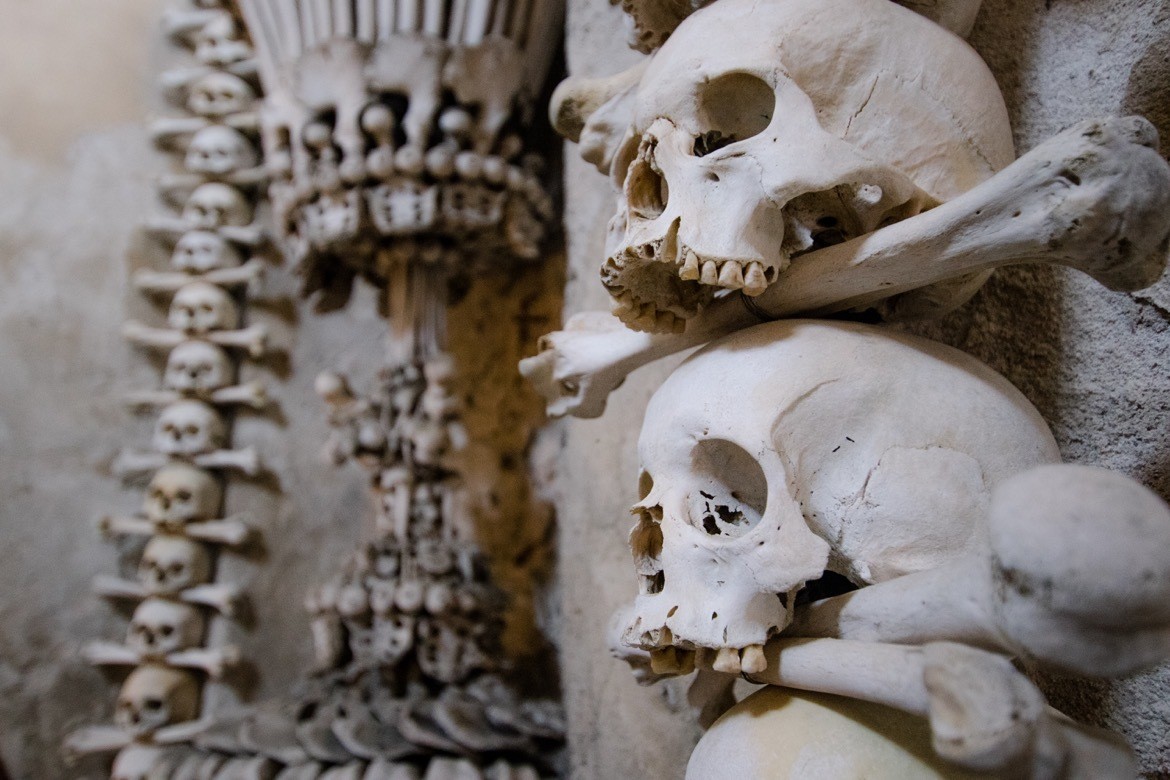 This post may contain affiliate links, which Globe Guide receives compensation for with each click or purchase at no additional cost to you. Thanks for your support!
While most places wait to decorate with skull decor until Halloween, there's a spooky spot in the Czech Republic where skeletons are on display all year round.
Oh, and those skeletons just so happen to be real. Real, human bones.
The Sedlec Ossuary–more commonly known as the Bone Church–is found in the city of Kutna Hora just one hour east of Prague. And it's exactly what it sounds like. A church made entirely of bones. How's that for a wacky tourist attraction?
The Kutna Hora Bone Church
The story goes that the surrounding cemetery was founded way back in 1142 as part of Bohemia's oldest Cistercian monastery. A handful of earth was brought over from Jerusalem and scattered around it, making the cemetery part of the Holy Land and one of central Europe's most sought-after burial places. At one point, more than 30-thousand people were buried there as a result of deadly epidemics.
In the 14th century, the Gothic-style Church of All Saints was built beside it, which includes an upper chapel and underground ossuary. (Don't worry, I had to Google it too so I'll save you the trouble: an ossuary is defined as 'a container or room in which the bones of dead people are placed.'). However, it was attacked by troops overtaking the city in 1421 and both the cathedral and monastery were burned to the ground. So much for 'may they rest in peace,' amirite?
Almost a century later, work began to move the remains of some 60-thousand people from the destroyed graves into the ossuary while the church was rebuilt, although exactly what happened next is up for debate. Some say community members moved and stacked the bones to make room for construction, while others give credit to a half-blind monk who's said to have miraculously got his eyesight back after stacking the skulls into pyramids. Anyhoo, the bones were left there until the 18th century when architect Jan Blažej Santini-Aichel was brought in to envision the church's new interior, and local wood carver Francis Rint was tasked with designing something beautiful out of the creepy collection. Just another day at the office, eh?
The Kutna Hora church made of human bones
Rint bleached and carved the bones, creating chains of skulls across entryways, elaborate candelabras, crosses fashioned out of femurs and even a rather frightening family crest. The most impressive piece is a massive bone chandelier, which incorporates skulls as candle holders and is said to use every single bone found in the human body. The result is nothing short of…breathtaking.
*Groan*
Sorry, couldn't resist.
READ MORE: Fun, quirky things to do in Kutna Hora, Czech Republic
There are estimated to be anywhere between 40,000 and 70,000 skeletons within the Sedlec Ossuary, which were used to create this skull chapel. Visitors are welcome to freely walk about and admire the bone decorations, and peek in at the archeological work still being done to preserve this unique site.
And just in case you were wondering how everything stays in such pristine condition, it turns out a specialist comes in to individually clean each bone with a toothbrush. How's that for a ghostly gig?
Practicalities for booking a Sedlec Ossuary tour:
When to go: The bone cathedral is open every day of the year except December 24th. Visit during shoulder season to avoid crowds, or at least go first thing in the morning or later in the day since the interior of the church isn't very large.
Pricing: Click here for current admission prices. Tickets must be purchased at the nearby tourist information centre, not at the door.
How to get from Kutna Hora from Prague: Buses and trains frequently make the trip between cities. Most people opt for the train, which takes just one hour each way versus an extra 40 minutes for the bus ride.
How to book Bone Church tours: The city itself is absolutely lovely, so it's worth booking a full-day Kutna Hora tour or staying overnight to allow ample time for exploring. Here are a few options for booking a Sedlec Ossuary tour from Prague (sorry, still no ghost tours…talk about a missed opportunity!):
Where to stay in Kutna Hora
Hotel U Kata: With a great location a quick walk from the main sites, easy parking and fabulous views, Hotel U Kata is considered one of the top hotels in Kutna Hora. There's also a wellness centre on site that guests are free to use during select hours, which has a private whirpool, sauna and steam room. Click here to book
Palace Kutna Hora: This quaint, boutique property has just four rooms which are large and elegantly decorated. It has a great central location, but no elevators which is worth noting for those with mobility issues. Click here to book
Globe Guide explored the spooky Sedlec Ossuary as a guest of Central Bohemia Tourism and CzechTourism. As always, hosts have no editorial influence on these rather-eerie articles.
YOU MIGHT ALSO ENJOY:
SHARE THE PINSPIRATION! CLICK THE IMAGES BELOW TO PIN: