Hilltop monasteries, deep canyons, spellbinding waterfalls and ancient ruins are among the highlights of visiting Armenia, which is nestled in the heart of the Caucasus.
Bordering Iran, Turkey, Azerbaijan and Georgia, the compact country has a turbulent history dating back centuries, with land disputes continuing to this day.
However, the people are surprisingly resilient, incredibly kind and hospitable despite the obstacles they face on the world stage, making a trip to Armenia well worth the effort for those who enjoy impressive landmarks, dramatic landscapes, good food and wine.
Aside from its historic treasures, it's safe to say that Armenia is best known as the homeland of the Kardashian crew–at least in the USA. Regrettably I didn't spot any Kardashian-dopplegangers while I was there; however, I can confirm the Armenians I spoke with are big fans of America's most photogenic family, and grateful for the work they've done to shed light on traumatic events like the Armenian Genocide.
From the most beautiful places in Armenia to itinerary planning, here's everything you need to know about planning an Armenia trip.
The best things to do in Armenia
Being a relatively inexpensive destination, Armenia is perfect for budget travellers with modern hotel rooms going for less than $80 per night, and a few dollars per ride for a cab in the capital of Yerevan.
Aside from digging into the mouth-watering BBQ, and sipping brandy or wine from one of the world's oldest viticulture areas, there are plenty of things to do and beautiful places to visit in Armenia including ancient monasteries, cave towns, natural thermal springs and spectacular waterfalls.
Some of the top attractions include:
Dilijan
Many locals will say Dilijan is one of the best places to visit in Armenia, thanks to its dramatic mountain scenery. Known as the 'Armenian Alps', this area in the northern part of the country is home to Dilijan National Park, hiking trails, pristine lakes and ancient monasteries.
Tatev
The 9th century Tatev Monastery is one of the most famous tourist attractions in Armenia, and you'll see it all over postcards in souvenir shops. An unforgettable way to get there is by taking the Wings of Tatev cable car, and enjoying a birds-eye view of the sweeping valley below.
Jermuk
The pretty town of Jermuk is famous for its natural mineral waters, which makes this a popular getaway for spa-goers. Fun attractions nearby include the five minute ride up a chairlift for panoramic views of the entire area, and visiting the Jermuk Waterfall that's nicknamed 'Mermaid's Hair' because of its unique shape.
Noravank
Dramatic, red rock canyons unlike anywhere else in the country are found in Noravank, and a highlight of driving through the gorge is heading up to the 13th century Noravank Monastery which overlooks the picturesque valley.
Lake Sevan
This expansive lake east of Yerevan is one of the world's largest freshwater, high-altitude lakes and a favourite summer spot. Visitors can explore the peninsula, go boating or jet skiing, and walk up the hill to the Sevanavank Monastery for panoramic views.
Armenian tours
Yerevan is a good base to see most areas, since tours to regions around the country depart from the city centre every day. If you have extra time on your Armenia itinerary, it's also worth spending extra time in Jermuk, Dilijan or Gyumri which is Armenia's second-largest city.
I booked all of my day trips through One Way Tour, which offers private and group tours around Georgia and Armenia. Full day trips cost as little as $20 USD (not including food), and include multiple stops at some of the top sites and activities like wine tasting in Areni.
Here are some great Armenia sightseeing tours:
How to get to Armenia
Travellers can fly into Zvartnots International Airport (EVN) in Yerevan which is well-connected to destinations around Europe and the Middle East.
The majority of people visit Armenia as part of a trip around the Caucasus which includes neighbouring Azerbaijan and Georgia, so it's very common to drive across the border. However, there are still deadly, active conflicts between Azerbaijan and Armenia in the Nagorno-Karabakh region so land borders between those countries are closed, and Azerbaijan will not let you enter if they find evidence you've visited the disputed zone on the Armenian side.
While relations with Iran are currently good, Armenia also has a long history of conflict with Turkey so it's not possible to cross through that land border either. So, most people enter via Georgia, and there are frequent public buses and transfers in Tbilisi that can drive you to the border.
A great option is to book the trip through a company like Arara Tour, which has been operating guided trips throughout the Caucasus and beyond since 2012. Group trips range from a few days to over a month, and their responsive staff can also help organize customized, private tours. A couple to consider are:
It was a treat to start off my trip with Gagik Simonyan (owner of Arara Tour), who drove me from the Armenian border to Yerevan. The car was clean, he's an excellent driver, and provided a great overview of the country and shed some light on its tumultuous history as we took the scenic route south, stopping for traditional sweets, a BBQ lunch, tea and fresh figs along the way.
How to get a visa for Armenia
Citizens of more than 40 countries are permitted to enter Armenia without a visa, including those from the USA, UK and Australia. Passports must be valid for at least six months.
Canadians are not on that list, so Armenia entry requirements mean you'll need to apply for a visa before arriving; fortunately, the process is quite quick and inexpensive. You can apply for an e-Visa for Armenia, which costs $6 USD for up to 21 days or $31 USD for 120 days. It usually only takes a couple of days to get approved.
Is Armenia safe to visit?
Based on my personal experience as a solo female traveller, I found Armenians to be extremely good hosts, friendly, helpful and speak English relatively well. There were absolutely no issues during any of my day trips or while walking around alone in Yerevan, and no heckling or advances from men.
However, driving in Armenia is absolute insanity, with many roads having hazards like large potholes, no line markings, meandering sheep, hairpin turns, stunt driver-like maneuvers and dangerous passing by vehicles. I even saw half a dozen fender-benders in downtown Yerevan, in just a one hour period.
This is definitely a place where you want to leave driving to the professionals, and book guided excursions instead of heading out on your own.
Places to stay in Yerevan
There are plenty of hotels right in the centre, like the Best Western Plus Congress Hotel where some rooms overlook the fountains and the Armenia Marriott Hotel Yerevan that's in a beautifully preserved historic building right in Freedom Square.
Republica Hotel Yerevan gets rave reviews for its good location and helpful staff, while some rooms at the modern DoubleTree Hilton have views of Mt Ararat.
4 day Armenia itinerary
While there are one-day tours from Tbilisi, it's definitely worth spending at least a few days seeing the top Armenia tourist attractions. With this four day itinerary, you can base yourself in Yerevan the whole time and see some of the best places to visit in Armenia during day trips:
Day 1: Tbilisi to Yerevan
Book a private transfer from Tbilisi to Yerevan with a company like Arara Tour. It takes about six hours to drive between the cities, plus time to cross the border.
Having your own driver means the opportunity for some good stops along the way, including a stop at the Haghartsin Monastery, lunch in Dilijan, and visiting Lake Sevan before arriving in Yerevan in time for sunset.
Day 2: Tatev Monastery, Khndzoresk, Shaki Waterfall
Book this trip with One Way Tour that starts at the crack of dawn, since the Tatev Monastery (one of the top tourist spots in Armenia) is about a four hour drive away. Once you arrive, get to the monastery by taking a ride on the Wings of Tatev which holds the Guinness World Record for the longest double track cable car thanks to its 5752 metre long tramway.
Walk nearly 500 steps down to the suspension bridge in Khndzoresk, see cave dwellings that date back to at least the at least 13 century, then finish off the day by admiring the cascading Shaki Waterfall.
Day 3: Yerevan
Enjoy a free day in Yerevan. People watch at a cafe, have a BBQ lunch (the food at Vostan is excellent and the courtyard is Instagram heaven), go shopping along Abovyan Street in the city centre, and watch the dancing fountains all lit up at night.
Day 4: Khor Virap, Noravank, Jermuk, Areni
Kick off the last day of your Armenia trip at the Khor Virap monastery on this excursion with One Way Tour, and soak up the great views of towering Mt Ararat. The landscape transforms into red rock canyons as you approach Noravank and visit its centuries-old monastery perched on the hillside.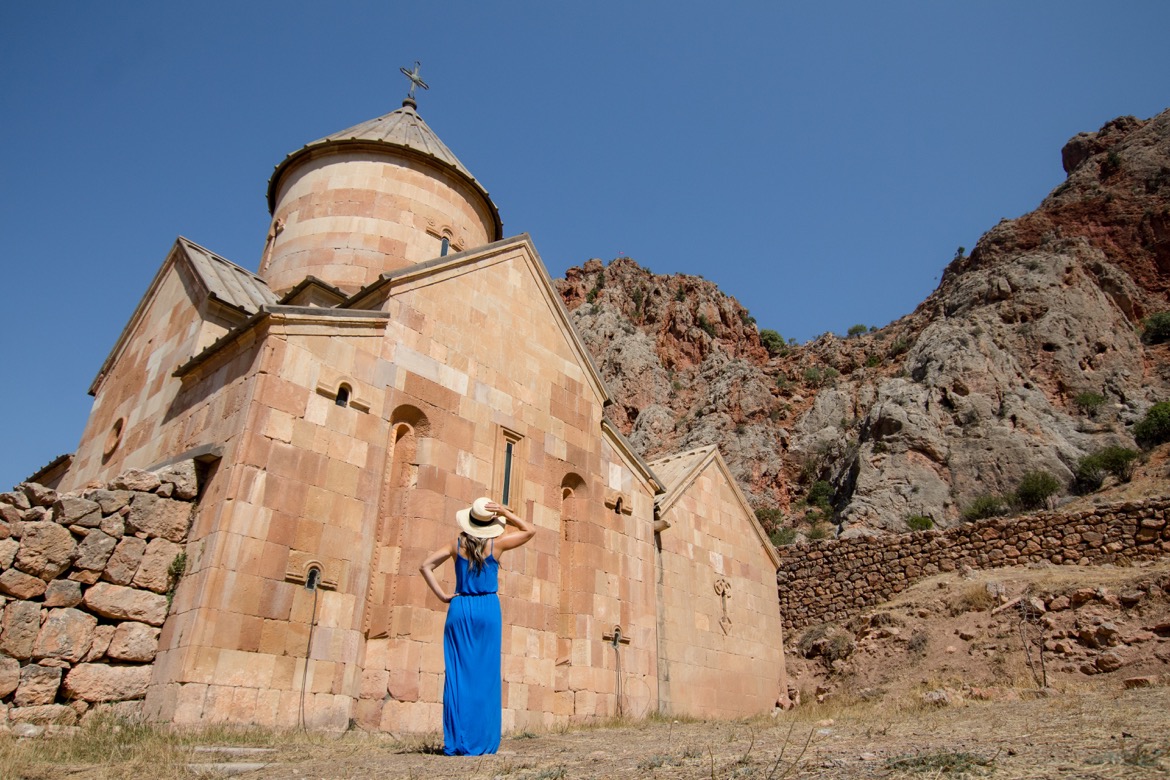 The spa-town of Jermuk is renowned for its natural thermal waters, and you can get a birds-eye view by heading up the chairlift to see it from above. The reflections from the nature trail that winds around the townsite are perfection, and you can drink water right out of the Jermuk Mineral Water Gallery.
Make one last stop at the impressive Jermuk Waterfall before heading to the Areni Winery for some wine and brandy tasting, toasting to the end of a great trip to Armenia.
YOU MIGHT ALSO ENJOY:
SHARE THE PINSPIRATION! CLICK THE IMAGES BELOW TO PIN: