When the travel agent who sold me a Caribbean cruise found out we were docking in St. Maarten for a day, she perked right up.
"Ooh, I love St Maarten!" she enthused. "You can just jump right off the ship, and you're on the beach!" She'd know, having worked on cruise ships all around the world for years, adding it was one of her favourite ports to dock in.
This post may contain affiliate links, which Globe Guide receives compensation for with each click or purchase at no additional cost to you. Thanks for your support!
It turned out she was on to something, which was apparent as soon as we pulled into the colourful harbour in the capital Philipsburg. True to her word the dock was practically attached to the sun-soaked beach, a welcome sight considering that in many other parts of the world passengers arriving by boat typically have to book an organized tour or transportation just to get near the main sights. It was easy to see why cruises to St Maarten are so popular.
St Martin vs St Maarten
The logistics of this eastern Caribbean island can be a tad confusing, as it's actually split into two parts: the French side called St. Martin, and the Dutch side referred to as St or Sint. Maarten. As such, it has two main cities—Philipsburg (Dutch) and Marigot (French) with easy access to the Atlantic Ocean on the east side and the Caribbean side on the west.
Most tourists spend the bulk of their time near Philipsburg to relax on Great Bay Beach or shop, and those staying longer than a day use the city as a base to head out and explore the rest of the island. St. Maarten is also in the middle of a cluster of gorgeous islands, and on a clear day you can see Saba, Nevis, St. Kitts, Anguilla and ritzy St. Barths.
If you've ever had a hankering to see one of these islands, you can easily hop on a ferry and head over for the day, without the high price tag of staying overnight.
The craziest airport ever
Those who travel to St Maarten by air will fly into Princess Juliana International Airport on the Dutch side, and boy does it ever make for a memorable landing. The airport is famous for its ridiculously short runway wedged between popular Maho Beach and a large hill. People flock to the area to watch the gigantic jets navigate the strange flight path, as they roar just meters above sunbathers.
This spot is definitely worth a visit regardless of how little time you have on the island. Just be sure to bring earplugs and hold on to your hat!
St Martin and St Maarten beaches
St Maarten has no shortage of beaches—including those who only like wearing their birthday suits. Yup, the island is home to a nudist beach on the French side, called Orient Beach. A large reef runs along the coast and clothing is optional on the southern end, making it a popular spot for nudists and lookie-loos.
If exposure isn't your thing, you may want to stick to something more PG like Simpson Bay, which is considered one of the longest and nicest on the island. A number of cute little boats dot the turquoise water, and the beach is framed by green hills. This is the best spot to see neighbouring Caribbean islands, provided it's a clear day.
The island's most popular stretch of sand would have to be Great Bay, which is the beach that anyone arriving by boat first sees as they approach St. Maarten. The beach itself is huge, meaning you won't be sharing a beach towel with strangers, and the area is lined by a massive boardwalk that leads into Philipsburg's hotels, restaurants and shops.
St Maarten tours
Cruisers wanting nothing more than to get their tan on will be content with a beach day, but for travellers hoping to explore more of the island there are plenty of things to do in St Maarten. Excursions can be booked through the cruise line or one of the operators in port, including island tours or fun activities like snorkelling or a sunset cruise. Here are a few great options:

Duty free shopping in St Maarten
It's safe to say that the most popular pastime for tourists in St. Maarten is shopping. Sure the beaches are great and the views spectacular, but who can say no to 40 per cent off?
Philipsburg has dozens of duty-free shops where you can pick up clothes, cigars, jewellery and liquor at steep discounts. For example, a 750 ml bottle of coconut rum costs about $30+ in North America, but you can pick one up in St. Maarten for $11. Yup, $11.
Keep in mind that most countries have a limit to how much liquor and tobacco you can bring home before paying duty—although even if you pay taxes on top of the island prices it will likely still be cheaper than anything you can get at home.
One thing to remember if you're travelling on a cruise ship is that you're usually not allowed to bring any liquor into your room after you board. However, the ship will hold it for you until the night before you leave, so you'll get to bring it back with you.
PRACTICALITIES:
Languages: French, English and Dutch
Currency: US dollars and Euros are most commonly accepted
How to get around: Rent a car, but keep in mind there can be horrendous traffic jams (strange, for a country of about 80,000 people). Taxis are also plentiful.
Must try: Any drink with guavaberry in it. The fruity, rum-based liquor is a sweet, pink concoction that's great as a margarita-type bevvy. Grab one at a bar along the beach for about $6 and enjoy! You can also pick up a bottle of guavaberry liqueur to take home with you at the duty-free shops.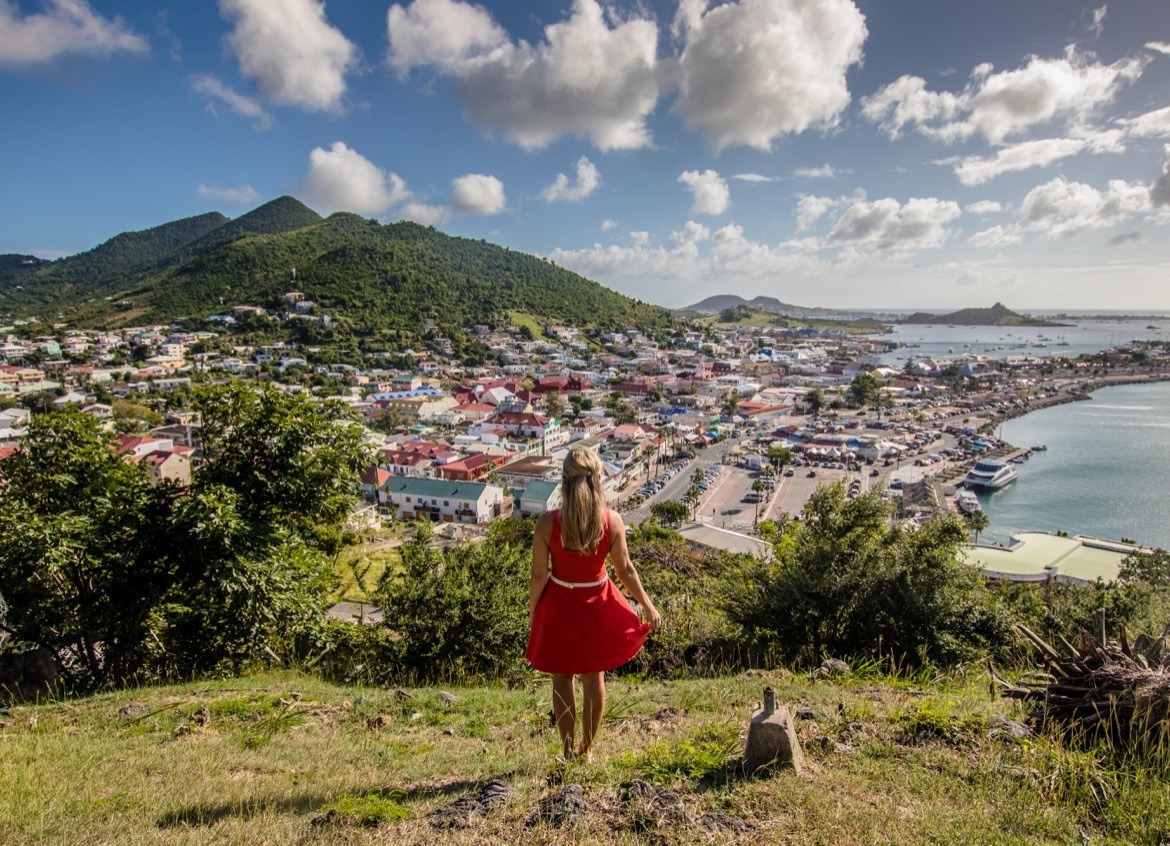 YOU MIGHT ALSO ENJOY:
SHARE THE PINSPIRATION! CLICK THE IMAGE BELOW TO PIN: