Dazzling turquoise water, blonde beaches and palm-fringed shorelines are hallmarks of the Dominican Republic, with the resort area of Punta Cana luring millions of sun-seekers each year.
This popular resort district on the southern coast is a great base for exploring the Caribbean country, with plenty of great day trip options to places like Santo Domingo that showcase another side of the Dominican away from the five star hotels.
From wild ATV rides to idyllic island getaways, here are some of the best excursions in Punta Cana.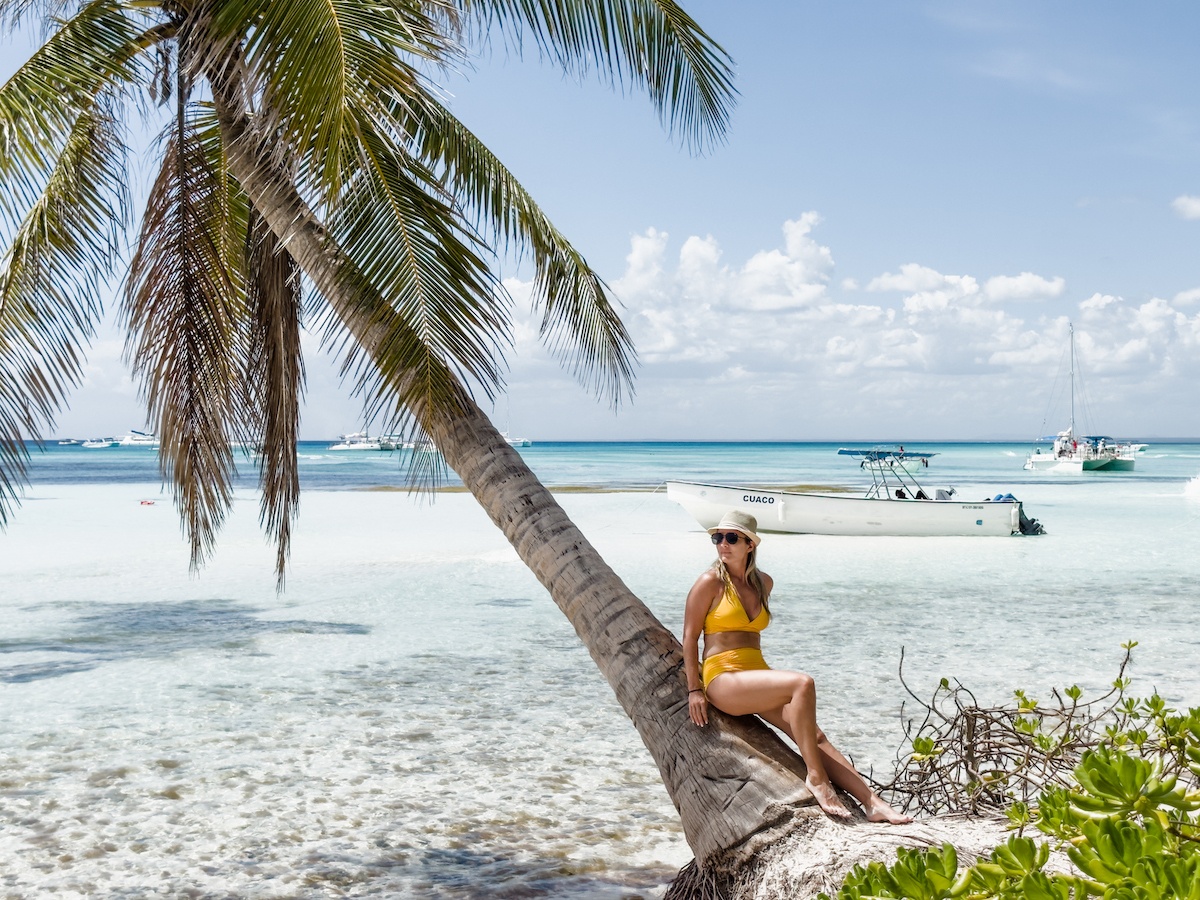 This post may contain affiliate links, which Globe Guide receives compensation for with each click or purchase at no additional cost to you. Thanks for your support!
Relax on Macao Beach
One of the best beaches in Punta Cana is Macao Beach, known for its sugary sand and rolling waves ideal for surfing lessons.
The water is crystal clear and shallow, making it a good option for families.
Picnic tables topped with palapas and lounge chairs with colourful umbrellas line the shore, and a weathered wooden lookout has a great view of the action below where vendors hawk local handicrafts and try to get tourists to pose with their squawking parrots.
Grab a cold Presidente beer from one of the beach bars, and keep an eye out for the local fishermen bringing in their catch: you can enjoy a fresh grilled one for as little as $10 USD.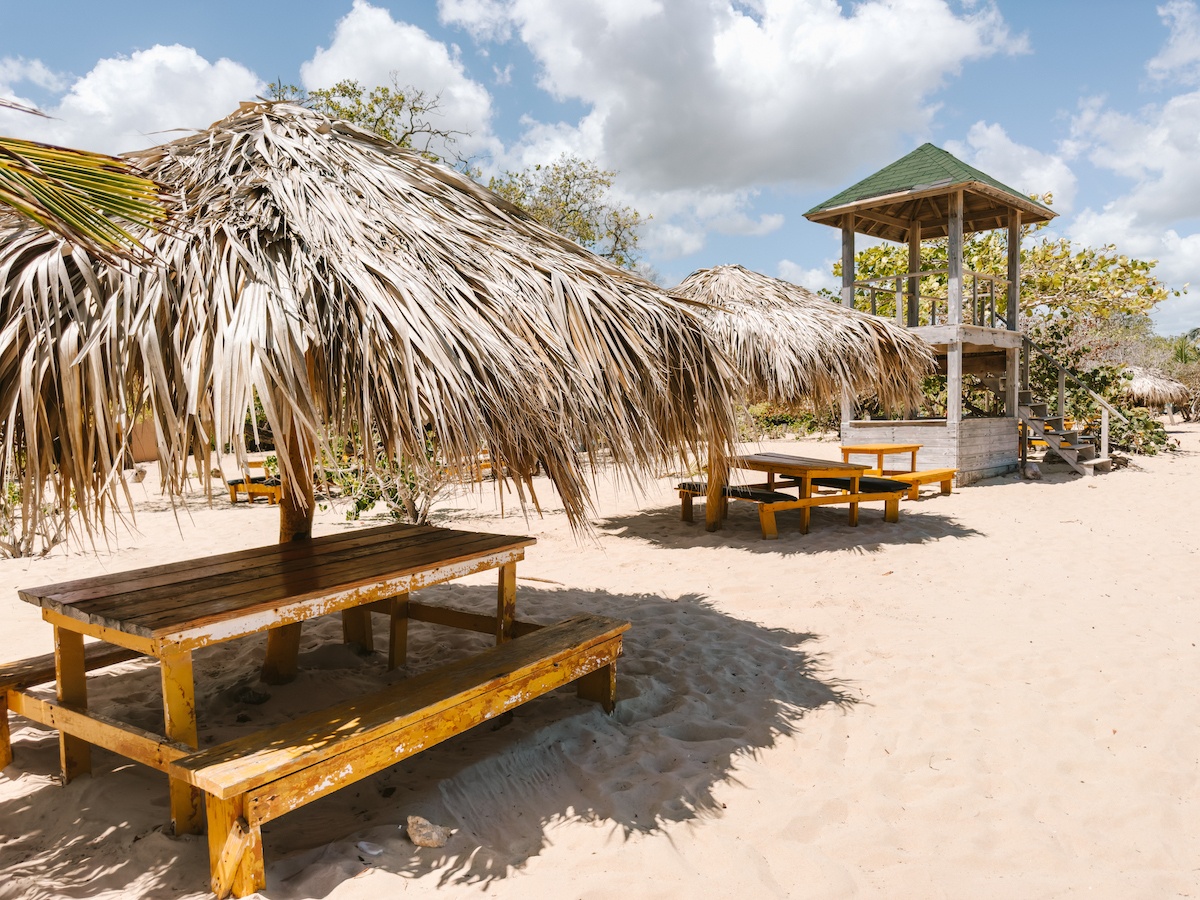 Seeking seclusion? Head to the east end of the beach, where a 15 minute walk along a trail leads to the less-frequented Playa Escondida.
A well-marked road leads to the waterfront for those who choose to drive or take a taxi to Macao Beach; otherwise, there are horseback riding, ATV and buggy tours that include a stop here to cool off:
Globe Guide tip: Book in at the luxe Dreams Macao resort; it's the only hotel on this beach which means guests have the sandy shoreline all to themselves once the day-trippers head back.
Swim in one of the cenotes in Punta Cana
Imagine descending into a dark cave, and finding a tranquil, gem-toned pool accented by streams of ethereal light that found their way through the crevasses from up above ground.
Swimming in a natural cenote is one of the most unique things to do in Punta Cana, and the Dominican Republic is one of only a handful of countries on the planet where you can experience this.
One of the closest freshwater cenotes near Punta Cana is called La Cueva Taina (Taino Ecological Park), which you can visit during this ATV tour or independently (there's no admission fee).
Time your visit for first thing in the morning or late afternoon, to enjoy a refreshing dip without any crowds.
Book one of these tours which includes time to swim in a cenote:
Play at Scape Park Punta Cana
The Blue Lagoon (also known as Hoyo Azul) is another option for swimming in cenotes; however, it's in the middle of Scape Park in the Cap Cana Resort which means you need to purchase a ticket to the 100 hectare natural theme park to visit.
Luckily there are lots of other fun things to do here including a zipline that splashes into the water, eco tours, cave expeditions, diving platforms, 4×4 buggies, nature walks and a chance to meet rhinoceros iguanas.
A full day admission ticket includes everything listed above, or you can book one of these tours:
Go full throttle during an ATV or dune buggy tour
Hope you don't mind getting dirty—this thrilling, high-octane adventure includes lots of dust and mud!
ATV and dune buggy tours are a popular pastime 'round these parts, where riders get to tackle the trails and whizz by tropical gardens, grazing goats and cattle en route to a cenote.
After a quick dip, the next stop is an organic farm where you can smell and sample Dominican specialities like coconut oil, vanilla, coffee and chocolate.
Smoke a complimentary cigar, and sip the local favourite Mamajuana liqueur which is said to be a natural aphrodisiac.
End this half-day adrenaline rush with some time to relax at Macao Beach, before heading back to headquarters for the ride back to your resort for a well-deserved shower. Click here to book
Globe Guide tip: Wear a swimsuit underneath clothes you don't mind getting dirty, and pack plenty of sunscreen and a towel in a backpack since there's nowhere to store bags on an ATV.
It's worth bringing a bandana if you have one handy to keep dirt from getting in your mouth, and they're also available to purchase for the steep price of $20 bucks. We didn't wear one during our tour and were fine without it—just make sure to wear sunglasses as the dust can irritate eyes.
Book a dune buggy or ATV tour in Punta Cana:
Escape to Saona Island
One of the best things to do in Punta Cana, Dominican Republic is take a boat trip over to Saona Island which is the definition of an idyllic island paradise.
Known for its sweeping beaches, coral reefs and mangroves, the island is on the convergence of the Caribbean Sea and Atlantic Ocean and one of the country's most popular day trips.
The journey from Bayahibe (one hour drive from Punta Cana) on a speed boat takes half an hour, and about one hour by catamaran.
En route you'll get to stop at a natural swimming pool where the waist-deep water is warm, and so clear you'll be able to see starfish floating by.
Groves of palm trees, weathered beach shacks, pristine reefs and aquamarine water await once the boat arrives at Saona Island, and you can spend the afternoon lounging on beach chairs, swimming or walking around the island.
An open bar and fantastic beach BBQ are included in most tours, which makes a day on Saona Island one of the best things to do near Punta Cana.
Book one of these top-ranked tours to Saona Island (this is the one I did):
Globe Guide tip: Trust me, Saona Island is so beautiful you'll want more than just a couple of hours there. To visit independently, head to Bayahibe then pay 1000 pesos (about $17 USD) for the boat ride over. The boat to the town of Mano Juan leaves at 9:30 am daily, and returns to the mainland at 2:30 pm.
Isla Saona is actually quite large, so get around on a local motorbike taxi or pay $15 USD per day for a bike rental. The large catamaran tours usually stick to the northern part of the island, so those who venture elsewhere to places like Playa el Toro and Punta Canto de la Playa can expect to have the whole beach to themselves.
There are a couple of places to stay overnight, including Saona Lodge which costs about $60 USD per night for a hut with a deck and private outdoor shower, a shared kitchen/lounge area and communal bathrooms. Click here to book
Take a day trip to historic Santo Domingo
While the day trip from Punta Cana to Santo Domingo makes for a long day, it's well worth it to see a more authentic side of the Dominican Republic.
The capital city draws comparisons to Havana, Old San Juan and Cartagena, Colombia thanks to its colonial streetscapes and pastel facades which date back to the 16th century.
Wander the streets and explore the first European settlement of the Americas, which has been designated as a UNESCO World Heritage Site.
Some of the top things to see in Santo Domingo are:
Faro A Colón
The remains of famed explorer Christopher Columbus lie at this impressive monument on the east end of the city.
Built in the shape of a cross, it doubles as a museum and mausoleum, and there's also a Popemobile outside that was used by Pope John Paul II during his visit to the inauguration of the Columbus Lighthouse in 1992.
Panteon de la Patria (Antigua Iglesia de la Compania de Jesus)
This sanctuary dates back to the 18th century, and was originally used by the Jesuits as a university.
Over the years it changed hands and served as a tobacco warehouse, theatre and government offices, and now serves as the final resting place for important figures in Dominican history including notable politicians and intellectuals.
Alcázar De Colón
This beautiful museum in the Colonial City was built as a Gothic and Renaissance-style palace in the early 1500s, and was lived in by Christopher Columbus' son Diego and his wife Maria.
The Colonial City
Explore the pretty streets in the old town, like 10-block long, pedestrian-only Calle El Conde which was the first commercial street in the New World. Calle Las Damas was the first paved street, and Calle Sanchez and Calle Padre Billini have great photo-ops.
Fortaleza Ozama
This was the first permanent military structure in the Americas, built by the Spanish back in the 16th century which marked the beginning of Spanish colonization. Columbus was once held captive here as a prisoner.
Los Tres Ojos
One of my absolute favourite places to visit in Santo Domingo is Los Tres Ojos, a beautiful protected natural area right in the heart of the city.
'The Three Eyes' is a trio of gem-toned, underground lakes created by a subterranean river. A circular loop of walkways and stairs connects them, and there's also a pulley so guests can take a quick ride into the mouth of one of the caves.
Back above ground is an emerald one called Los Zaragullones, as well as walking trails that wind past pre-hispanic petroglyphs and geminated stalagmites.
Entrance fees:
RD$100 for citizens of the Dominican Republic
RD$200 ($4 USD) for foreigners
Children under age 10 are free
How to get from Punta Cana to Santo Domingo
It takes about three hours to drive from Punta Cana to Santo Domingo, and those who have a rental car can easily do a self-guided tour (be sure to have small change on hand for toll booths along the way).
Otherwise, expect to spend about $300 USD for a private driver for the day, or book one of these guided group tours:
Enjoy a birds-eye view during a helicopter tour
One of the most popular activities in Punta Cana for people who are celebrating a special occasion is one for the bucket list: taking a helicopter ride.
The scenic flights last anywhere from 10 to 40 minutes, and soar over the Dominican's most southern beaches.
Admire the breathtaking views where the gem-toned Caribbean Sea meets the Atlantic Ocean, while flying over miles of coastline and looking down on Bavaro Beach, Macao Beach, Uvero Alto Beach, El Cortecito Beach and the Bavaro Lagoon. Click here to book
Another option is a bit of a two-for-one. Join a tour to Samana or Santo Domingo that includes a short flight from Punta Cana, and you'll get to explore these other areas and save hours of driving time:
Explore Los Haitises National Park
Natural caves, pools and mangrove forests are among the natural wonders found in Los Haitises National Park.
This unique karst landscape is framed by Samaná Bay, which is a three-hour drive from Punta Cana. Sweeping viewpoints, pristine waters and wildlife spotting await on this day trip, where you might spot frigate birds during a boat ride and walk through caves with ancient petroglyphs.
A highlight is a Jeep ride up to the summit Montaña Redonda, which is nestled between the Limón and Redonda lagoons and has incredible views of the lush landscape below.
Book a tour to Los Haitises National Park:
Dance the night away at Coco Bongo
What do you get when you combine a wild dance party, confetti bombs, go-go dancers and an open bar? Coco Bongo!
This fun-filled party is one of the top things to do in Punta Cana at night, and I promise that even if you think you hate the idea of going to a nightclub (like yours truly) you'll have a blast!
The four hour experience kicks off around 11 pm and feels like a Las Vegas production on steroids. Acrobats, dancers, thumping music, strobe lights, balloons raining down from the ceiling and oh-so-much confetti.
There are also two locations in Mexico which is where I went the first time, and all of the experiences are identical. You can read more about what to expect here, and check out these video highlights:
Coco Bongo Punta Cana is open daily except for Mondays, and minors are not permitted. Click here to book
RELATED: An epic night at Coco Bongo Mexico, the ultimate party spot
More fun activities and day trips from Punta Cana
You don't have to go far to find fun things to do in Punta Cana, with Bavaro Beach and acclaimed golf courses on its doorstep.
Visiting the markets, taking a cooking class and sampling rum are good ways to get a sense of the local flavour, while the sun-drenched shores of Cap Cana are a hot spot for celebs and yachts.
Go hiking in the Anamaya Mountains, enjoy the view while parasailing, head off on a Jeep safari and race along a zipline:
From January to March it's possible to see humpback whales during a boat trip into the Bay of Samana, and scuba diving is great all year round.
These are just some of the best excursions in Punta Cana, and it's easy to see why this is one of the top destinations in the Dominican Republic for those looking for sun and adventure.
YOU MIGHT ALSO ENJOY:
SHARE THE PINSPIRATION! CLICK THE IMAGES BELOW TO PIN: