With bragging rights as the first settlement in the Americas, a UNESCO designation and links to famed explorer Christoper Columbus, one of the best things to do in Santo Domingo is taking a deep dive into its long, storied history.
The bustling, colourful capital of the Dominican Republic is often compared to similarly-stunning colonial cities like Cartagena, Havana and San Juan, thanks to its fortified stone walls, lively plazas and pastel facades accented by windows dripping with flowers.
This post may contain affiliate links, which Globe Guide receives compensation for with each click or purchase at no additional cost to you. Thanks for your support!
While Santo Domingo is a city of more than three million people, it's easy to find respite. Grab a coffee at an outdoor, tree-shaded cafe, relax on a white sand beach or watch the sunset while walking along the Malecon.
From architectural wonders to hidden pools, here are the best things to do in Santo Domingo, Dominican Republic.
Visit Los Tres Ojos
You're probably expecting me to start with an overview of all of the historic buildings this city is famous for— instead, I'm kicking it off with one of my favourite, unexpected Santo Domingo attractions: a trio of underground pools.
'The Three Eyes' is a trio of gem-toned, underground lakes created by a subterranean river right in the heart of the city off a main roadway.
A circular loop of walkways and stairs connects this protected area, and there's also a pulley so guests can take a quick ride into the mouth of one of the caves.
Back above ground, walking trails wind past pre-hispanic petroglyphs and geminated stalagmites. There's also an emerald-hued pool at Los Tres Ojos called Los Zaragullones, which can be viewed from a lookout point.
Entrance fees:
RD$100 for citizens of the Dominican Republic
RD$200 ($4 USD) for foreigners
Children under age 10 are free
Wander through the Colonial Zone
The charming, preserved old town is one of the top places to visit in Santo Domingo for good reason.
The colonial streetscapes are a kaleidoscope of colour, featuring facades dripping with flowers and accented by intricate wrought iron railings which make the entire district a photographer's dream.
The 10-block long, pedestrian-only Calle El Conde was the first commercial street in the New World, while Calle Las Damas was the first paved street.
Enjoy photo-ops along Calle Sanchez and Calle Padre Billini, soaking in the ambiance of the plazas where birds flit around fountains, cafe-goers people watch, and the sounds of busker performances floats into the air.
Some of the best areas to explore in Zona Colonial are:
Panteon de la Patria (Antigua Iglesia de la Compania de Jesus)
This sanctuary dates back to the 18th century, and originally used by the Jesuits as a university (the second on the island).
It closed in 1767 when the religious order was deported, and changed hands over the years to be used as a tobacco warehouse, theatre and government offices over the years.
Pantheon de la Patria now serves as the final resting place for important figures in Dominican history, including notable politicians and intellectuals.
The pretty Maria de Toledo square was constructed next door in the 1960s, which connects Isabel la Catalina Street and Las Damas Street.
Alcázar De Colón
This beautiful museum in the Colonial City was built as a Gothic and Renaissance-style palace in the early 1500s, and was lived in by Christopher Columbus' son Diego and his wife Maria.
It anchors Plaza de Esapana, which is the largest square in the old town and found just through the old city gates. There are a handful of restaurants with outdoor patios facing the square, which is a great place to enjoy happy hour.
Fortaleza Ozama
This fortress in the heart of the city was the first permanent military structure in the Americas, built by the Spanish back in the 16th century which marked the beginning of Spanish colonization.
Built to resemble a medieval castle complete with surrounding walls, cannons and a 69-foot-tall tower, its spiral staircase heads up to a viewing platform with panoramic views of the port and Ozama river. Afterwards, head down to the tunnels and dungeons where famed explorer Christopher Columbus was famously once held captive.
Faro A Colón
Columbus' remains lie at this impressive monument on the east end of the city, which is built in the shape of a cross. Doubling as a museum and mausoleum, there's also a Popemobile outside that was used by Pope John Paul II during his visit to the inauguration of the Columbus Lighthouse in 1992.

Learn how to make chocolate
Chocolate production is one of the Dominican Republic's main industries, with cacao plantations making up 10 per cent of the country's green area. Learn all about the history of producing cocoa beans and farming practices during a guided tour at KahKow Experience, conveniently located across from the fortress in Santo Domingo.
The experience includes a guided audio walk through various exhibits, a holographic theatre and of course plenty of samples in the tasting room. The factory also hosts classes where guests can create their own chocolate bar, and there's a cafe and gift shop on site to pick up sweet treats.
Book one of these guided tours:
Relax on the best beaches in Santo Domingo
While most of the Dominican Republic's best beaches are found on the east coast, there are still some nice stretches of sand close to the capital.
Punta Torrecillas: This small beach is conveniently found near downtown and Zona Colonia at Sans Souci Lighthouse Park, making it a quick escape from hectic city life.
Boca Chica: A bustling beach town sits on the shores of this white sand beach only 40 minutes east of the capital. A favourite weekend getaway for families and couples alike, it's got everything from swanky beach clubs and waterfront dining to fish fry shacks and souvenir stands.
There's also great diving here, with a chance to see seahorses, octopus, vibrant coral and starfish.
Playa Caribe: Just a bit farther down the road is Playa Caribe, a half-moon shaped beach that's popular with boogie boarders and surfers thanks to its consistent rolling waves. Rent a surfboard on site, or sign up for a lesson.
Best day trips from Santo Domingo
If you're already staying in Santo Domingo and want to explore other areas of the Dominican Republic, there are some great day trips available:
Saona Island: This idyllic island paradise is one of the most-visited destinations in the DR for good reason.
Featuring coral reefs, mangroves and expansive beaches where the Caribbean Sea meets the Atlantic Ocean, tours typically start with a speedboat ride to a natural swimming pool with starfish.
Once you get to the island, spend a few hours relaxing under groves of swaying palm trees, enjoy a beachfront barbecue and open before, then hop back on board for a leisurely catamaran ride back to the mainland. Book with Viator, or GetYourGuide.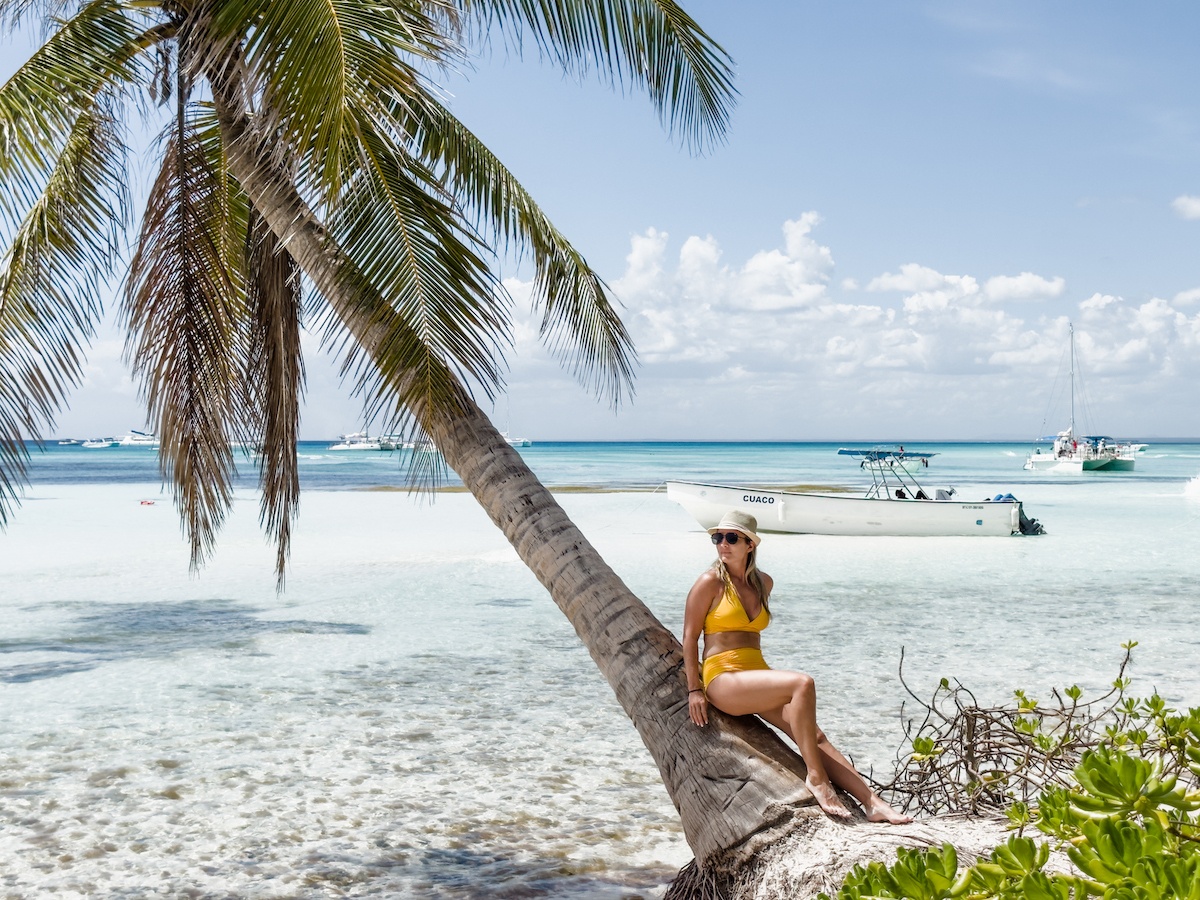 Los Haitises National Park: See an untouched area of the Dominican Republic during this boat trip into Los Haitises National Park. Glide past mangroves, try to spot frigate birds and walk through caves with ancient petroglyphs. This excursion also includes a traditional lunch in the fishing village of Sabana de la Mar. Click here to book
ATV and cenote tours: This thrilling, high-octane adventure near Punta Cana starts with lots of dust and mud, and a chance to cool off at the end on one of the area's most famous beaches.
During this ATV or dune buggy tour from Santo Domingo, riders get to whizz by tropical gardens, grazing goats and cattle en route to a secluded cenote called Los Hoyos del Salado.
The next stop is a working farm to smell Dominican specialities like coffee, coconut oil, vanilla and chocolate, and sample the local Mamajuana liqueur which is said to be a natural aphrodisiac.
The adventure ends with a quick dip at Macao Beach, before heading back to your hotel for a well-deserved shower.
Click here to book
How to get to Santo Domingo
Santo Domingo has an international airport called Las Américas International Airport (SDQ), and some companies offer day trips between Santo Domingo and places like Punta Cana via plane.
Visiting Santo Domingo is a popular day trip from the Punta Cana resort area, which is a three hour drive on a well-marked, paved highway.
It's quite straightforward to rent a car and visit on a self-guided tour (be sure to have small change on hand for toll booths along the way)—otherwise, you can book a group tour or private driver.
We opted for the private option since it was actually cheaper for our group of five, plus we were able to explore at our own pace. We paid $300 USD for a 12 hour day trip from Punta Cana; some resorts charge $450 USD for the same thing so be sure to shop around.
Our driver Alex was excellent, and shuttled us in a large, luxury van. He can be reached via WhatsApp for bookings at +1 809 878 4712.
Book a day trip to Santo Domingo from the Punta Cana area:
<div data-gyg-href="https://widget.getyourguide.com/default/activities.frame" data-gyg-locale-code="en-US" data-gyg-widget="activities" data-gyg-number-of-items="3″ data-gyg-cmp="santodomingo-daytrips-widget" data-gyg-partner-id="WHBQ8CZ" data-gyg-tour-ids="405686,399640,179288″></div>
Driving times to Santo Domingo:
From Bávaro: 2hr30min
From Samana: 2hr45min
From La Romana: 1hr45min
From Puerto Plata: 3hr20min
YOU MIGHT ALSO ENJOY:
SHARE THE PINSPIRATION! CLICK THE IMAGES BELOW TO PIN: