The salty smell of the sea hit us as we passed through the entrance of picturesque Piran, Slovenia, and a light wind blew off the Adriatic. Though the day was grey and drizzling rain, it wasn't enough to dampen our spirits as we paused on the boardwalk to take in the view of the dozens of small, colourful boats bobbing around the main harbour.
This post may contain affiliate links, which Globe Guide receives compensation for with each click or purchase at no additional cost to you. Thanks for your support!
Piran is not only known for its nautical pastimes, but also its well-preserved medieval city centre and winding cobblestone streets, which lure visitors from all around the world.
Located on Slovenia's southwest coast, the iconic shot of Piran's orange rooftops surrounded by sparkling blue water draws comparisons to nearby Dubrovnik, Croatia.
But in Piran, the pace is decidedly more laid-back, like a well-kept secret that could at any moment hit the radar of the international jet-set and become Europe's next 'it' spot. For now, it's a welcome respite from the hustle and bustle of larger cities, as its narrow, uneven streets mean the best way to explore is on foot.
Once visitors abandon their cars on the outskirts and walk through the main entrance, they find themselves on the main boardwalk which winds past souvenir shops, the harbour and restaurants.
Be sure to grab a bite at Pirat, which is one of the highest-rated eateries thanks to its deliciously fresh seafood offerings which are a staple of Mediterranean cuisine. Being a compact city, it isn't long before one stumbles into Tartini Square, which serves as the town centre. Named after famous composer Giuseppe Tartini, a statue dedicated to the musician is surrounded by guesthouses and cafes huddled together, overlooking the plaza making this the heart of the action.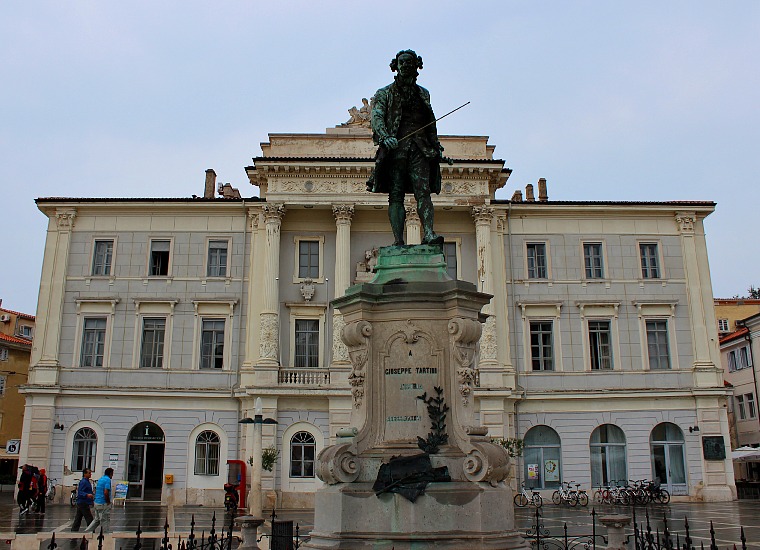 The cobblestone laneway continues past clustered medieval buildings and up to the Church of St. George, which dates back to the late 1500s and drew inspiration from both the Renaissance and Baroque periods. While the interior itself is worth a look, the real draw is that it boasts one of the best views in the entire city. After paying the one euro entrance fee, visitors are welcome to hoof it up the 140 creaky, wooden stairs (yes, I counted!) and make their way up to the open-air bell tower where they are greeted with this view:
From there, the panoramic point also grants a look at the thick stone wall that surrounds Piran, as well as views of the Croatian and Italian coastlines. Those who don't mind a little exercise can head back down those narrow stairs, then walk up the hill toward the wall to take in the entire city.
While Piran is a destination on its own, its sister town of Portorož is also worthy of a stop, especially during the summer. Just a five minute drive away, it has more of a resort feel thanks to the casinos and glitzy hotels that line the main street Obala, overlooking the sea and the long boardwalk that lines the waterfront.
Portorož is simply hopping during the summer months, and its pleasant temperatures, beaches and the sea provide a welcome respite from soaring temperatures elsewhere in Europe. Bars and cafes line the strip serving up cool drinks, and gelato stands displaying creamy, colourful treats are a dime a dozen.
Perfect for a leisurely stroll, the wooden boardwalk passes by pools and sun loungers set up for hotel guests, and is also a great place to go jogging or simply admire the boats that pull up to shore. Those who enjoy a relaxing day of pampering can also take advantage of the thermal spas, which use ingredients from the nearby saltpans for their natural healing properties.
With all that this area in the Istrian peninsula has to offer, it's no wonder Piran and Portorož are quickly gaining a reputation for being fantastic holiday spots. Even those with only a day to spare would be wise to add a stop here to their European itinerary, if only to soak in the beauty of the seaside.
PRACTICALITIES:
Language: The official language is Slovene, but English is commonly spoken as Piran and Portorož are such tourist hubs. As it's close to Italy, many menus and signs are also in Italian.
Currency: The euro
When to go: The main tourist season is from April to late September. Portorož all but shuts down in the fall and winter months.
Getting there: Piran and Portorož have the enviable positions of being in the heart of the action and can be a great base for exploring places like the famous Postojna Cave. Close to both Italy and Croatia, it's an easy day trip from Ljubljana, Trieste and Venice, and there's also a bus station at the gateway of Piran. Those wanting to hit the water can also book a day-long boat trip in Portorož to destinations such as Croatia, Italy and other ports in Slovenia.
Where to stay: I'm partial to the Kempinski Palace Portorož, thanks to its luxurious rooms, three (yes, three!) saunas, two pools and epic breakfast buffet. I've stayed in many hotels in my day, and have to say without a doubt that this is one of the most impressive. However if budget is a concern, you may be better off staying in Piran where there is a youth hostel as well as private rooms for rent.
YOU MIGHT ALSO ENJOY:
Globe Guide travelled to Piran and Portorož as a guest of Spirit Slovenia and Kempinski Palace Portorož. As always, hosts have no editorial influence on articles.