When I finally made it to over to Jordan and Israel for the first time, swimming in the Dead Sea was at the very top of my Middle East Must-Do List…because how cool is it that you can FLOAT IN WATER WITHOUT EVEN TRYING?!
This post may contain affiliate links, which Globe Guide receives compensation for with each click or purchase at no additional cost to you. Thanks for your support!
Since I don't have a hope in hell of ever becoming an astronaut (#MathIsHard), I figured this was a much easier way of experiencing weightlessness, and lemme tell you guys, it totally lives up to the hype. In fact, during my trip abroad I ended up visiting the Dead Sea not once, not twice, but three times! TBH I'm still not totally sure how that happened, but the point is I picked up my fair share of tricks for making the most of this (usually) once-in-a-lifetime experience, on both sides of the border.
From where to find the best beaches to how to prep for your salty swim, here's everything you need to know about floating in the Dead Sea.
Do: Go swimming in the Dead Sea
Can't believe I have to start with this one, but seriously guys if you're going to go all the way to the Middle East, promise me you'll at least dip your toes into the Dead Sea mmm kay?
Surprisingly a lot of people skip this stop, or even head all the way to the water's edge then *gasp* not go in which totally blows my mind, because this is something you can't do anywhere else! And you legit don't need to do a single thing other than physically get in the water, which is the entire point: the Dead Sea has such high salinity that you'll effortlessly float, so there's no need for concern if you don't consider yourself a swimmer.
Oh and don't worry about sharks or toe-biting fish or anything weird like that–tiny microorganisms are the only creatures that can survive in these waters.
If that's not enough to convince you to float in the Dead Sea, then here's a sobering fact that's sure to prompt you to slip on your suit: environmental impacts are causing the Dead Sea to recede by one meter EVERY. SINGLE. YEAR, which sadly means that at this rate the phenomenon won't last forever.
Pro tip: The farther away from shore you swim, the more buoyancy you'll experience. So trippy!
Don't: Stick your head underwater
Pretty sure you don't want your eyeballs to feel like they're on fire, so don't dip your head underwater. Same goes for splashing, so you don't happen to get salty-AF-water in some poor, unassuming stranger's eye.
Do: Go to a nice Dead Sea beach
Ah, what a fool I was the first time I did a Dead Sea tour. I was with a large group on a day trip from Tel Aviv, and by the time we finally got to Neve Midbar Beach it was 2:30 pm, and we were told we had to be outta there by 4. That's a grand total of 90 minutes to swim, take a mud bath, shower off and shop for souvenirs…oh, and we hadn't even had a chance to eat lunch yet. Not much time to enjoy a pretty big item on the ol' bucket list, eh?
Between racing around trying to pack everything in and being a Dead Sea virgin who didn't know better, I managed to mostly overlook how terrible the experience actually was: the food offerings were virtually non-existent, the ugly astroturf 'decor' didn't do much to create a cool beach vibe, the queue for the outdoor shower stretched more than a dozen people long, and the women's bathroom was one of the most chaotic I've ever seen.
There were only a handful of showers, and about 50 women crammed into the change room which meant nowhere to hang clean, dry clothes while changing out of wet swimsuits, all while trying to ignore the rising flood of Dead Sea water on the floor. Le worst.
Imagine my surprise then, when a week later I rolled up to the resort I was staying at along the Dead Sea in Jordan to discover a completely idyllic scene. Rows of loungers, umbrellas and perfectly rolled-up towels lined the pristine beach, friendly lifeguards chatted with guests and had fresh water at the ready, and instead of a throng of crowds there were only a few bathers lazily floating in the glass-like water.
The experience could not have been any more different than the shenanigans I witnessed at that awful public beach in Israel, and it was then that I realized there could actually be such thing as a Dead Sea vacation.

So the main takeaway is obviously to avoid Neve Midar Beach at all costs (I can't believe people *ahem me* actually pay to get in here), and pick your Dead Sea spot wisely. Chances are you'll only have one opportunity to take a dip in these famous waters, so ensure you pick a place that will live up to the hype, and give yourself enough time to actually enjoy the experience.
Don't: Go to a crappy Dead Sea beach
In the off chance you weren't paying attention to what I just mentioned above because some hottie just slid into your DMs and you got distracted, imma repeat myself: avoid Neve Midbar Beach in Israel at all costs. Seriously, it's the worst (my opinion is backed up by these Trip Advisor reviews, some of which are pure comedy gold), and you're far better off heading literally next door to Kalia Beach which is the complete opposite in all the best ways: think relaxing loungers, plenty of clean facilities, shaded hang out spots, fab gift shops, a cool juice bar and restaurants, and even the Lowest Bar in the World. You're welcome.
Do: Take lots of pictures
If you're a ham for the camera, this is your time to shine queeeeeen! Being able to float in water unassisted makes for some pretty epic photo-ops that are impossible to capture otherwise, like the classic Starfish pose, floating on your tummy while lifting your legs and arms up Superman style (not as hard as it sounds, promise), or this sultry-setup perfected by Ri-Ri:
View this post on Instagram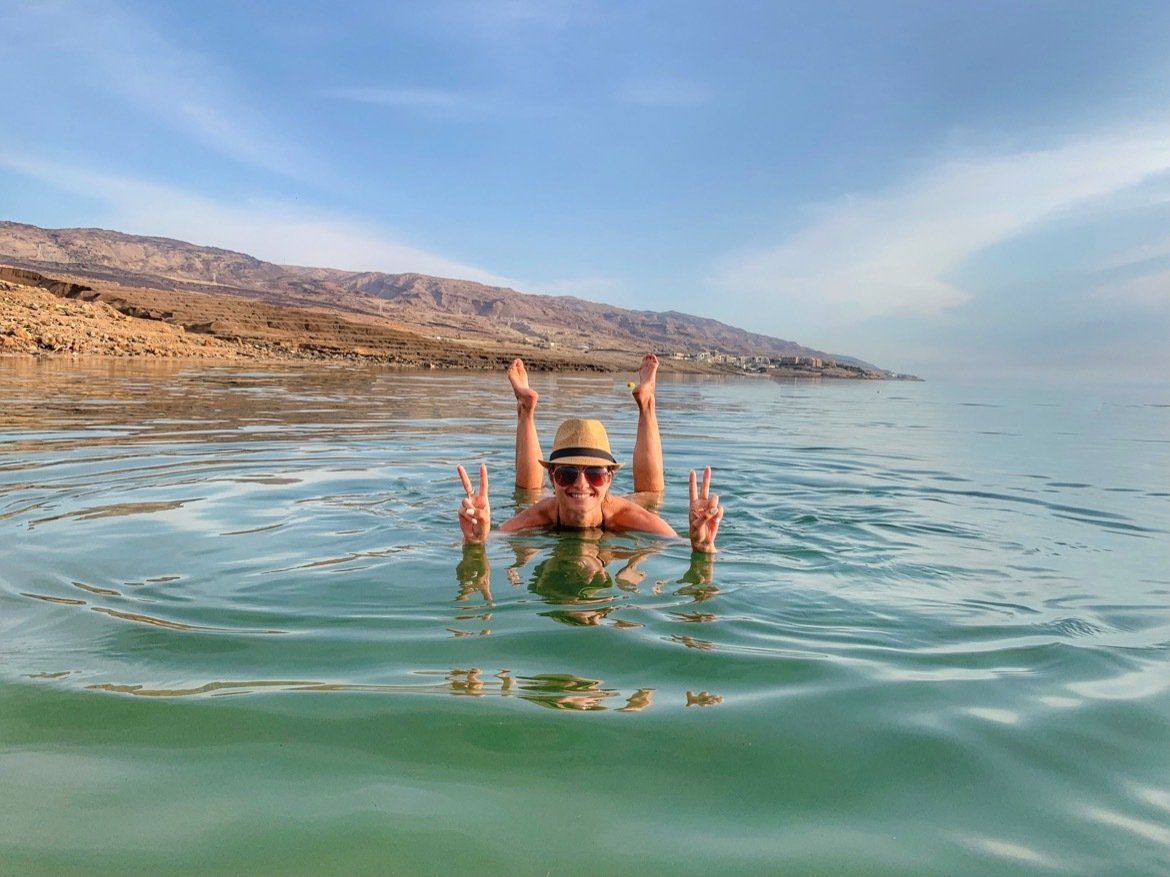 For bonus points, bring along a prop like a magazine or newspaper:
Oh, and that shot of yourself covered head to toe in a Dead Sea mud mask? Brill.
Don't: Bring your camera in the water
The trick to getting all of those great pictures is to resist the urge to immediately plunge into the sea, and instead coordinate with your squad (or a kind stranger who hopefully knows a thing or two about composition) to make sure you have a designated person on shore to capture some snaps. The Dead Sea is NOT the place for selfies, since there's a 100% chance you'll eff up your camera/phone by getting salt or mud on it, no matter how careful you think you are.
The only exception to this rule is using a selfie stick (*shudder*), or a camera with some super durable, waterproof housing.
Do: Enjoy a Dead Sea spa treatment
Forget Botox or a vampire facial: at the Dead Sea, you can indulge an au natural spa day that'll leave your skin as soft and supple as the day your momma birthed ya. Dead Sea minerals like sodium, potassium and magnesium are renowned for their healing properties, and studies have found soaking in water containing Dead Sea salt can help treat psoriasis, acne and eczema, as well as enhance the skin's ability to retain moisture. Or something like that. *Enter legal jargon here so no one sues me over health advice*
Anyway, I'm clearly not a dermatologist, but I can confirm that taking a mud bath in the Dead Sea feels ahh-mazing. All you have to do is reach down along the shoreline and scoop up the smooth, black mud, then slather it all over yourself. (If you happen to be at a beach resort there might already be mud waiting for you in a big vat which is pretty luxe and all, but I do think half the fun is digging it up yourself).
Wait for it to dry which usually takes about 10 minutes depending on how thick you've slathered it on (patience, grasshopper), then rinse off in the sea or a freshwater shower. You seriously won't be able to stop touching your skin after because it will feel so soft!
Most public beaches have kiosks selling pure Dead Sea products like salt and mud, as well as mineral-infused lotions or serums. If you forget to pick some up on the way out, they're also easy to find at pretty much any souvenir shop in Israel or Jordan. However, keep a close eye on those price tags since there can be huge discrepancies: I purchased a few packets of Dead Sea mud from one stall for $5 USD each, which I later saw in a store at a neighbouring beach for $18 USD per pack!
Don't: Primp ahead of time
You know when you cut into a lemon or lime, and suddenly discover you had a microscopic cut on your finger that's now burning like a MOFO? Yeah, multiply that by 1000 and now you know what it's like to swim in the Dead Sea within hours of shaving your legs. Do yourself a solid and don't touch your razor on the same day you plan on swimming. Oh, and skip the primping: you're going to be covered in mud and salt soon enough, so save the blowout for a post-dip pamper session.
Pro tip: Be sure to wrap any wounds in waterproof bandages before slipping into the water to prevent some serious stinging.
Dead Sea Hotels: Hotels near the Dead Sea in Israel
Isrotel Dead Sea Hotel and Spa– With a range of options suiting everyone from couples to large groups or families, guests love the newly renovated rooms at the Isrotel, its easy access to the healing waters of the Dead Sea, and on-site restaurant. Click here to book
Crowne Plaza Dead Sea– This budget-friendly option won't break the bank, yet offers easy access to the Dead Sea from its private beach. There's also a heated, fresh water pool on-site, as well as resort amenities like a fitness centre and spa. Click here to book
Hotels near the Dead Sea in Jordan
Kempinski Hotel Ishtar Dead Sea– This posh property has gorgeous views of the Dead Sea from its luxe rooms and royal villas, which are surrounded by waterfalls and lagoons providing tranquility and seclusion. Guests can unwind in the fabulous spa, or relax on the private sandy beach or around one of the many plunge pools.Click here to book
Holiday Inn Resort Dead Sea– This sprawling resort is extremely well priced, considering its prime location right on the waterfront. Rooms are modern and well-appointed, the staff is very accommodating, and there are also multiple pools on site which makes this a great pick for families. Click here to book
YOU MIGHT ALSO ENJOY:
SHARE THE PINSPIRATION! CLICK THE IMAGES BELOW TO PIN: