Dramatic red rock canyons, endless stretches of desert, camels, grand mosques and oh-so-much hummus: if you're looking for a foray into the Middle East, spending one week in Jordan ticks all the boxes when it comes to culture, scenery and adventure.
Despite bordering the likes of Syria, Israel and Egypt, Jordan has mostly managed to avoid the conflicts seen by its neighbours, making it one of the region's safest destinations. Channel your inner Indiana Jones by exploring the lost city of Petra, sleep under the stars at a bedouin camp, and listen to the enchanting call to prayer while navigating the bustling streets in the capital of Amman.
While the nation is relatively small, it's big on attractions so you'll want to plan to spend at least 7 days in Jordan to see the highlights. There are options for all budgets too; accommodations range from simple bedouin camps to five-star hotels, and you can opt to get chauffeured around on a private tour or even tackle the Jordan Bike Trail by crisscrossing the country on your own two wheels.
From wild 4×4 rides through the sand dunes of Wadi Rum to dips in the Dead Sea, here are some of the best places to visit in Jordan.
WATCH: The best things to see in Jordan
Day 1-2: Amman
Kick off your Jordan trip in the capital Amman, which is well connected with a modern, international airport and is only a few hours' drive from cities like Tel Aviv and Jerusalem.
Home to four million people, the traffic-clogged city can be a sensory overload in some areas, and isn't easily walkable due to steep hills and crumbling sidewalks. That said, there are a few sites worth seeing as well as easy day trips to historical, religiously-significant spots less than an hour away.
Some of the best things to see in Amman are:
The Citadel: Perched high on Jabal al-Qal'a which is the highest of the city's seven hills, this fortification dates back to the Bronze Age and boasts intricate wall carvings and ruins from the Roman, Byzantine and Umayyad eras. It has panoramic views of Amman spread out below, making it one of the city's most photogenic spots.
King Abdullah I Mosque: This attractive mosque can hold an incredible 7,000 worshipers, and is known for its blue-hued mosaic tiled roof, Quranic inscriptions and dazzling white minarets that soar into the sky. The mosque was built in 1989 as a memorial to King Hussein's grandfather, and is open to non-Muslim visitor outside of prayer times.
The Boulevard: Even if you're not into shopping, be sure to check out this trendy area in the Abdali district. The sleek, pedestrian-only strip has Instagram-worthy architecture, premium shops, cafes and restaurants, rooftop lounges, and is flanked by luxury highrises and hotels.
READ MORE: Things to do in Amman, Jordan (before a more epic adventure)
Since the main things to do in Amman can be seen in a day, spend day two of a week in Jordan touring spots just outside the city. Discover ancient civilizations from the Roman Empire and Islamic era by booking a tour to Jerash, which is a one hour drive from Amman and easily reachable by public bus from the North Terminal bus station.
Another option is Mount Nebo, which is one of the popular Jordan tourist sites for pilgrims as it's said to be the spot where Moses saw the Promised Land. This sacred mountain is nearly 1,000 metres high, and located about 15 minutes from Madaba (45 minutes from Amman). Admire the beautifully-preserved mosaic floors in the La Storia Tourism Complex, then head out to the viewpoints for breathtaking views of the Jordan Valley. Click to book
Amman tours
Jerash tours
Where to stay in Amman
InterContinental Jordan: Located in the business district, guests love the easy walking distance to downtown, the palm tree-fringed pool area and adjoining spa. The elegant rooms have plush bedding and soundproof windows for a good night's sleep. Click here to book
W Amman: This swanky spot has bright, modern rooms with floor to ceiling windows that showcase the city skyline and trendy design features throughout the property. Amenities include a state of the art gym, sundeck and rooftop pool with cabanas, and overlooks The Boulevard. Click here to book
Day 3: The Dead Sea
Taking a salty swim and experiencing weightlessness is sure to be a highlight of your trip, so it's no wonder that the famous Dead Sea is one of the top Jordan tourist attractions.
It takes less than an hour to drive from Amman to the strip of resorts set along the waterfront, where guests can easily access the buoyant waters. Day passes are also available, and there are some public beaches frequented by day trippers. Slip on a swimsuit, slather on some of the healing mud from the shoreline to give your skin some TLC, then wade into the sea to try out this phenomenon where you'll float without any effort at all!
Be sure to check out these do's and don'ts of swimming in the Dead Sea…including why you'll want to avoid shaving the same day. *ouch*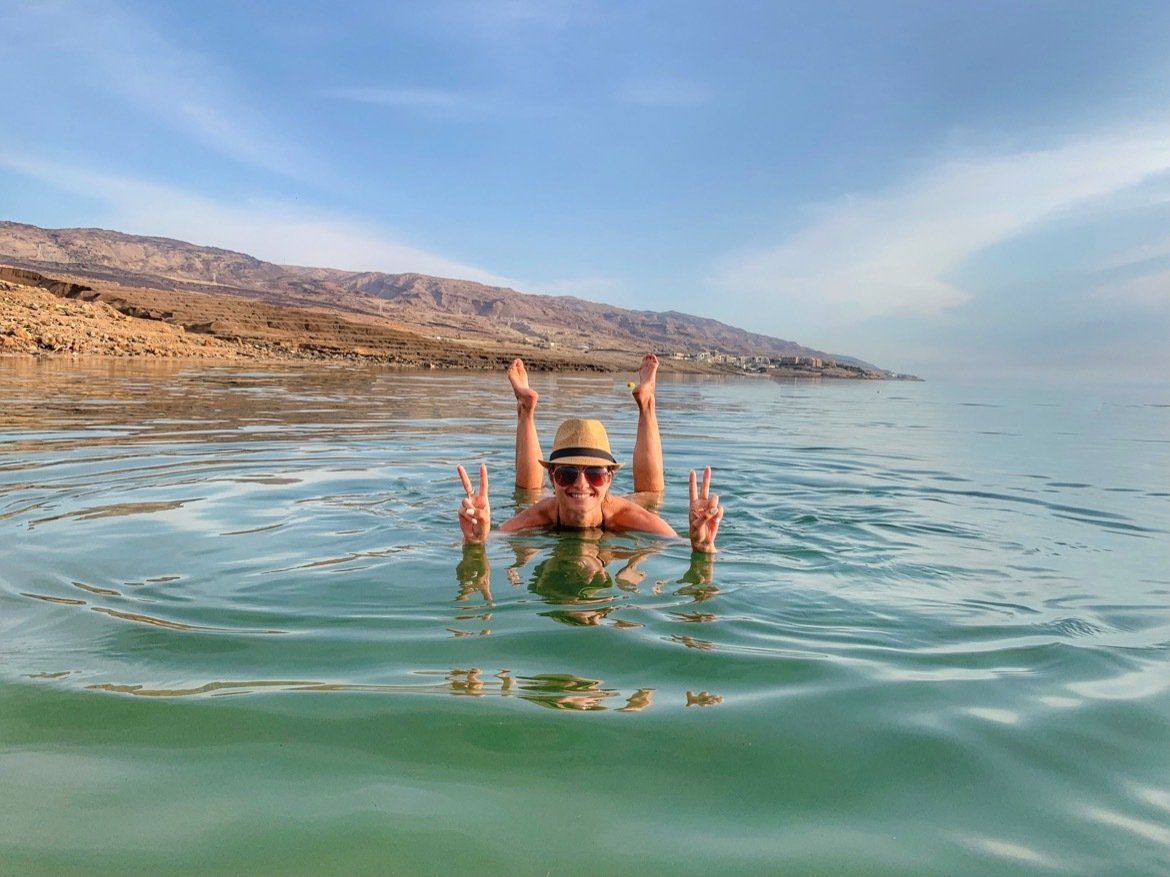 Dead Sea tours
Day 4-5: Petra, Little Petra and Wadi Rum
Things get adventurous over the next couple days of your Jordan itinerary, when you trade the low-lying Dead Sea area for the majestic valleys and canyons surrounding the ancient city of Petra.
Once an industrious hub during the days of the Nabatean kingdom and an important junction on the spice and trade routes, the red rock city was all but forgotten until the 1800s. That's when a Swiss adventurer caught wind of the Lost City and convinced a guide to bring him inside, once again putting trips to Petra on the map and making it one of the most popular places to visit in Jordan.
Images of the impressive Treasury carved into stone are what lure most travellers to visit Petra, but there's plenty more to see here. In fact, it takes days to properly explore the UNESCO Heritage Site and new Wonder of the World, which has miles of hiking trails, crumbling ruins, and narrow passageways where you'll jostle with camels and donkeys for space.
READ MORE: The complete guide to visiting Petra, Jordan and Little Petra
Plan to spend a full day inside Petra, navigating the steep steps and dusty roads to get to standout spots like the Treasury, Siq, Tombs and Street of Facades. There isn't much signage, so if you're doing a day trip to Petra without an organized tour you might want to consider hiring a guide at the entrance to properly appreciate what you're seeing.
Your second day in the area should start with a visit to Petra's sister site Little Petra, which has the same high gorges and carved facades, but is a fraction of the size and with way less crowds. Officially known as Siq al-Barid, Little Petra is a 15 minute drive from Petra near Wadi Musa.
You'll only need about an hour there, then it's time to head out to the sweeping deserts of Wadi Rum where you'll feel like you're in a scene straight out of Arabian Nights. The two-hour drive from Petra to Wadi Rum takes you along the scenic Kings Highway and the Desert Highway, ending at the Wadi Rum Visitor Center which is the gateway to the dunes.
From there, you'll hop in a 4×4 or back of a truck bed for a fun, bumpy ride through the desert towards camp.
Wadi Rum–also known as the Valley of the Moon–is one of the top places to see in Jordan thanks to its vast, Mars-like landscape. Set on a high plateau in the Arabian desert, the other-worldly scenery seems endless, and dotted with sandstone arches, lone camels crossing the plain, and the striped tents of bedouin camps tucked into the base of towering red dunes.
Spend your time discovering the prehistoric drawings which were carved into the rocks by the Nabataeans, scampering up peaks like Jabal Umm ad Dami which is 6,000 feet high and has views out to the Red Sea and Saudi Arabian border, and running down the sand dunes at full speed.
Movie buffs will want to check out the train and station that were built for the set of Lawrence of Arabia, and scout out spots that appeared in films like Aladdin and Star Wars.
Complete your Wadi Rum trip by sleeping under the stars in the bedouin camp or luxury bubble tent, for the ultimate desert experience.
Petra tours from Amman
Wadi Rum tours
Best hotels in Petra
Ammarin Bedouin Camp: A must-do experience to include on your Jordan itinerary is staying overnight at a bedouin camp, which you can do near Little Petra. Sleep in a basic tent nestled at the base of the red rocks surrounded by the secluded desert, and enjoy musical performances and a hearty dinner of traditional Jordanian food like hummus and zarb while learning about the nomadic tribe. Click to book
Movenpick Resort Petra: Considered one of the higher-end hotels near Petra, the Movenpick is close to the main gates and has a bar and pool for guests to relax at after a long day of sightseeing. Click to book
Petra Bubble Luxotel: This special spot really raises the bar when it comes to an unforgettable stay, with bubble domes nestled among the Petra Mountains. Oh, and they have their own hot tubs. The property is about 20 minutes from Wadi Musa, and there's a free shuttle to transport guests to and from Petra. Click to book
Day 6-7: Aqaba and the Red Sea
Cap off your Jordan itinerary with some well-deserved rest and relaxation in the coastal city of Aqaba, which is beloved for its blonde beaches, luxe resorts and lively nightlife scene. Built along the shores of the Red Sea, it's the gateway to an underwater paradise, as the Aqaba diving sites are considered among the world's best.
Divers of all skill levels will love exploring the drop-offs, coral reefs and wrecks, which are beautifully illuminated by the sun which penetrates to depths of 150 metres in some areas.
Aqaba is also a playground of sorts for the rich and famous in the Middle East, thanks to its opulent, five-star hotels and rows of glittering yachts in the harbour waiting to whisk them out into the surrounding gulf.
Spend sun-soaked days lounging around the hotel pool or at a beach resort, go for a dip in the clear, blue sea, or book a fun day cruise to sail around the Gulf of Aqaba. The drinks will be flowing, the Arabic music pumping, and you can see as far as Saudi Arabia, Egypt and Israel.
Other fun things to do in Aqaba include parasailing, jet skiing, and wandering through the colourful souk to sample the spices. Be sure to check out the blindingly white facade of the grand Sharif Al Hussein Bin Ali Mosque, and stop by historic sites including Aqaba Castle and the ruins of Ayla which was the first Islamic city to be built outside the Arabian Peninsula.
READ MORE: 5 fun things to do in Aqaba, Jordan
Aqaba tours
Where to stay in Aqaba
Hyatt Regency Aqaba Ayla Resort: This property is a stunner, with whitewashed facades, high-end interiors, plenty of pools and great views of the sea and marina. Located in the Ayla Oasis area, its sprawling suites include huge private balconies, and modern bathrooms with freestanding tubs. Click here to book
Movenpick Resort & Spa Tala Bay Aqaba: The Movenpick at Tala Bay has an incredible beachfront resort experience, with easy water access for swimming and snorkeling. Guests love the modern facilities, accommodating staff and great food. Click here to book
Jordan tours
Whether you're travelling by bike, bus or road trippin' it, piecing together a Jordan itinerary isn't too much of a logistical challenge, though spots like Wadi Rum and Petra are best explored as part of an organized tour. If you're planning the self-guided route, it might be easiest to pick a couple of places to base yourself out off–like Amman and Petra–and take day trips from there to avoid having to pack up every night.
Want to see the best places to visit in Jordan, without having to coordinate all the details? Book through an excellent tour operator like Experience Jordan Adventures, or do one of these multi-day tours:
YOU MIGHT ALSO ENJOY:
SHARE THE PINSPIRATION! CLICK THE IMAGES BELOW TO PIN:
This post may contain affiliate links, which Globe Guide receives compensation for at no additional cost to you.