With rugged cliffs battered by ocean waves, colourful streetscapes, plenty of live music and a spirited pub scene, Newfoundland's capital St. John's is like a little taste of Ireland across the Atlantic.
Situated along the most easterly point of North America with its very own different time zone, the city's brightly-hued clusters of buildings set into the hillsides are quite a sight, especially when arriving by water.
If you're visiting on a cruise ship like I did the first time, chances are you'll only have a day to experience the best things to do in St. John's, Newfoundland. Fortunately it's extremely walkable–in fact, I did this entire itinerary without a car and put in 23,742 steps that day (thanks for the tracking, Apple Health app!).
Here's exactly what to do in St. John's, Newfoundland in one day.
Morning: Signal Hill and coastal walk
Start your day in St. John's with a caffeine kick–you're going to need the energy. Ask any local where the best coffee in town is, and chances are they'll tell you to head straight to Rocket.
This bakery and cafe along Water Street Breakfast brews up all the usual favourites along with seasonal drinks, and their Best Kind breakfast sandwich loaded with bacon, spinach, fried egg and tomato on a fresh baked croissant is a perfect way to start a day of exploring St. John's.
Another top pick for a coffee stop is Bannerman's on Duckworth Street, which serves java in the morning then transitions to a brewery later in the day.
Globe Guide tip: To save yourself some steps, reserve a bike at the nearby Pedago Electric Bikes which offers 3 hour, 7 hour and weekly rentals.
Once you're fuelled up (and have some comfortable, sturdy shoes on), start walking toward Signal Hill which is a National Historic Site of Canada.
As the highest point in the city, it has sweeping, panoramic views of St. John's and The Narrows–the picturesque entrance to the harbour which earned its name thanks to its slim opening, which requires a pilot to help navigate larger ships through.
Thanks to its perch, Signal Hill served as the perfect spot for signal stations announcing the arrival of ships, and for gun batteries to protect the city which you can still see remnants of today.
It was also the site of the Battle of Signal Hill, a decisive assault by the British in the 1700s which led the French to surrender St. John's and confirmed British possession of Newfoundland.
Here's a very important tip: do not follow the well-marked, paved route from Duckworth Road up to Signal Hill Road. Instead, veer right down the hill and follow the Harbourside Walk (East), a mild one kilometre stroll through the Battery towards The Narrows.
Not only will you get to walk through the colourful Battery district, but it also leads to one of the most dramatic, picturesque spots in all of St. John's: the North Head Trail.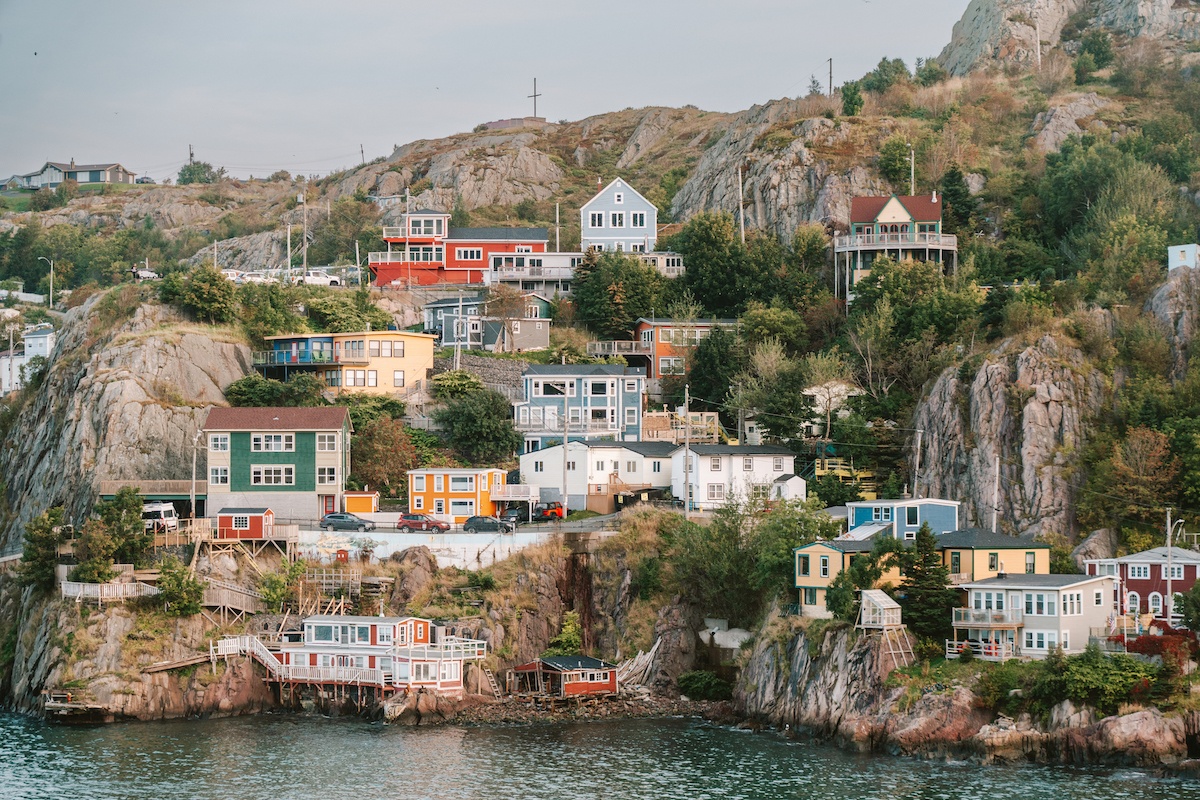 Popular with fitness enthusiasts thanks to its 100 metre incline (the equivalent of 20 storeys–bring lots of water), this pathway winds around the coast and hugs the cliff sides.
There are steep drop-offs, and it's so narrow in some spots that chains are affixed into the rocks to cling to. The effort pays off with incredible views of Fort Amherst, and in the summer it's possible to see whales, icebergs and seals.
The walk takes about 40 minutes, and is one of the best things to do in St. John's–especially if you happen to score a sunny day.
The trail eventually leads to a steep staircase, and at the top you'll find the fortified Cabot Tower and another lookout point.
From here, guests can walk down to the Signal Hill Visitor Centre (entrance to the site is free, but there's a fee to tour the museum inside) and check out the views from the Gibbet Hill Trail.
The Ladies Lookout Trail has breathtaking vantage points of the ocean, Cuckold's Cove and St. John's Bay. This is the highest point on Signal Hill, and its name was inspired by the women who came here to watch their loved ones like sons and husbands sail away on ships.
Once you manage to tear yourself away from the sight of crashing waves and rolling hillsides, continue down along the Cuckold Cove Trail which leads to Quidi Vidi Village.
Noon: Quidi Vidi Village
This former fishing village is one of the cutest areas to hang out in St. John's, which makes it a great lunch stop. Colourful boat houses framed by towering cliffs surround the harbour, and quaint cottages line the dirt road up to Quidi Vidi (pronounced kitty vitty).
From here, fishing charters head out to Cape Spear, there's an artisans studio for picking up handcrafted gifts, and diners tuck into award-winning fare at Mallard Cottage. Rated as one of Canada's top restaurants, local ingredients are featured in the ever-changing menu, housed in an 18th century Irish-Newfoundland vernacular style cottage.
Nosh on fish 'n chips and tasting flights at the Quidi Vidi Brewing Company, a former fish plant which is now the province's largest craft brewery.
Try to snag a spot on the outdoor patio to enjoy the great views and award-winning lagers, or grab a table inside the taproom from Thursday to Sunday to enjoy live music.
Afternoon: Jellybean Row, Water Street
You'll be at more than 10,000 steps by now, so if your feet need a bit of a break then call a cab and ask the driver to drop you off at Jellybean Row, home to St. John's famous colourful houses.
There isn't a single row, per se: instead, it's an entire district of rainbow-hued, historic homes stretching from Duckworth Street and up the hill just above downtown and to the west.
There are a few local tales about why they were all painted so vibrantly, and the official explanation is that a local heritage group renovated a dilapidated home in the 1970s and painted it a bright colour, repeating that as they continued to fix up homes along Gower Street.
The unique look caught on, and as others in the area renovated their houses they followed suit by picking a fun hue.
Others say that the local fishermen used the brightly-hued houses to guide their boats back to shore through the fog and clouds, or that it helped them figure out which house to stumble home to after a night out at the pub!
While you're welcome to photograph the streetscapes, remember that these are all people's private residences, so be courteous and avoid walking on peoples balconies or sitting in their front deck chairs. (you'd be shocked by how much this happens).
Continue walking down to Duckworth Street and Water Street, which are downtown's most bustling, lively strips lined with shops, pubs and restaurants–you'd be forgiven for thinking you somehow ended up in Dublin. This is a great area to pick up souvenirs, and one of the best stores is the Craft Council of Newfoundland & Labrador where handcrafted works from more than 150 local artisans are on display.
Note: Depending on which day you visit St. John's, the stores may not open until as late as 11 AM which is why it's best to save your shopping for the afternoon. Be mindful of closing times as well, which are typically around 5 or 6 PM.
Night: Get screeched
Head back to your hotel to refresh, regroup and grab a bite to eat to gear up for a big night ahead.
Most of the nightlife in St. John's is along Water Street and Duckworth Street, and doesn't get going until ridiculously late–it's not uncommon for the main act to start playing until about 1 AM some nights. In the meantime, take part in the time-honoured tradition of Getting Screeched.
During a Screech-In ceremony, newcomers (AKA 'come from aways') are initiated as honourary Newfoundlanders during this highly informal ritual where you'll be made to repeat some sayings, kiss a cod fish (natch) then drink some Screech rum.
One of the best places to get screeched is Christian's Pub on George Street, and it's recommended to sign up online ahead of time. Screech-Ins also happen in other pubs and bars around town, as well as some of the boat tours.
More things to do in St. John's Newfoundland
Got some extra time? The world's largest population of feeding humpback whales is found in the waters near St. John's from April to October, so it's no surprise that heading out to see them is one of the city's most popular tour.
Sail past icebergs (the glacial giants are visible along the northern and eastern coasts), and keep an eye out for puffins–the provincial bird–which are just one of the more than 350 species of birds in the area.
While operators head out from about May to September, the best time to see the whales is typically in June and July, which is also when the icebergs usually start flowing by.
Book a boat tour from St. John's with Viator:
Another top spot to see in St. John's is The Rooms, the province's largest cultural space which is home to an extensive collection of artifacts, art, natural history specimens and exhibitions. There's also a cafe serving up traditional Newfoundland fare with a twist.
Book one of these top-rated tours in St. John's:
Where to stay in St. John's
Alt Hotel St. John's: With an enviable location in the heart of the action on Water Street and overlooking the harbour, the Alt Hotel is a perfect base for exploring the city. The modern rooms have a boutique feel, and some have an entire wall of windows overlooking the water. The Alt is pet-friendly, and there's a gym and cafe on site. Click here to book
Gower Manor Historical Bed & Breakfast: Guests rave about this spot in the historical district, which is full of antiques and feels like staying in a museum. There's free parking on-site, and its a quick walk to downtown. Click here to book
YOU MIGHT ALSO ENJOY:
SHARE THE PINSPIRATION! CLICK THE IMAGES BELOW TO PIN: