Iconic lighthouses, impressive coastal scenery, colourful fishing villages and experiencing east coast hospitality are just a few highlights of a Nova Scotia road trip, which is why this corner of Canada is so beloved.
Thanks to the province's compact size it's possible to see most of the highlights in just one week, which includes a couple of days exploring one of the world's best driving destinations, the Cabot Trail.
This post may contain affiliate links, which Globe Guide receives compensation for with each click or purchase at no additional cost to you. Thanks for your support!
This 7 day Nova Scotia itinerary has it all, from easy-going experiences like visiting historical landmarks and wine tasting, to spellbinding hikes and extreme rafting in the Bay of Fundy.
NS route planner
Nova Scotia Road Trip Day 1-2: Halifax
The main airport is in Halifax, which makes the capital city a natural place to grab your rental car and kick off a trip to Nova Scotia.
It's worth spending a couple of days here to check out the main attractions in Halifax, go whale watching, grab a donair or lobster roll and enjoy some live music at one of the bars along Argyle Street.
Get a lay of the land by strolling along the four-kilometre Harbourwalk, which winds along the colourful waterfront overlooking the Bedford Basin which is fed by the Atlantic Ocean.
Wander past the Historic Properties where three blocks-worth of warehouses and Victorian-era buildings dating back to the 1700s have been beautifully restored, and continue along the wharf all the way down to the Farmers' Market and the Canadian Museum of Immigration at Pier 21.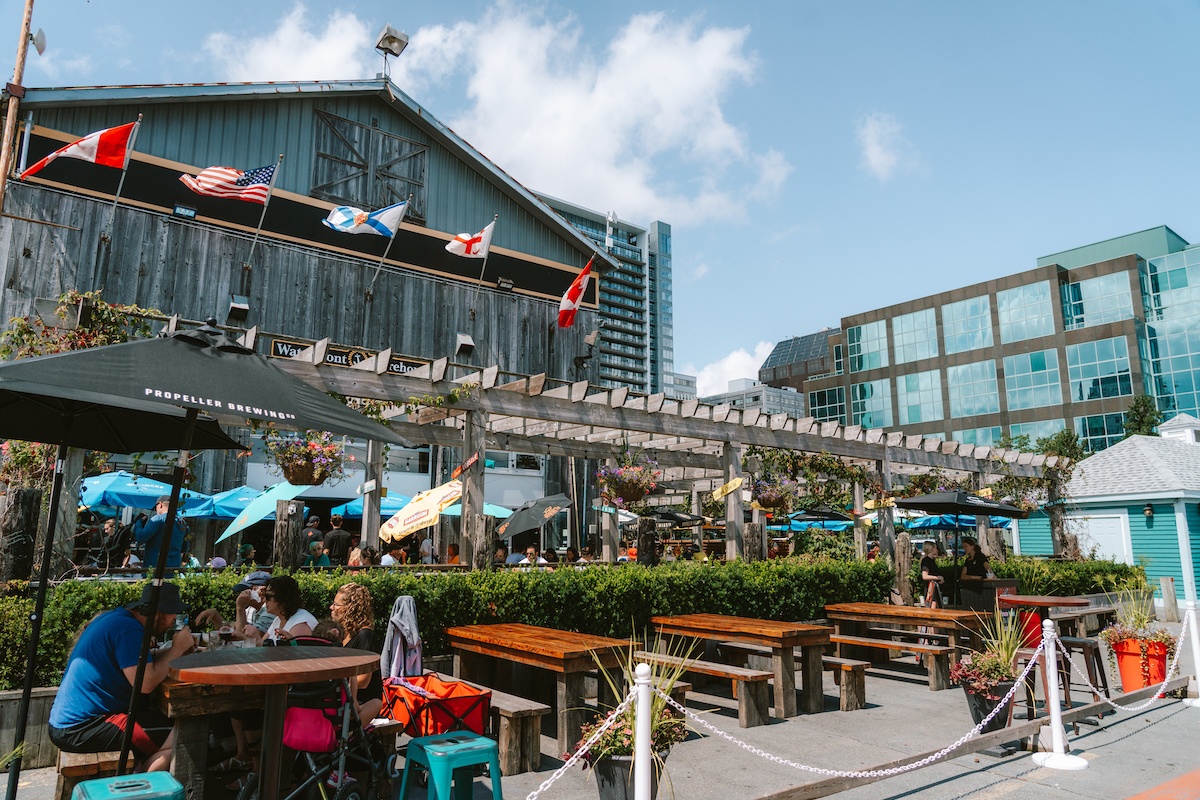 Other fun things to do in Halifax include:
Maritime Museum of the Atlantic: This museum houses a collection of artifacts from the doomed Titanic, since Halifax was the closest major port to where the storied ship sank.
Alexander Keith's Brewery: This brewery was founded in 1820 by Alexander Keith, who served three terms as the mayor of Halifax. While production has since moved to a larger location away from Lower Street, actors in period costumes take guests around the historical property and outline the company's history and brewing process. In true east coast fashion, there's also musical entertainment, stories and lots of beer samples. Click here to book
The Citadel: This star-shaped fort overlooking the harbour was built in 1749 to protect the city, and is essentially responsible for the founding of Halifax since the British military was drawn to the easily-defendable perch on what is now called Citadel Hill.
Halifax Public Gardens: Located along Spring Garden Road, these Victorian gardens span 16 acres in the heart of the city and have fountains, 140 different species of trees, gardens overflowing with vibrant flowers, carpet beds and statues.
Where to stay in Halifax
The Lord Nelson Hotel & Suites: This grand property has an incredible location across from the public gardens, down the street from the Citadel, and a short walk to the waterfront. There's underground parking on-site, a bar and restaurant, and the rooms are clean and elegant. Click here to book
The Westin Nova Scotian: The location can't be beat, as the Westin is right on the waterfront a quick walk from attractions like Pier 21 and the farmer's market. The luxe rooms feature their signature Heavenly Beds, and amenities include a gym, indoor pool and hot tub. Click here to book
Nova Scotia Road Trip Day 3: The Nova Scotia Lighthouse Route
Halifax to Lunenburg: 75 minutes/100 km
Hit the road to discover one of the best places to visit in Nova Scotia: the Peggys Cove lighthouse, found along the Nova Scotia Lighthouse Route.
The 339 kilometre route winds along the coast between Halifax and Yarmouth, passing quaint fishing villages, beaches and picturesque lighthouses. Instead of doing the full drive, many people opt to stop in historic Lunenburg instead, which is what's recommended if you only have one week in Nova Scotia.
The Peggy's Cove lighthouse is one of Canada's most photographed landmarks, thanks to its dramatic perch on a bed of boulders framed by St. Margaret's Bay. While most people make a beeline for Peggys Point Lighthouse, it's also worth spending a bit of time wandering around the tiny fishing village.
Head down to the waterfront to watch locals reel in the likes of mackerel, tuna and lobster, check out the boats, nets and traps lining the shallow waters of the cove, then duck into the local gift shops and art galleries to pick up some east coast handicrafts.
There's also a spa with a hydrotherapy circuit including a steam room, outdoor plunge pools and a sauna, which opened at Oceanstone Resort near the waterfront.
Other great stops once you continue along the Nova Scotia South Shore is beautiful Queensland Beach, the seaside resort village of Chester, and the cute town of Mahone Bay.
Aim to arrive in Lunenburg in the early afternoon, to allow plenty of time to explore the town which is a UNESCO World Heritage Site. Perhaps best known as being home to the famous racing schooner The Bluenose which is featured on the Canadian dime, most of the action in this seafaring spot is found along the waterfront.
Fun things to do in Lunenburg include:
Fisheries Museum of the Atlantic: Visitors can explore retired fishing schooners in the working wharf, learn how to shuck a scallop and take a selfie with the skull of a giant fin whale.
Lunenburg historic district: The narrow Montague, Pelham and Lincoln streets in old town Lunenburg are lined with the bright facades of shops and restaurants, and have plaques designating heritage properties dating back over a century.
Ironworks Distillery: Nova Scotia's first micro-distillery produces more than a dozen spirits, including award-winning rum and fruit liqueurs using local ingredients like Nova Scotia apples, Saskatoon berries, raspberries and blueberries. Learn about the distilling process, and enjoy some free tastings on site.
Where to stay in Lunenburg
Rum Runner Inn: Located in the heart of Old Town Lunenburg, rooms at the Rum Runner Inn have great water views (be sure to request a balcony room to make the most of your stay). Click here to book
Lunenburg Arms Hotel: The harbour is just one block away from this top-rated property, which has huge, well-appointed rooms with great views. The main sites are within walking distance, and there's also a spa. Click here to book
Nova Scotia Road Trip Day 4: The Annapolis Valley vineyards
Lunenburg to Wolfville: 75 minutes/106 km
The next leg of this Nova Scotia trip heads north to the picturesque Annapolis Valley, a region renowned for its pretty towns and vineyards. Its acidic l'Acadie grape thrives in cold temperatures, producing Tidal Bay which is a local favourite named for the first Nova Scotia wine appellation.
The charming town of Wolfville is at the centre of it all, and home to Acadia University and the Grand Pré National Historic Site which has a UNESCO designation.
Cute B&Bs, ivy-coloured buildings and grand, historic homes make this a wonderful place to stay overnight, and use as a base for visiting the Nova Scotia wineries and spots like the Annapolis Cider Company.
Book an organized Wolfville winery tour, bike or drive to the local vineyards which include:
Luckett Vineyards: As one of the most established Annapolis Valley wineries, this operation overlooking the Gaspereau Valley produces up to 13-thousand cases of wine per year. There's a beautiful tasting room and outdoor restaurant, and visitors love the bright red phone booth that was shipped straight from England and nestled among the vines.
Gaspereau Vineyards: This cute spot has a big red barn as its tasting room, towering walls of wine, and is surrounded by vibrant green vineyards. Gaspereau Winery is best known for its crisp Rieslings and fruit-forward wines, and has live music on the outdoor patio.
Domaine de Grand Pré: Grand Pré Winery is often the first stop on a Wolfville wine tour since it's closest to town, and is the oldest farm winery site in Atlantic Canada. There's a tasting room, fine dining restaurant, and tours highlighting the grape hybrids that are unique to the wineries in Nova Scotia.
To book guided experiences of the Wolfville wineries, check out Grape Escapes and Go North Tours which offer packages that include a guide, tasting fees, transportation and food. Tours run from May through October.
Where to stay in Wolfville
Blomidon Inn: This charming property was built as a private residence in 1881, and has been operating as an inn for the last century. A long, flower-lined winding driveway leads to the stately entrance, onto the wooden front porch outfitted with rocking chairs which are the perfect spot to enjoy a pre-dinner cocktail. Those wanting to splurge should book the inn's so-called "Honeymoon Cottage" which has its own entrance separate from the main house. The cottage boasts a parlour, huge bedroom, private garden, and even a bathroom outfitted with a two person jacuzzi tub. Click here to book
Old Orchard Inn & Spa: This large hotel has plenty of amenities including a pool, hot tub, outdoor patio and tennis courts. There are great views since it's close to the Bay of Fundy, and surrounded by vineyards and orchards. Click here to book
Nova Scotia Road Trip Day 5: Bay of Fundy tidal bore rafting
Wolfville to Maitland: 75 minutes/98 km
Wolfville is on the shores of the Minas Basin, which feeds into the Bay of Fundy. Twice a day, this natural tidal bore phenomenon sees the water literally pile up on itself, completely changing the flow. The collision of the tide and river creates the tidal bore, resulting in mammoth, churning waves in spots that were tranquil sandbars just moments before.
You can see it from above in Cape Split and Cape d'Or, or experience it first-hand during an exhilarating tidal bore rafting adventure which is one of the most fun things to do in Nova Scotia for those who aren't afraid to get soaking wet.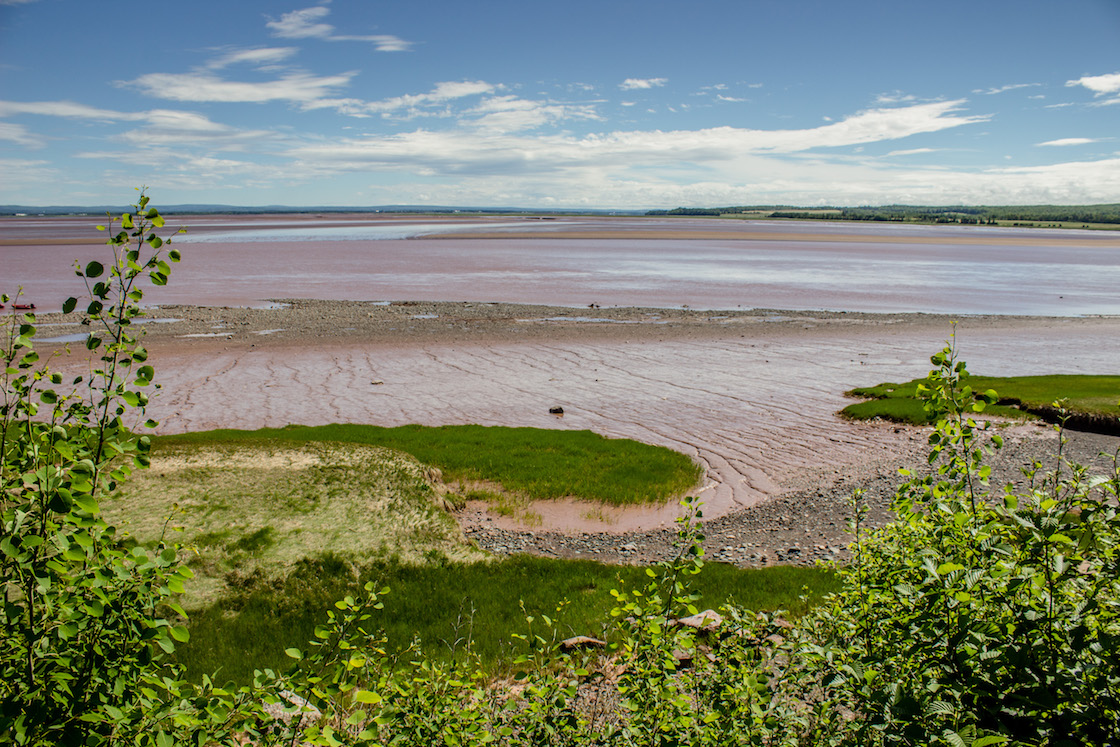 Starting from the banks of the Shubenacadie River near Maitland, guests hop in a zodiac and are guided past the towering red rock formations lining the bay, and will have a chance to walk on the sandbars before they get swallowed up by the changing tide.
It isn't long before the boat ride feels like being on a roller coaster, as you cling to the sides to avoid being toppled out by the waves!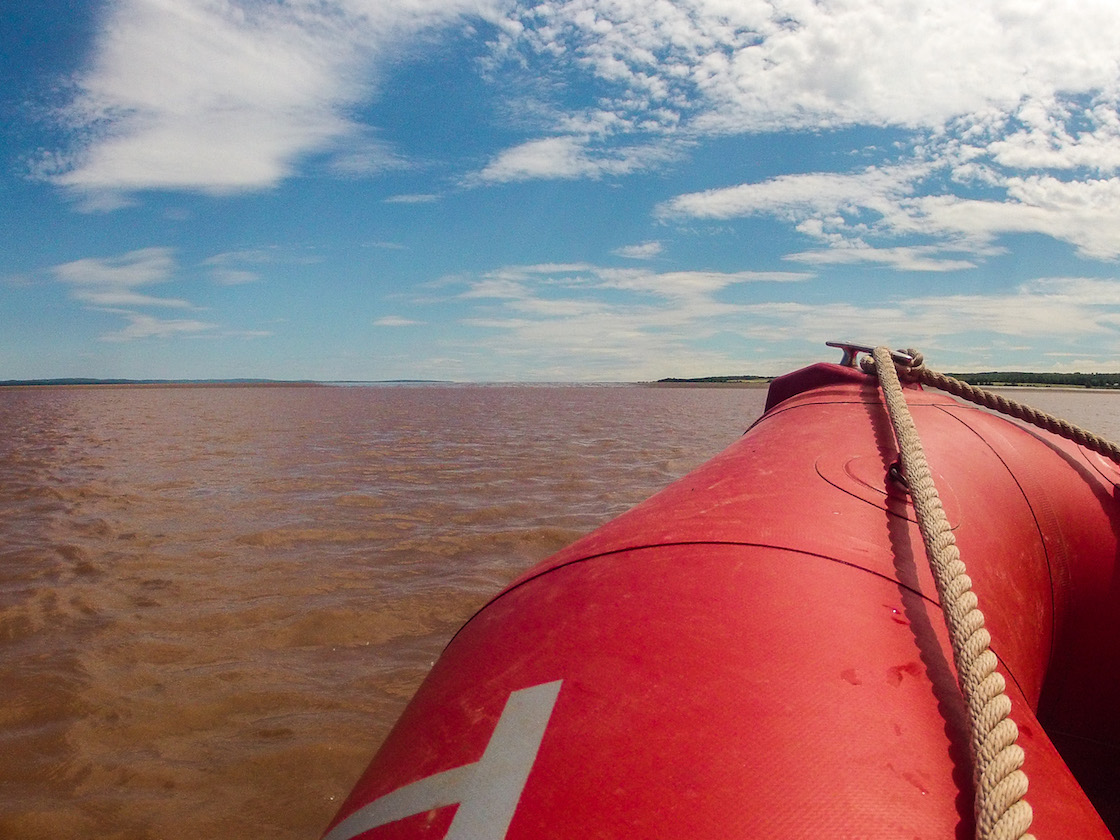 Nova Scotia Road Trip Day 6-7: Drive the Cabot Trail on Cape Breton Island
Maitland to Sydney: 4 hours/340 km
One of the best things to do in Nova Scotia is driving the Cabot Trail, a 300-kilometre loop that circles the coast of Cape Breton. The remarkable scenery shows off some of the east coast's best landscapes, while highlighting the history of the area's Scottish roots.
The Cabot Trail drive can technically be done in half a day, but that wouldn't allow much time for stops. Instead, plan to spend two days of your Nova Scotia vacation here to properly enjoy the waterfalls, dramatic rocky coastlines, vibrant bays and beaches around the Gulf of St. Lawrence and Cape Breton Highlands National Park.
Globe Guide tip: Drive the Cabot Trail route counter-clockwise, so your view isn't obstructed by oncoming traffic and it's easier to pull off the highway.
Some of the top places to include on a Cabot Trail itinerary are:
Ingonish: This is one of the most developed areas, and there are plenty of fun things to do including golfing at the scenic Highland Links Golf Course, relaxing on sandy Ingonish Beach, and hiking Franey loop or Middle Head trail.
Skyline Trail: If you only do one hike along the Cabot Trail, make sure it's the Skyline Trail. The 7.5 kilometre pathway hugs the coastline around the Gulf of St. Lawrence, and has breathtaking views looking down at the highway. Moose sightings are frequent, and other wildlife in the area include bears, whales and eagles.
Chéticamp: Chéticamp is one of the larger towns along the trail, with plenty of accommodation options, restaurants and sightseeing cruises. The Acadian fishing village is also the gateway to the Chéticamp campground in Cape Breton Highlands National Park, where visitors can pitch a tent or relax in an equipped campsite or oTENTik.
Cabot trail accommodations
Keltic Lodge: The views of the Atlantic Ocean are fabulous at this hotel in Ingonish, which dates back to 1940. There are a variety of rooms and cottages, and amenities include a heated outdoor pool, restaurants and the golf course. Click here to book
Silver Dart Lodge: Guests rave about this serene spot in Baddeck, which overlooks the Bras d'Or Lakes and has easy access to walking trails. Some of the bright, spacious rooms in MacNeil House and Silver Dart Lodge include options like multiple bedrooms, kitchenettes and chalet-style accommodation. Click here to book
Once you've completed the Cabot Trail loop, head back to Halifax which marks the end of the ultimate, one week Nova Scotia road trip.
This article was written in collaboration with Tourism Nova Scotia
YOU MIGHT ALSO ENJOY:
SHARE THE PINSPIRATION! CLICK THE IMAGES BELOW TO PIN: