It turned out tidal bore rafting in Nova Scotia was like being caught in a blender full of chocolate milk. Salty chocolate milk.
I clung to the side of the zodiac with all my strength, tossed around by massive waves and feeling like at any minute I might lose my grip and topple over the side into the churning brown water. The white-capped surge hit me over and over again, splashing straight into my face with such force I barely had time to gasp for air before I was bracing for the next onslaught.
And I loved every single second of it.
On this sunny summer day I was with five other brave souls on the Shubenacadie River near Maitland, Nova Scotia. We'd pulled up to the River Runners headquarters off the side of a quiet highway lined with vibrant pink and purple lupins, and took the time to wander out to the serene shoreline to see where the day's adventure would be taking us.
Today, we were going to get up close and personal with that sea of cocoa-tinged water, a place famous for tidal bore rafting adventures which is one of the most fun things to do in Nova Scotia.
This post may contain affiliate links, which Globe Guide receives compensation for with each click or purchase at no additional cost to you. Thanks for your support!
Bay of Fundy rafting
The Shubenacadie River is in Canada's famous Bay of Fundy, home to some of the highest tides in the world. Each day—usually every 12 hours—a strong tide enters the Minas Basin and forces the water to literally pile up on itself, completely changing the flow of the river.
The collision of the tide and river leads to said-tidal bore, creating mammoth churning waves before your eyes in spots that were picturesque sandbars just moments before.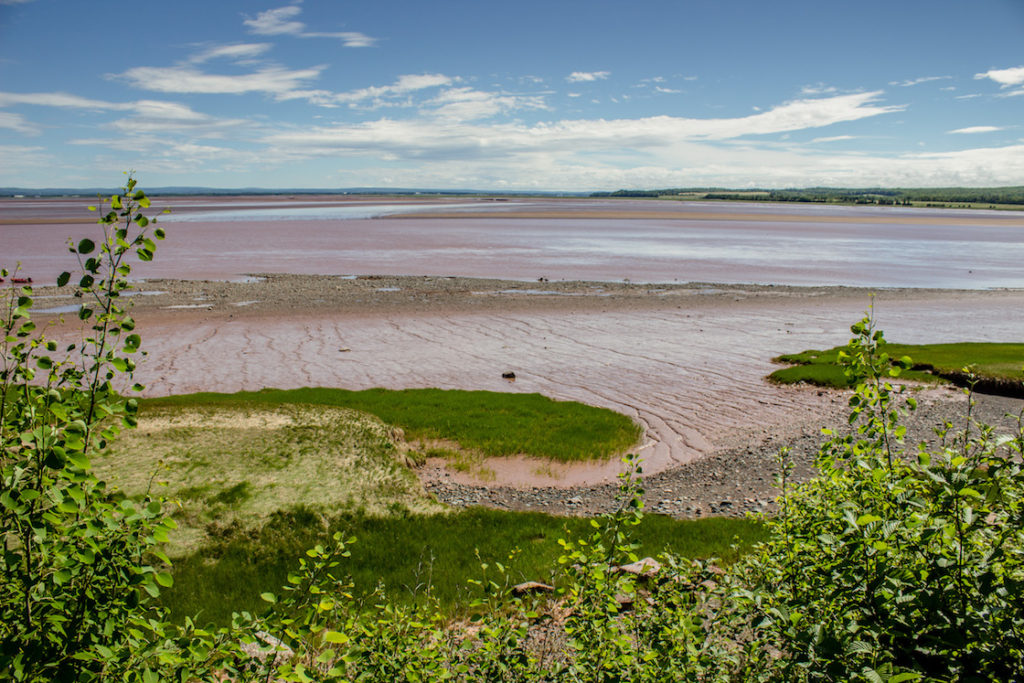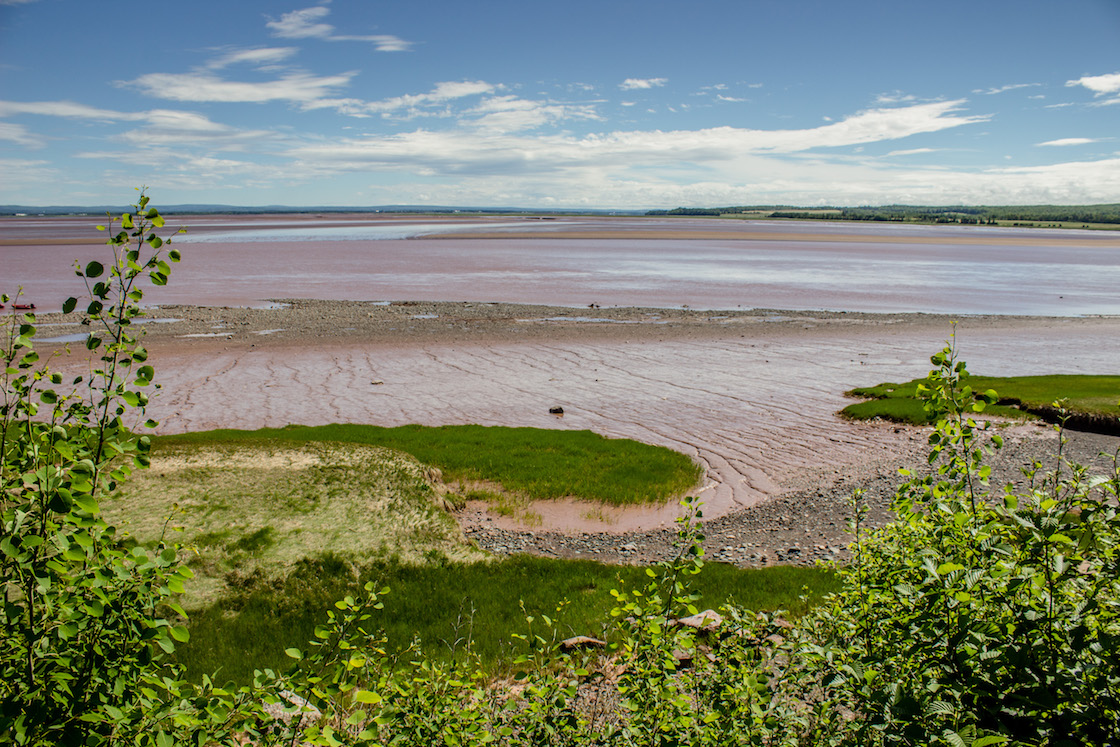 Our excursion was perfectly timed to experience the phenomenon up close, and we pulled on lifejackets, rain gear and gumboots before piling into the inflatable boat and cruising toward the gorgeous red rock formations lining the bay. Our friendly young guide Angus quickly calmed our nerves by explaining there were essentially no rocks, so even if we happened to topple out of the zodiac we'd find ourselves standing in the soft sand below.
We soon arrived at a sandbar, chiseled with ridges and ruts from the relentless wind and waves. I couldn't resist kicking off my heavy boots to feel the sand squish beneath my toes, and wandered toward the edge to dip my feet into the surprisingly warm river.
Big mistake.
The Bay of Fundy tidal bore
Before I knew it, the water began to rise around us—slowly enough that I wasn't alarmed until I realized the sand was disappearing and the tide was about to swallow my boots! I sprinted over and grabbed them just as the water began to lick at the heels, and our group waded through the rising river to haul ourselves back into the boat.
I felt somewhat sheepish, but Angus assured me I wasn't the first to be caught off guard by the tide, as he'd seen the likes of eagles, deer and even bears have to swim their way off of a once-dry sand bar.
Now that the six of us had made it back in the zodiac and had death-grips on the thin rope ringing the boat, we were ready for action.
In retrospect the first set of rapids wasn't so bad—we just didn't realize it then. I sat right at the front, bravely facing the oncoming set of swirling water head-on, and let out a shriek as it soaked me from head to toe. There wasn't much time to digest what had just happened though, as the boat rode the waves like a roller coaster going off the rails, with Angus expertly maneuvering us to tackle each one in the perfect spot for maximum soakage.
The first round lasted about 10 seconds, and when we emerged out the other side in one piece we took a second to collect ourselves…then howled with laughter as salt and silt streamed down our faces.
The next two hours were a pure adrenaline rush as we chased rapids around the river in search of the best ride. They seemed to get bigger and bigger as the afternoon went on, and as we crested each wave the zodiac would plunge straight down as we whooped with delight, relishing each moment even though we were certain the next set would surely be the one that sent us tumbling into the swell.
Who knew shrieking with terror, getting pummelled by waves, dodging whirlpools and sputtering out salty, brown water could be so fun?
Just when we thought we couldn't handle being drenched any longer, we arrived at a historic train bridge about nine kilometres away from where we'd started, where waving tourists watching the tidal bore from dry land filled the elevated platform. We smiled and waved back, proud to have experienced the phenomenon up close despite now looking like drowned rats.
As Angus steered the boat to head back to land, we kept our eyes peeled on the shoreline where juvenile bald eagles peered at us from the shadows of trees. It was the perfect way to end an exhilarating day of tidal bore rafting on the Shubenacadie River—an afternoon none of us will soon forget.
Tips for Shubenacadie river rafting
What to bring for Shubenacadie tidal bore rafting: River Runners provides lifejackets, rain gear and boots, which are basically useless as everyone gets absolutely drenched no matter what! Wear some sort of swimsuit underneath, and bring a change of clothes, soap and a towel so you can shower off after. Sunglasses are also recommended, but make sure they have a string attached to them so you don't lose them in the water.
When to go to: Tidal bore rafting tours go out once per day, from May through September. While it's much colder at end of season, it can be quite the experience during a harvest moon when the river produces waves up to 20 feet high.
Is Nova Scotia tidal bore rafting safe? Absolutely! River Runners has been operating safely for over two decades, and since the guide does all the work you only have to worry about holding on to the boat and enjoying yourself.

YOU MIGHT ALSO ENJOY:
SHARE THE PINSPIRATION! CLICK THE IMAGES BELOW TO PIN:
Globe Guide enjoyed tidal bore rafting in collaboration with Tourism Nova Scotia. As always, hosts have no editorial influence over articles