Canada's east coast is renowned for its fall foliage, and the Annapolis Valley in Nova Scotia is one of the country's top spots to see the seasonal splendour.
This post may contain affiliate links, which Globe Guide receives compensation for with each click or purchase at no additional cost to you. Thanks for your support!
Prime time for leaf peeping is usually around early to mid-October, when this picturesque region is transformed by the fiery-red, golden yellow and dusty orange hues that make photographers swoon.
Fun harvest-themed activities like U-picks, farm stands and corn mazes around the area makes this one of the best spots to visit during fall in Nova Scotia, and wineries buzz with activity as the grapes are pulled off the vines ahead of first frost.
From coastal hideaways to scenic lookouts, here are some of the best spots to enjoy autumn's colours in the Annapolis Valley.
The Look Off
No contest, the best view in the entire Annapolis Valley is at the Look Off.
Found near the village of Canning on the top of North Mountain, this roadside pullout (also called the Blomidon Look-Off and the Canning Lookoff) has a postcard-worthy vantage point. The patchwork-like landscape below features rows of vineyards, parcels of farmland, thick forests and the Bay of Fundy.
On a clear day it's possible to see five different counties, and the vibrant fall foliage is absolutely stunning which makes this spot one of the best places to see fall colours in Nova Scotia.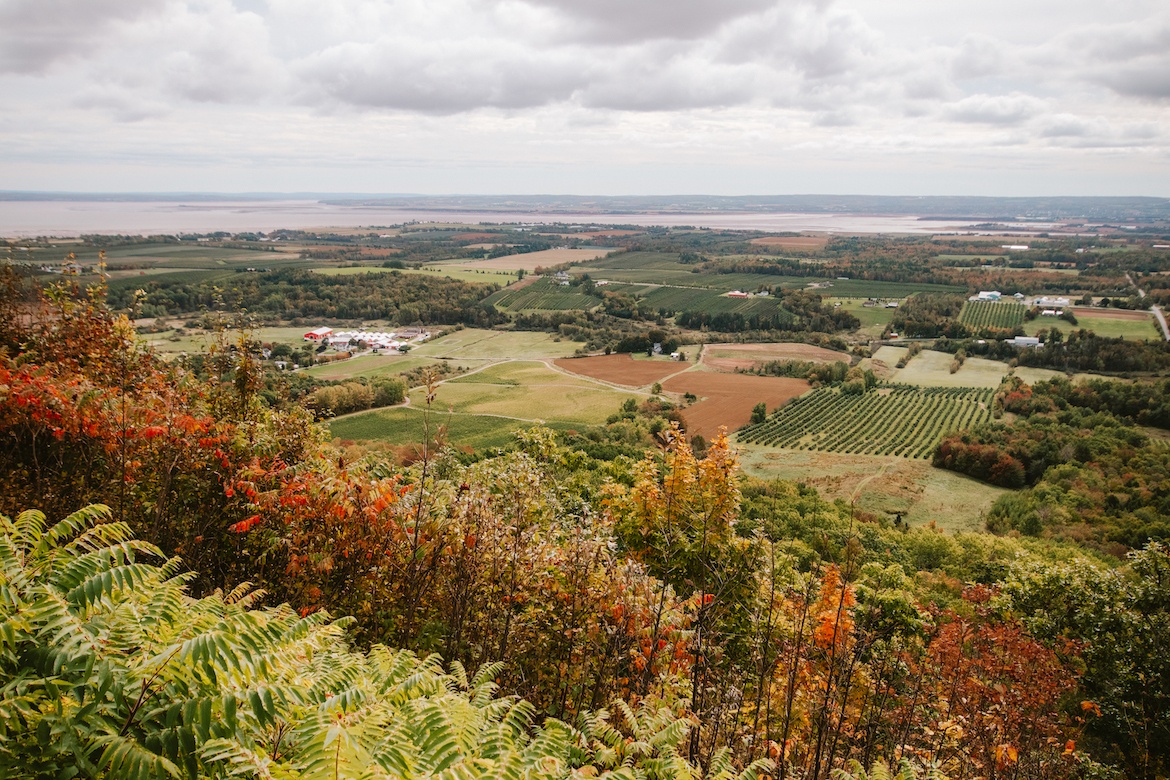 Wolfville + Grand-Pré
The idyllic town of Wolfville just might be one of Canada's most charming towns, where historic buildings drip with ivy and quaint B&Bs welcome guests with welcome drinks served on wraparound porches.
Home to Acadia University, Wolfville is at the heart of the Annapolis Valley wineries scene, with eight tasting rooms located within 10 kilometres of the town centre. Head to Luckett Vineyards for views of the Gaspereau Valley from their restaurant, and take a peek at the authentic bright red phone booth that was brought over from the UK in a nod to the owner's British roots.
Neighbouring Grand-Pré (a UNESCO World Heritage Site) is the perfect place for seeing the Nova Scotia fall colors, with quiet roads leading to areas like red-sand Evangeline Beach and the Grand-Pré National Historic Site.
Cycle or walk through the park to marvel at the gigantic trees lining abandoned railroad tracks, and head up nearby Old Post Road for a birds-eye view of the valley.
The nearby Evangeline hotel has equally mesmerizing views of the landscape and nearby Grand-Pré winery from its hilltop deck, which is particularly enchanting during sunset.
Drive along Gaspereau River Rd to see the yellow, orange and red hues of the forests surrounding acreages, and don't miss Benjamin Bridge which is one of the prettiest wineries in Nova Scotia in the fall.
Its sprawling vineyards that slope towards the river and are surrounded by bright foliage, making it the perfect place to grab a glass of sparkling wine and relax on a crisp autumn afternoon.
Avonport
Take a quick drive along Highway 101 from Grand Pre over to Avonport, winding past vast fields and farmland.
At the top of the hill where Oak Island Road and West Brooklyn Road meet, you'll find Veterans Memorial View Park where there are panoramic views of the Minas Basin, North Mountain Range and Cape Blomidon.
Port Williams + Centreville
The village of Port Williams is one of the best places to enjoy fall in Nova Scotia, as it's a hotbed of activity during harvest season.
Pumpkin patches, U-picks, farm stands, breweries, vineyards, antique shops and handicrafts from local artisans are all found here, and it's also a prime spot to see the world's highest tides.
Head down to the waterfront to watch this natural phenomenon which happens every 12 hours, and take a scenic stroll along Starr's Point Loop or hit the outdoor patio at The Port to enjoy the reflections.
Other great places to see fall foliage in Nova Scotia are from the back deck of the tasting room at Planters Ridge winery, and along Highway 359 between Kentville and Hall's Harbour which is lined with orchards and towering, leafy trees.
Halls Harbour + Baxters Harbour
The fishing community of Hall's Harbour can get absolutely packed with tourists during the summer months thanks to its picturesque waterfront, so those who opt to visit in autumn are in for a treat since most of the crowds have disappeared.
A wooden boardwalk winds around the harbour, and since the coast tends to be a bit cooler than inland areas this is usually where the leaves start to turn first.
Get lost on the backroads around Hall's Harbour, Cape Split and Baxters Harbour, and enjoy peek-a-boo views of the Bay of Fundy from spots like Brow of Mountain Road.
A great feature of the Annapolis Valley is how close everything is, so it's possible to base yourself in an area like Wolfville or Port Williams and take day trips from there. Other top spots to see fall colors in Nova Scotia are a bit farther west toward Annapolis Royal, or heading over to Cape Breton which is absolutely glorious once the seasons start to change.
No wheels? No problem! Book one of these guided tours to the Annapolis Valley:
Globe Guide explored the Annapolis Valley in collaboration with Visit Nova Scotia
YOU MIGHT ALSO ENJOY:
SHARE THE PINSPIRATION! CLICK THE IMAGES BELOW TO PIN: