Waves gently lapped at the shore ahead, the dazzling turquoise water a vibrant contrast to the blindingly-white sand edging the South Africa coastline. The sound of my steps made a hollow echo underfoot as I followed the curves of the raised wooden boardwalk leading down to the beach, my excitement growing with every passing minute.
As I rounded the final bend, the famous Boulders Beach penguins came into view. Hundreds of the tiny birds dotted the landscape, nearly motionless like they were baking in the heat of the midday sun.
Anticipating a colony of playful penguins frolicking along the shoreline and flapping their short wings, I was surprised to instead find this bunch standing stoically on the beach. They were like little black and white soldiers waiting for their marching orders, seemingly undisturbed by the camera-wielding tourists just a few yards away.
They were so close I could nearly reach out and touch them–and just like that, I found myself ticking off a long-awaited, bucket list experience.
View this post on Instagram
The Boulders Beach penguins
The Boulders penguin colony is a group of African Penguins, who were once a critically endangered species due to the harvesting of penguin eggs and commercial fishing in nearby False Bay along the Cape Peninsula.
A successful breeding program and conservation efforts have helped bolster their numbers to about 2,200 (down from an estimated 1.5 million in 1910), and seeing these waddling wonders up close in Table Mountain National Park is now one of the most popular things to do in Cape Town.
Where to see the Boulders Beach penguins
The penguins are nestled in a sheltered cove near a residential area between Simon's Town and Cape Town, which is framed by granite boulders dating back some 540 million years.
While swimmers at Boulders Beach and Seaforth Beach might find themselves doing a backstroke with the birds, the best spot to view them is actually from land at Foxy Beach.
A visitor's centre with the ticket office, a gift shop and restrooms marks the start of the promenade, and guests take a short walk along the circular boardwalk which leads to lookout points for Water's Edge, Foxy Beach and Middle Beach.
From there, you can easily see the cute creatures waddling along the waterfront, huddled under rocks seeking shade, and paddling back up to the shore after fishing for the likes of squid and anchovies. While you should budget at least an hour for a proper visit, it's possible to do in as little as 30 minutes.
Tips for visiting the Boulders Beach penguins
This penguin beach in Cape Town was once Instagram-famous, thanks to shots of visitors walking among the feathered friends. Guests are required to stay on the boardwalk to protect both themselves and the birds; however, you can walk among them if you head down the beach entrance to swim, since penguins often wander over there.
Penguins have very sharp beaks, so it's important to keep yourself (and all of your limbs!) behind the railings so the animals don't bite or lunge. Kayaks and boats are not permitted in the area as it's classified as a penguin sanctuary, and dogs must be on a leash and are only allowed on Willis Walk.
One of the best times to see the Boulders Beach penguins is in December, which is their peak moulting time. That's when they're confined to land while their old worn feathers are replaced which means they lose their waterproofing, and they enter a period of starvation for about three weeks until they can head back out the water again to feed.
Nesting happens right on the beach from February to August.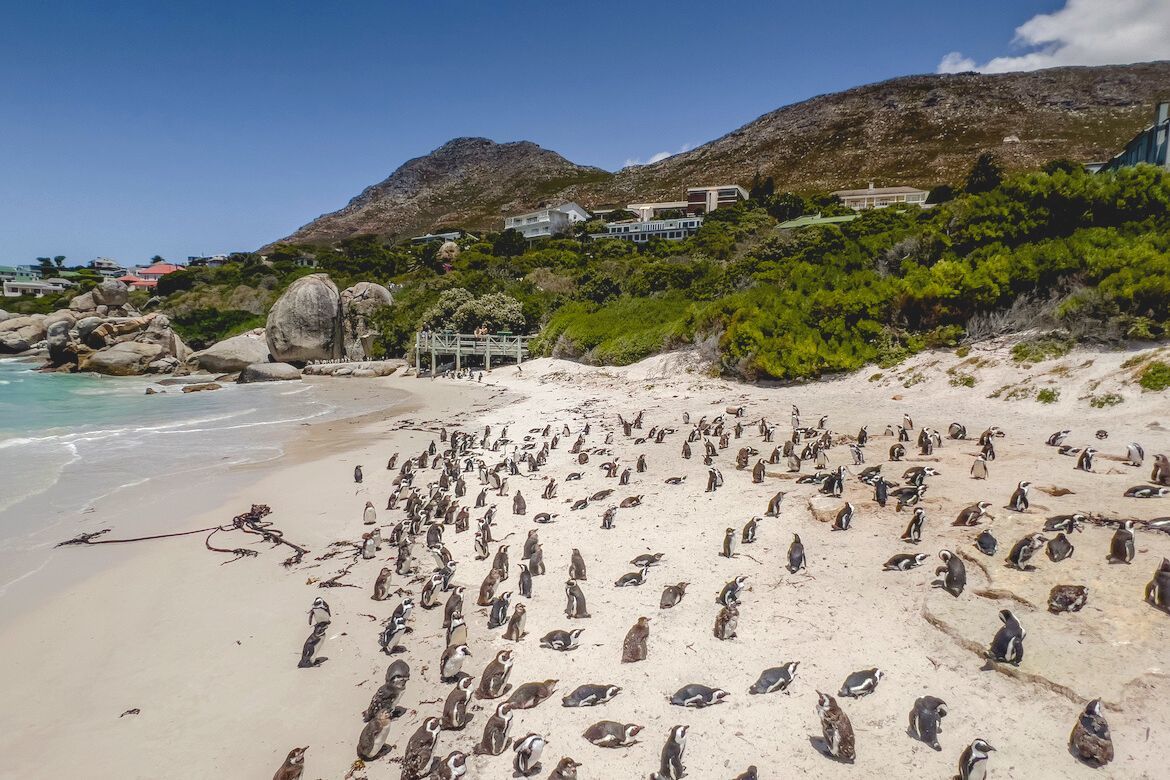 Tours to Boulders Beach
A trip to Boulders Beach is a must-do on any Cape Town itinerary, and it's easy to do as a self-guided trip.
It takes about 45 minutes to drive from the centre of town out to Simon's Town, and can be combined with stops for shopping in nearby Kalk Bay and checking out the cute, colourful bathhouses in Muizenberg. Expect to spend about $30 each way for an Uber, plus entrance fees into the park.
READ MORE: Spectacular spots along South Africa's Cape Peninsula
Another option is joining a guided tour, which usually includes a trip out to Chapman's Peak to soak in the views, heading up to the lighthouse at scenic Cape Point, and a photo-op at the Cape of Good Hope which is the most southwestern point of Africa.
Boulders Beach is also included on many city tours, which makes for a long, busy day but is a good way to check off all the highlights like Table Mountain and Bo Kaap for those who are tight on time.
Some good options include:
Book with Viator:
Book with GetYourGuide:
YOU MIGHT ALSO ENJOY:
SHARE THE PINSPIRATION! CLICK THE IMAGES BELOW TO PIN: