The moment I booked my first 2 week trip to South Africa, I burst into happy tears (which you can watch here for a chuckle at my expense).
Anyway, I was obviously verrrrry excited since South Africa had topped my bucket list for years, luring me with visions of animal encounters during game drives, soaking in the views from the top of Table Mountain, visiting vineyards in the Cape Winelands and getting up close to the adorable Boulders Beach penguins.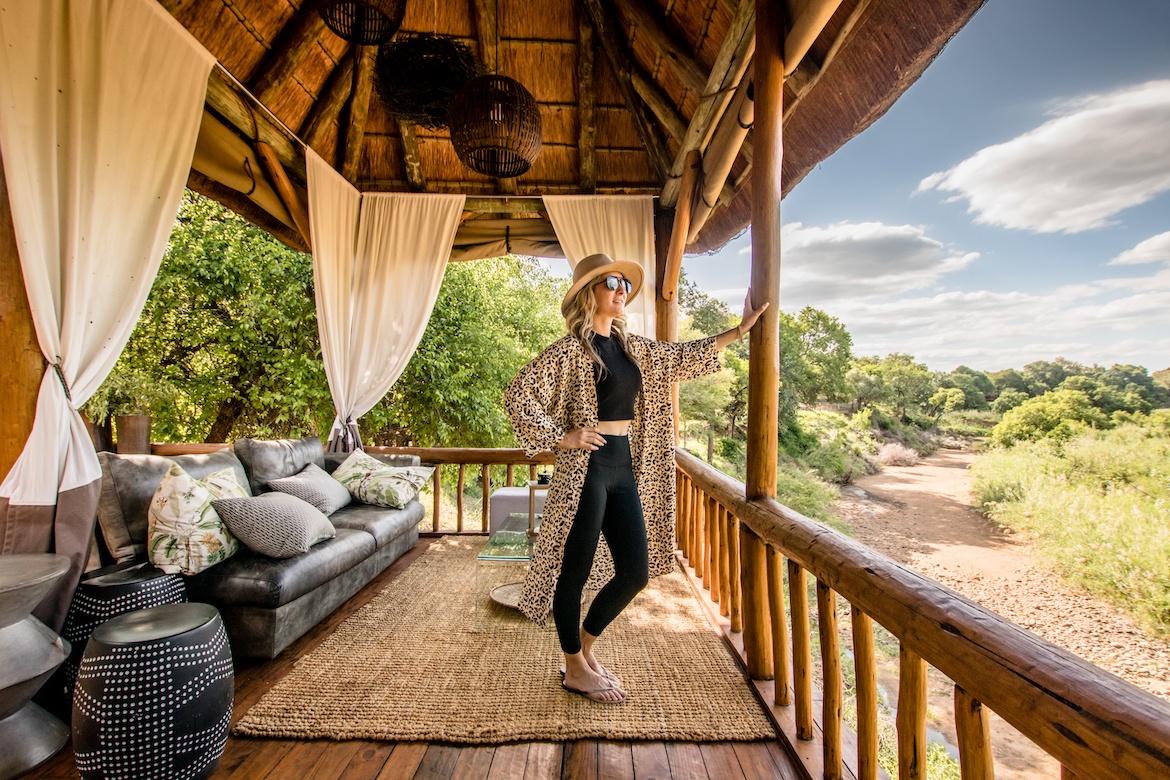 What I didn't expect was all of the other incredible things to do like paragliding over beaches, glamping in safari camps, hiking through canyons and even walking up to a trio of cheetahs. Yes, that all actually happened.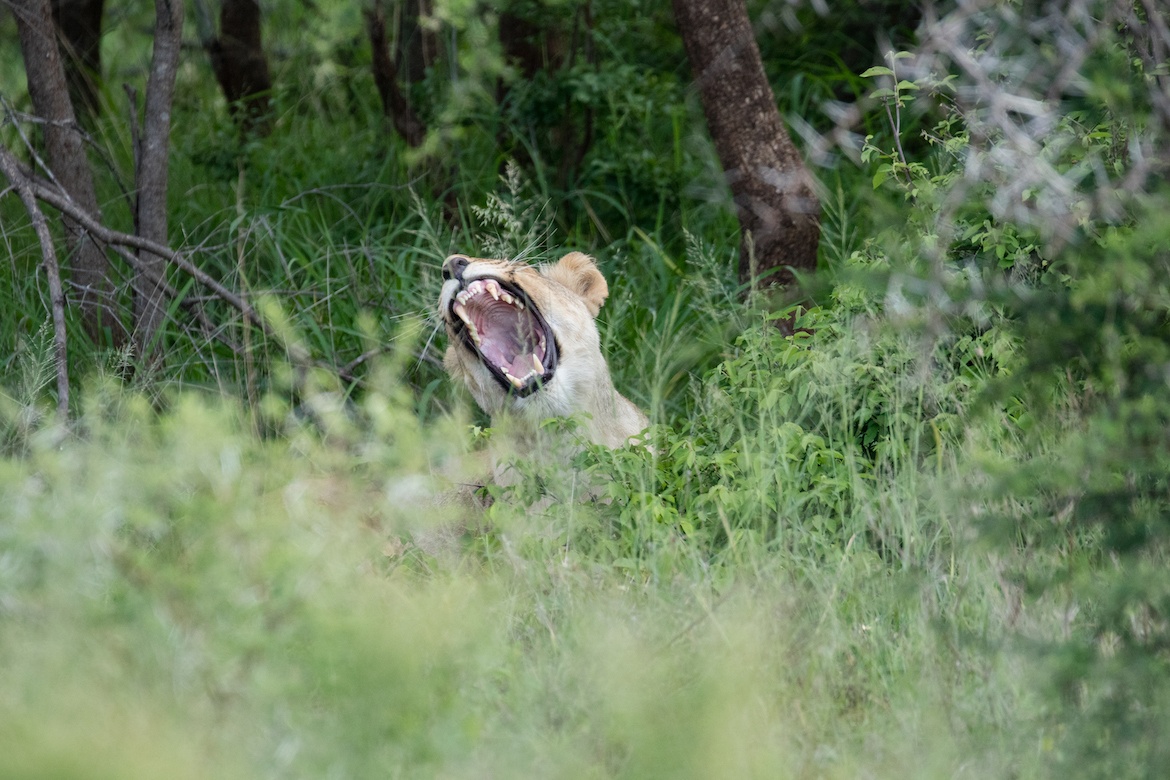 I've never received so much enthusiasm and questions about another destination before, so by popular request I'm rounding up absolutely everything I did including who I booked with, where I stayed, the hits and misses. If this will be your first time there, I absolutely recommend going for about two weeks which is enough time to see the highlights.
Here's everything you need to know about planning the ultimate 2 week South Africa itinerary.
How to book a South Africa trip + costs
I organized this entire trip in just 13 days. Yes, you read that right.
It all started when I was browsing the G Adventures website late one night, and came across a cyber sale on what seemed like the perfect itinerary for a first-timer: this one week trip exploring Johannesburg, the Panorama Route and Kruger National Park.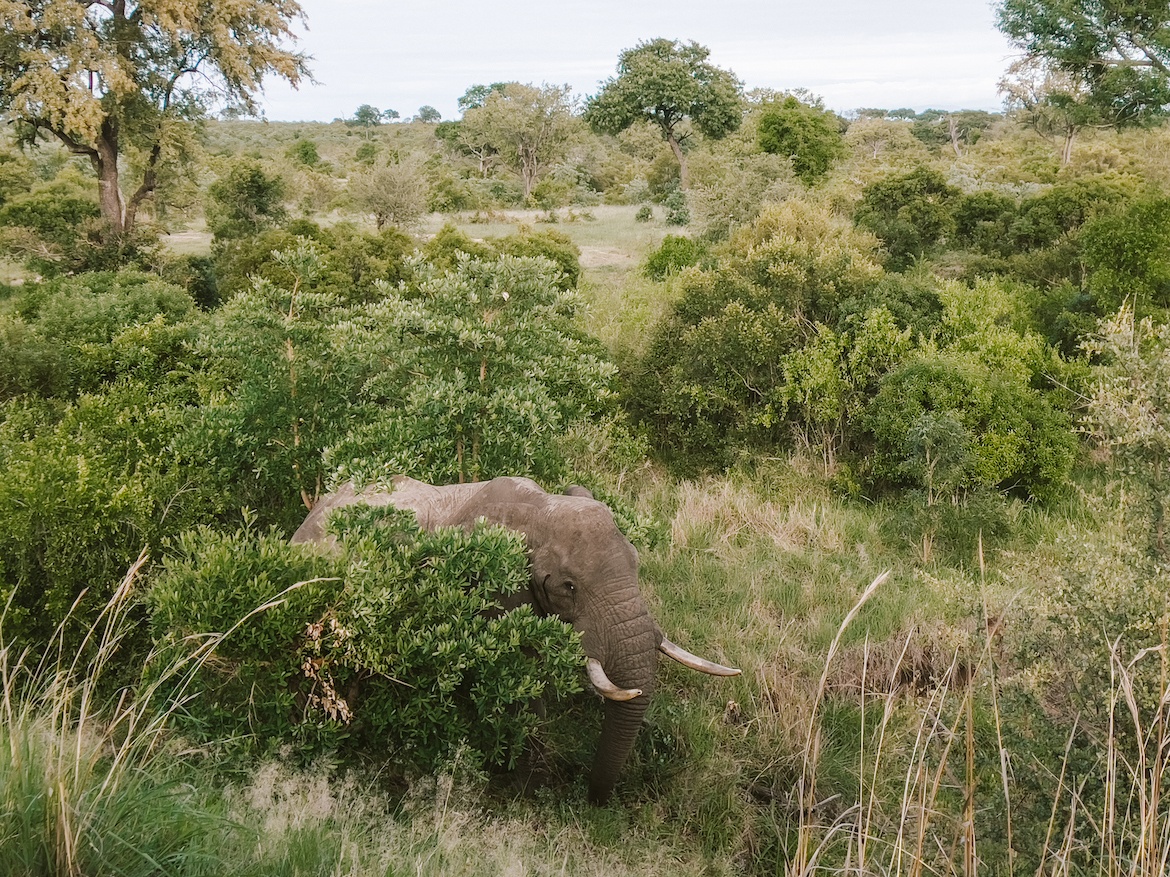 That last-minute tour was 25 per cent off, I was able to book my flights with points, and it turns out Cape Town is relatively affordable (especially when sharing costs with your parents, who spontaneously decided to join!).
The entire trip cost me about $4000 for the accommodations, safaris, tours, food, transfers and tips, and you'll need to budget about $2000 more for airfare if you're coming from North America.
It's worth mentioning that the main reason I booked this G Adventures trip to Africa is because it's part of the National Geographic Journeys portfolio, which is their highest-end product. That means more inclusions, upgraded accommodations, smaller groups (only 10 of us) and most importantly, no camping.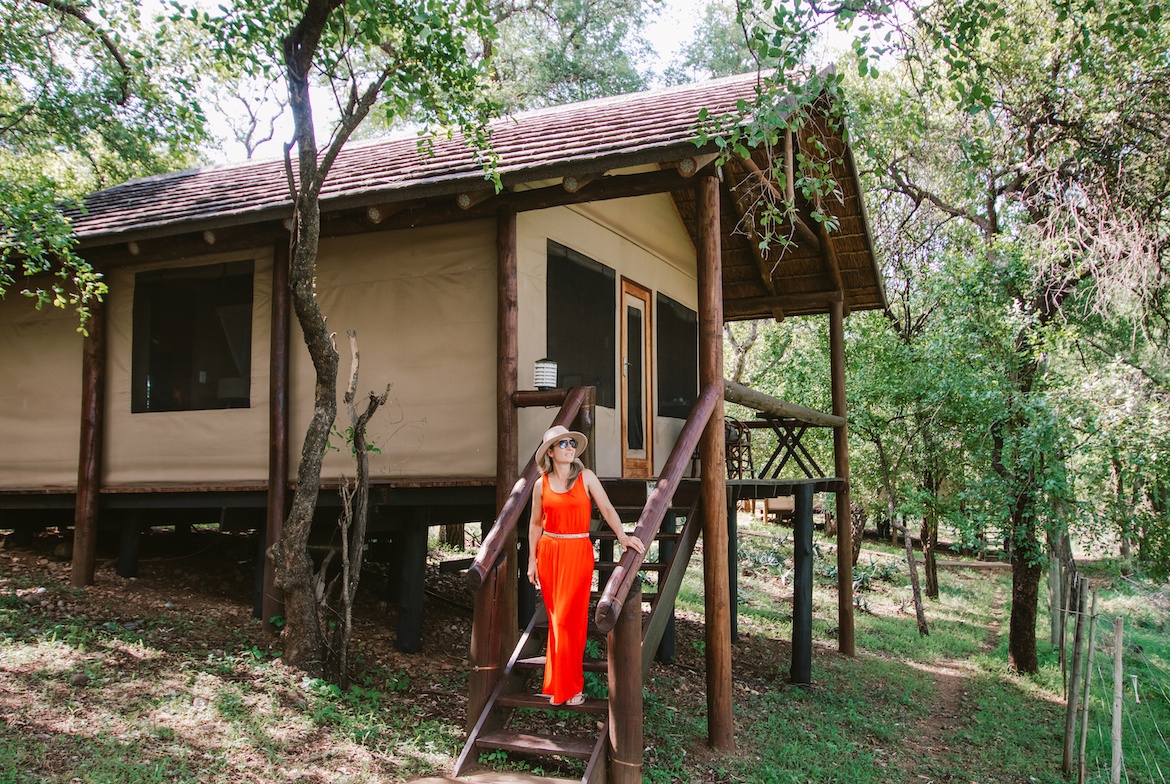 While the booking process with G didn't go smoothly (it took them over a week to confirm the trip after taking our payment, which meant we had to delay booking flights), once we were on the ground the trip was incredible and our group leader Suzanne was absolutely fantastic.
G Adventures also offers a longer version of the trip I did that starts with three days in Cape Town, which is a good option if you don't want to organize anything on your own.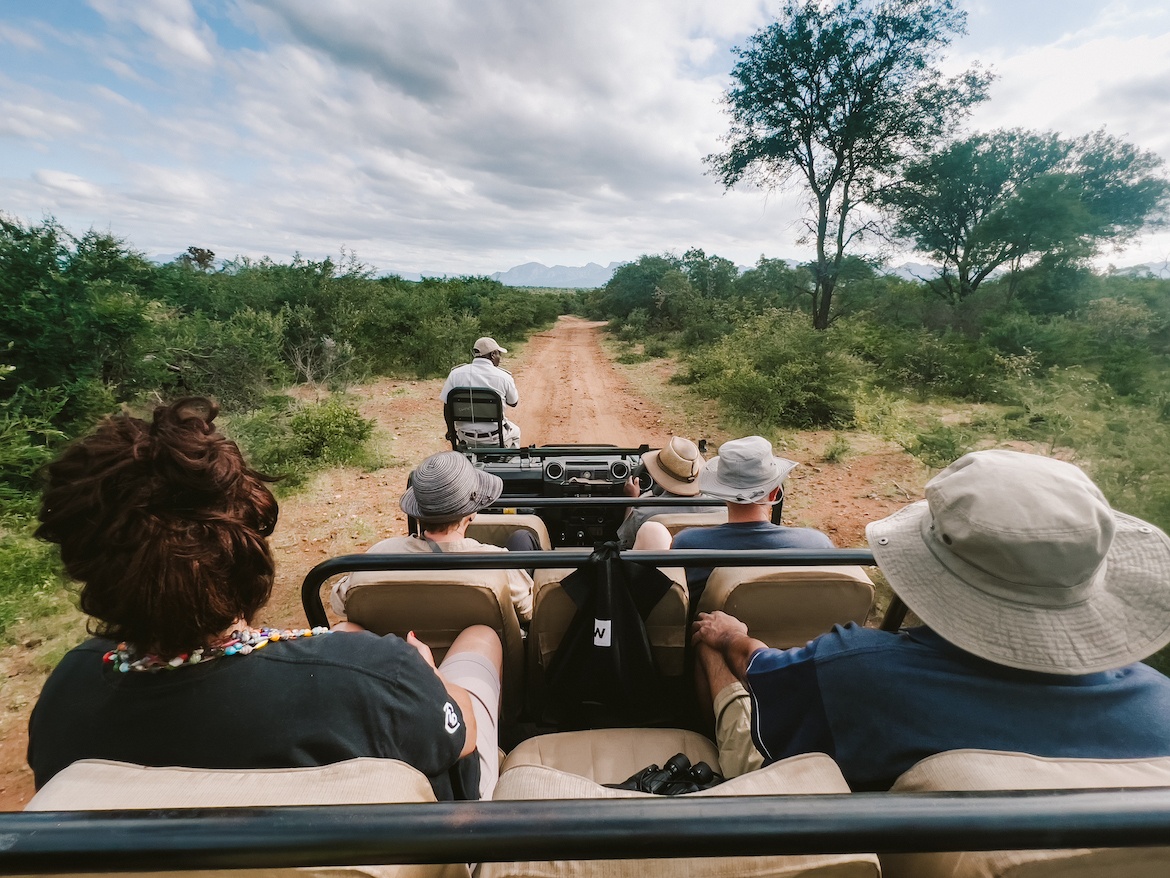 That said, it's absolutely possible to plan your two week South Africa itinerary as a self-guided tour, as long as you're comfortable driving and have time to arrange everything.
For most people, an easier option is to book a package tour; while I went with G Adventures, Exoticaa has some absolutely bonkers deals which also include flights (book with this link for an extra $200 off your trip!). For more bespoke, higher-end experiences check out Alluring Africa.
South Africa tour map
Days 1 and 2: Fly to and tour Johannesburg
Kick off your South Africa tour in Johannesburg, which is where most international flights touch down and is one of the closest major cities to Kruger National Park.
For that reason, it's common to spend a quick day or two here before heading off to the iconic wildlife preserve for the adventure of a lifetime…with an emphasis on 'quick' because to be honest JoBurg isn't that exciting and chances are you'll also be exhausted from the long flight over.
It's still worth doing a city tour to visit the Apartheid Museum for a better understanding of the nation's divided history, and stopping into the Soweto township for an authentic look at what daily life in South Africa is like for millions of people.
Another highlight is Vilakazi Street, which has bragging rights as being home to not one, but two Nobel Peace Prize winners: Nelson Mandela and Archbishop Desmond Tutu, and you can also tour Mandela's former home.
Either hire a private driver for the day (about $300, and can be coordinated by most hotels) or book one of these group tours to see the highlights:
Book with Viator:
Book with GetYourGuide:
Those with an extra day in the Johannesburg area can go on a safari in Pilanesberg National Park, visit Sun City or enjoy the view during a hot air balloon ride.
Book with Viator:
Book with GetYourGuide:
Note: If timing is an issue, one day in Johannesburg to see the main city highlights is enough, and the balloon ride can be done early the next morning before departing to Kruger.
Day 3: South Africa Panorama Route to Kruger National Park
While some people opt for the quick flight from Johannesburg to Kruger Mpumalanga International Airport or Hoedspruit, the Panorama Route is an epic road trip that's not to be missed.
Ranked as one of South Africa's most scenic drives, the 10 hour journey features gushing waterfalls, mountain peaks with jaw-dropping views, and the world's largest green canyon.
Mpumalanga Panorama Route map
Highlights of the Panorama Route include:
The Blyde River Canyon: With bragging rights as one of the largest canyons on the planet at 25 kilometres long with an average depth of 750 metres, the Blyde River Canyon is one of South Africa's top attractions.
A prime spot for wildlife spotting and birding, the Blydepoort Dam (also known as the Blyderivierpoort Dam) was built in 1975, and the likes of crocodiles, hippos, primates and antelope can be seen during a boat cruise.
The Three Rondavels: This breathtaking viewpoint is often shrouded in mist, so those lucky enough to visit when it's clear can see the northern edges of the Drakensberg mountain range of mountains and the Blyde River winding through the canyon.
Known for its trio of cylindrical mountain peaks, the Three Rondavels lookout is one of the most awe-inspiring spots on the Panorama Route.
Bourke's Luck Potholes: A deep gorge, waterfalls, tranquil plunge pools and photogenic cylindrical wells are some of the geological treasures at the Bourke's Luck Potholes. A stone pathway winds down from the trailhead towards an overlook peering down into the canyon walls, and two bridges arch dramatically over the confluence of the Treur and Blyde rivers.
God's Window: This scenic spot has panoramic views of the Lowveld and cliffs that plunge more than 900 metres down into a ravine, and got its name thanks to its supposed resemblance to God's view of the Garden of Eden. While it's also a notoriously foggy spot, on a clear day it's possible to see all the way to Mozambique.
Here are some great options for guided tours along the Panorama Route:
Book with Viator:
Book with GetYourGuide:
Panorama Route accommodations
Hoedspruit, Hazyview and Graskrop are all great bases for exploring the Panorama Route, and each town has accommodation and dining options, as well as tour operators for excursions into the park.
I stayed at Umbhaba Eco Lodge near Hazyview which is a short drive from the park gates, and loved the rooms which feature canopy beds, soaker tubs, and private decks with pretty views of the surrounding countryside. There's also an outdoor pool, restaurant and bar. Click here to book
See more of the top-ranked options for Panorama Route accommodations here.
Day 4: Kruger National Park
Name something more bucket list-worthy than an African safari. I'll wait.
The real fun begins here in Kruger National Park, where you can spend your entire day out on a game drive. I had visions of spotting the Big 5 while navigating dirt roads and thick bushes in the middle of nowhere, so was quite surprised by how developed the park actually is.
There are eight main entrances, and more than a million vehicles go through the gates each year. While there can be a bit of off-roading depending on which route you pick, the majority are actually paved highways with plenty of signage which is why it's so easy to explore Kruger as a self-drive tour–simply pull over when you see an animal you'd like to take a closer look at.
There are also lodges, restaurants, cafes and gift shops, and this uber-cool luxury hotel inside an envisioned train on a bridge–I totally want to stay here next time!
During our G Adventures trip, we hopped in a safari jeep at dawn to get an early start on the day's grand adventure, since animals are most active in early mornings and late afternoon when it's cooler. The 4X4 fits about a dozen passengers, has no windows which is perfect for taking photos, and also had a roof to protect us from the hot African sun.
Our game drive lasted about eight hours with a couple of coffee breaks and lunch, and we saw almost EVERYTHING: giraffes, lions napping in the bush, zebras, curious monkeys, hippos playing in the water, and herds of elephants trampling through the bushes with their adorable calves.
The majority of white rhinos live in South Africa, and unfortunately poaching is a devastating issue here which has nearly driven the animals to extinction.
With that in mind, park guests are asked not to geotag their locations when posting photos of rhinos online, and as a prevention mechanism park staff surgically remove their horns to protect them.
Days 5 and 6: Greater Kruger National Park
You'll want to spend at least a couple more days of your South Africa trip out on safari, and while there's 19,500 km2 of wild terrain to explore in Kruger that doesn't even take into consideration the areas bordering the park's perimeter: Greater Kruger National Park.
It's here that you'll find even more incredible wildlife opportunities, as well as spectacular game lodges like the Chisomo Safari Camp. I was absolutely obsessed with everything about this property, and our two nights here was the highlight of my entire trip.
Part of the Karongwe portfolio which operates a handful of lodges in the area, Chisomo is the ultimate glamping fantasy come to life.
The decor in the dining areas, lounges and rooms is phenomenal, the food is outstanding and there are on-site amenities like access to a spa, multiple pools, and a viewing area to watch hippos in the river.
The tented suites have king-sized beds with canopies, a large private bathroom, and outdoor decks including some that overlook the Makhutsi River. Just make sure to keep your doors locked, since those pesky baboons are experts at breaking in! Click here to book
Our days here started with an early morning game drive before coming back for a full breakfast, then free time in the afternoon for optional activities like bush walks, helicopter rides, spa treatments or simply lounging around.
The safaris are a bit different here, in that we were split into more intimate groups of just five guests per vehicle, and they were completely open-air. The reserve is also not as developed as Kruger so it felt more authentic, without a single paved road in sight.
The guides were incredible, and it was like we could order whatever we wanted to see and they'd magically find the animals. Lions, leopards, cheetahs, all on the menu! In fact, we even got to–very quietly and carefully–walk right up to a trio of cheetahs lounging in the bush.
We'd head out on another safari in the late afternoon, and let me tell you there's nothing more enchanting than watching the sunset during happy hour on a game drive. Pure magic.
Day 7: Head back to Johannesburg or fly to Cape Town
Since safaris start at the godforsaken hour of 4:30 AM, you'll have time for one last morning game drive before leaving the Kruger area. Most organized group tours will do the long drive back to Johannesburg, where everyone stays a final night before heading off to the next destination on their own (which is what we did).
Another option is to book a flight back from one of the Kruger airports; Nelspruit has direct flights to both JoBurg (one hour) and Cape Town (about three hours).
Days 8-10: Cape Town
While safaris are the highlight of a trip to South Africa for most people, let me tell ya that Cape Town is a close second. The city is an absolute stunner, thanks to the incredible beauty of Table Mountain and Lion's Head looming over the blonde beaches leading toward the turquoise water.
In a single day here you can go for a sunrise hike, paraglide back down, enjoy coffee at the bustling waterfront, go wine tasting at some of South Africa's top vineyards, walk on a beach with penguins and still make it back to the city in time for happy hour. Totally mind blowing.
Some of the best things to do in Cape Town are:
Take the rotating cable car up to the summit of Table Mountain, for panoramic views of the entire city spread out 1,067 metres below.
Hike up Lion's Head, an iconic mountain that rises up between Table Mountain and Signal Hill and is particularly enchanting at sunrise. Not a great idea if you don't like heights though–the terrain and vertical is insane!
Snap Instagram-worthy shots in Bo Kaap, known for its rainbow-hued facades.
Wander along the bustling V&A Waterfront district, duck into the local boutiques at The Watershed, grab lunch at the Time Out Market Cape Town (formerly the V&A Food Market), enjoy a lively performance in the plaza outside, and watch the barking seals in the harbour.
Go beach hopping in Camp's Bay, Clifton and Sea Point, and go for a dip in the tidal pools.
See the penguins at Boulders Beach, go shopping in nearby Kalk Bay and relax on Muizenberg Beach which is famous for its colourful bathhouses.
If I had to do Cape Town over again, I would nix the guided city tour that I did and purchase a Hop On/Hop Off bus ticket instead or Uber everywhere. There's so much to see that each stop feels quite rushed in a group setting, so I definitely recommend exploring on your own instead.
This unlimited attractions pass is another good option, since it also includes admission to a number of Cape Town attractions.
Book with Viator:
Book with GetYourGuide:
Up for even more adventure? For the ultimate view, book a helicopter tour over Cape Town or better yet, paraglide over it like yours-truly!
Book with Viator:
Book with GetYourGuide:
Cape Town accommodations
We decided on a bit of a splurge, and booked the Lagoon Beach 137A, an incredible two bedroom, two bathroom suite that's right on Lagoon Beach. I mean, can ya blame a girl after looking at these panoramic views? Oh, and there's even a grand piano.
This is a great pick for couples and families since there's plenty of space to spread out, a full kitchen, living room and multiple pools.
The sunsets are also glorious, and while Lagoon Beach is a bit of a drive from the city centre, it only costs about $10 for an Uber to get downtown and is a nice respite from the hustle and bustle of areas like the V&A. Click here to book
Here are some other top-rated Cape Town accommodations.
Days 11-12 Day trips to Cape Peninsula, Cape Winelands
As if there wasn't enough to do in Cape Town, it turns out there are some pretty incredible day trips too whether you're looking for an active adventure, scenic surroundings or yet another safari.
While visions of lions and elephants are probably what pops into most people's heads when talking about South Africa, it's also known for its vineyards with a staggering 2700 different wine farms in and around Cape Town.
The Cape Winelands
There are five different growing regions in the Cape Winelands, with the most popular being Stellenbosch, Franschhoek and Paarl.
It's possible to visit wineries at all three in a single day, by booking this excellent tour with The Wine Tour Co. which includes transportation, five different tastings with food pairings and lunch. Our guide Angelo was incredibly charming and very knowledgeable, and this was hands-down the best wine tour I've ever been on (which says a lot since I can't even count how many I've done around the world!) Click here to book
What I liked about this one is that all tasting fees are included, which isn't the case on a lot of the Cape Town wine tours.
It's also easy to do a self-guided tour through the Cape Winelands, especially by booking a spot on the vintage Franschhoek Wine Tram.
It chugs along a track linking the vineyards all day long, and the Hop-On Hop-Off experience means lots of opportunities to soak up the gorgeous scenery and linger over a crisp glass of Chenin Blanc for as long as you please.
READ MORE: Uncorking the 15 best Cape Town wine tours
E-biking is another fun option, and there are also hiking trails, wine safaris and horse-drawn carriage rides.
Book with Viator:
Book with GetYourGuide:
The Cape Peninsula
Another one of the top day trips from Cape Town is a scenic road trip around the Cape Peninsula, featuring sweeping beaches, panoramic lookouts and mischievous baboons.
We did this as an organized tour that also included Cape Town highlights, which was wayyy too rushed. Instead, I'd recommend booking an excursion like this one that focuses on just the peninsula, or better yet hire a private driver/rent a car so you can enjoy the stops at your own pace.
Book with Viator:
Book with GetYourGuide:
Highlights of the Cape Peninsula are the Chapman's Peak drive which has steep drop-offs, hairpin turns and spectacular coastal views, Cape Point which has a funicular, lighthouse and amazing vantage points, and the Cape of Good Hope which has bragging rights as the most southwestern point of the African continent.
READ MORE: Spectacular spots along South Africa's Cape Peninsula
Days 13-14: Extra activities or fly home
You might have noticed this South Africa itinerary is just shy of two weeks, to account for a couple days of flying time. However, if you're lucky enough to have extra vacation days and want to pack even more highlights into your South Africa travel itinerary, a few great options are:
Add an extra day or two in Kruger National Park, the Cape Winelands or along the Panorama Route
Drive the Garden Route, a scenic byway near Cape Town. Enjoy a game drive at Botlierskop Private Game Reserve, swim with Cape fur seals in Plettenberg Bay and go on a zipline tour through the Tsitsikamma indigenous forest.
Explore Durban, a coastal city known for its long beaches, Zulu culture and safaris in the nearby Hluhluwe Game Reserve.
The countries of Lesotho and Eswatini are also landlocked within South Africa, and very close to the Durban and Kruger National Park areas. Get some new passport stamps by visiting these small nations, which is possible with just a few extra days. These guided trips to Lesotho depart from Durban:
FAQ for a trip to South Africa
Currency: The currency in South Africa is the rand, and credit cards are also widely accepted.
Transportation: Uber is commonly used in cities like Cape Town, an easy way to get around and one of the safest. Driving a rental car is generally considered safe, though keep in mind that they drive on the left-hand side of the road and cars are right-hand drive vehicles.
Electricity: South Africa operates on 230V supply voltage, so bring a three-prong converter for your electronics. I'd also highly recommend a portable charger like this one, as 'load shedding' is a huge issue (which are essentially planned, rolling blackouts, which you can learn more about here).
Safety: It's no secret that South Africa has high crime rates, so it's critical to take safety precautions. I personally didn't experience any issues on my trip, though a tourist got robbed in Bo Kaap while I was there and many locals kept urging me to keep cameras, my phone and jewelry out of sight. Here's a great article with more information about staying safe during a trip to South Africa.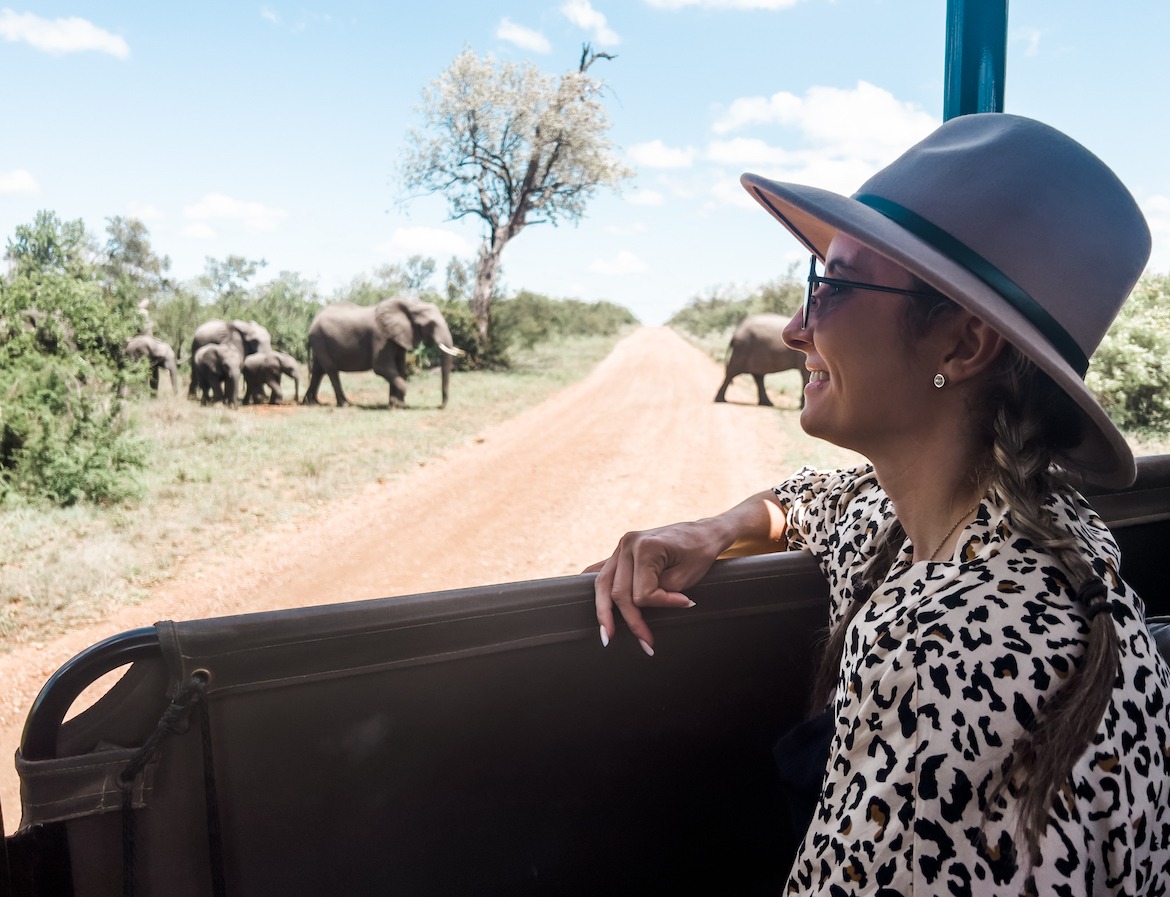 YOU MIGHT ALSO ENJOY:
SHARE THE PINSPIRATION! CLICK THE IMAGES BELOW TO PIN: