If you love vintages and vines, then one of the best things to include on a South Africa itinerary is one of the Cape Town wine tours.
With nearly three-thousand different wine farms in and around Cape Town and five different growing regions in the Cape Winelands near the coast, there's no shortage of places to sip a crisp Chenin Blanc.
Best of all, many tasting rooms are only an hour outside the city, making this an easy day trip to explore the different regions like Stellenbosch, Franschhoek and Paarl.
From unique transport (trams! Carriage rides! Helicopters!) and even wine safaris, here are the most memorable wine tours from Cape Town.
Franschhoek Wine Tram Hop On Hop Off tour
This Franschhoek Wine Tram Tour is one of the most popular Cape Town wine tasting tours, no contest, thanks its fun hop on/hop off concept.
These tracks that wind through the picturesque valley were built in 1904 as an alternative for ox farmers to get their produce to market. Over the years both steam and diesel locomotives chugged along the tracks, until demand decreased in the 1990s and service went dormant.
In 2012, the rail line was revived to host the beloved Franschhoek Wine Tram, which sees 10 lines connecting wine farms throughout the region.
Start at either the Franschhoek or Groot Drakenstein Terminal, and hop on the double-decker trams which allow you to sit back and relax without worrying about driving. Benches can be flipped over, to enjoy vineyard views in both directions.
With convenient pickup and drop-off at Cape Town hotels, this is an easy door-to-door option for a day of wine tasting and exploration where you get to make your own schedule and spend as long at each estate as you'd like. Click here for pricing
Book with GetYourGuide:
Paarl, Franschhoek And Stellenbosch wine tour
This is one of the absolute best wine tours I have ever done, which says a lot since I've lost track of how many I've experienced around the world.
This Paarl, Franschhoek and Stellenbosch wine tour explores the top three growing regions near Cape Town, which boast award-winning vineyards set against dramatic scenery.
Our guide Angelo was incredibly charming and knowledgeable, sharing information about the region, each winery, tasting notes and stories about living in South Africa.
We visited three different wineries (with cheese and chocolate pairings), enjoyed a leisurely lunch in Franschhoek and also had a chance to take a quick walk through the cute town.
Best of all, the tour includes all tasting fees and lunch, so you'll never have to open your wallet unless it's for tips and buying bottles to bring home. Click here to book
Stellenbosch: 4×4 wine tasting safari
If you're looking for unique and affordable wine tours in the Stellenbosch area, this 4×4 Wine Tasting Safari fits the bill.
Hop on an Open Safari Vehicle and enjoy breathtaking views of Stellenbosch's historical buildings and picturesque landscapes.
The Stellenbosch wine safari includes stops at leading wineries in the area: Stark Conde, Rustenberg and Glenelly where you can sip their delicious wines while soaking in the surroundings. Click here to book
Book with GetYourGuide:
Wine Tasting Carriage Trail
Is there anything more romantic than sitting in a horse drawn carriage with your sweetie, while enjoying a bottle of bubbly?
The Franschhoek Wine Tasting Carriage Trail is a nearly two-hour experience that combines a relaxing ride through the picturesque Vrede en Lust Wine Estate, commentary about the Cape Town wine farms and winemaking process, and sampling six different wines.
A pair of Percheron stallions do all the hard work on this one, while you enjoy stunning views of the Simonsberg Paarl mountains. Click here to book
Blend and bottle your own Cape wine
One of the most unique wine tours in Cape Town will have you channeling your inner winemaker, during the Blend and Bottle Your Own Cape Wine Tasting and Wine Tram experience.
This hands-on excursion starts at the Fairview Cheese & Wine Farm in Paarl, where you'll indulge in a delicious cheese and wine pairing. Next, head to Muratie wine farm in Stellenbosch to sample a sweet port-style wine and artisanal chocolate pairing.
Up next is a quick ride on the Franschhoek Wine Tram for the short journey to Rickety Bridge winery, where you get to blend, label, and bottle your own varietal of Cape wine with the guidance of expert winemakers. Click here to book
Cape Point tour and wine tasting in Stellenbosch
See some of the most breathtaking sites along the Cape Peninsula while also getting a glimpse of South African wine culture, by combining two of the top day trips from Cape Town day into this single tour.
The day starts with a breathtaking drive along the coast, on a highway many compare to California's iconic Highway 101 thanks to its steep drop-offs and hairpin turns with spectacular ocean views.
Make a quick stop at Chapman's Peak, which has panoramic views of the rugged coastline, the turquoise waters of Hout Bay and Duiker Island where there's a seal colony.
After a quick pit stop at an ostrich farm, arrive at the magnificent Cape Point Nature Reserve. Scenic trails wind through the park including up to a lighthouse which dates back to 1859, and there's also a funicular that heads up to the top.
READ MORE: Spectacular spots along South Africa's Cape Peninsula
Watch out for the mischievous baboons as you leave the parking lot, heading over to the Cape of Good Hope which is the most southwestern point of the African continent, then if time allows you'll stop at famous Boulders Beach on the way back to the city to see the colony of penguins.
READ MORE: Cute colony: Visiting the Boulders Beach penguins in Cape Town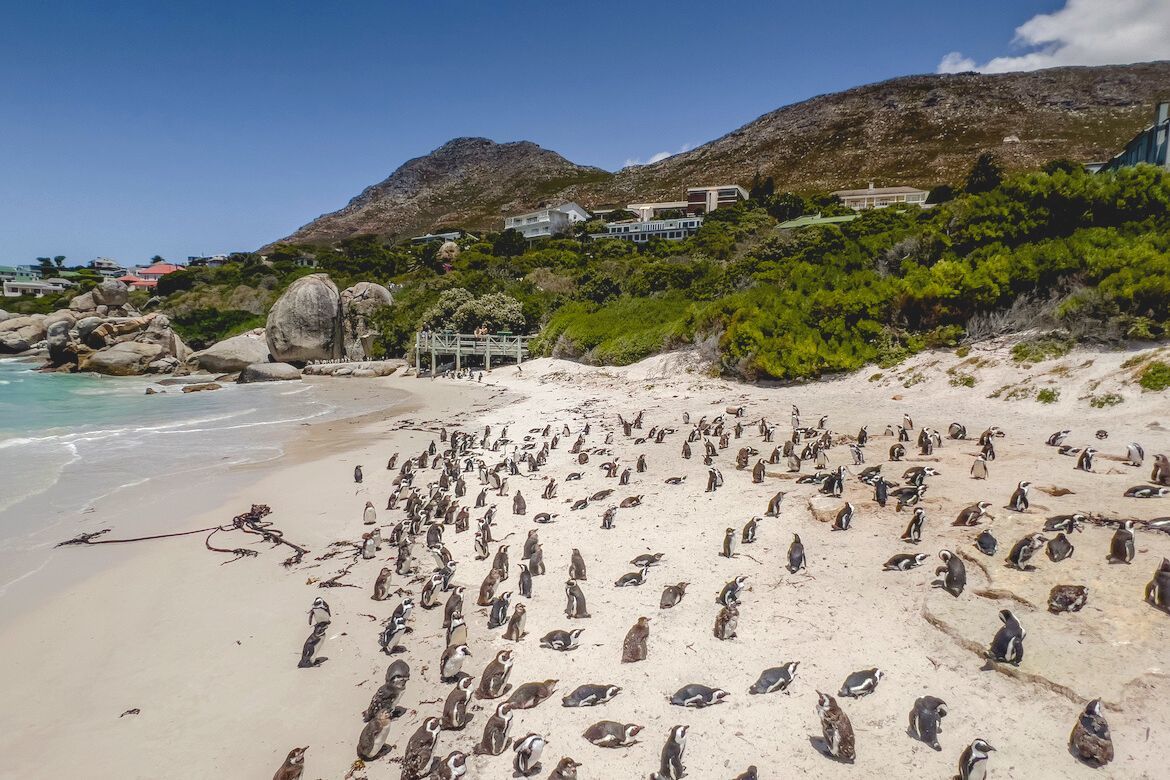 Now it's time to drink! In the afternoon, the tour heads to Stellenbosch to enjoy a wine tasting at one of the Cape Town wine estates and meet with a winemaker.
This tour includes transportation, entrance fees to the nature reserve and the wine tasting. Click here to book
Authentic South African braai, beer and wine tasting
No trip to South Africa is complete without enjoying a braai (barbecue), and this wine tour in Stellenbosch is an action-packed day that's perfect for foodies.
Visit award-winning microbreweries for some craft beer tastings, then a wine and biltong pairing session. Biltong is a traditional South African snack made from dried and cured meat, and a perfect complement to the rich flavours of local wines.
You'll also enjoy a delicious braai, and might even see native wildlife like zebras and springboks while exploring Stellenbosch. Click here to book
E-bike wine tours, Cape Town
E-Bike wine tours take you on a dynamic journey through the vineyard-lined valley, with stops at several wine estates for tours and tastings (at your own expense). A bonus of the electric bikes is that they help you avoid fatigue, to fully enjoy beautiful scenery.
All necessary bike and safety equipment are included, and tours are offered in both the morning and afternoon. Book a tour in Franschhoek or Stellenbosch. Click here to book
Book with GetYourGuide:
Cape Winelands helicopter tour
One of the most bucket list-worthy wine tours from Cape Town involves heading up…way up…and soaring through the skies on a helicopter for a birds-eye view of the city and Cape Winelands.
Fly over Clifton's white sand beaches, Table Mountain, Cape Point and Lion's Head en route to Groot Constantia Wine Farm.
Here, you'll have the opportunity to indulge in a wine-tasting session (at your own expense) before settling down for a delicious three-course meal at the all-glass Simon's restaurant overlooking the vineyards. The menu boasts an array of mouth-watering dishes, from wild-mushroom gnocchi to slow-roasted lamb.
This unique tour offers an experience combining luxury, gastronomy and stunning natural beauty. Click here to book
Hop-On Hop-Off wine tours in Stellenbosch
The Stellenbosch hop-on hop-off wine tours are a fantastic way to explore at your own pace, as the pass navigates a few different routes through the region and you're free to stay at each wine farm as long as you choose.
Drop in to some of the best-known large estates like Spier Wine Farm, which has over 300 years of history dating back to 1692. If you prefer a more intimate experience, the tours also go to smaller, privately-owned vineyards and unique spots like Van Ryn's Brandy Distillery. Sip samples while learning about the history of the only local brandy producer, which has been in operation since 1845.
Book with GetYourGuide:
Stellenbosch: Paint with wine experience
Channel your inner Vin Gogh (see what I did there) during this fun painting with wine experience in Stellenbosch.
Nosh on a charcuterie platter expertly paired with South African wines, and be inspired by the surroundings of the Simonsberg mountains as an instructor guides you through the painting process.
Whether you consider yourself an artist or can't do much more than draw stick figures, this is one of the most creative Cape Town wine tasting tours and perfect for friends, couples and solo travellers looking for unique things to do in Stellenbosch. Click here to book
Half-day guided nature hike and wine tasting in Stellenbosch
If you're a nature lover and wine enthusiast, then book this adventure through the Banhoek Valley.
This unique experience offers the best of both worlds, starting with a nine kilometre hike through the Banhoek Conservancy to admire the mountain views and learn about local conservation efforts.
Reward your efforts with a premium wine tasting at a boutique vineyard, and toast to a great day in the Cape Winelands. Click here to book
Book with Viator:
Marine wildlife cruise and Cape Winelands
Experience both land and sea on this wildlife cruise and winelands tour, which combines a 90 minute boat cruise with the Franschhoek tram ride and a wine and cheese tasting.
The day starts with the scenic boat ride in Table Bay where you'll have a chance to see whales, seals and dolphins, then hop on the tram to ride through the Franschhoek vineyards.
After a lunch stop, head to Stellenbosch Estate for a cellar tour with a wine and cheese tasting, then enjoy free time to stroll through downtown Stellenbosch. Click here to book
Winelands mountain biking tour from Cape Town
Escape from the city into the Wellington Winelands, during this private cycling tour of the picturesque valley.
Enjoy tastings of the region's famous Pinotage wine and lunch (own expense) in the shadow of the stunning Hawequas Mountains, then opt for either a leisurely riverside walk or a more challenging mountain bike ride.
With a local guide to lead the way, transfers and bike rentals, this tour offers a perfect combination of adventure and relaxation. End your day with a brandy tasting (at own expense) to round out your experience of the unique Wellington Winelands. Click here to book
Stellenbosch half-day wine tour
This half-day Stellenbosch wine tour is ideal for those who are short on time (or who don't want to drink all day!) combining wine tastings, cheese pairings and a cellar visit.
During the tour you'll visit two wine farms in Stellenbosch, and also have time to explore the boutiques and historic Dutch buildings in the charming town. Click here to book
YOU MIGHT ALSO ENJOY:
SHARE THE PINSPIRATION! CLICK THE IMAGES BELOW TO PIN:
This post may contain affiliate links, which Globe Guide receives compensation for at no additional cost to you.