If you've ever had fantasies of relaxing on the sun-soaked deck of a thatched-roof cabana perched over the Caribbean Sea while a butler fills your glass with bubbling champagne, then you're gonna want to head to De Palm Island in Aruba, stat.
Oh, and there's also a flock of flamingos, as if you needed another reason to visit this fabulous private island.
This post may contain affiliate links, which Globe Guide receives compensation for with each click or purchase at no additional cost to you. Thanks for your support!
This special spot along the southwest coast is one of the best Aruba day trips, whether you're visiting as part of a couples or girls getaway, family vacation or cruise excursion. Found just a 10 minute drive from the capital Oranjestad and accessed with a quick boat ride, De Palm Island is like a huge fun zone for all ages: think banana boat rides, multi-storey waterslides, bronze beaches and snorkeling in the crystal clear water.
Best of all, almost everything is included in the half or full-day rate. See prices here
How to get to De Palm Island
Getting to this playground in paradise is a cinch: transportation to and from major hotels by De Palm Tours is included which brings guests right to the dock, and the boat ride over takes just a few min
utes. A small discount is extended to guests who drive themselves to the dock, parking is free, and the ferry leaves every 15 minutes.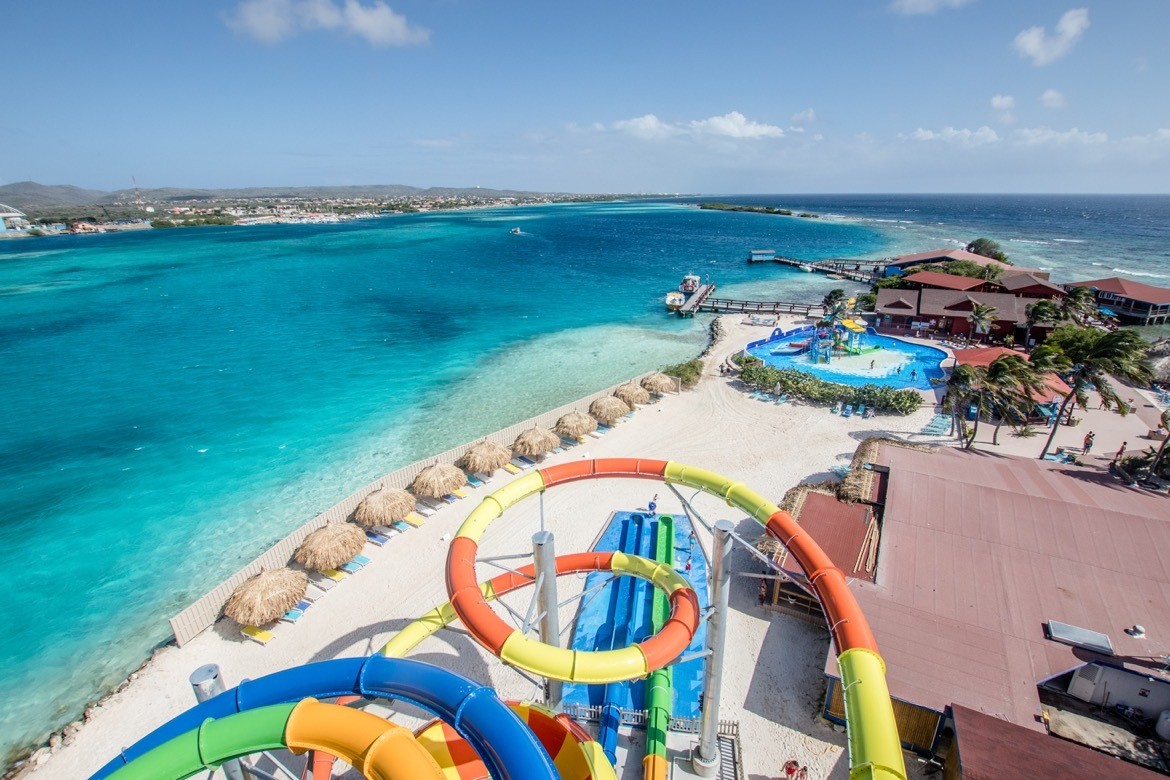 De Palm Island activities and cabanas
Once you arrive on shore, there's a quick orientation then the rest of the day is yours. Be sure to hightail it straight to the beach to secure a great spot under an umbrella, or treat yo self by upgrading to a cabana, baby!
A handful of palapas are perched over the sea which have a sundeck, outdoor shower, private entrance and lounge chairs with cushions and towels. Big enough for up to eight people, there's also a fridge stocked with cool drinks, a bottle of chilled Prosecco and a dedicated server who will bring you cool cocktails all day long.
Another option are the beach cabanas in a roped-off, quieter beach area near the flamingos which have a sofa and dining area, stocked fridge, beach beds, outdoor shower and concierge service. Cabana pricing starts at $210 for the full day.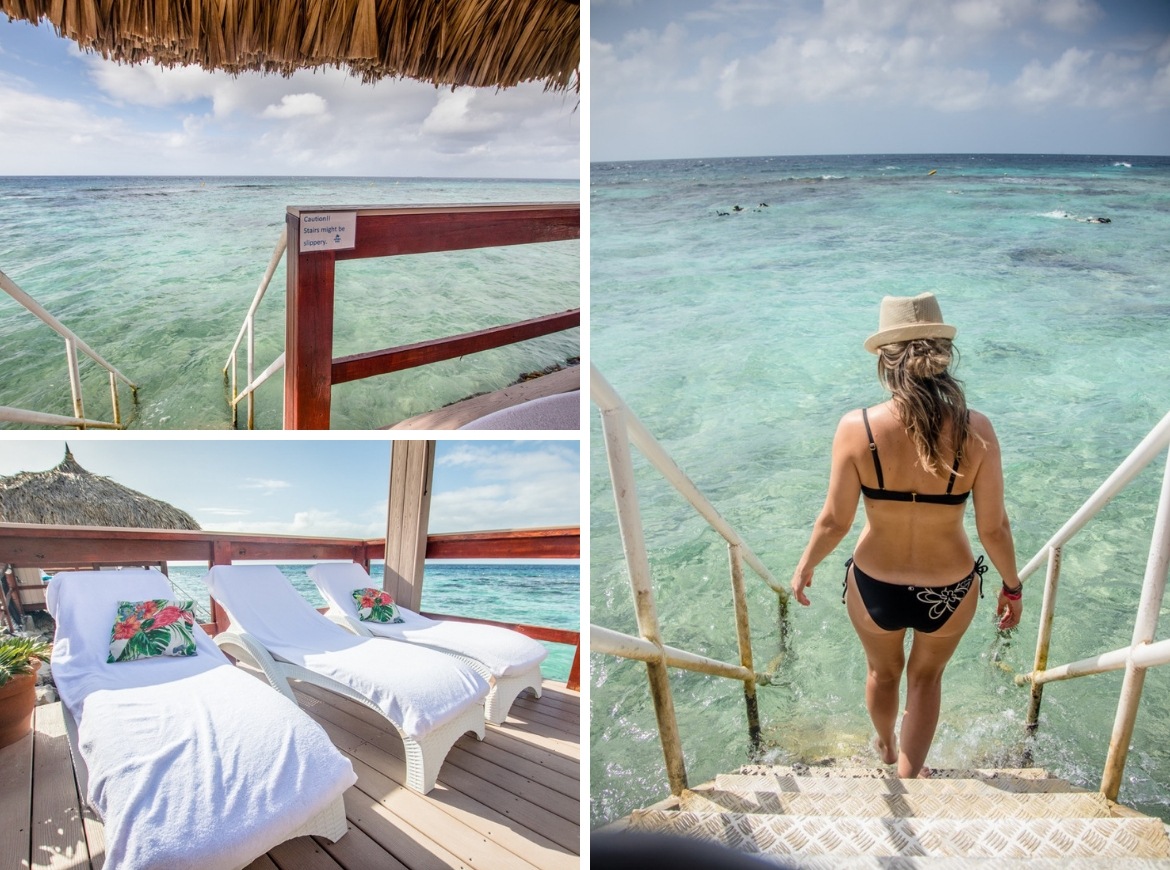 If you manage to drag yourself off your cushy lounger, there's a huge array of activities on De Palm Island to keep you busy all day long. Kiddos love the splash park, banana boat rides and huge waterslides, while the older crowd might want to join a game of beach volleyball or take a salsa dancing lesson.
The coral reef surrounding the island is one of the country's best snorkeling sites, and has clear, shallow water perfect for spotting bright blue parrotfish or maybe even a turtle if you're lucky. Be sure to keep an eye out for the lazy iguanas who love sunning themselves on the surrounding rocks!
Guests can enjoy a free Aruba snorkeling tour, as all gear is provided and there are also guided excursions around the reef twice per day.
What's included on De Palm Island
De Palm Island's all-inclusive packages mean that once you arrive, your wallet stays put in your beach bag. All food and drinks are included, like the fantastic breakfast and lunch buffets with fresh salads and seafood, a grill with fried favourites like burgers and chicken fingers, and plenty of beach bars serving up cool cocktails.
Almost all activities on the island are also included, aside from spa treatments (yup, there's a spa!), SNUBA, the underwater helmet walk and cabana rentals. Guests must bring their own towels, unless they're renting one of the cabanas in which case they're provided.
Where to see the Aruba flamingos
Now, about those flamingos.
There are only two places to see flamingos in Aruba: Flamingo Beach on the Renaissance Aruba private island, and here at De Palm Island where about a dozen Chilean Flamingos gather along the shoreline. Standing about four to five feet tall, their pink colouration comes from pigments called carotenoids which are in the food they eat.
The flock on De Palm are mostly grey and light pink (compared to the birds on Renaissance Island which are a vibrant, fuchsia hue) meaning that they're quite young. Interestingly, they live alongside a couple of peacocks, who likely aren't used to being overshadowed by other birds!
READ MORE: Secret tips for seeing the Aruba flamingos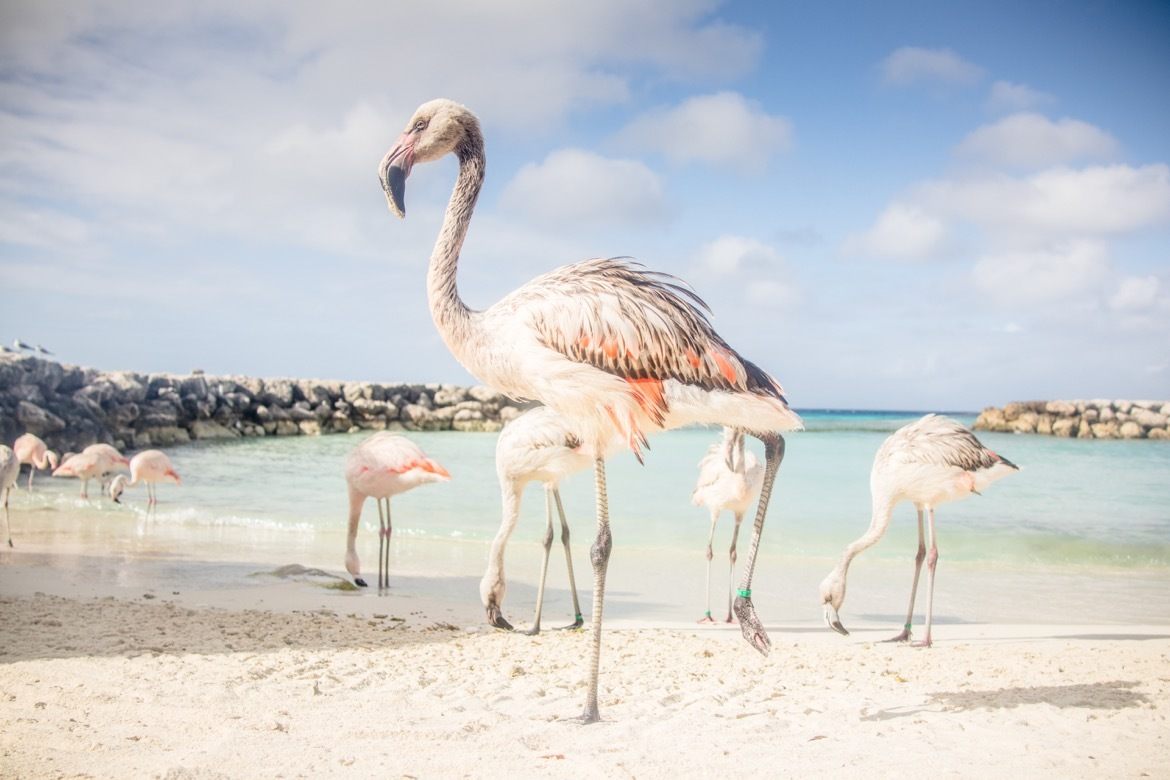 A tiny fence has been built around the lagoon where flamingos feed, to keep visitors from touching them which is obviously a big no-no. However, you can still get quite close to snap great shots, and some guests choose to spring for cabana rental on this stretch of beach so they can admire the birds all day long.
Those who aren't in a cabana are required to stay on the fenced-in side of beach, but again there are no visibility issues since the fence is so short.
With the fantastic variety of included activities, great dining options and opportunity to experience a beautiful private island in Aruba, it's easy to see why De Palm Island is considered one of the country's top attractions. Expect to head back to shore with sun-kissed skin, a blissful smile…and plenty of flamingo selfies.
Globe Guide experienced De Palm Island as a guest of De Palm Tours. As always, hosts have no editorial influence on articles
YOU MIGHT ALSO ENJOY:
SHARE THE PINSPIRATION! CLICK THE IMAGES BELOW TO PIN: