With a thriving arts scene, laid-back vibe and prime location near breathtaking beaches, the colourful town of San Nicolas is one of the best places to visit in Aruba to get a dose of culture.
Far removed from the glitz, glam and commercialization of tourist areas like Palm Beach and the capital Oranjestad, the so-called 'Sunrise City' is a creative hub best known for the larger-than-life murals blanketing its downtown area.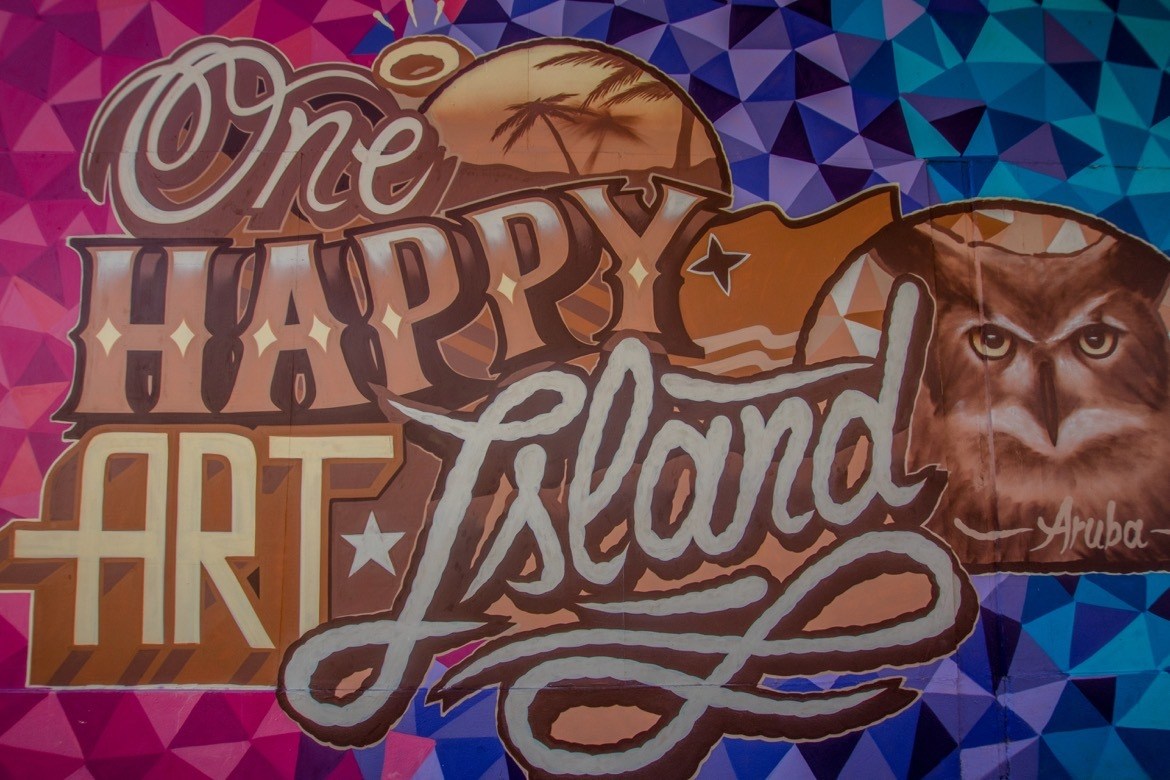 Originally a bustling industrial centre due to its oil refinery, Aruba's second-largest city has a long history of calypso music, steel drum bands and hosting spirited carnivals, which were introduced by workers from nearby islands.
Located on the island's southern tip, San Nicolas is just a half hour drive from Oranjestad which makes this one of the best Aruba shore excursions for those visiting the island on a cruise, and can easily be explored in an hour.
San Nicolas street art
Most visitors come to see the town's famous art-lined walkways, which provide a vibrant contrast to the otherwise arid surroundings. Two-storey high fluorescent flamingos, seashells fashioned into angel wings and neon cacti sculptures are among the colourful creations that showcase local talent.
Comprising about five blocks, it takes about 30 minutes to see the Main Street murals, before ducking into the small boutiques and galleries tucked amongst the artworks. This is a great spot to pick up souvenirs you'll actually want to keep, like handcrafted jewellery, accessories and prints.
While San Nicolas can be somewhat sleepy, it comes alive for three days every November during the Aruba Art Fair which brings together Aruban and international artists, music and dance performances, on-site sculpture making and culinary competitions. Other notable events held at ArtistA throughout the year include the Christmas Fair and Art Fashion, and a new artist is featured in the gallery on the first Friday of each month.
Once you've finished snapping shots of the gorgeous street art, head over to Charlie's Bar which is somewhat of an island institution dating back to the 1940s. The eclectic spot was a favourite hangout of scuba divers, who started hanging their underwater discoveries on the wall which turned it into somewhat of an unofficial museum.
Today, a dizzying area of memorabilia from a royal crown to a Popeye figurine to license plates are on display, and visitors are encouraged to leave something behind to add to the always-growing collection.
Relax on the best beaches in Aruba
One of the best reasons to visit San Nicolas is that it's the gateway to some of Aruba's best beaches, including Baby Beach and Boca Grandi.
Baby Beach is a local favourite, where a serene turquoise bay is framed by the sun-kissed shoreline. Its calm, protected warm waters are perfect for families with little ones, and the far-reaching sandbars make it possible to walk over a hundred yards before the water begins nearing waist height. There's a beach bar on site, as well as umbrellas and chair rentals.
Adrenaline junkies flock to rugged Boca Grandi, a popular windsurfing spot just down the road. The wind here is unrelenting, providing the perfect conditions for surfing and kiteboarding. Even those who show up without a board in tow will love lounging on the otherwise secluded beach, where the soft sand is surrounded by rolling dunes.
Around San Nicolas, Aruba
On the dusty, windy road leading back from the beach, chances are you'll come across a rather quirky greeting committee: a herd of donkeys who hee-haw out a welcome to anyone who happens to pass by as they graze in the desert. This drove of furry creatures live in the Donkey Sanctuary at Bringamosa, which has a visitor centre, gift shop and tours dedicated to its 130 inhabitants.
Once the preferred mode of transportation around these parts before cars took over, a haven was created for the donkeys back in 1997 to give them a protected area to live out their days. These friendly, furry, four-legged friends now love ambling along the roadside, and will even come right up to your car window in hopes of snagging a treat.
YOU MIGHT ALSO ENJOY:
SHARE THE PINSPIRATION! CLICK THE IMAGES BELOW TO PIN:
This post may contain affiliate links, which Globe Guide receives compensation for at no additional cost to you.