There are few places in the world where one can get up close to a flock of flamingos–much less snap selfies with them–so it's no wonder that checking out the stately, blush birds is one of the top things to do in Aruba. Thing is, it hasn't always been easy, especially for those on a budget.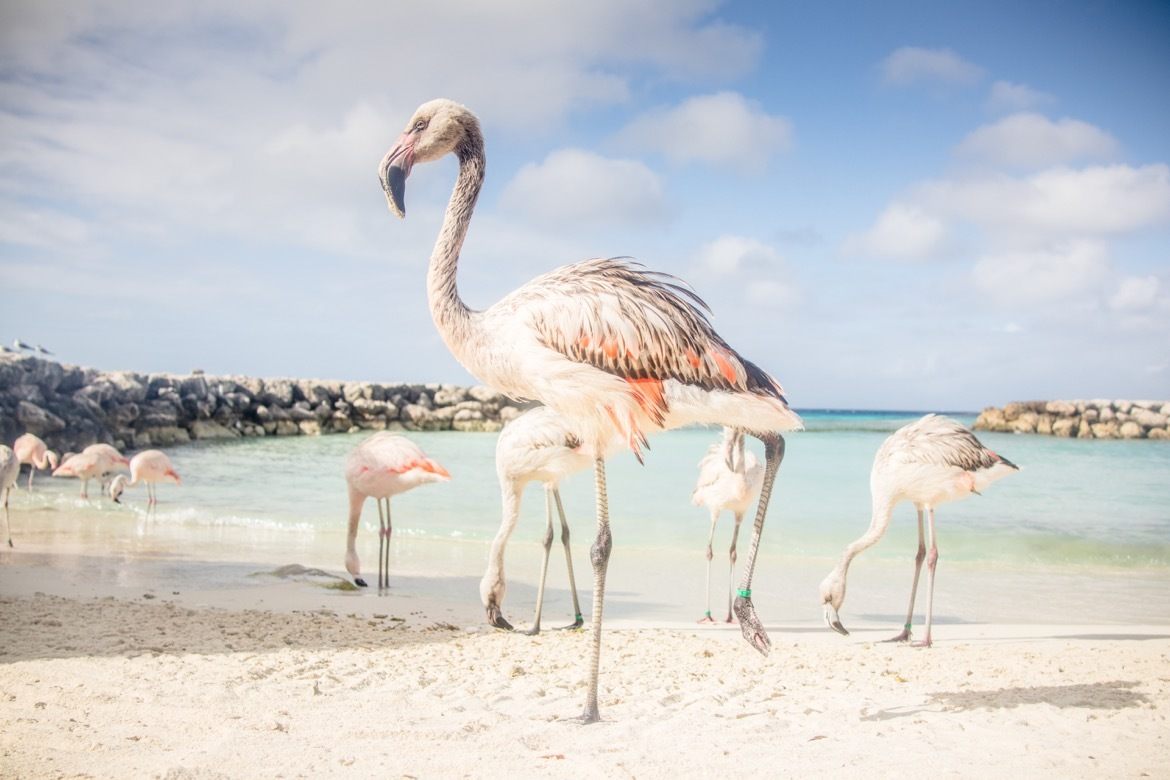 Most travel guides out there will direct you to Flamingo Beach to see them, which is on a palm-fringed, idyllic island owned by the Renaissance resort. But unless you spend big bucks (usually $500+ per night) to book a room at this swanky spot, it requires perseverance, cash and a bit of luck to visit the island with only a day pass (more on that later).
So in true Globe Guide fashion, I've uncovered a couple of secret ways to see flamingos in Aruba which will save you both time and money…including one which just so happens to have an open bar.
De Palm Island in Aruba
That place is De Palm Island, which is like an all-inclusive playground in paradise. Waterslides, snorkeling in the crystal clear water, banana boat rides and beach volleyball games are just a few of the fun activities you'll find on this stretch of sand, which is a 10 minute drive from the capital Oranjestad and accessed via a quick boat ride.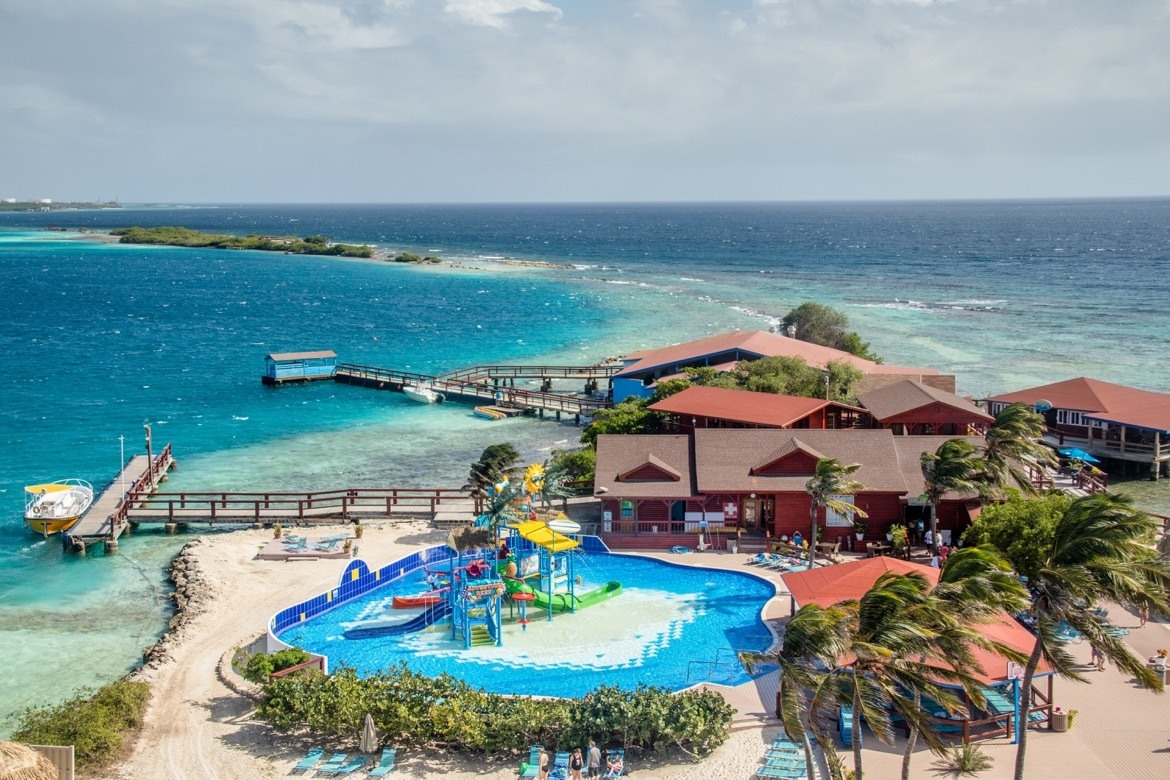 Simply purchase a half or full day pass, and most activities along with food, drinks and transportation from your hotel are included. There are also luxe cabanas and palapas that can be rented out, which include a private server, bottle of champagne, cushy loungers, an outdoor shower and towels. See prices here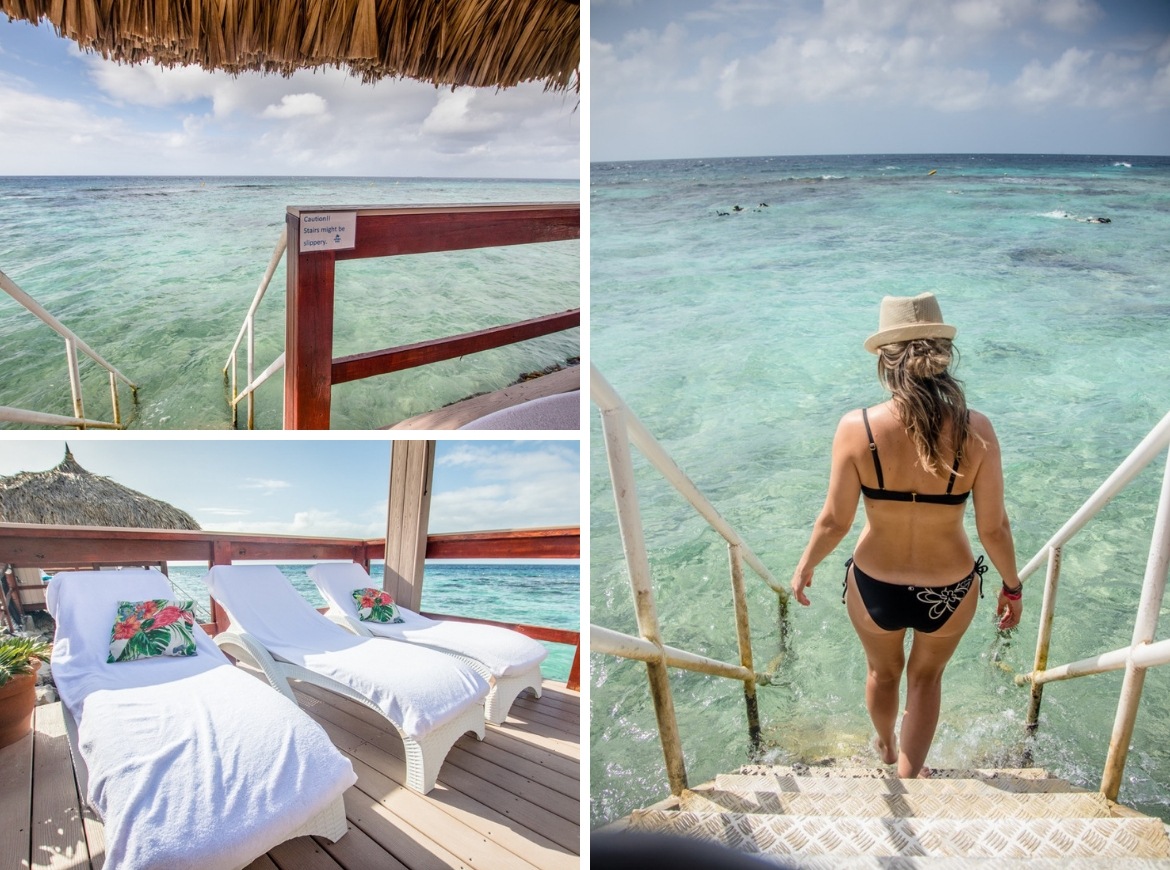 But let's get back to the birds.
About a dozen Chilean Flamingos live on De Palm Island, sharing the sandy shoreline with the likes of sunbathing iguanas and elegant, cobalt-blue peacocks. For some reason, many guidebooks don't mention that you'll find them here, likely because the flock only arrived on De Palm Island in the last few years.
Interestingly, these flamingos sport mostly grey and light pink feathers versus the vibrant fuchsia hue of their friends over on the Renaissance Aruba private island, since they're younger. Standing about four or five feet tall, the birds hang out in a salt lagoon bordered by a tiny fence to ensure visitors don't go near them (and yes, there are security guards so don't even think about hopping over).
The reason the flamingos on De Palm Island are so protected is because this species is listed as threatened, and breeding programs are in place to try and reverse their decline. However, you can still get quite close since the fence is short enough that it won't interfere with your photos.
To up the experience, spring for a cabana rental on this roped-off stretch of beach and you'll get to admire the birds all day long from the comfort of your lounger.
READ MORE: Playground in paradise: Fun and flamingos on De Palm Island, Aruba
Globe Guide tip: Another option is to book this full day trip around the island with De Palm Tours, which includes a quick visit to the island and stops at some of the best Aruba attractions.
Flamingo Beach in Aruba
Flamingo Beach has long been known as THE place in Aruba to see these fluorescent-feathered friends, which is located on the fabulous Renaissance Aruba Private Island.
This island is serious #goals, from the blonde sandbars stretching across turquoise lagoons, to the nature trails where lush foliage conceals critters like lizards and iguanas, to the fancy-pants cabanas perched over the water which can be rented out for the day and have their own butler.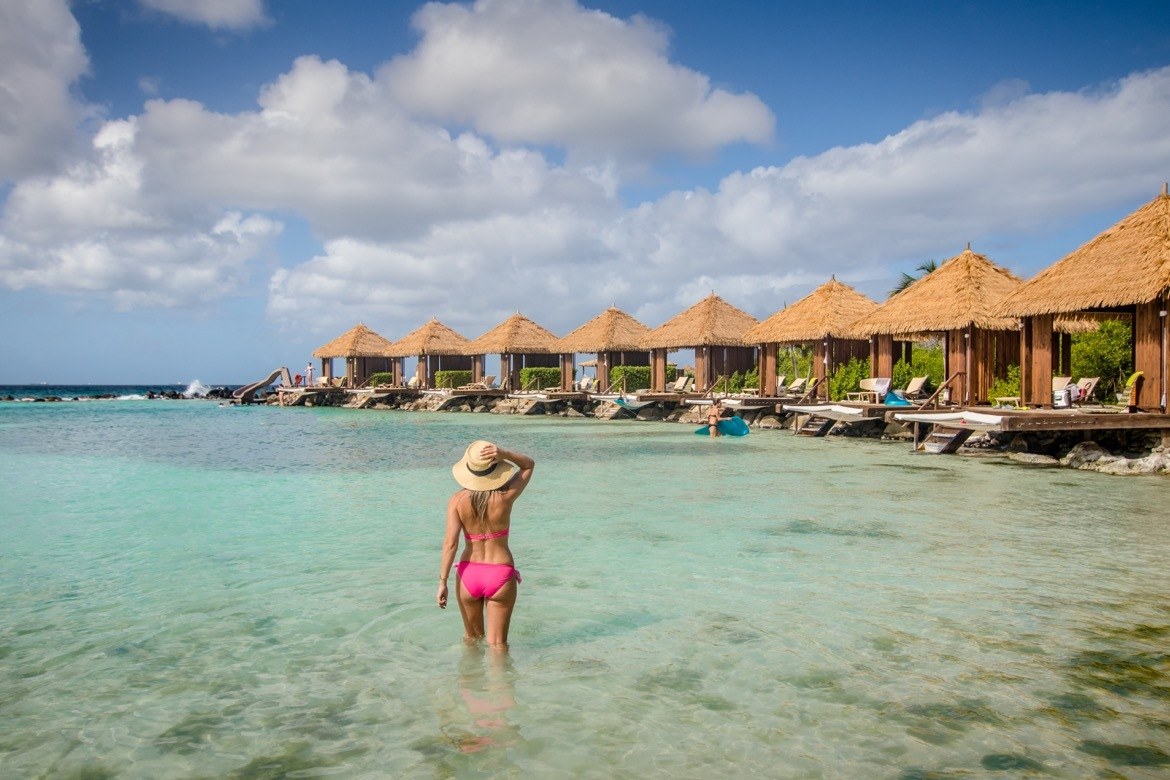 This private island in Aruba is available for guests staying at the Renaissance Aruba Beach Resort & Casino, who are whisked over in a speedboat departing from the harbour in Oranjestad approximately every 15 minutes. So to ensure you get an opportunity to see the flamingos, the best bet is to book at least one night at the resort which means you'll get two days on the island. Book now
The other option is to try your luck at purchasing a day pass, which costs $125 per person and is kind of like Willy Wonka's golden ticket around these parts. Passes are only released online the day before starting at 7 a.m. and can sell out in minutes, so unless you act fast there's no guarantee you'll get one which would be le worst because this place is ah-mazing.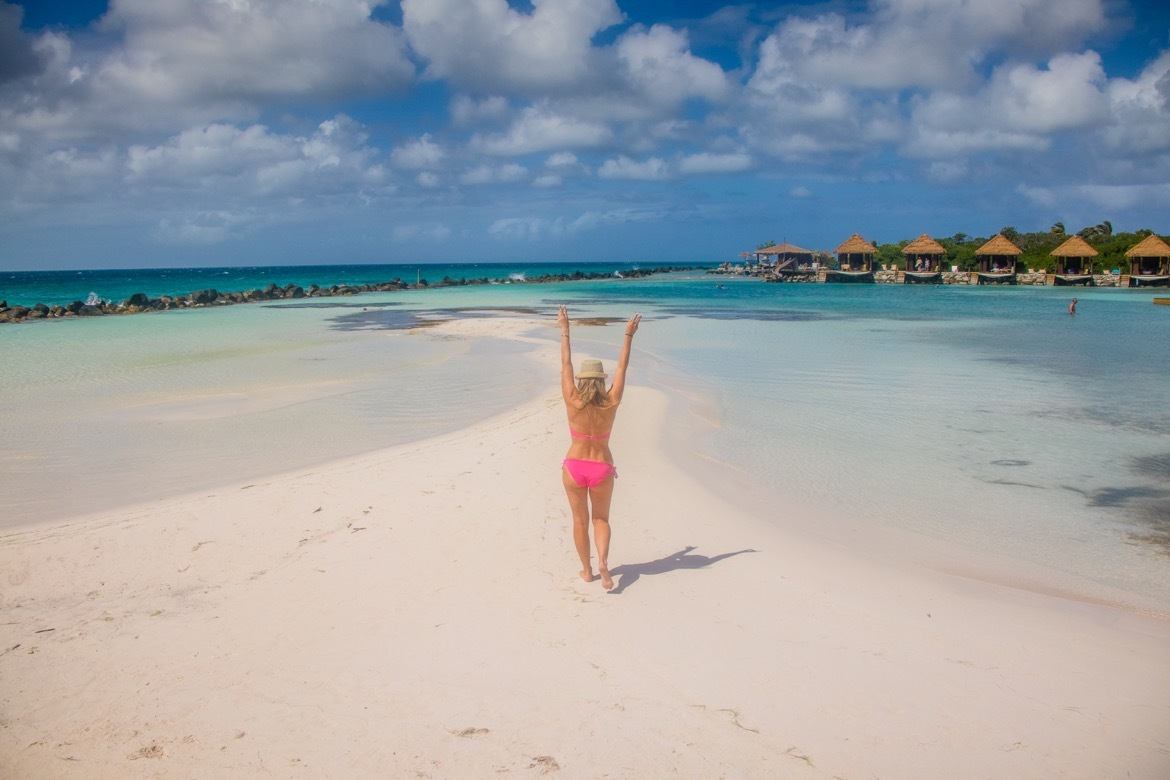 Once you arrive on the island, prepare to be wowed by the luxe loungers nestled under palapas looking out to the sea, sparkling beaches framed by swaying palm trees and crystal-clear snorkeling spots. Grab a cool cocktail at the colourful Mangrove Beach Bar, then wander over to famous Flamingo Beach to get started on that bird watching.
One of the best things about the flock here is how vibrant they are compared to the crew over at De Palm Island, which makes them really stand out against the turquoise sea. Guests can walk right among them, and there's also a spot on the pier to purchase dry food which they'll eat right out of your hand.
If you're travelling with children, note that kids are only permitted to interact with the flamingos from 9 to 10 a.m. and must be supervised by an adult. However, the flamingos can easily be seen from the boardwalk, and if you're out for a nature walk there's a good choice you'll happen upon a few of the birds wandering around the island.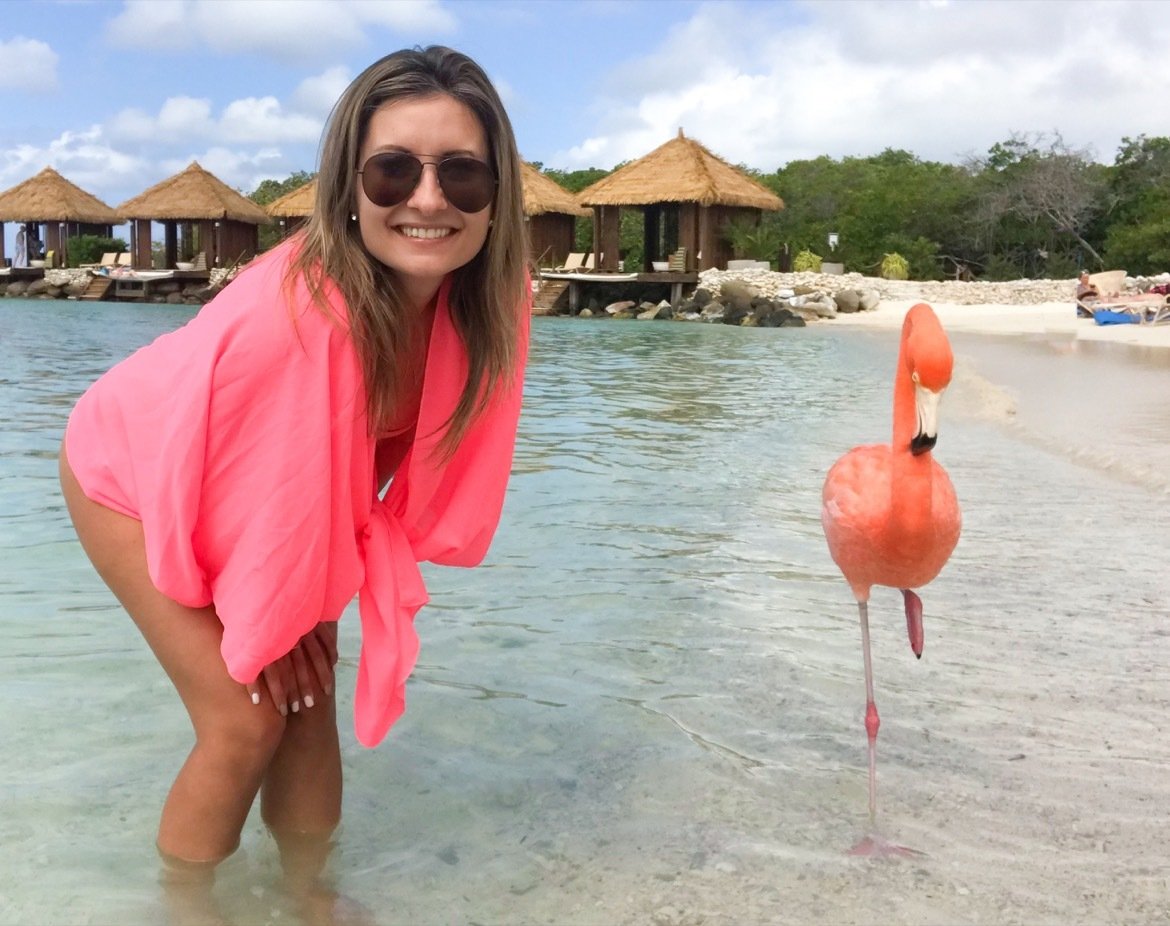 A sneaky way to see flamingos in Aruba
Now for the moment you've been waiting for: the secret trick to visiting Flamingo Beach without securing a Renaissance private island day pass. And folks, it's as easy as booking a spa treatment.
The island has an area called Spa Cove, offering treatments like hydrating facials, detoxifying body wraps and relaxing massages. The list of pampering packages is also available to people who aren't guests of the hotel, starting at just $155 per person for a one hour massage and complimentary cocktail…and of course, the boat ride over.
That means for just a bit more than you'd spend on a day pass you get a luxe spa treatment at Okeanos Spa, a free drink and guaranteed spot on the island! Don't you just love travel hacking?
How flamingos are protected on the islands around Aruba
Chances are by now you're wondering how the Aruba pink flamingos ended up here in the first place, and most importantly, if it's ethical to visit them. I reached out to both De Palm Tours and the Renaissance, and here's the scoop:
"Our flamingos come from Chile. They live in saltwater lakes that now are polluted and dried out because of global warming. Therefore, they are on the almost extinct list.

We have security watching them the whole day to be sure guests do not get to close or make them feel uncomfortable and treat them with respect. We have placed small fences so people know until where they can go. These fences feel very comfortable for the flamingos and when it's busy they will stay behind them. When they want, they can walk out of them and walk freely over the beach. So it's not the animals that are restricted, but the guests! We have a vet checking them every month and we feed them pallets and give them fresh water twice a day."
-De Palm Island, Aruba
It's a similar situation over on Flamingo Beach, Aruba:
"The flamingos have been with us since forever. One day they flew in and never left. They are not captured on the island, they wander freely around and sometimes they cross over to the other side. We feed them proper flamingo food, sometimes we give them shrimp as a treat to maintain their pink colour. We have a vet that comes in on a regular basis to check their health."
-Renaissance Aruba
Globe Guide experienced De Palm Island as a guest of De Palm Tours, and paid for the stay at Renaissance Aruba Beach Resort & Casino (redeeming Marriott Bonvoy points, because that's how I roll). As always, hosts have no editorial influence on articles.
YOU MIGHT ALSO ENJOY:
SHARE THE PINSPIRATION! CLICK THE IMAGES BELOW TO PIN:
This post may contain affiliate links, which Globe Guide receives compensation for at no additional cost to you.