The sun-soaked paradise of Aruba is nicknamed 'One Happy Island', and as soon as you set your sights on the sparkling, turquoise water and endless blonde beaches it's easy to see why life is so good here.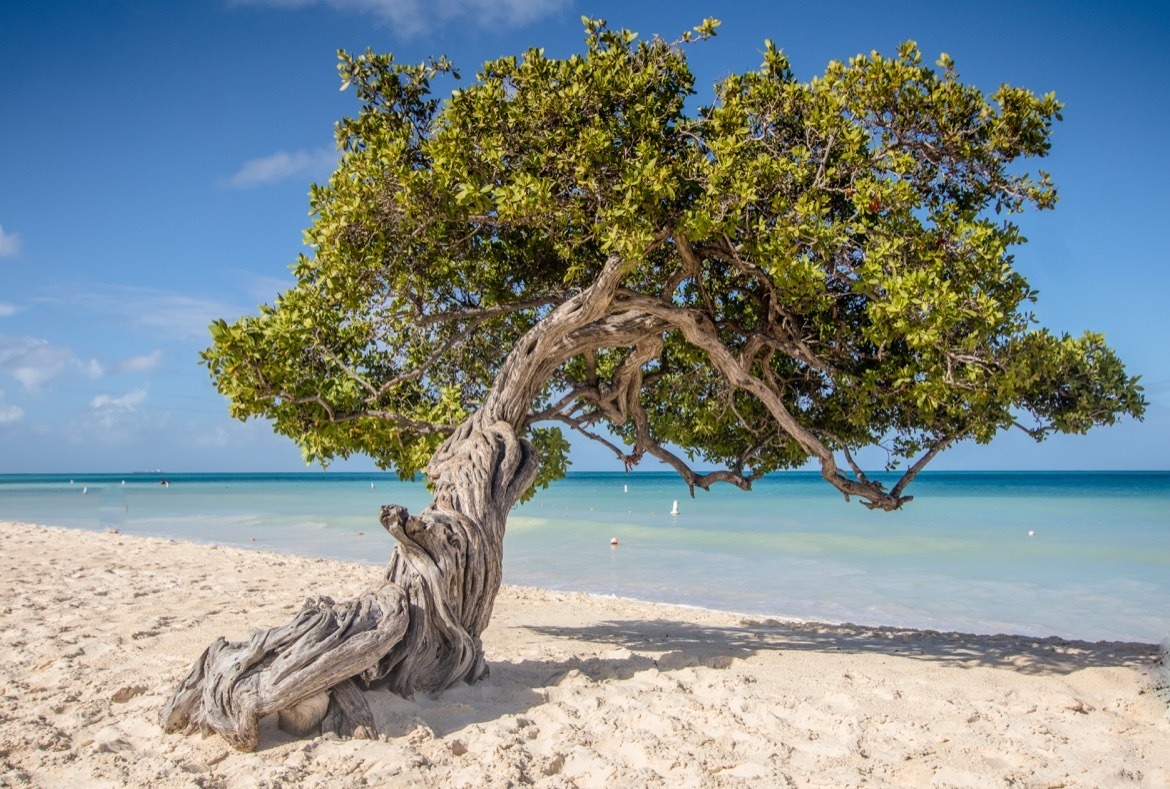 Found on the southern end of the Caribbean Sea just off the coast of South America, its unique surroundings as part of the ABC islands (along with Bonaire and Curacao) coupled with its Dutch influence means a dizzying array of backgrounds make the island what it is today.
More than 90 nationalities are represented here, which is apparent in things like the languages and cuisine you'll find here.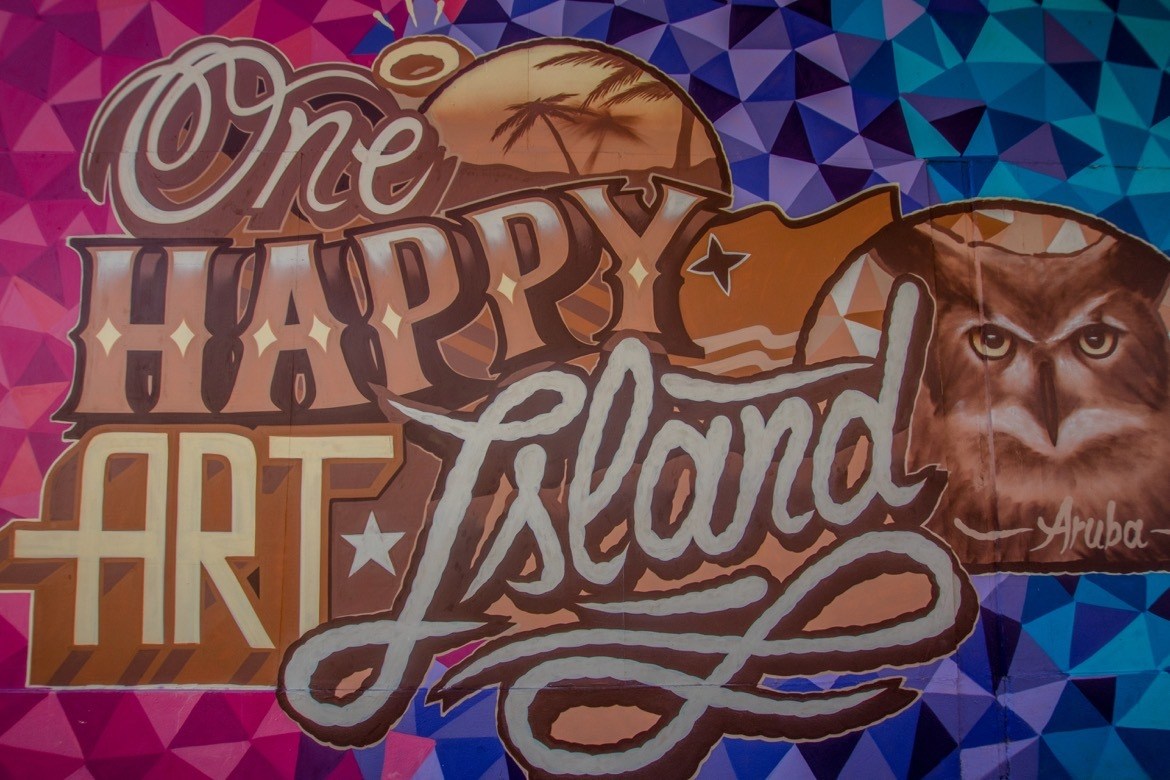 A popular destination for sun-seekers and those on the cruise ship circuit, there are plenty of fun Aruba day trips including boat rides along the coast, lounging on world-class beaches, submarine rides and ATV tours through the surprisingly arid, cactus-strewn desert.
From feeding flamingos on private islands to kiteboarding through crashing waves, here's what to do in Aruba during the ultimate one week itinerary.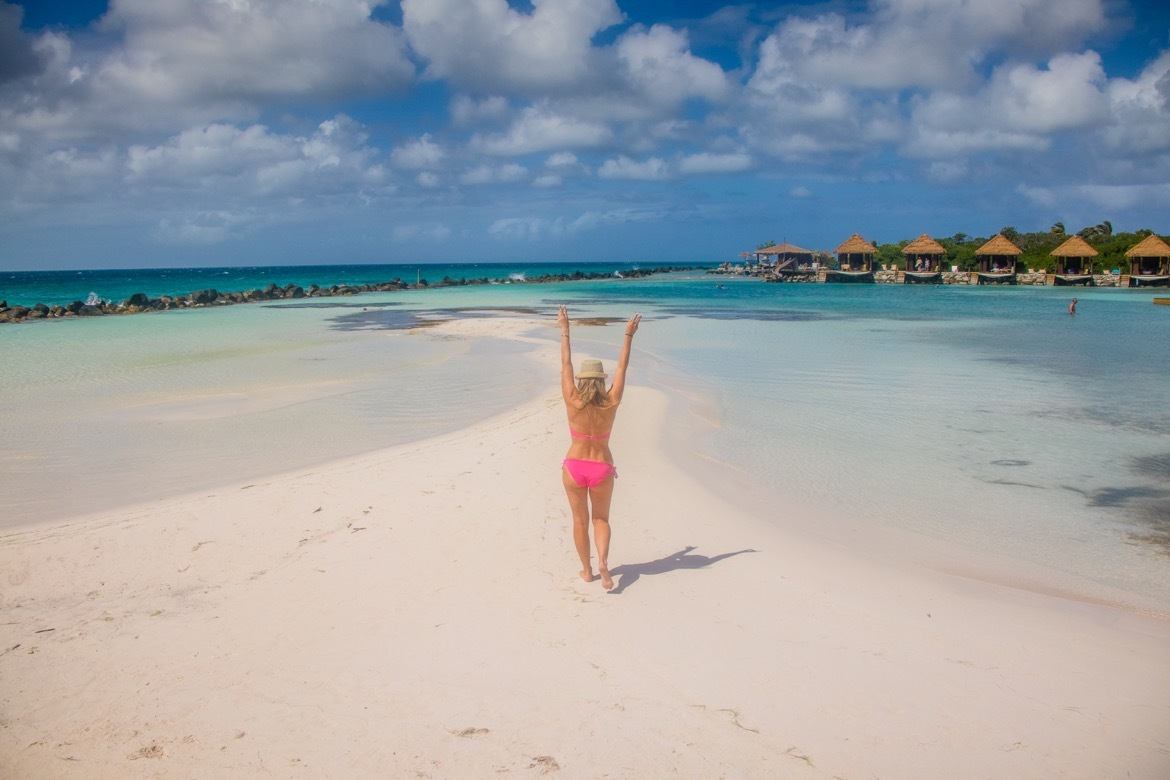 Day 1: Relax on the best beaches in Aruba
One of the best things about Aruba is its long stretches of powdery soft, white sand; in fact, Eagle Beach on the west side of the island is ranked as one of the top beaches in the world.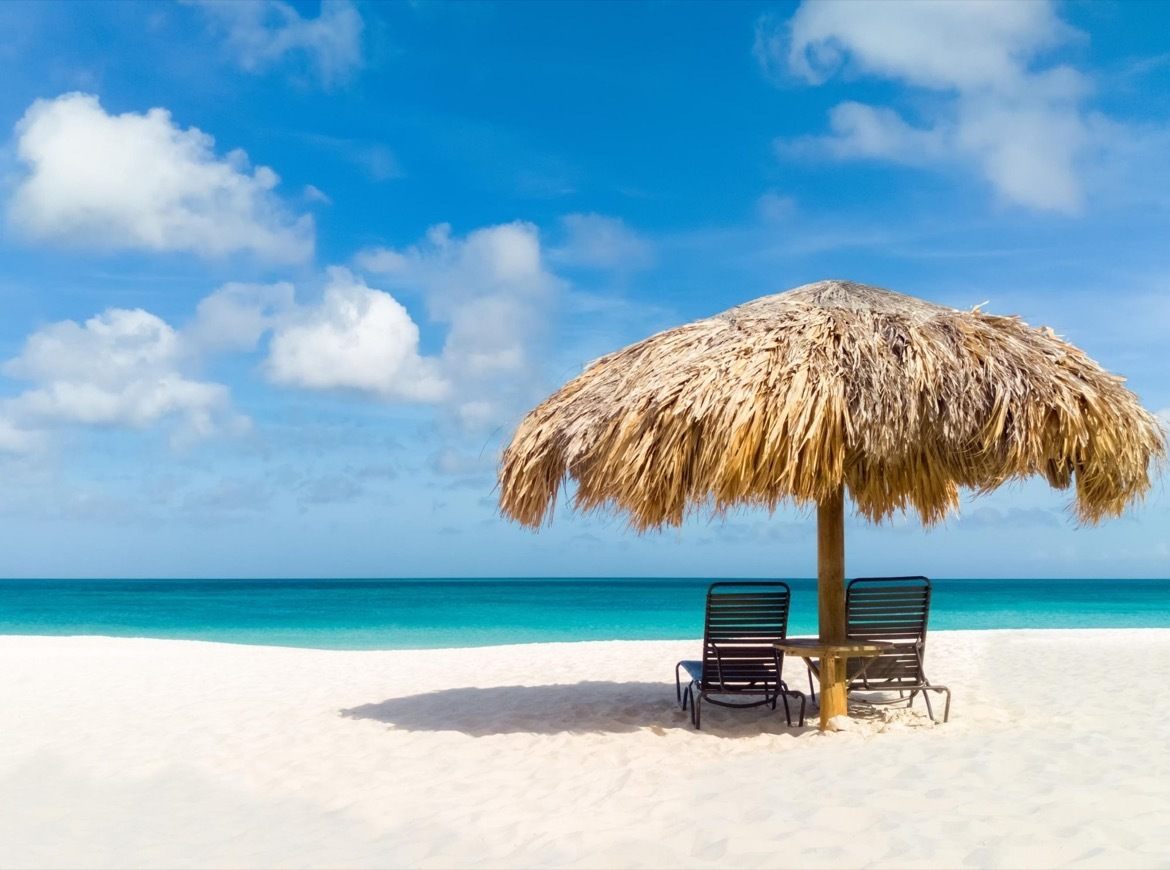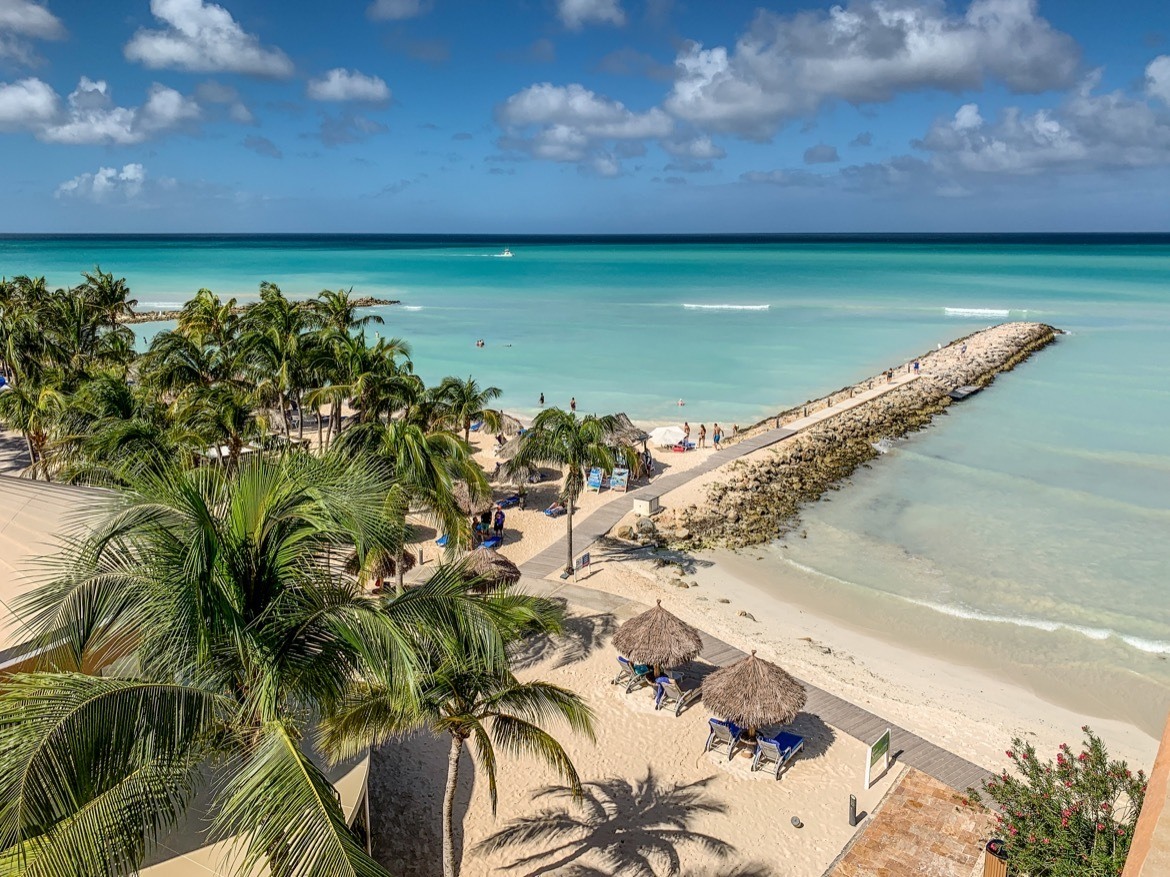 Kick off your Aruba vacation by beach hopping along the coastline, since all beaches are public and you can hang out under a palapa or rent lounge chairs from nearby resorts. Paddle around in a kayak or on a SUP, or take advantage of the constant winds by taking a kiteboarding lesson.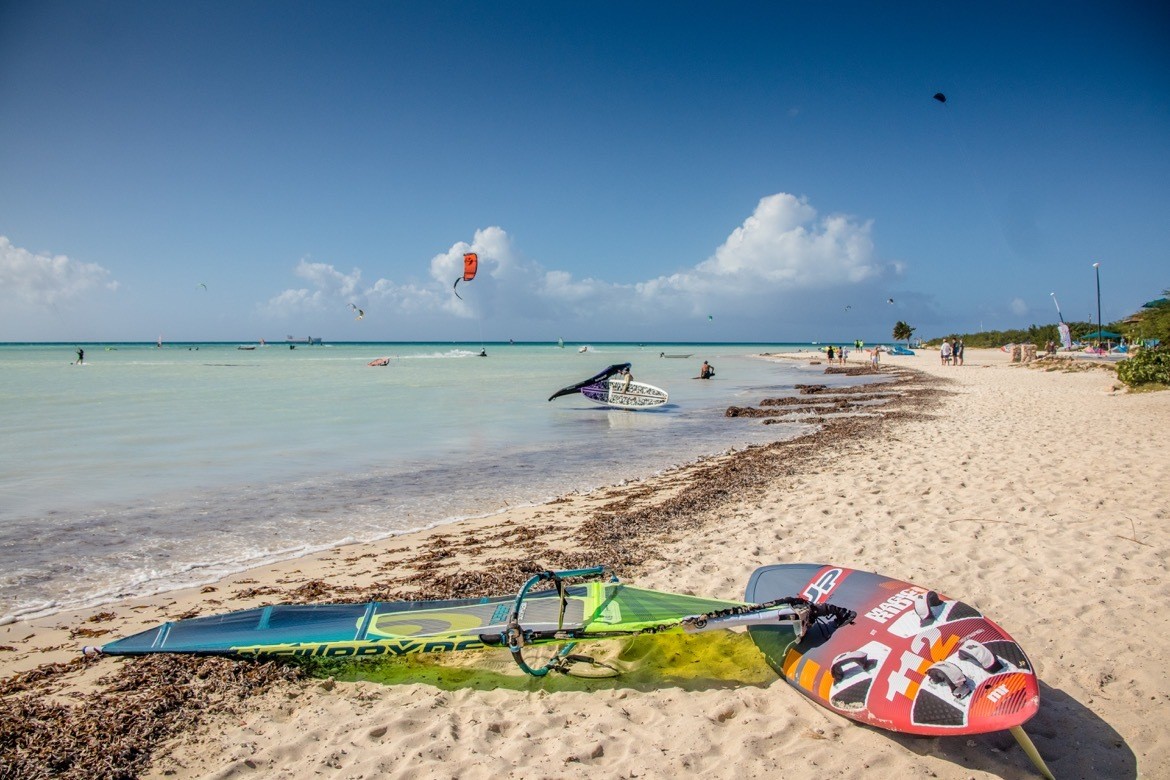 Eagle Beach: The island's most famous and widest beach, the turquoise water is incredible and it's also home to the iconic Divi Divi tree.
Palm Beach: This is where all the action is in Aruba, thanks to its long strip of high-rise resorts, nightclubs, shopping and restaurants overlooking the sandy shoreline.
Baby Beach: Found on the southern tip of the island, this tranquil spot is a favourite of locals since it's a bit of a drive from the main tourist areas. It got its name from the warm, bath-like water in the protected bay which makes this a great option for families.
Boca Grandi: One of the best kiteboarding beaches in Aruba, Boca Grandi has a challenging surf, steady winds and a long stretch of white sand.
Arashi Beach: Another good option for adventure-seekers, this one in the Noord district has some great surf spots and is popular for snorkeling thanks to the coral reefs and wrecks found offshore.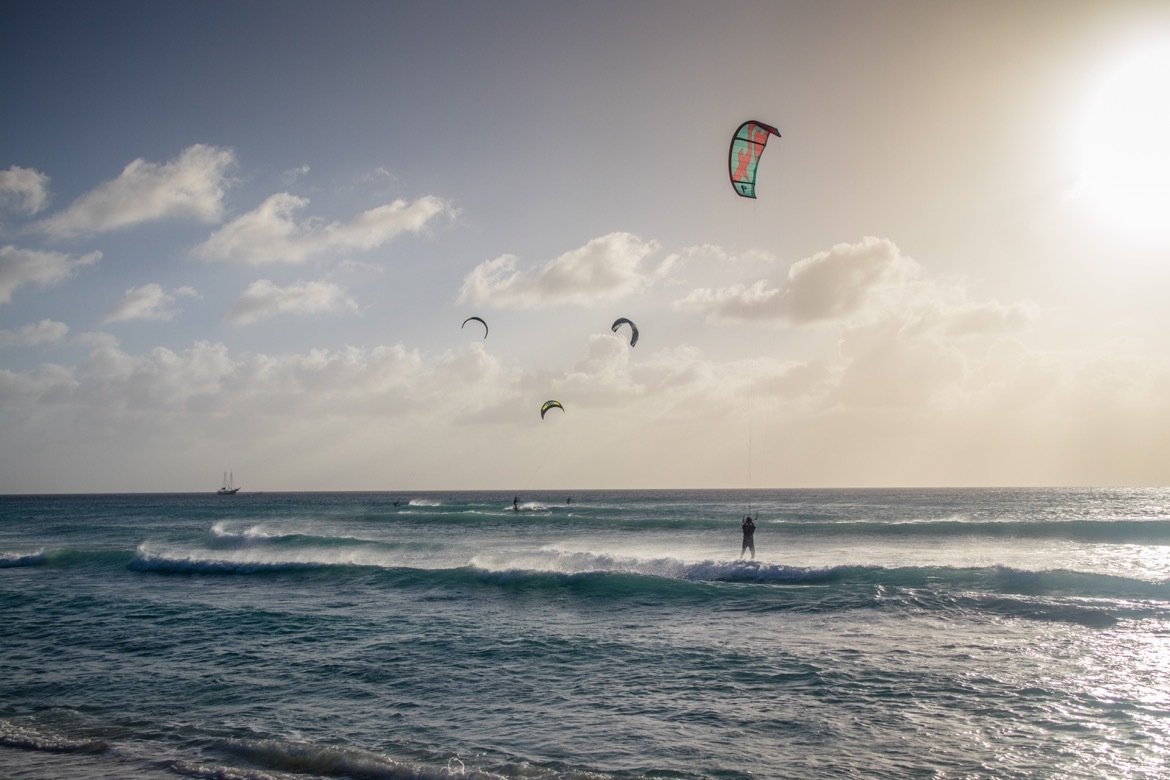 Day 2: Submarine tour and Oranjestad
See Aruba's underwater world from 130 feet below, by taking an Atlantis Submarines Expedition into the Caribbean Sea. This 90-minute adventure departs in Oranjestad and is sure to be one you'll never forget…seriously, when else can you go on a real submarine?!
As you slowly descend, keep an eye out for the likes of barracudas, turtles and even the Antilla, a World War II German freighter that sank and is now the Caribbean's largest shipwreck.
Book a submarine tour in Aruba with Viator:
Book with GetYourGuide
Back at the surface, spend the afternoon exploring Oranjestad, Aruba's colourful capital that's one of the most vibrant in the Caribbean. The Dutch-inspired facades are like the next best thing to being in Amsterdam, and are filled with duty free stores, cafes, jewellery shops and luxury boutiques.
There's also a free tourist trolley that starts by the souvenir stalls by the cruise terminal, and winds through the streets to the other side of town.
If you're looking to sample some local flavours, try pan bati which is a savoury pancake that goes well with seafood. Pstechi is a pastry filled with fried cheese and sometimes meat or vegetables, and can be washed down with the local Balashi beer.
Day 3: See flamingos on De Palm Island
One of the best day trips in Aruba for families is heading out to De Palm Island, where a day of fun in the sun awaits. Their dock is located 10 minutes from Oranjestad, and a quick boat ride over transports you to the action-packed island which has the likes of multi-storey waterslides, banana boat rides, volleyball games, beachfront cabanas and incredible snorkeling. Oh, and there are also flamingos!
READ MORE: Playground in paradise: Fun and flamingos on De Palm Island, Aruba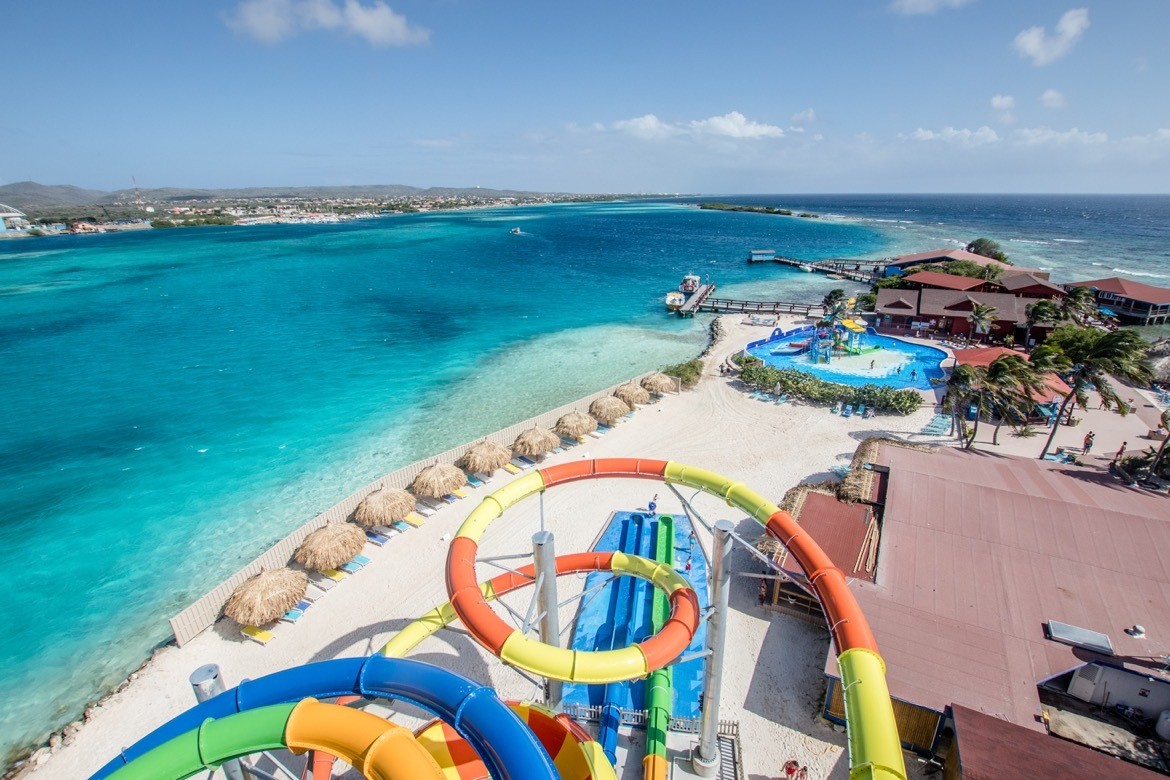 About a dozen grey and light pink Chilean Flamingos gather along the shoreline, and stand about four to five feet tall. A tiny fence frames the lagoon where they feed to keep guests from touching them, but if you rent one of the palapas on this stretch of sand you'll have a front row seat to watch the birds all day long.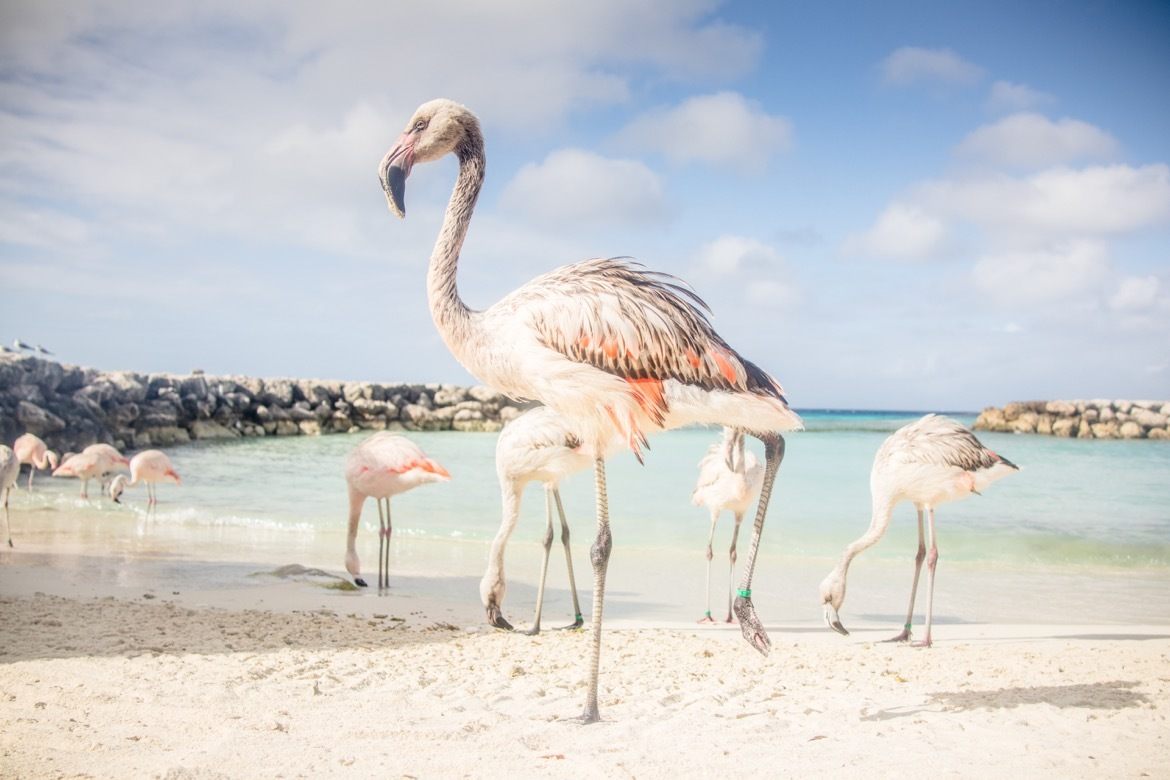 Nearly all activities (aside from SNUBA and the underwater helmet walk) are included in the half or full-day rate on De Palm Island, as well as food, drinks and alcoholic beverages from a handful of on-site restaurants. Click here to book
For a luxe experience, book one of the private cabana for the day which are perched over the coral-fringed sea. Each one holds up to eight people, has an outdoor shower, sundeck and lounge chairs, and a fridge stocked with cool drinks and a bottle of chilled Prosecco. You'll also have a dedicated server to bring you cool cocktails all day long, which makes De Palm Island one of the best Aruba attractions.
Book a flamingo tour in Aruba with Viator
Book with GetYourGuide
Day 4: San Nicolas, Donkey Sanctuary and Baby Beach
Get a culture kick by heading south to colourful San Nicolas, which is nicknamed the 'Sunrise City' and best known for its up-and-coming arts scene.
Feeling a world away from glitzy, commercial districts like the high-rise area, San Nicolas is Aruba's second-largest city and has about five blocks' worth of large murals blanketing its downtown streets. Budget at least half an hour to see the artwork like two-storey flamingos, seashell angel wings and cacti sculptures, or book a walking tour to learn more about the artists and their pieces. There are also galleries and boutiques selling prints and handcrafted jewellery.
READ MORE: Why colourful San Nicolas should be on your Aruba itinerary
While you're there, drop into Charlie's Bar which is an island institution that dates back to the 1940s. Originally a favourite hangout for scuba divers, they started tacking their eclectic underwater findings like Popeye figurines and license plates onto the walls, turning it into somewhat of an unofficial museum. Guests are encouraged to enjoy a pint at the bar, and contribute to the ever-growing collection.
Next up is the nearby Donkey Sanctuary at Bringamosa, where 130 furry, four-legged animals live in the haven which was created in 1997. The herd loves to meander out onto the dusty road, and if you're driving by chances are you'll be greeted with a 'hee haw' and find a long nose poking through the window in hopes of snagging a treat.
End your day of Aruba sightseeing by continuing down to the southernmost tip of the island for some sun time. If you're in the mood to chill, head to Baby Beach and relax in the calm bay or walk along the long, shallow sandbars. Those looking for an adventure should bring a board and hit the waves at Boca Grandi to play in the challenging surf.
Days 5 and 6: Aruba jeep tours
Road trips are always a fun way to explore a new destination, especially in Aruba which has a good mix of well-paved highways and gnarly dirt trails best suited for 4x4s. Rent a car, or book an off-road safari which will take you to some of the best places to visit in Aruba.
Budget at least a couple of days to see the main sites, which include:
Natural Pool and Arikok National Park: The wild desert terrain on the east side of the island is primed for adventure. Dramatic waves, limestone cliffs and cacti dot the landscape, which holds wonders including the natural pool which was created by a volcanic formation and is popular for snorkeling and swimming.
Natural Bridge: Spoiler alert: despite being one of the major Aruba tourist attractions, this natural bridge that was formed by waves crashing against the limestone cliffs is no more. The archway collapsed in 2005, yet it still lures photographers and tour groups.
California Lighthouse: This bright, white lighthouse is a beacon on the north end of the island, built in 1914 to warn ships abou the rocky shoreline as they approached the island. Visitors can make their way up a winding, narrow staircase to the observation deck near the top, which is an incredible place to watch the sunset.
Alto Vista Chapel: Dating back to 1750, this Roman Catholic Church has a pretty, sunshine-yellow facade and is reached by a road lined with white crosses.
Bushiribana Gold Mill Ruins: Gold was first discovered in Aruba in 1824, eventually leading to the production of more than three million pounds of it on the island. Remnants of the gold rush remain at this former mill that processed ore from mines in the nearby hills.
Casibari Rocks: These giant boulders that seem to be randomly stacked in a neighbourhood under the shade of a high hill are fun for the whole family to explore, and you can squeeze through them and do the quick walk up to the top. There, you'll find a fantastic panoramic viewpoint that's an incredible spot to watch the sunset.
Day 7: Feed flamingos on the Renaissance Aruba Private Island, and a sunset cruise
Spend your final day in paradise at the only other place to see Aruba flamingos: the idyllic Renaissance Aruba Private Island.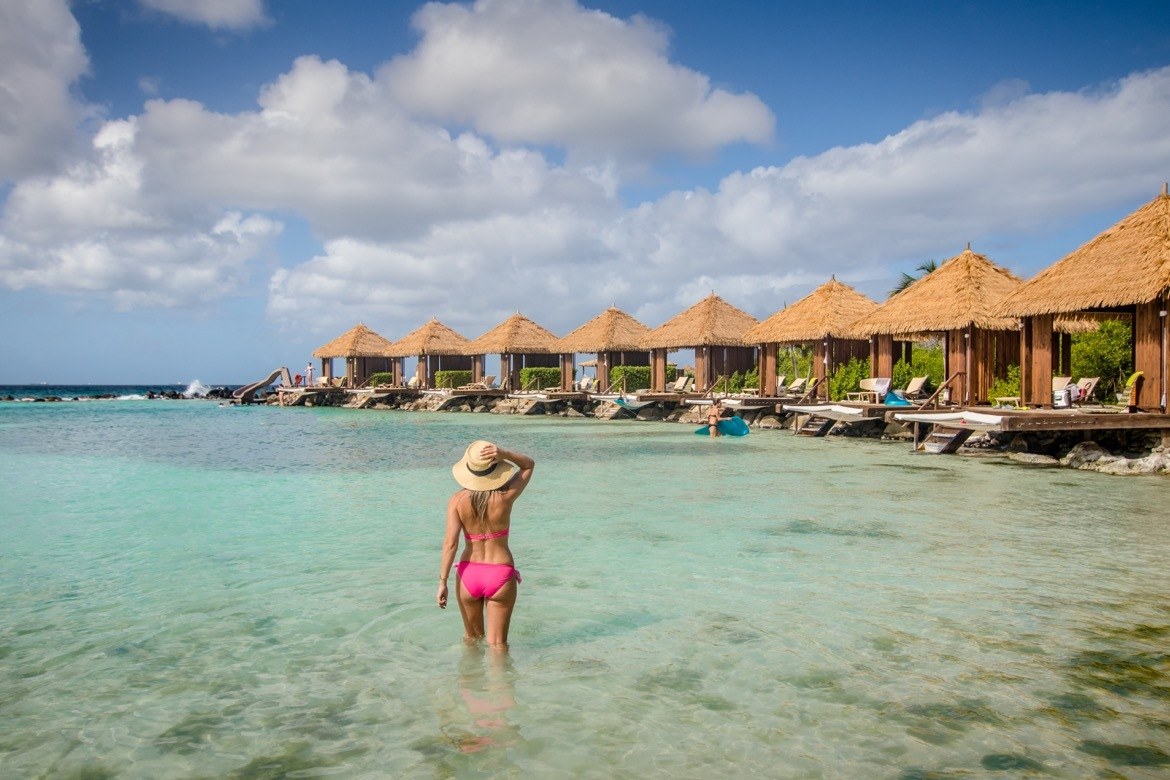 Flamingo Beach is one of the best places to go in Aruba to see the fluorescent-feathered friends, and is an exclusive experience reserved for guests of the luxurious Renaissance resort (or those lucky enough to snag a pass this way). The palm-fringed island features thatched-roof private cabanas perched over turquoise lagoons, nature trails and pristine sandbars, which makes it the ultimate getaway.
Enjoy the unforgettable experience of getting up close to the half a dozen blush birds who call the island home, who will eat right out of your hand and walk right by you for the ultimate #FlamingoSelfie.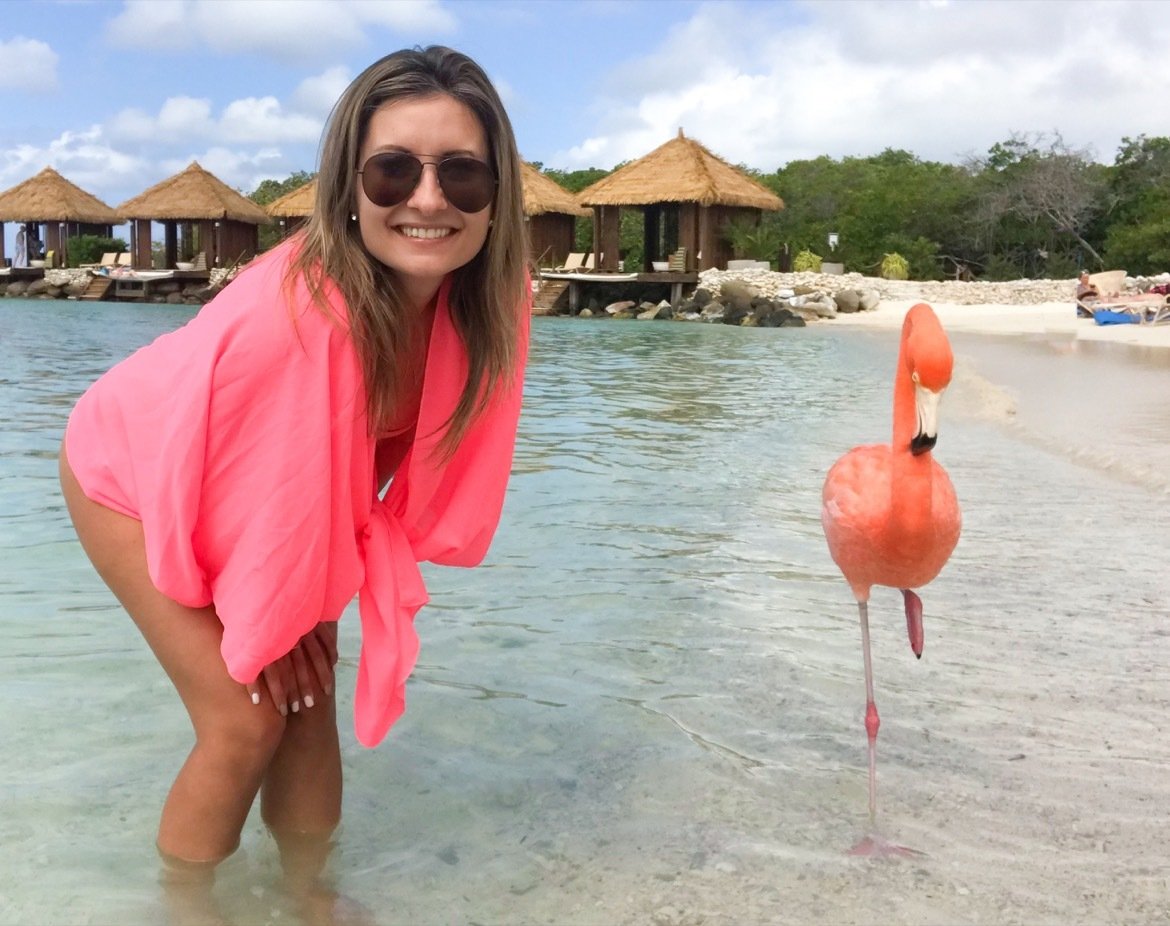 Later in the day if time allows (or you've already gotten your flamingo fill), end your week in Aruba by booking a sunset cruise around the island. During the day, catamaran tours sail to spots like Boca Catalina and Arashi Reef, and stop for snorkeling and lunch on the beach.
On an evening cruise like this you can enjoy a chilled glass of champagne while rose gold and pink hues dance overhead, casting a mesmerizing glow as the sun sets over the water, which is the perfect way to cap off your Aruba itinerary.
Where to stay in Aruba:
YOU MIGHT ALSO ENJOY:
SHARE THE PINSPIRATION! CLICK THE IMAGES BELOW TO PIN: