The Dutch island of Curaçao is home to sparkling beaches, world-class diving, kite sports and a lively capital that's designated as a UNESCO World Heritage Site, making this part of the Caribbean a haven for both sun-seekers and adventure junkies.
This post may contain affiliate links, which Globe Guide receives compensation for with each click or purchase at no additional cost to you. Thanks for your support!
Considered a constituent country of the Kingdom of the Netherlands since being conquered in 1634, it joins neighbouring Aruba and Bonaire to form the ABC islands. This small slice of paradise has more than 50 nationalities, which makes for fascinating diversity when it comes to language (officially Papiamento) and the culinary scene.
While Curacao is a popular port for day-trippers sailing in on cruise ships, it takes the better part of a week to get a feel for the island which has eclectic districts, spectacular national parks, wildlife spotting and a long history.
From beach hopping to scenic spots, here are the best things to do in Curacao.
Relax on the best beaches in Curacao
One of the best things to do in Curaçao is relax on one of the island's golden or white sand beaches, and there are plenty to choose from whether you're looking for a secluded, romantic bay, family getaway or party vibe.
Klein Curacao, Jan Thiel, Komodo, Cas Abao Beach, Blue Bay and Mambo Beach are popular picks in and around Willemstad, which makes them good options for those arriving by cruise ship who only have a day on the island.
Mambo Beach is known for its soft white sand and aquarium-like clear water, and is packed end-to-end with palapas, sun beds and white-curtained cabanas.
There are bars, restaurants and boutiques in the adjoining open-air shopping centre, and beach clubs including Madero Ocean Club which has a pool, luxe beach beds and an events area where top DJs are brought in for a few nights each week to get the party started.
However, the best Curacao beaches are arguably over on Westpunt about a 45 minute drive from Willemstad, where nearly 40 beautiful strips of sand line the island's southwest shore.
25 of them are public, and it's easy to beach hop since each one is only a few minutes' drive from the next one. Whether you want to swim with turtles, go diving or even pet a pig at Playa Porto Marie, there's something for everyone.
Some of the best Westpunt beaches are:
Playa Kenepa Grandi/Grote Knip: A must-see, thanks to its expansive stretch of velvety white sand surrounded by cacti-covered cliffs and excellent snorkelling. There's a panoramic overlook, refreshing mango smoothies at the Curaçao Playa Knip Smoothies stand, and loungers and umbrellas available to rent on the pristine beach.
Playa Piskado/Playa Grandi: One of the most famous beaches on Curacao since it's one of the best spots to snorkel with green sea turtles. Rent a set of gear for about $9 from one of the vendors on shore, and head into the shallow bay to hopefully spot some of the giant creatures gliding by.
Playa Lagun: One of the most photogenic spots in Curaçao, where aquamarine water in the shallow inlet is framed by dramatic cliffs. During sunset, head up the staircase that hugs the rocks and grab a table at Bahia Apartments & Diving for spellbinding views and happy hour.
See a flock of flamingos
On the way back to Willemstad from Westpunt, you might be lucky enough to spot a flock of fluorescent flamingos feeding in the water.
There are an estimated 500-800 flamingos on the island who fly in from and breed in neighbouring Bonaire, and they're often seen in Saliña Sint Marie in the Sint Willibrordus area heading toward Playa Portomari.
Explore Willemstad, the colourful capital
Willemstad is one of the most developed, photogenic capitals in the Caribbean, with a spot on the UNESCO World Heritage List thanks in part to the beautifully-preserved buildings lining Sint Anna Bay.
The colourful buildings are made from coral stones, which were painted in different tones than their original white facades since the reflections from the sun were too hard on the eyes.
The result is a kaleidoscope of rainbow hues in the touristy Punda district, which is anchored by Handelskade street and the famous yellow baroque-style Penha building dating back to 1708.
Some of the best things to see in Willemstad are:
Queen Emma Pontoon Bridge: The 'Swinging Old Lady' is a floating pedestrian bridge connecting Punda and Otrobanda that swings open to allow boat traffic through the canal and has been in operation since 1888. A nearby ferry shuttles pedestrians across the water when Queen Emma needs to open, and the bridge is dazzling at night when it's all lit up with rainbow lights.
Pietermaai: Candy-coloured homes, jazz clubs, boutique hotels, Instagram-worthy street art and waterfront restaurants make up the trendy Pietermaai district, which is nicknamed the 'SOHO of Curacao.'
Otrobanda: Vibrant street art and culture collide in Otrobanda, the most artsy district in Willemstad where huge murals and sculptures line the streets in this quiet neighbourhood across the bridge.
Tour the Rif Fort which was built in 1828 and has great city views, then cross the bridge back over to Punda and wander through the shopping district.
Keep an eye out for Chichi ("big sister"), the well-rounded, brightly painted sculptures of female figures that are now an iconic part of Curacao's arts and culture and found throughout the historic centre.
Sample Curaçao cuisine
With more than 50 nationalities now calling the island home, Curaçao has an eclectic, diverse foodie scene that draws influence from the Dutch to Lebanese, Mediterranean, African and Surinamese just to name a few.
To literally get a taste of the local flavours, drop into Plasa Bieu in Willemstad which is like a traditional food court. Nosh on specialities like goat stew, a pan-fried catch of the day, pastechi which are fried dough pockets filled with meat, fish or cheese, and the national dish keshi yena that combines rice, raisins, Gouda, peppers and spices with meat or seafood.
At the nearby Round Market, you'll be able to buy fresh produce from local farmers, order a refreshing smoothie and pick up local handicrafts and souvenirs.
Visit Shete Boka National Park and Christoffel National Park
Powerful waves pound into the craggy coastline at Shete Boka National Park, making a boisterous booming sound that seems to shudder through the earth while sending salty spray high into the sky.
Shete Boka ('seven inlets') is a nesting area for sea turtles, and was established as a protected area in 1994. There are four separate areas to discover, and each one has viewing platforms that gaze out at the crashing, spectacular surf.
Highlights of the park include limestone cliffs, a natural arch, goat sightings, an underground cave and Boka Tabla where forceful waves shoot up to 40 feet high.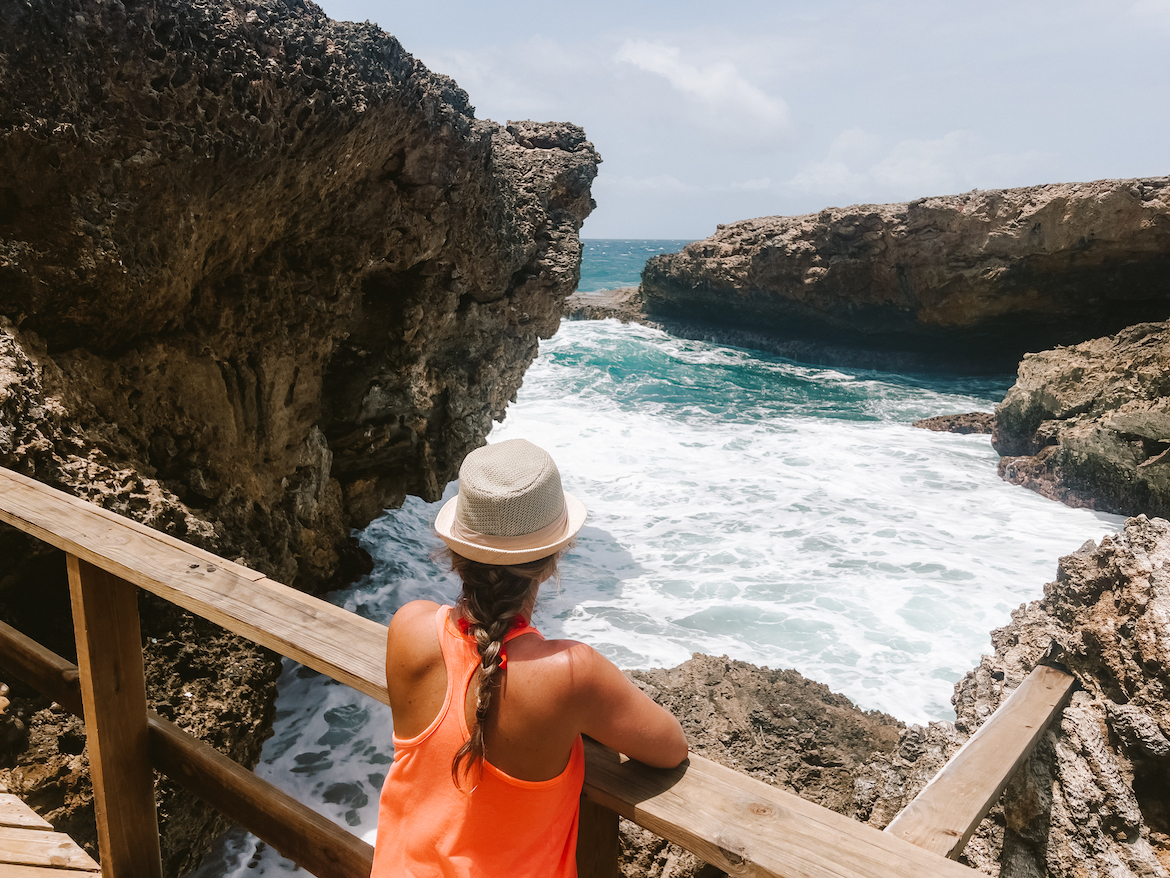 Christoffel National Park is right beside Shete Boka, and home to Mt. Christoffel which is the highest point in both Curaçao and the ABC islands at 1,200 feet tall. While the hike only takes a few hours, it's a tough one due to the heat so visitors are required to start before 10 AM.
The effort pays off with 360 degree views of the island from the peak, and it's possible to see geological formations, flora, fauna, beach views and even white-tailed deer along the way.
Not up for the hot hike? Book a guided safari tour of the park instead, or a sunset excursion to spots like Seru Bientu and Seru Grasia for great photo-ops.
Sip a cool cocktail at the Curacao Liqueur Distillery
No trip to Curaçao is complete without sampling some of the island's famous Blue Curacao liqueur, and the best place to do it is at Landhuis Chobolobo.
The sweet, kosher liqueur was invented by the Senior family back in 1896, which is made from orange peels, which are white. In a stroke of marketing genius, they added blue dye ('like the sea') to give it a more vibrant hue, and the rest is bartending history.
During a visit to the sunshine-yellow, 19th century mansion that houses a museum, production and distillation area, visitors can sample the many different varieties that are made today and of course enjoy a cool cocktail in the onsite bar.
Get earthy at the Aloe Vera Farm
Nature's cure for too much sun is aloe vera, so it's no wonder that the Aloe Vera Farm Curacao is a local favourite for skin care.
Home to the Curaloe brand which makes moisturizers, body oil, sunscreen and after-sun gel just to name a few of their large suite of products, visitors can take a guided tour around the farm to see the fields and learn about the entire harvesting process from plant to bottle.
Where to stay in Curacao
Corendon Mangrove Beach Resort
Suites with private plunge pools, a sun-kissed white sand beach, watersports and even a giant Aqua Park with six waterslides for the kids are just some of the attractions at the newly renovated Corendon Mangrove Beach Resort.
Located just a 10 minute walk from downtown Willemstad and surrounded by a pristine Mangrove forest, this pretty property boasts nearly 400 beautifully-appointed modern rooms. Each one has a large private balcony, and many of them overlook the main pool area and shimmering Caribbean Sea.
On-site amenities at the Corendon Mangrove Beach Resort include a fitness centre, beach volleyball court, a playground, gift shop and four outdoor pools. There are plenty of sun beds and umbrellas for guests, as well as private cabanas that can be rented for the day.
The All-Inclusive resort has 11 different restaurants, ranging from buffet-style to sushi, seafood and an incredible BBQ joint. The swim-up pool bar is a fun hangout during the day, while the Pera Lobby Bar & Patisserie is open 24/7 and serves everything from lattes to cool cocktails to wine.
Keep an eye out for the exquisite palm-fringed wall treatments and carpets; the hotel commissioned an artist for the design, who drew inspiration from the nature of Curacao and incorporated it throughout the property. Click here to book
View this post on Instagram
Terra Boutique Hotel
This boutique hotel is in the heart of the Pietermaai district, and its natural, organic decor was inspired by the original tiles in the lobby which dates back to 1866.
The owners made sure to preserve as much of the historic building as possible while renovating, and go for a different look than the traditional 'sea and sand' theme that's common throughout the Caribbean. In a nod to its name Terra which means earth, seven different shades of brown were incorporated in the design as well as natural materials.
A custom fragrance was made which wafts through the lobby of the Terra Boutique Hotel, and there are six individually designed rooms featuring rich woods and stone showers; some of the ceilings were even carved like the upside-down hull of a ship which was common in the late 1700s.
Breakfast is delivered each morning which can be enjoyed on the sunny top deck or down at the small beach, and there's also a small courtyard and plunge pool. Click here to book
View this post on Instagram
Globe Guide explored Curacao as a guest of Corendon Mangrove Beach Resort + Terra Boutique Hotel. As always, hosts have no editorial influence on articles.
YOU MIGHT ALSO ENJOY:
SHARE THE PINSPIRATION! CLICK THE IMAGES BELOW TO PIN: