Powerful waves pound into the craggy coastline at Shete Boka National Park, making a boisterous booming sound that seems to shudder through the earth while sending salty spray high into the sky.
The scene replays over and over along these rocky shores, to the delight of visitors who make the trip up to the north coast to visit this Curacao national park.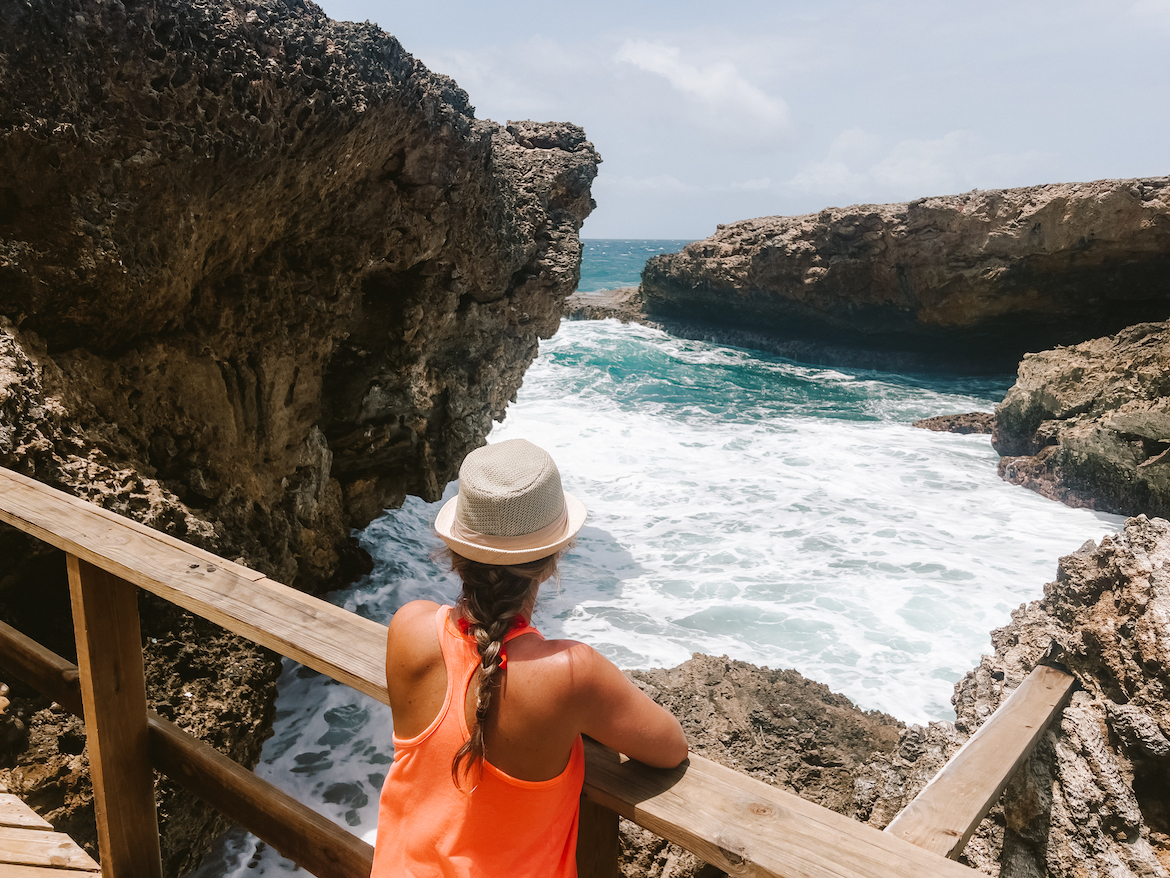 This post may contain affiliate links, which Globe Guide receives compensation for with each click or purchase at no additional cost to you. Thanks for your support!
Shete Boka National Park
In the local dialect the word boka means 'inlet', so the name of this nearly 10 kilometer-long park translates to 'seven inlets.'
Located adjacent to Christoffel National Park, Shete Boka park was established as a protected area in 1994 to preserve these nesting areas for sea turtles, as there are nearly a dozen pocket bays where Hawksbill, Loggerhead and Green turtles lay eggs.
The nesting season runs from May to December, and researchers monitor the beaches for signs of turtle activity.
Globe Guide tip: Visit in the afternoon, when there are usually less people around since the organized tours and cruise ship guests typically arrive earlier in the day.
Boka Wandomi
Winding dirt roads lead out to four viewing areas with wooden platforms, and since it only takes a couple hours to explore the park this day trip is one of the top things to do in Curacao.
Most guests start at Boka Wandomi, where there are two lookout points to see a natural bridge carved into the limestone cliffs. One has a great vantage point from above, while the other heads down to eye level.
Boka Tabla
The power of nature is on full display at Boka Tabla where forceful waves relentlessly pummel the cliffs, shooting the surf up to 40 feet high.
Check out the awe-inspiring view from the top, and keep an eye out on the side of the path for the tiny snails that look like little white rocks.
Then, head down the path toward another viewing platform on the beach. To the left, there's an entrance to a cave where visitors can head under the cliff for a unique view of the natural phenomenon.
Boka Kalki
Boka Kalki has the largest stretch of beach, where crabs crawl over the shoreline that was formed from the sedimentary skeletal remains of corals.
Try your luck at making a rock cairn, and admire the bay which was shaped by rainwater from the surrounding hills and nearby Christoffel Mountain.
Boka Pistol
A herd of grazing goats welcomes visitors to the last stop in Shete Boka National Park, which is called Boka Pistol and named after the shooting sound that's heard when the giant waves bash against the rocks.
There are a couple of places to see the spectacular show; from the viewing platform on the right, or heading down toward the water for an up close view. Just be prepared to get soaked if you do!
Book a tour to Shete Boka National Park
Practicalities for Shete Boka National Park
How to get there: Shete Boka is about a 45 minute drive north of Willemstad. It works well to combine a visit to the park with a trip to the beautiful beaches in Westpunt, which are less than 10 minutes away.
Price: The entrance fee is ANG 17,50 for ages 12 and up, which is about $10. It costs ANG 2.00/$1.50 for children aged 6-12, kids 0-5 are free, and locals only pay ANG 2.00/$1.50 provided they present a drivers' license.
Hours: Daily from 9 am- 5 pm (no arrivals permitted after 4 pm).
Parking: The main parking lot at the entrance is used to access Boka Tabla, and the three other bokas also have their own parking areas. While the trails in the park are dusty and rocky, a 4×4 vehicle is not required.
It's a quick drive between each boka, and despite it being a relatively short walk between them most guests opt to drive since it can be very hot outside with little shade. Guided excursions can be booked, including this safari-style one in a 4×4 and this tour which includes stops at a natural jacuzzi and Playa Lagun in Westpunt. Click here to book
Maps of the park are handed out at the entrance, and there are also bathrooms at Shete Boka National Park.
YOU MIGHT ALSO ENJOY:
SHARE THE PINSPIRATION! CLICK THE IMAGES BELOW TO PIN: