Vibrant street art and culture collide in Otrobanda, the most artsy district in Willemstad, Curacao.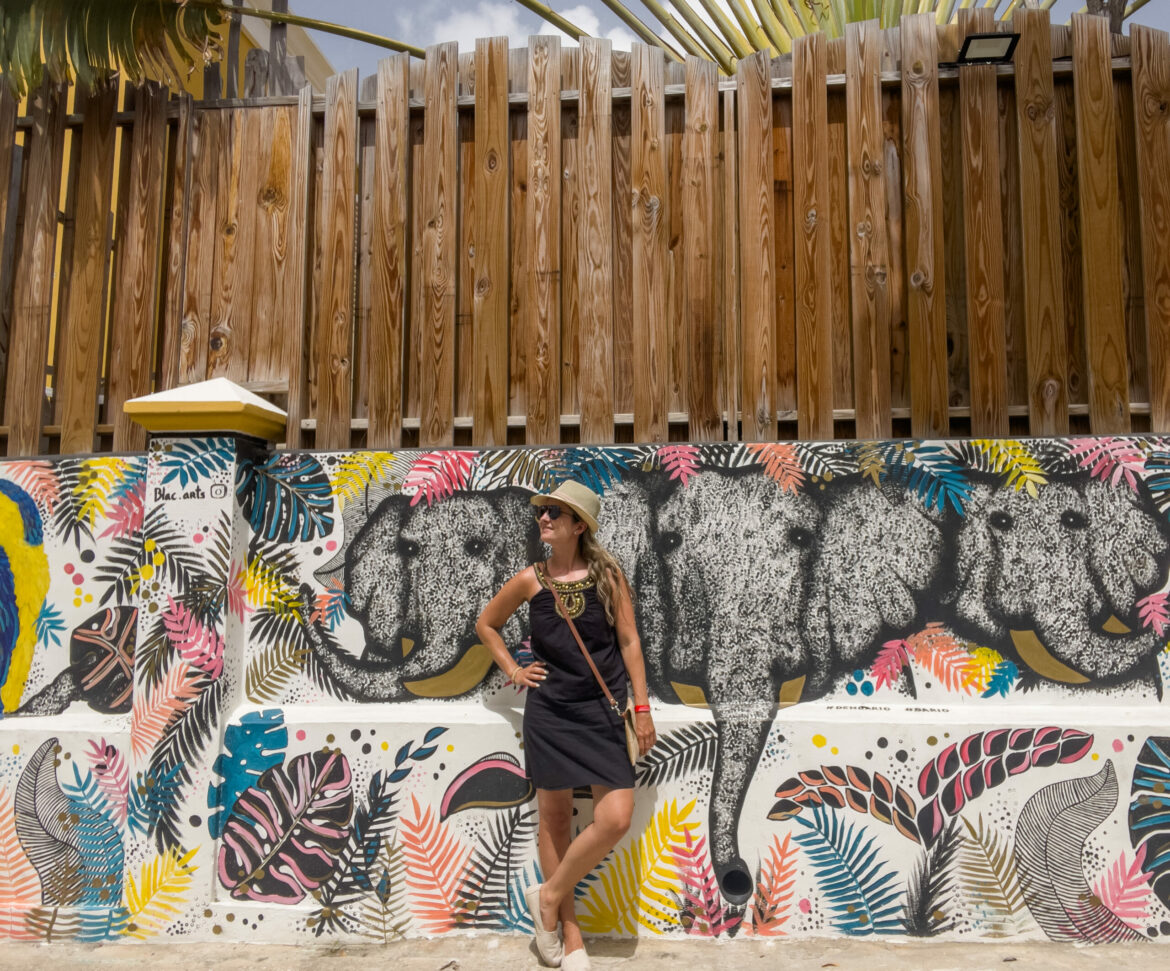 This post may contain affiliate links, which Globe Guide receives compensation for with each click or purchase at no additional cost to you. Thanks for your support!
The 'other side' as it's known in the local language Papiamento, this neighbourhood is steps away from the popular Punda area in Willemstad and accessed on the other side of the famous floating Queen Emma bridge.
While some people cross only to take pictures of the photogenic, brightly coloured houses along Handelskade, it's well worth spending an hour or two exploring the quiet side streets throughout Otrabanda to get away from the crowds and admire the impressive murals.
History of Otrobanda Curacao
As Willemstad grew in the 1800s, this district became the less desirable area full of small homes on tiny streets. Fortunes started to change in 1888, when the Queen Emma Bridge opened and wealthy traders began building grand, Colonial homes.
Otrobanda was still a rundown, crime-ridden area throughout the decades, until residents decided to take the district back and revitalize it through the mural projects seen today.
The hard work paid off, and Otrobanda experienced a dramatic transformation. It's now known as the cultural heart of the city, making a visit here one of the top things to do in Willemstad Curacao.
What to see in Otrobanda
The colourful steps are one of most photographed spots in Willemstad, which are found at the top of Van Lennepstraat where there's also a great view of the arched Queen Juliana Bridge. Painted by artist Avita Damberg, the goal of her creation was to make people happier with each step.
Other must-see spots in Otrobanda are the murals that line the passageway between Quintastraat and Cornelis Dirksweg, and along Willemstraat.
Along with the impressive artwork, there are a handful of cafes and restaurants sprinkled throughout the district, like Bario Hotel + Bar which offers walking tours of the area, has a cool hangout area and seven uniquely-designed rooms.
Its owners also started the Kaya Kaya Street Party, which brings together culture, art, music and great food during the last week of August and December.
Heading towards the waterfront is Breedestraat, the main shopping road in Otrobanda which is lined with bars, small restaurants and Asian stores, and eventually you'll arrive at the Rif Fort.
One of eight fortresses that were built to protect Curaçao, the Rif Fort dates back to 1828 and sits on the eastern point of St. Anna Bay, boasting incredible city views. Eventually it was transformed into a shopping area complete with souvenir stores, restaurants and bars, and the Renaissance Curacao Resort.
For a culture kick mixed with photogenic spots, be sure to include a trip to Otrobanda during your visit to Willemstad, Curacao.
YOU MIGHT ALSO ENJOY:
SHARE THE PINSPIRATION! CLICK THE IMAGES BELOW TO PIN: