A kaleidoscope of rainbow hues greets arrivals to Willemstad, which is the lively, colourful capital of Curacao.
This post may contain affiliate links, which Globe Guide receives compensation for with each click or purchase at no additional cost to you. Thanks for your support!
Along with being one of the most photogenic and developed port cities in the Caribbean, it nabbed a spot on the UNESCO World Heritage List thanks in part to its beautifully-preserved buildings lining Sint Anna Bay.
A popular destination for the cruise ship crowd, it's easy to explore the compact city centre during a quick one day trip. Those who stay longer on the island get to relax on sun-soaked stretches of sand, nosh on top-notch cuisine inspired by Curacao's international community and wander through streets transformed by giant murals.
Here are the best things to do in Willemstad Curacao.
Admire the colourful waterfront in Punda
The highlight of a visit to Willemstad is exploring Punda, the main downtown district lining the waterfront which is known for its postcard-worthy, vibrant facades.
The buildings were originally made from coral stones, and had to be painted in different colours than their original white shades since the reflections from the sun made them too hard to look at.
The touristy area is a maze of souvenir shops, cafes, bars and clothing stores anchored by Handelskade street, and the famous yellow baroque-style Penha building which dates back to 1708.
One of the top attractions in Willemstad is the Queen Emma Pontoon Bridge, AKA the 'Swinging Old Lady.'
This floating pedestrian bridge swings open to allow boat traffic through the canal, and has been in operation since 1888. A nearby ferry shuttles pedestrians across the water when Queen Emma needs to open, and the bridge is dazzling at night when it's all lit up.
There's no shortage of photo-ops here, with some of the most popular being the huge 'Curacao' sculpture and looking back at Punda from the bridge. Keep an eye out for Chichi ("big sister"), the well-rounded, brightly painted sculptures of female figures that are now an iconic part of Curacao's arts and culture scene.
See the street art in Otrobanda
Vibrant street art and culture collide in Otrobanda, the most artsy and photogenic district in Willemstad.
Located across from Punda on the other side of the floating bridge, the name Otrobanda means 'other side' in the local Papiamento language.
Once a rundown, crime-ridden area, residents decided to revitalize it by spearheading a series of mural projects to transform narrow laneways, staircases and building facades. The hard work paid off, and Otrobanda is now known as the cultural heart of the city.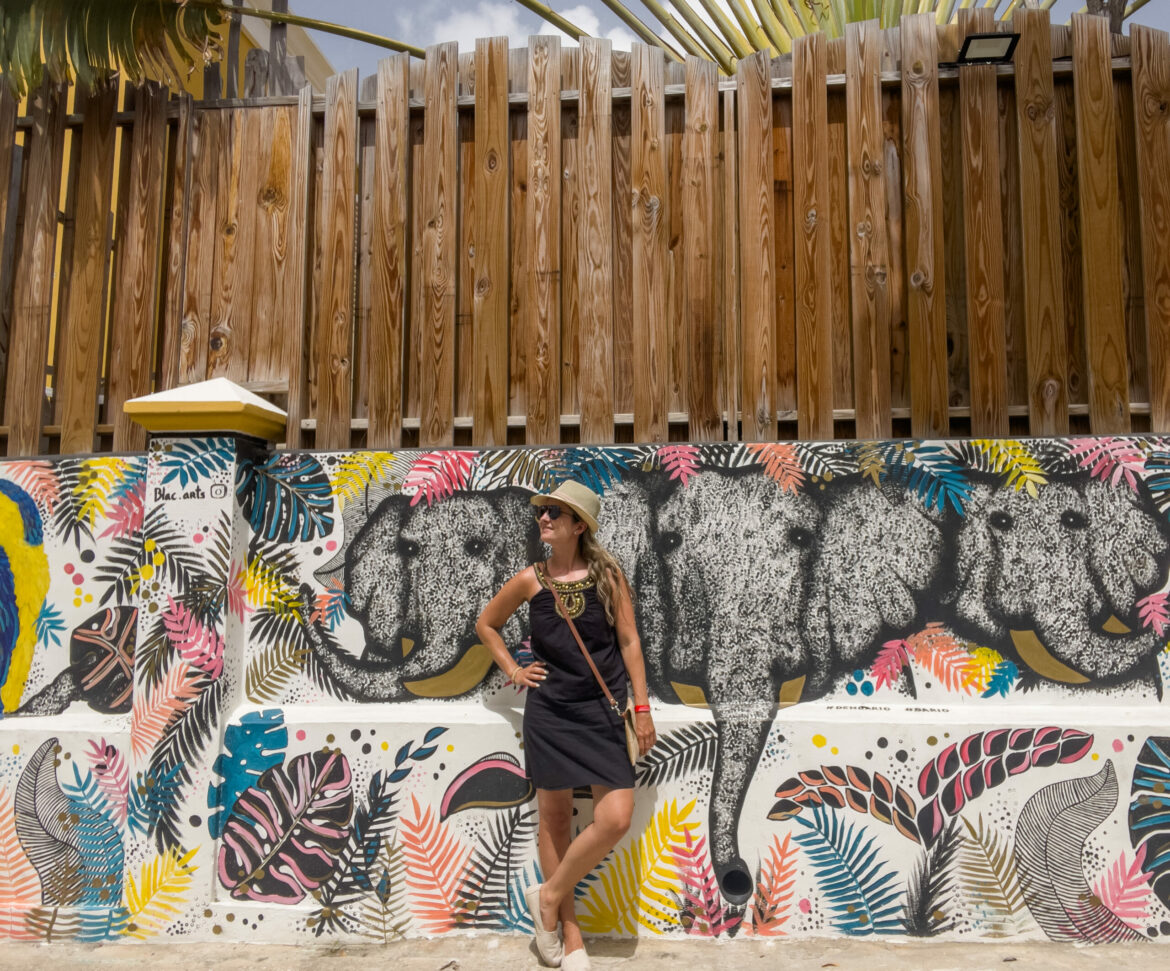 A handful of cafes and restaurants are sprinkled throughout the district, including Bario Hotel + Bar which offers walking tours of the area, has a cool hangout area and seven uniquely-designed rooms.
Breedestraat, is the main shopping road in Otrobanda which is lined with bars, small restaurants and Asian stores, and eventually you'll arrive at the Rif Fort which dates back to 1828 and was one of eight fortresses built to protect Curaçao.
The Rif Fort sits on the eastern point of St. Anna Bay, and boasts incredible city views. There's also a shopping area, restaurants, bars and a hotel.
Explore the historic Pietermaai District
Sometimes referred to as the 'SOHO of Curacao', Pietermaai is a lively district a short walk from Punda with candy-coloured facades, hip bars and restaurants, boutiques and live music.
During the 1860s, this area was in complete decay and eventually became the Red Light District (similar to the famous strip in Amsterdam). However, decades later when UNESCO awarded Willemstad a spot on the World Heritage List, local entrepreneurs began to refurbish the area by opening new eateries and renovating homes.
Today, you'll find some of the city's best restaurants perched along the waterfront here, as well as jazz clubs, cafes and B&Bs.
Sip spirits at the distillery
Curacao's best known export is arguably the island's famous Blue Curacao liqueur, which visitors can sample at Landhuis Chobolobo in Willemstad.
The sweet, kosher booze is made from orange peels, which are of course white, so in a stroke of marketing genius they added blue dye ('like the sea') to give it a more vibrant hue. The rest is bartending history, and you'll see just about every shade under the rainbow on display.
A 19th century mansion houses a museum, production and distillation area, where guests can sample the different varieties and enjoy a cool cocktail at the onsite bar.
Visit the markets
More than 50 different nationalities call Curacao home, which makes for a diverse, eclectic culinary scene drawing influence from as far as the Mediterranean and Africa.
To get a literal taste of the local flavours, head to Plasa Bieu in downtown Willemstad which is like a traditional food court. Nosh on goat stew, pastechi which are fried dough pockets filled with meat, fish or cheese, and the national dish keshi yena which combines rice, Gouda, peppers, raisins and spices with meat or seafood.
Just down the street at the Round Market, shop for fresh produce from local farmers, sip a just-blended smoothie and pick up local handicrafts.
Relax on Mambo Beach
Mambo Beach is one of the best beaches in Curaçao, and it's just a few miles from downtown Willemstad along Mambo Beach Boulevard.
Packed end-to-end with palapas, sun beds and white-curtained cabanas, its stretch of soft white sand is set against a backdrop of the shimmering Caribbean Sea.
This lively spot boasts beach clubs, a shopping centre, restaurants, bars and public restrooms, and swaying hammocks suspended between palm trees.
It costs about $4 to rent a lounger for the day, and around $25 for a cabana at a beach club.
Take a day trip around Curacao
One of the best things to do in Curacao is rent a car and spend a day exploring the island, which is easy to do from Willemstad.
The most beautiful beaches are in Westpunt, where more than two dozen gorgeous public beaches are found just a 45 minute drive from the city.
Playa Kenepa Grandi/Grote Knip is the most popular thanks to its velvety white sand surrounded by cacti-covered cliffs, panoramic lookout point and excellent snorkelling. At Playa Piskado/Playa Grandi you can snorkel with giant sea turtles, and at Playa Porto Marie you can even pet a pig!
Shete Boka National Park is close by, and the protected area is a haven for nesting sea turtles. There are four different areas to discover along the coast, with viewing platforms overlooking the limestone cliffs, natural arches and crashing, spectacular surf.
Don't have wheels? No problem! Book one of these Curacao day tours from Willemstad:
Book with Viator
Book a day trip from Willemstad with GetYourGuide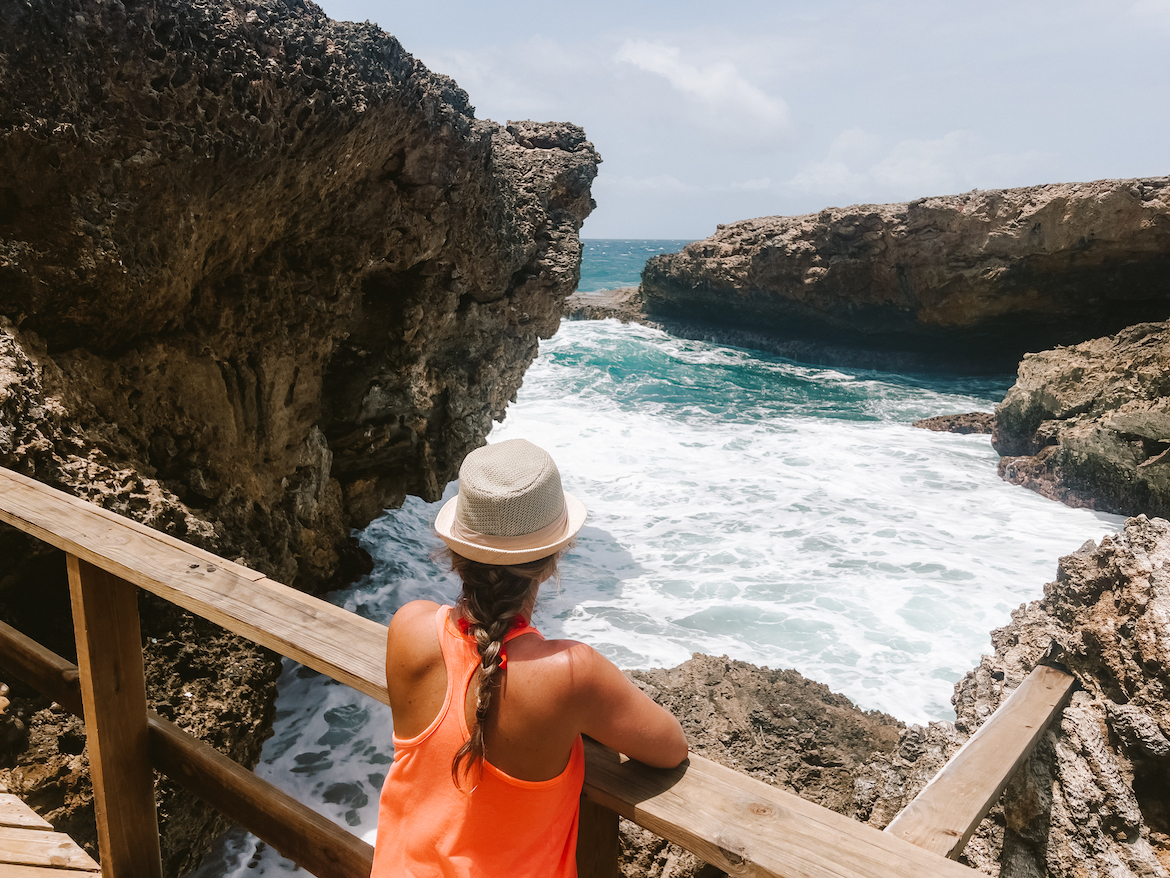 Where to stay in Willemstad
Private plunge pools, a white-sand beach, an Aqua Park and watersports are just some of the highlights of a stay at Mangrove Beach, which is only a 10 minute walk from downtown.
There are nearly 400 modern rooms, and each one has a large private balcony overlooking the main pool area, the shimmering sea or towards the city. Amenities include a fitness centre, beach volleyball court, swim- up bar and four outdoor pools, and there are 11 different restaurants ranging from buffet-style to sushi and seafood. Click here to book
This charming boutique hotel in the heart of the Pietermaai district boasts natural, organic decor inspired by the original tiles in the lobby dating back to 1866.
The owners made sure to preserve as much of the historic building as possible while renovating, and in a nod to its name 'Terra' which means earth, seven different shades of brown were incorporated in the design.
Six individually designed rooms feature rich woods and stone showers; some of the ceilings were even carved like the upside-down hull of a ship which was common in the late 1700s.
Breakfast is delivered each morning which can be enjoyed on the sunny top deck or down at the small beach, and there's also a small courtyard and plunge pool. Click here to book
YOU MIGHT ALSO ENJOY:
SHARE THE PINSPIRATION! CLICK THE IMAGES BELOW TO PIN: