Music City. Nashvegas. The Athens of the South. Whatever you call it, the fun, upbeat energy in Nashville is intoxicating.
Long known for being the heart of the country music scene, this southern city is hands-down the best spot in the nation to satisfy your music fix, with many talented musicians choosing to skip L.A. and head here instead in hopes of being discovered and becoming the next Luke Bryan or Carrie Underwood.
This post may contain affiliate links, which Globe Guide receives compensation for with each click or purchase at no additional cost to you. Thanks for your support!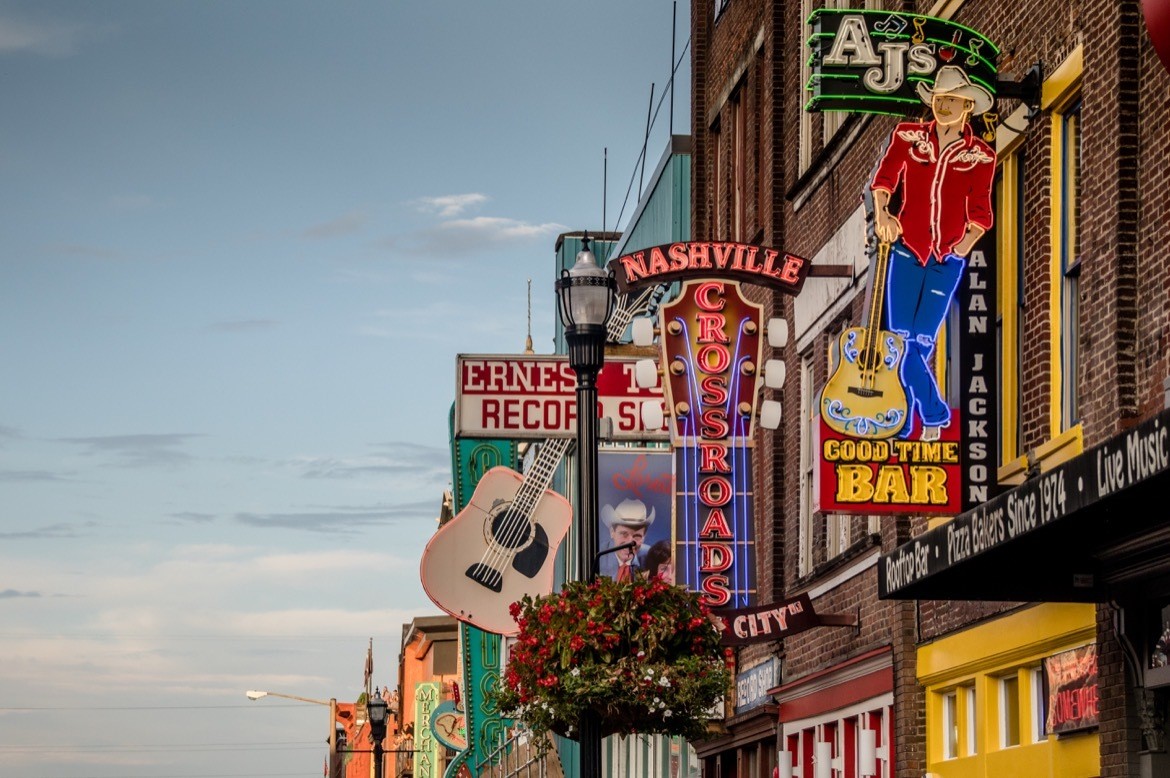 The result is top-notch entertainment in honky-tonks and cafes, which blend seamlessly with the trendy boutiques, eateries, larger-than-life murals and quirky bars which make Tennessee's capitol a vibrant spot worthy of a weekend getaway.
Here's the perfect itinerary for spending three days in Nashville.
Have more time in the Volunteer State? Check out this one week Tennessee road trip itinerary.
Day 1: Country Music Hall of Fame, NMAA, Bluebird Cafe, Lower Broadway
Pull on yer boots and hit the ground runnin' as soon as you get to town, by heading straight to the Country Music Hall of Fame to brush up on your music trivia.
Found in the heart of the action one block from bustlin' Broadway and the Bridgestone Arena (a spot hockey fans will def want to check out–go Preds!), this museum houses exhibitions tracing the history of country music.
There are songs, videos and interactive displays, along with theatres, a recording studio where greats like Elvis Presley and Dolly Parton have laid down tracks, and even a Taylor Swift Education Center.
The National Museum of African American Music (NMAAM) is just down the street, which celebrates the music genres created, influenced and inspired by African Americans.
Mix your own song, learn how to be an MC, get a close up look at mementoes from the likes of Prince and Whitney Houston, and even have your own dance party in the One Nation Under A Groove gallery. Click here to book
Anyone who watched the TV show Nashville is familiar with this next spot: the iconic Bluebird Cafe. The intimate venue is famed for being a songwriter's performance space where three or four musicians sit in the centre of the room and accompany each other through harmony vocals and instruments, and has played host to the likes of Garth Brooks, Trisha Yearwood, Vince Gill and Faith Hill over the years.
Tickets are at a premium with only 90 seats available for the two shows each night, and those lucky enough to score a seat in the Bluebird will be treated to captivating acoustic performances they won't soon forget.
The night ends at one one of the most infamous spots in town: Lower Broadway, AKA Nashvegas. The so-called Honky Tonk Highway in downtown Nashville is an energetic street lined with neon-lit bars, making it the best party around these parts and a popular choice for bachelor and bachelorette parties.
Revellers enjoying the live music that blasts out of every single floor of each bar from 10 am to 3 am (the roadway is completely shut down to traffic on Friday and Saturday nights), and since there's no cover charge it's easy to hop from spot to spot.
Some local favourites include Nudie's Honky Tonk which was founded by a tailor to stars like Johnny Cash and Hank Williams Sr. (a few of their outfits are on display), Tootsie's Orchid Lounge, Blake Shelton's Ole Red which serves up southern cuisine, and Jason Aldean's Kitchen + Rooftop Bar.
While Aldean's place also has one of the best views of the strip (along with Honky Tonky Central and Dierks Bentley's Whiskey Row), these newer spots lack the OG grittiness of places like Nudie's and Tootsie's.
Be sure to wear your two-steppin' boots, and put on your game face to make the most of your time on the strip which some have coined as a 'country music Disneyland.'
Insider tip: Check out the alleyway behind the historic Ryman Auditorium (the original home of the Grand Ole Opry), where stars used to slip out the side door and head to Toostie's Orchid Lounge post-performance.
For fab views of the skyline glittering at night, take Broadway all the way to the waterfront, turn right on 3rd Ave., and soak in the scene from the John Seigenthaler Pedestrian Bridge where the city lights reflect off the Cumberland River.
Book one of these popular Nashville tours:
Day 2: Tennessee Whiskey Trail and Grand Ole Opry
No trip to Tennessee is complete without some whiskey tasting, so start the day by heading to some of the most famous distilleries in and around Nashville.
Head to Marathon Village near downtown which hosts a collective of entertainment venues, boutiques and distilleries. The tasting experience at Nelson's Green Brier gives an extensive overview of whiskey-making in Tennessee, while the award-winning Corsair Distillery makes everything in-house and has a tasting room, bar and pizzas.
Be sure to sample their popular Triple Smoke spirit which uses cherrywood from Wisconsin, beechwood from Germany and peat from Scotland.
Another option is to book a full day tour like to visit iconic spots along the Tennessee Whiskey Trail like George Dickel Distillery and the Jack Daniels factory a couple hours away in Lynchburg, Tennessee.
Not only will you learn more than you ever thought was possible to know about the distilling process, but there are plenty of tasty samples along the way.
Tuck into JD's smooth Sinatra Select, and George Dickel's crowd-pleasing Tabasco Brand Barrel Finish blend which is aged in the same barrels the famous red sauce is made in to give it a serious kick.
Book a tour of the Tennessee distilleries:
Those who only have half a day to spare on their Nashville itinerary can still get in on the fun by tackling the Masters & Makers Trail, made up of a handful of boutique, family-run distilleries only a half hour drive from town.
Standout spots include Leiper's Fork Distillery which wows visitors with its songwriter nights and gorgeous log cabin setup, and Company Distilling at Thompson's Station (formerly H Clark Distillery) whose founder is partly responsible for the resurgence of distilleries around the state, after getting a bill passed allowing his operation to become the first legal distillery in the county since prohibition.
READ MORE: Sipping spirits along the Tennessee Whiskey Trail
Later that evening, head to the spot every country music fan should make a pilgrimage to: the world famous Grand Ole Opry.
More than one million guests visit the Opry complex each year, and the stage has been graced by the likes of Trace Adkins, Dierks Bentley, Keith Urban (who typically rolls up on his motorcycle), Rascal Flatts and Martina McBride just to name a few.
Credited with launching the career of many country stars, Opry performances have been broadcast in a live radio show since 1925, which originally took place at the Ryman Auditorium where singers like Johnny Cash and Dolly Parton performed.
The newer digs about 20 minutes from downtown opened in 1974, and can seat more than four-thousand fans.
For a bucket list-worthy experience, book a backstage tour of the Opry where you'll get to head behind the scenes and tour spots like the 18 individually themed dressing rooms, green room, the broadcasting studio, and see the lockers and mailboxes that belong to each famous member of the Opry (fun fact: apparently Randy Travis gets the most fan mail!).
It's worth springing for the VIP Tour, which includes the incredible opportunity to stand behind the red curtain just as it raises and the show begins. You don't even need to be a country music fan to appreciate how special it is to be standing on that stage during a live performance, and you're sure to get chills!
This other VIP tour option gives access to the exclusive Circle Room where guests get to meet and take photos with one of the artists before the show, as well as drinks and appetizers.
Book a tour of the Grand Ole Opry:
Day 3: The Gulch, East Nashville, 12South
The final day of your long weekend in Nashville is all about exploring the hip districts that keep this city buzzing, starting in The Gulch.
The historic area was originally a railroad terminal that's been transformed into a hotspot for the Instagram-loving crowd, thanks to its edgy mix of industrial art and bright, colourful murals.
Nosh on brunch at the popular, southern-style Biscuit Love or Milk & Honey (be sure to make reservations, as the wait can be hours) to fuel up for a shopping spree in the cute boutiques lining the main strip.
Then, snap selfies against pieces like the lime-green abstract mural by San Francisco's Ian Ross, and the adjacent brightly-hued, geometric creation by New York artist Jason Woodside.
The Gulch's most famous mural isn't hard to find–just look for the long line of tourists patiently waiting to get a photo in front of Kelsey Montague's WhatLiftsYou wings mural.
Seriously, the wait can sometimes take more than half an hour, so try to get there first thing in the morning to beat the crowds!
Another popular pit stop is 12South, which those in-the-know consider to be one of Nashville's hottest neighbourhoods.
On point boutiques like Emerson Grace and White's Mercantile (which was founded by Hank Williams Jr.'s daughter Holly) are surrounded by beautifully preserved century homes, and there are plenty of great restaurants as well as the iconic I Believe in Nashville mural.
Cross the river into East Nashville, where you'll find an eclectic mix of street art, a treehouse-themed bar (aptly named…wait for it…The Treehouse), and Five Points Alley Shops where a handful of businesses occupy a space of micro-stores that are less than 400 square feet each.
The Shoppes on Fatherland between 10th and 11th is also an adorable spot, with independent stores selling antiques, clothing, housewares and gifts.
End the day back in The Gulch, by grabbing dinner at The 404 Kitchen which puts a spin on southern-style cooking.
Its ground-floor Gertie's Bar also has one of the most extensive whiskey collections in the southwest, with more than 650 bottles to choose from.
Cap off the night with live music, either back down on Broadway or a more chill, authentic spot like The Station Inn which has hosted live bluegrass and roots performances every night of the week for more than 40 years.
There's almost always a big name in town putting on a show at large venues like Nissan Stadium and Geodis Park.
Fun day trips from Nashville
Got some spare time, or itchin' for more of a country fix? Head 20 minutes out of town to the neighbouring city of Franklin, a charming city that's home to intimate open mic nights with some of the best talent in Tennessee, good ol' southern cooking, distilleries, trendy shops and wide open spaces as far as the eye can see.
Don't miss the nearby village of Leiper's Fork which is prime for celeb spotting, as music royalty like Justin Timberlake and Brad Paisley call the surrounding countryside home.
Where to stay in Nashville TN:
The Bobby: This swanky hotel has an enviable location just a few blocks from Broadway (but far enough away that you can actually sleep), with a rooftop lounge surrounded by skyscrapers boasting an outdoor pool, panoramic city views and even a 1965 Scenicruiser bus that's been converted into a bar.
Guests enjoy the boutique property's modern, spacious rooms which have plenty of room to spread out, especially for those lucky enough to stay in the luxe two-bedroom suite which boasts a dining area and pool table.
Those travelling with their four-legged friends will love the pet amenities which include a gourmet menu for dogs (think potato mash and salmon risotto), treats, toys, and cuddling with the Bobby's resident pet ambassador, a sweet rescue pup named Sasha. Click here to book
1 Hotel Nashville: This inspiring property effortlessly blends sustainability with luxury, creating the ultimate urban oasis just a short walk from Broadway and the Gulch.
Nearly 60-thousand plants created an ivy facade which drapes down the building, thriving off the heat naturally generated from the sidewalks.
Guest rooms were designed using organic materials like wood, greenery and sustainably sourced bedding which makes it feel like a peaceful haven despite being in the middle of the city, and each one has its own filtration system to cut down on single use plastic.
There's also a spa, rooftop bar, gym, cafe and restaurant on site, and on weekends guests can borrow the hotel's the fully electric Audi e‑tron. Click here to book
YOU MIGHT ALSO ENJOY:
SHARE THE PINSPIRATION! CLICK THE IMAGES BELOW TO PIN: