Big skies, secluded retreats and wide open spaces; when it comes to planning a road trip, Tennessee delivers from city to country.
From the frenetic energy and neon lights of Nashville's honky tonks to the rolling hills and tucked-away escapes found less than an hour away, the state has endless entertainment, glamping and distilleries, and is big on southern charm.
This post may contain affiliate links, which Globe Guide receives compensation for with each click or purchase at no additional cost to you. Thanks for your support!
The seven-seater 2023 Mitsubishi Outlander Plug-In Hybrid (PHEV) is the ultimate adventure vehicle for a Tennessee road trip, thanks to its fuel efficiency, all-wheel drive system, roomy cabin space and sleek styling.
Yes, it looks much more expensive than it is, and when I had a chance to drive it through the state for a week (my fourth visit!) you wouldn't believe how many random people stopped to ask about and compliment it.
Here are the best things to do in Tennessee during a one week trip, from must-see destinations to hidden gems you won't find anywhere else.
One week Tennessee road trip: Route planning
A perk of doing Tennessee road trips in the Mitsubishi Outlander PHEV is that it's a plug-in hybrid electric vehicle with a dedicated battery that operates and charges like an electric vehicle, yet also has an internal combustion engine that runs on gas.
Truly the best of both worlds, you can spend more time exploring this great state without worrying about tracking down the next charger or gas station.
The fast-charging PHEV is perfect for both efficient city driving (you'll get about 61 kilometres in full EV mode) and longer road trips, with up to 420 miles of range when fully-fuelled and charged.
As for cost savings, it's estimated that the electricity used to fully charge an Outlander at home only costs $1 per day–when's the last time you saw pump prices that low?
Nashville
Kick off your Tennessee road trip with a couple of days in the Music City, home to top-notch entertainment in honky-tonks, trendy eateries, boutiques, colourful murals and quirky bars.
Nashville is at the heart of the country music scene, and it's nearly impossible to go anywhere in the city without being reminded of that.
Museums celebrating all the different genres are found downtown, songwriters strum guitars at quaint cafes, and Broadway (nicknamed Nash-Vegas thanks to the plethora of bachelorette parties and general debauchery) comes alive at night when every single spot on the strip has multiple bands to entertain bar hoppers.
READ MORE: The perfect Nashville itinerary for three days in the Music City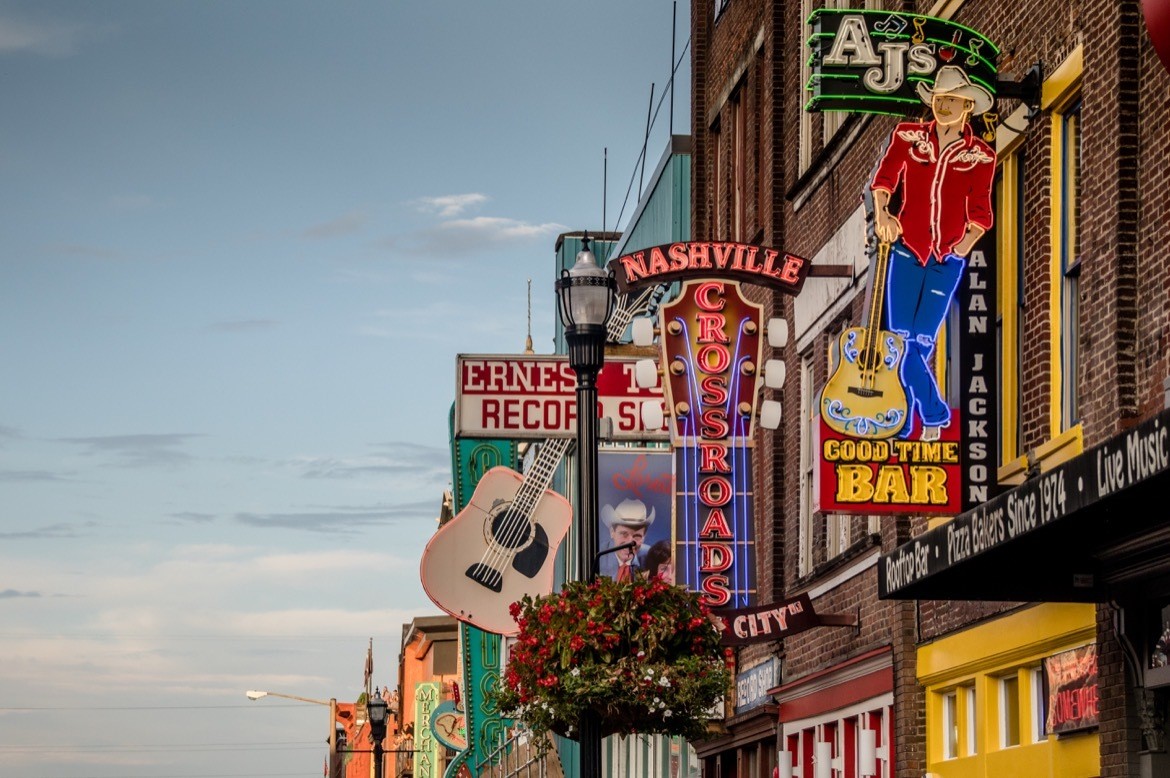 Some of the best things to do in Nashville are:
Stop in at some of the local distilleries along the Tennessee Whisky Trail, like Nelson's Green Brier and the award-winning Corsair Distillery in Marathon Village.
Enjoy a show at the iconic Grand Ole Opry. More than one million guests visit the complex each year, and its stage has been graced by the likes of Carrie Underwood, Dierks Bentley, Keith Urban (who typically rolls up on his motorcycle) and Rascal Flatts just to name a few. Performances have been broadcast in a live radio show since 1925, which originally took place at the Ryman Auditorium where singers like Johnny Cash and Dolly Parton performed. The newer digs are about 20 minutes from downtown, and opened in 1974.
Wander around Nashville's coolest districts: The Gulch, East Nashville and 12South are where you'll find the best colourful murals, brunch spots and shops.
Cap off the day at Lower Broadway, the so-called Honky Tonk Highway lined with neon-lit bars. Revellers enjoy the live music that blasts out of the bars every single day from 10 am to 3 am, and there's no cover charge so it's easy to hop from spot to spot.
For the best views, head to Honky Tonk Central or Jason Aldean's Kitchen + Rooftop Bar.
Where to stay in Nashville
1 Hotel Nashville: This inspiring property effortlessly blends luxury and sustainability, creating the ultimate urban oasis just a short walk from the Gulch and Broadway. Nearly 60-thousand plants created an ivy facade which drapes down the building, thriving off the heat naturally generated from the sidewalks.
Guest rooms were designed using organic materials like wood, greenery and sustainably sourced bedding which makes it feel like a peaceful haven despite being in the middle of the city, and each room has its own filtration system to cut down on single use plastic. Click here to book
Franklin, TN
For a real taste of Tennessee far from the crowds and craziness of Nashville, Franklin is the place to be. It just might be the state's best kept secret–and those who are in the know would like to keep it that way.
This historic city just half an hour from Nashville hosts intimate open mic nights, good ol' southern cooking, distilleries, trendy shops and wide open spaces as far as the eye can see.
There's a good opportunity for celeb spotting if you spend a couple of days here: sleep in the same recording studio that country royalty likeTaylor Swift, Carrie Underwood and Faith Hill have laid down tracks in, and go wine tasting at Arrington Vineyards which was co-founded by Kix Brooks from the legendary country duo Brooks & Dunn.
Catch the sunrise by going for a drive in your Outlander along one the most of one of the area's most scenic spots: the Natchez Trace Parkway. This 400-mile roadway winds through Tennessee, Mississippi and Alabama, and is one of the most visited national parks in the United States.
History buffs will appreciate that Franklin was also a key site of the American Civil War, and in the charming downtown area you'll find a vintage movie theatre and century-old buildings housing boutiques, bars and restaurants lining Main Street.
This is a great place for shopping, and you can easily pack everything into the Outlander which fits three large suitcases or four golf bags in the trunk when the third row is down.
READ MORE: 10 insanely cool things to do in Franklin, Tennessee
Where to stay in Franklin
Harpeth Hotel: This stylish hotel is the perfect base for exploring Franklin, located right on Main Street just steps away from the shops and restaurants. There are more than one hundred guest rooms and suites, including some with private balconies, separate living areas and soaker tubs.
The main entrance leads to an outdoor courtyard, a library curated by its neighbour Landmark Booksellers, 1799 which is known for its craft cocktails, and McGavock's Coffee Bar. Click here to book

Leiper's Fork
Just a few minutes outside Franklin is a one-lane, country village that's so tiny it literally takes less than a minute to drive through, yet there are so many fun finds along the strip that you could easily spend a full afternoon exploring.
Leiper's Fork is frequented by celebs, with the likes of Justin Timberlake, Brad Paisley, Tim McGraw and Chris Stapleton all living in or just outside town.
You also never know who might pop up at the famous open-mic night at Fox & Locke, where Carrie Underwood and Wynonna Judd have been known to try out new tunes.
Those Thursday night jam sessions are the main draw around here (reservations required), as well as:
Wines in the Fork: On a hot summer day, plop down on a lawn chair right in the creek and cool off while sampling a wine flight and listening to live music.
Leiper's Fork Distillery: Book a tour to learn how Tennessee whiskey is distilled inside a production room that's so stunning it's often used to host events and epic songwriting sessions–there's even a dazzling, multi-tiered chandelier. Tours include samples of their Old Natchez Trace White Whiskey, rye and bourbon, and there's also a bar and live music on weekends.
READ MORE: 7 country-cool things to do in Leiper's Fork, Tennessee
Need to fuel up the Outlander? Head to Leiper's Fork Market which looks like a normal gas station, but step through the wide, wooden doors and you'll quickly realize it's anything but.
There's a welcoming front porch complete with rocking chairs, a burger joint in the back, guitars on the wall, and even a barn-style table complete with a chandelier.
Where to stay near Leiper's Fork
Southall Farm & Inn: Rated as one of the world's best new hotels, this luxurious resort is nestled in the rolling Tennessee hillside on 325 acres of farmland between Franklin and Leiper's Fork.
Many of the gorgeous rooms and suites boast four-poster beds, fireplaces, soaker tubs and a separate seating area, and there are also cabins and tree-house inspired cottages with screened-in porches and day beds.
Southall is a working farm, supplying most of the ingredients used in the excellent on-site bar and Sojourner restaurant.
Guests can relax at the outdoor pool or spa, book an activity like fly fishing, paddleboarding on the lake or exploring the 13 miles of hiking trails, and learn about farm operations such as harvesting the orchards and making honey (there are four million honeybees on property!).
Valet parking is included and there are also charging stations on-site; it only takes about 30 minutes to fully charge the Outlander with a fast charger, and six hours with a 220 volt.
Thompson's Station
Make a quick stop into the quaint town of Thompson's Station, best known as the home of Company Distilling at Thompson's Station (formerly H Clark Distillery) which has a place in the history books.
The distillery was founded by lawyer Heath Clark, whose efforts helped get a bill passed by the senate which allowed his operation to become the first legal distillery in the county since prohibition nearly a century earlier.
The doors opened in 2014, and about 40 distilleries have opened in Tennessee since then, up from just three previously.
This stop is part of the Masters & Makers Trail which winds through scenic Williamson County, and visitors can drop into the tasting room to sample their Tennessee Bourbon, dry gin and flavoured spirits which are all hand-bottled in the micro batch distillery.
Lynchburg
About an hour down the road is a spot that needs no introduction: Lynchburg, home to the world famous Jack Daniel Distillery. Also known as Mecca for whiskey lovers like yours-truly.
Tours must be pre-booked, and I recommend the 90 minute Angel's Share experience where you'll get to check out JD memorabilia, see the safe that led to Jack's untimely death (it's a long story, but in summary you should never kick a big piece of metal), and wander through the enormous production facilities.
No visit is complete without some tastings, and we were brought into the historic Barrelhouse to sample five of Jack Daniel's best whiskeys from their Single Barrel collection, including the limited-edition Sinatra which is just as smooth as its namesake.
READ MORE: Sipping spirits along the Tennessee Whiskey Trail
Afterwards, head into historic downtown to grab some official merch at the Lynchburg Hardware General Store.
You can also visit Jack's gravesite in the Lynchburg City Cemetery, where two chairs sit on either side of his large tombstone to accommodate his many visitors.
Dale Hollow Lake
This section of the Tennessee road trip is where I really got to see the Outlander's Super All-Wheel Control (S-AWC) in action, as we navigated curving country highways and backroad detours.
The S-AWC allows for greater vehicle control and increased driver confidence, and with seven different modes for various road and weather conditions we confidently headed through everything from mud puddles to speedways to rocky, hilltop terrain
Our final destination was the Dale Hollow Dam and Lake near the town of Celina just minutes from the Kentucky border, and the dam was built along the Obey River in 1943.
Since then it's become a popular outdoor recreation area, welcoming more than three million visitors each year for camping, boating, and fishing for rainbow and brown trout.
Dale Hollow Lake is one of the best places in Tennessee to get away from it all–which is exactly why the popular Getaway House chain set up a location here.
Set on 415 private acres of forest near Moss, TN, 40 secluded cabins are hidden among thick tree groves to guarantee privacy and the feeling of a complete escape from city life–exactly what we were looking for as we took the Mitsubishi Outlander PHEV into the countryside.
The pet-friendly tiny homes sleep two to four people and have a kitchenette, full bathroom, air conditioning, dining table and outdoor area complete with chairs, a picnic table and fire pit.
Don't even bother trying to get wifi out here: the whole idea is to disconnect, and there's even a lock box to stash away your phone.
Globe Guide readers save $25 off stays with Getaway House when using this link to book
Activities in the area include heading over to the lake, exploring the on-site hiking trails, and day-tripping to Standing Stone State Park which is named after a 12-foot-tall rock perched on a sandstone ledge, which was once used as a boundary line between two Indigenous nations.
We capped off our trip with a campfire cookout, sampling some of the state's famous barbecue and spirits while dining under the stars.
The 1,500 watt, 110v outlet in the back of the Outlander powered the twinkle lights overhead, creating the perfect ambiance for our Tennessee getaway.
More things to do in Tennessee
Have a few more days to add to your road trip in Tennessee? An easy option is Clarksville, which is only about an hour northwest of Nashville and known for its charming, historic downtown.
Visit some of the sites listed on the Tennessee Music Pathways route, see the ancient cave art in Dunbar Cave State Park, sip a moonshine slurpee at Old Glory Distilling Co., and stay in a cute Airbnb complete with its own speakeasy.
READ MORE: 5 quirky things to do in Clarksville, TN
Knoxville, Chattanooga, Memphis and Great Smoky Mountains National Park are all great places to add to a Tennessee itinerary, though each spot requires at least a few extra days due to driving time and attractions–the perfect excuse to put more miles on the fuel-efficient, stylish 2023 Mitsubishi Outlander PHEV.
Globe Guide explored Tennessee in partnership with Mitsubishi Motors Canada
YOU MIGHT ALSO ENJOY:
SHARE THE PINSPIRATION! CLICK THE IMAGES BELOW TO PIN: