With rolling green hills, white picket fences surrounding palatial estates, a charming town centre and friendly folks always welcoming a leisurely chat, Franklin, Tennessee is as quintessentially deep south as it gets.
This post may contain affiliate links, which Globe Guide receives compensation for with each click or purchase at no additional cost to you. Thanks for your support!
Despite being home to more than 70-thousand people and located just a 20-minute drive from bustling Nashville, the city has somehow managed to stay off the radar of many tourists which makes a visit here even more special.
Think intimate open mic nights with some of the best talent in Tennessee, good ol' southern cooking, distilleries, cute shops and wide open spaces as far as the eye can see.
Franklin is like a more chilled out, adult version of its neighbour to the north, boasting a happening live music scene without the crowds and Mardi Gras-like party scene that's overtaken Nashville's Lower Broadway. It's also a top spot in the state for celeb spotting, as many of country music's top artists live around here.
From incredible viewpoints to the best honky tonks and watering holes, here are five insanely cool things to do in Franklin, TN.
1) Stay in a recording studio
Prepare to have your mind blown, country music lovers. Franklin is home to the ultimate fan experience: sleeping in the very same recording studio that country royalty like Taylor Swift, Carrie Underwood, and Keith Urban have laid down tracks in.
The GATEHOUSE at Dark Horse Recording Estate is found on a nondescript road just outside the city, on a serene 10-acre hideaway which makes it the perfect spot for artists to hunker down away from the spotlight.
Some bands stay in the rooms right under the studio, while the likes of Faith Hill, Tim McGraw and Rob Thomas prefer to stay in a more luxurious spot next door called The Cottage. The grand three-bedroom home is available to the public to rent and includes a gourmet kitchen, sitting room and free reign of the property.
Best of all, guests are allowed to tour the studio provided no one is recording, and get a chance to channel their inner Shania.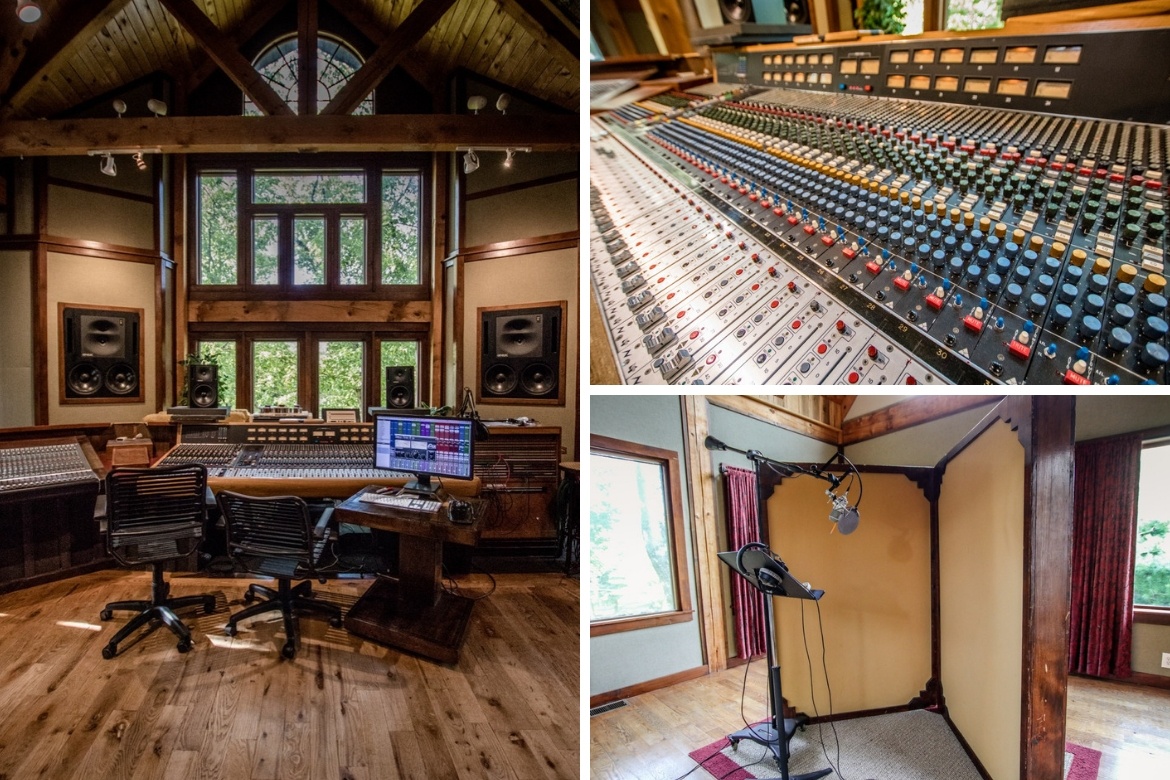 2) Watch live music in Leiper's Fork
There's no better place in these parts to satisfy that country craving than in the quaint village of Leiper's Fork, which is home to the iconic Fox & Locke.
Serving up southern cookin' and songs for decades, performers come from near and far to wow the friendly, supportive crowd every Thursday during open mic night, and you just never know which famous face might show up on stage.
Get there early to secure a table near the front, and prepare to be wowed by the talent as you tuck into finger-lickin' good BBQ for the next couple hours. With each act only allowed to play two songs, you'll get to see a wide variety of musicians, including some hoping to catch the eye of record label scouts who frequent this joint.
It's worth wandering up and down the main street before showtime to check out unique spots like the Lawnchair Theater, a family-friendly outdoor venue that hosts live music nights and has hosted the likes of Willie Nelson.
Be sure to keep your eyes peeled for celebs, as Justin Timberlake's creative studio is just around the corner, songwriter Holly Williams (daughter of the legendary Hank Williams Jr.) opened a B&B which has welcomed A-listers like Gwyneth Paltrow, and stars like Luke Bryan and Brad Paisley call the mega-mansions in the surrounding countryside home.
Just don't ask the locals to point them out, as they've been known to send starstruck tourists on a wild goose chase to protect their famous friends' privacy!
3) Enjoy the sunrise from the Natchez Trace Parkway
Photographers will want to wake up bright and early to get to one the most of one of the area's most scenic spots in time for sunrise: the Natchez Trace Parkway.
The historic 400-mile roadway winds through the states of Tennessee, Mississippi and Alabama, and is one of the most visited national parks in the United States. It's also a popular bike trail, complete with cyclist-only campgrounds and viewpoints galore.
A gargantuan double-arch bridge marks the parkway's point near Franklin, and visitors can soak in breathtaking views of Tennessee's green rolling hills from an observation area below or from on top of the bridge itself. The best time to visit is at dawn, when rose-hued, cotton candy clouds frame the tapestry of the countryside below.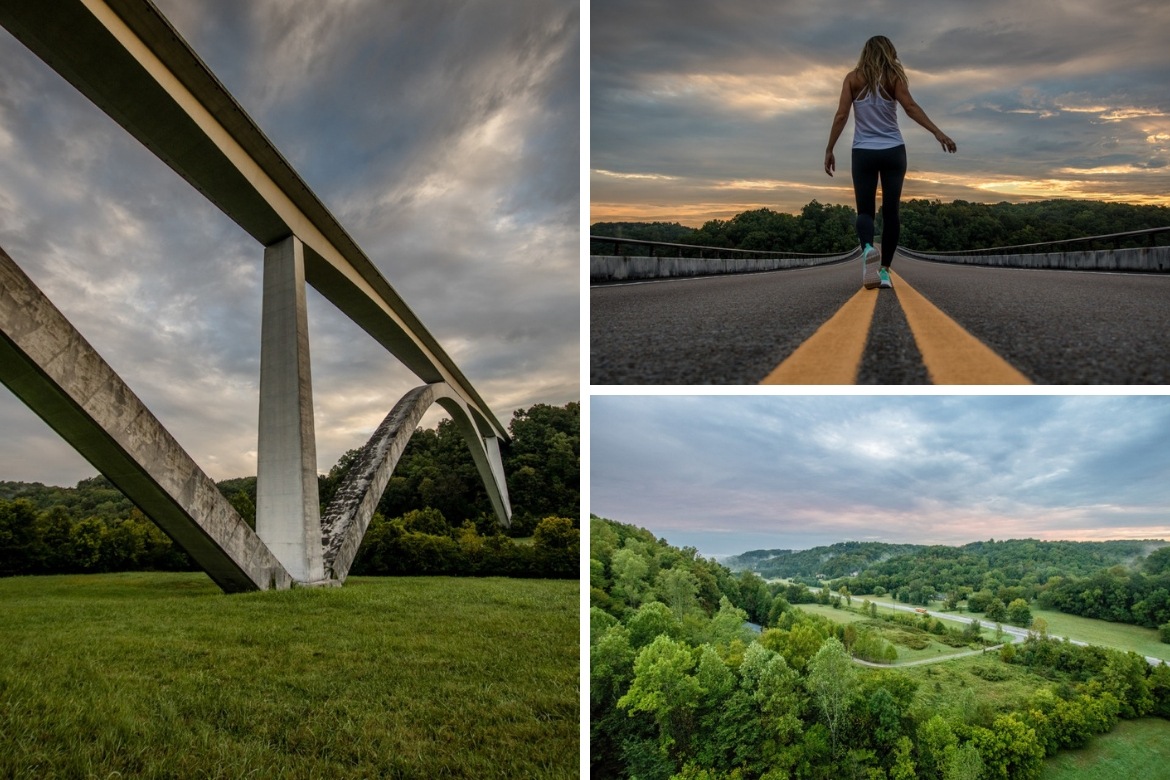 A fun way to explore the parkway is by renting an e-bike from Pedago in downtown Franklin, which offers tours to the area as well as self-guided options to spots like the Mack Hatcher Memorial Parkway.
4) Sip Tennessee whiskey
No visit to Franklin is complete without downing some world-famous Tennessee whiskey, and some of the state's top distilleries are just a short drive from town along the Masters & Makers Trail.
Start off at Company Distilling at Thompson's Station (formerly known as H Clark Distillery) which was founded by a lawyer (his legal office is beside the tasting room) who got a bill passed by the state senate allowing his operation to become the first legal distillery in Williamson County since prohibition nearly a century earlier.
Doors officially opened in August 2014, and since then about 40 distilleries have popped up around the state, up from just three previously.
READ MORE: Sipping spirits along the Tennessee Whiskey Trail
Another notable spot along the Masters & Makers Trail is Leiper's Fork Distillery, which offers excellent guided tours through their operations area, complete with samples in their cozy, log cabin tasting room looking out toward the gorgeous property.
If drinking straight whiskey just isn't your thing, then there are a few other options: Mill Creek Brewing Co. serves up samples of their hand-crafted beers, and wine lovers will want to drop into Arrington Vineyards which is a 20-minute drive from Franklin, and co-founded by Kix Brooks from the legendary country duo Brooks & Dunn.
Proof that you can't get too far in this town without some musical connection!
5) Explore Franklin's historic downtown
As a key site of the American Civil War (tours are available for history buffs), Franklin has a long history that's been well preserved in the charming downtown area.
There, vintage movie theatres and century-old buildings blend seamlessly with hip boutiques and eateries, making its main street the perfect place to go for a sunny stroll–especially if you have a four-legged friend with you, as all merchants are pet-friendly.
Folks around here love dropping into White's Mercantile which coins itself as a "general store for the modern tastemaker" (also owned by Holly Williams who seems to always be on point), and Landmark Booksellers which the bestselling book and movie The Bridge was based on.
One of the top restaurants in town is Gray's on Main, which was a pharmacy for more than seven decades before transforming into a hip restaurant and live music venue.
Their fried pimento cheese balls are life-changing, and the Anthym Spirit cocktail crafted with chai bitters, apricot brandy and rye is the perfect prescription to kickstart a fun night out.
Head next door to O Be Joyful for a nightcap, and choose from a selection of over one hundred whiskeys to toast to an incredible stay in Franklin, Tennessee.
READ MORE: Franklin food: The best places to eat in this charming Tennessee city
Where to stay in Franklin TN
The Harpeth Hotel is the newest and most luxurious hotel in Franklin, with a fantastic location right along the historic main street. There are more than one hundred stylish guest rooms and suites, including some with private balconies, a separate living area and soaker tubs.
The real highlight is the gorgeous entry area which features an outdoor courtyard, live music and a library curated by its neighbour, Landmark Booksellers.
Their 1799 bar is a standout spot thanks to its seasonal menu and extensive cocktail list, and McGavock's Coffee Bar is a great brunch spot.
Other options for Franklin accommodations include:
Residence Inn by Marriott– There's plenty of space to spread out here, with some units boasting multiple bedrooms and full kitchens. Guests love the big breakfast, and there's also a pool and hot tub on site. Click here to book
Hampton Inn & Suites– Located just off the I-65 which makes it easy to get around, this property gets top marks for its friendly staff and large, quiet, modern rooms. Click here to book
Home2Suites– This pet-friendly property has everything you need for a longer stay, including laundry facilities, a full gym and kitchenettes in the modern, spacious suites. Click here to book
Globe Guide explored Franklin as a guest of Visit Franklin. As always, hosts have no editorial influence on articles.
YOU MIGHT ALSO ENJOY:
SHARE THE PINSPIRATION! CLICK THE IMAGES BELOW TO PIN: