Looking to relax, rejuvenate and find some zen? Look no further than Prince Edward Island in eastern Canada, where solace is found along its expansive beaches, tranquil waterways and wooded trails.
Some of the top things to do in Prince Edward Island are wellness-focused, and the province's laid-back vibe even in the height of summer makes this the perfect place to unwind.
This post may contain affiliate links, which Globe Guide receives compensation for with each click or purchase at no additional cost to you. Thanks for your support!
From thermal experiences to weekend retreats, here are five of the best things to do in PEI that will leave you feeling tranquil sooner than you can say spa-ahhh.
Relax at Mysa Nordic Spa & Resort
The ultimate way to get some R&R is with a day at the spa, and the first-ever PEI nordic spa is found along the banks of serene St. Peters Bay on the northern part of the island.
Boasting thermal baths, essential oil steam rooms, relaxation areas like fire pits, cold water plunges and a Finnish sauna, the ethos of Mysa Nordic Spa revolves around Scandinavian hydrotherapy practices which are said to reduce stress, eliminate toxins, relax muscles and strengthen the immune system.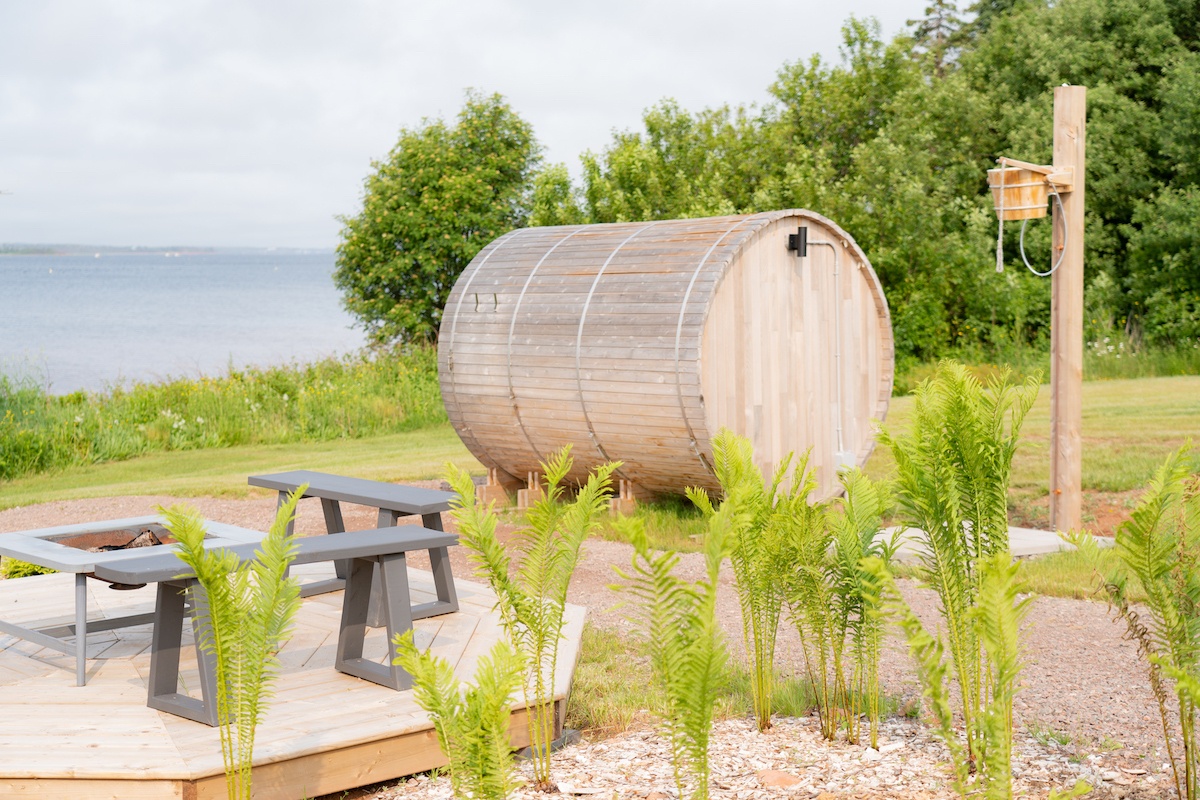 The circuit starts by heating up in a sauna, hot pool or steam room for about 10 to 15 minutes, immediately dunking yourself under one of the frigid showers or cold pools for a few seconds to shock the circulatory system, then resting for another 15 minutes in one of the relaxation areas.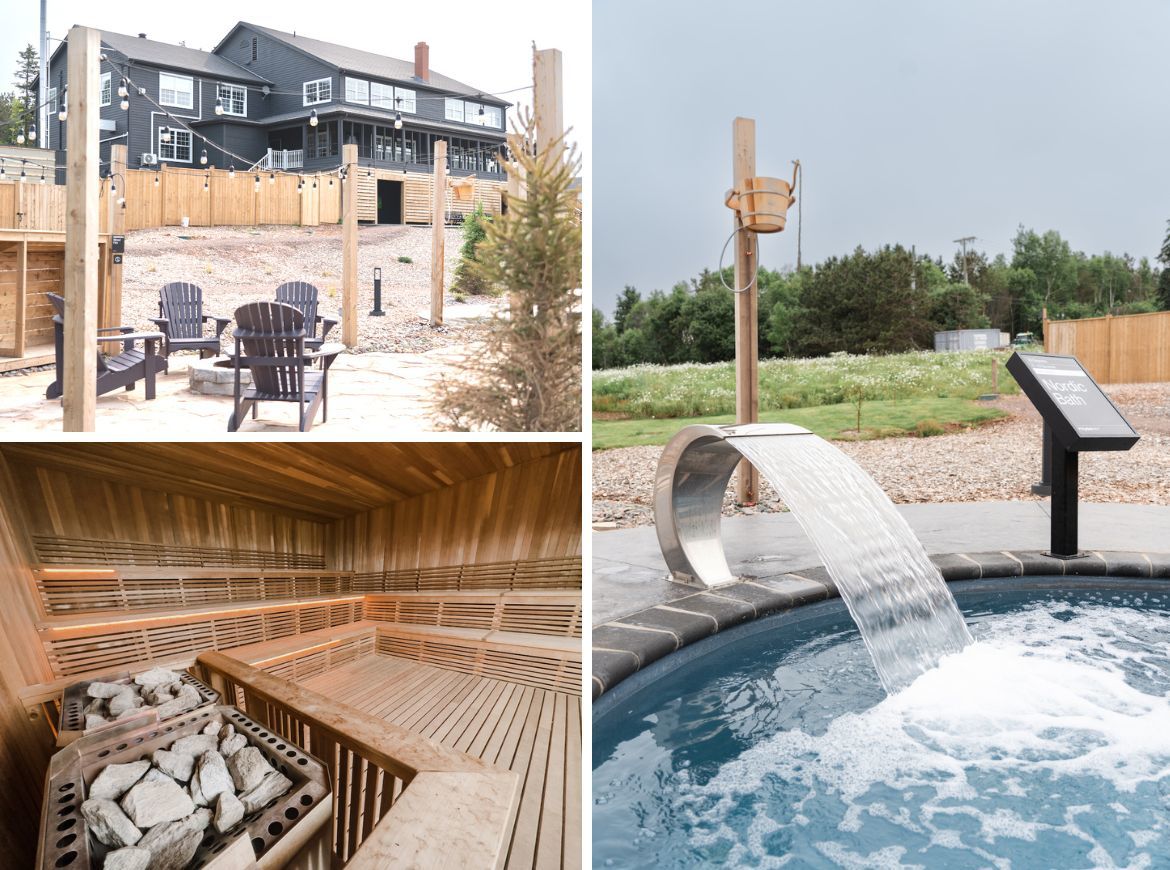 Guests can also book a massage, practice mindfulness in the meditation room, and dine at the acclaimed on-site restaurant which uses only locally-sourced ingredients including many grown right on property.
Formerly the Inn at St. Peters, Mysa (which is Swedish for 'cozying up') was renovated and reopened under new ownership in 2022.
It also has 16 waterfront cottages and the luxe Bayview Suite overlooking the thermal pools, making this one of the best places to stay in PEI.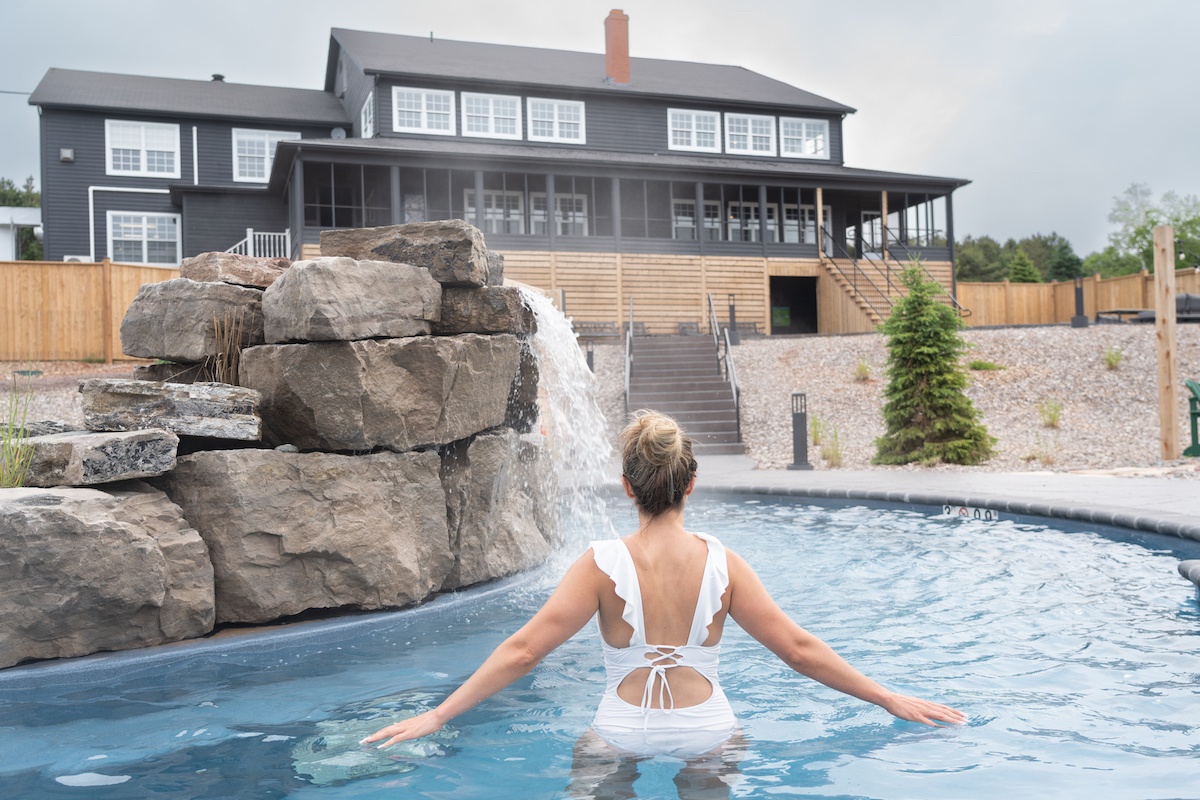 Try something new at the Island Tides Yoga & Wellness Festival
Feel calm, cool and collected during the Island Tides festival, which brings together top teachers, chefs, musicians and practitioners to showcase practices for healthy living.
The annual festival happens every June at venues in and around Charlottetown, and everyone is welcome to sign up for daily events like stand-up paddle boarding lessons, learning about gut health, Himalayan singing bowl sound baths, barre or HIIT classes on a sun-soaked rooftop and candlelight yoga sessions.
No need to take this too seriously– the idea is to have fun so there are also events like a comedy show during a sunset cruise, and libation-themed workouts including Movement & Mimosas and Pilates & Pinot.
Attend a retreat at Nature Space Resort & Retreat Centre
One of the most unique things to do in PEI is staying overnight in a glamping yurt at Nature Space Resort, which also hosts wellness retreats.
Mediation, well-being and crafting workshops are among the offerings at this spot on the North Shore, along with yoga classes held on the beach or in one of the yurts.
Guests can seek stillness during a forest bathing excursion, soak in the sauna or hot tub, go kayaking in the lagoon and find serenity while walking through the on-site labyrinth.
At the end of the day, gather around the large outdoor fire pit, or retreat back to your yurt which is surrounded by trees and also has its own deck, fireplace and private hot tub.
Hit the links on one of the PEI golf courses
Depending on how good (or terrible) your swing is, it's debatable whether a day at the links will actually reduce stress rather than increase it. Regardless, golfing in Prince Edward Island is a must-do, with championship courses found around the province.
There are more than 25 golf courses in PEI, and many feature ocean views, rolling hillsides and the island's signature red sandstone.
Standout spots include Dundarave Golf Course which hosted "Legends of Golf" in 2006 where the likes of Jack Nicklaus and Tom Watson hit the fairways, and Brudenell River Golf Course which is ranked as one of the top 50 golf courses in Canada.
Don't miss Green Gables Golf Club, designed in 1939 by famed architect Stanley Thompson: not only is it right in Prince Edward Island National Park, but the 11th hole is right next to Green Gables Heritage Place where the Anne of Green Gables house is!
READ MORE: How to meet Anne of Green Gables in Prince Edward Island
Get outside
The best way to reset is to spend time outdoors, and there are plenty of wellness-focused activities in PEI that fit the bill.
The Confederation Trail stretches more than 400 kilometres, and is a great way to explore the island on two wheels. One of the most popular sections to cycle is between St. Peter's Bay and Morell, which winds along the coastline, past marshlands and fields full of flowers.
On the north part of the island, check out the paved, 12.5 kilometre Gulf Shore Way between Brackley Beach and Dalvay in Prince Edward Island National Park. It also passes Cavendish and North Rustico beach, making it even more scenic than the often treed-in Confederation Trail.
In Charlottetown, go for a run along the Victoria Park boardwalk which traces the waterfront, or enjoy the sights from the water with a SUP or kayak–rentals are available in Peake's Wharf.
The iconic red sand beaches and towering sand dunes are among the best PEI attractions, and the best way to see the dunes is by spending the day at Cavendish Beach or the Greenwich Dunes Trail in Prince Edward Island National Park.
Enjoy a relaxing walk through the forest sheltering the likes of Downy Woodpeckers, Great Horned Owls and red squirrels, and continue along the boardwalk that floats above Bowley Pond.
It leads to an incredible viewpoint looking down at the sparkling sand below and surrounded by dunes which are constantly reshaped by the wind, making for the perfect wellness escape in Prince Edward Island.
YOU MIGHT ALSO ENJOY:
SHARE THE PINSPIRATION! CLICK THE IMAGES BELOW TO PIN: