'Cowtown', the 'Stampede City', 'Cal-gary' (a sure sign of an out-of-towner)…whatever you call it, there's just something about my hometown of Calgary, Alberta.
Nestled between the soaring Rockies and the prairies, the wide open spaces bring epic sunrises and sunsets that seem to set the whole sky on fire, and the glittering downtown skyline with a river running through it is faintly framed by mountain peaks.
As a sprawling city of nearly a million and a half people there's a lot going on, yet Calgary is still the kind of place you can still leave your window open at night to let in the fresh air as it's somehow escaped the frenetic pace of a larger metropolis.
Counted as one of Canada's economic hubs, Calgary still has a hint of small town feel thanks to its western roots that started way back with the arrival of the railroad, in a time when pioneers arrived in droves on horses which eventually led to the world famous Calgary Stampede. Then came the energy boom that once made it the fastest growing city in Canada, defining Calgary as the oil town it's still known as today.
But look beyond the skyscrapers, and there's something that's quintessentially Calgary. It's the spirit of Calgary: something you can't really see or explain, but you feel when you see the multiculturalism our city embraces, how communities rally together when times get tough, the transformation of our neighbourhoods to keep getting better, and embracing new ideas, diversity and innovation.
Here are just a few of the reasons I love Calgary
1) The public art
Once upon a time, there was a huge controversy about the building of a big red bridge. The same big red bridge that's now a Calgary icon, stretching across the Bow River and providing a backdrop for weddings, graduations and just about every Instagrammer who steps foot in the city.
Fortunately Calgary has come a long way since the days of the Peace Bridge project, and invests heavily in public art which has helped transform downtown neighbourhoods and liven up every new infrastructure project.
I dare say more people visit the Central Library to take photos inside than to actually check out a book, and the similarly-styled National Music Centre is an architectural wonder.
Concrete facades in the East Village and along 17th Ave. have new life thanks to the vibrant street art, and who could forget that time the Hollywood prankster Steve-O climbed the Wonderland sculpture?
2) The sports
The electric energy of the 'C of Red' in the Saddledome is unmatched anywhere in the NHL, and there's no better spot to spend a raucous Saturday night than watching the Calgary Flames dazzle the fans during Hockey Night in Canada.
While a front row seat to see our beloved hometown team is usually the hottest ticket in town (or even the nosebleed section–let's be honest, they have way more fun up there), we know a thing or two about sports. I mean, we did host the actual Olympics in 1988, after all.
That means all year round there's some sort of sporting event, whether it's cheering on the Calgary Stampeders football team on a sunny Sunday at McMahon Stadium, or supporting the university-level Cougars, Trojans and Dinos. Oh, and didya know you can even ski or snowboard without having to leave the city limits, at Canada Olympic Park?
3) The outdoor spaces
Walking my dogs in River Park in southwest Calgary while admiring the views of our skyline as the Elbow River winds along the banks below is one of my favourite activities year round.
It's a special spot in every season; summer brings canopies of leafy green trees and groups of rafters floating in the water below, the fall colours pop in autumn, and winter means the crunch of snow underfoot against a bluebird sky as the cool air hits your face.
Calgary's large footprint means we're blessed with countless outdoor spaces, bike paths, parks, wetlands and nature preserves.
Local favourites include Nose Hill Park which occupies a staggering 11-thousand square kilometres in northwest Calgary, the River Walk through downtown and the East Village, Glenmore Park which loops around the reservoir, and Stanley Park thanks to its beach access and public pool.
It also doesn't hurt that it's almost always sunny out, even on the coldest winter days. In fact, Calgary has 333 days of sunshine per year, which is the most of any major Canadian city. Take that, Toronto.
4) Its proximity to the mountains
Speaking of the great outdoors, is there anything better than literally having the mountains in your backyard?
In just an hour or two you can be in the heart of the Rockies cozying up in a Canmore condo in front of the roaring fireplace, visiting iconic spots in Banff National Park like Moraine Lake and Lake Louise, hitting the slopes at Mt Norquay, Nakiska and Sunshine Village, or tackling the trails in Kananaskis Country.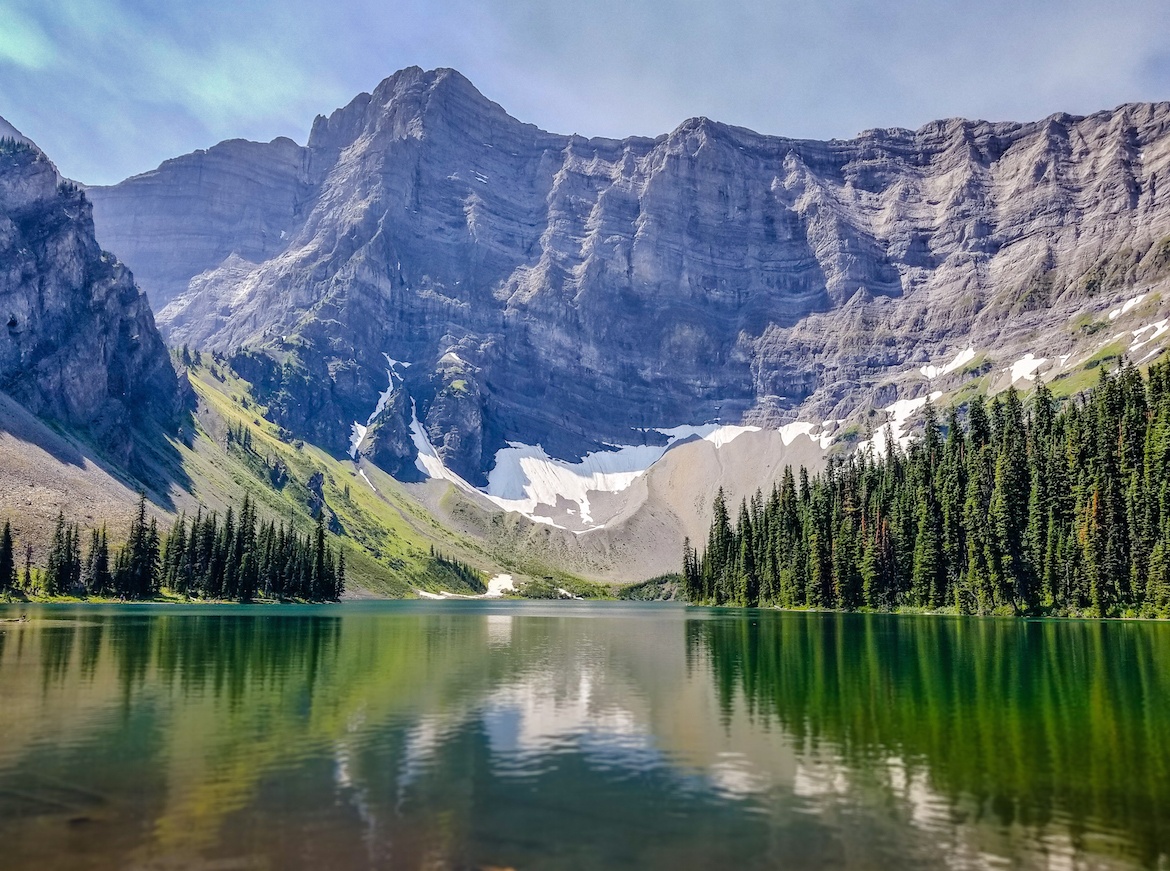 Some of my all time favourite hikes are Rawson Lake which has gorgeous reflections, Chester Lake for its jaw-dropping scenery, Upper Kananaskis Lake, and the family-friendly trails leading up to Grassi Lakes and Johnston Canyon which feature aqua-marine pools. Come fall, hiking through the larch valley when everything turns gold is absolutely legendary.
5) The food scene
Long gone are the days when there were just a couple of high-end steakhouses downtown. Calgary's food scene has absolutely exploded over the past decade, paving the way for elevated dining experiences at award-winning restaurants headed by top chefs at spots like Charcut, Rouge and Ten Foot Henry.
Places like Orchard Restaurant, Calcutta Cricket Club, Porch and LuLu Bar have absolutely nailed the decor, which means you'll probably spend more time marvelling at your surroundings and snapping pics than actually enjoying their inventive menus.
For more casual fare, head to Native Tongues Taqueria for #TacoTuesday, or head to Peters' Drive-In which has been serving up shakes since 1962.
Being the home of the Caesar (sorry Americans, we're not talking about a salad), we also know a thing or two about drinks around here. It seems like a new brewery pops up every month, cocktail bars like Proof and Bridgette Bar are go-to spots for clever concoctions, and there's no better place for an old fashioned than ONE18 Empire where they'll roll out a whiskey barrel and smoke your glass right on the spot.
6) The Calgary Stampede
The sight of city slickers-turned-cowpokes strutting down 17th Avenue in too-tight cowboy boots happens every July, when the Calgary Stampede rolls into town.
The so-called Greatest Outdoor Show on Earth kicks off on the first Friday in July with an hours-long parade, signalling the start of the midway, rodeo and chuckwagon races, parties at massive beer tents erected in downtown parking lots and a nightly fireworks show over the Stampede grounds.
Everyone gets to wear jeans, pretty much no one works (unless you count drinking your weight in beer all day with your clients as 'work'), and nearly every corner of the city is transformed from flippin' flapjacks at a neighbourhood pancake breakfast, to the lineups of cowboys and cowgirls trying to sneak their way into VIP lines at the party tents. Say what you will about the notorious Cowboys Dance Hall, but there's no denying it's a heck of a good time.
The revelry lasts for 10 days, though festivities including Sneak-a-Peek often stretch the Stampede a few extra nights. But who's counting?
7) The culture
With western roots and a long history as an oil town, let's just say Calgary wasn't exactly giving places like Paris a run for its money in the culture department. That all changed in the 2000s, when an arts revival took place and even led to the city being named as Canada's 'Culture Capital' in 2012.
Now, you'll find live music nights at spots like the King Eddy and Ironwood Stage & Grill in Inglewood, the National Music Centre at Studio Bell, and people descending on Prince's Island Park in droves for the annual Calgary Folk Music Festival.
8) The random fun things to do in Calgary
Zipping along the pathway on a scooter, ice skating at Olympic Plaza under the glow of sparkling Christmas lights, leisurely floating down the Elbow River on a hot summer day, and afternoon high tea parties at the Fairmont Palliser hotel.
These are just a few of the unique, fun things to do in Calgary for all ages, which makes it impossible to get bored here (yes, even in the dead of winter).
Like, did you know that Hotel Arts has an outdoor pool with a retractable, inflatable roof that means it's open year round? Or that you can take a thrilling, high-speed ride down the actual Olympic bobsled run at WinSport? If that sounds like a bit much for you, the park also has mini golf, a zipline and the Skyline Luge which is like real-life Mario Kart and basically the best thing ever.
I also highly recommend taking a ride up to the 360-degree observation deck at the Calgary Tower, which has incredible views of the entire city and a glass floor you can walk on if you're brave enough. It may seem like a tourist trap, but I actually think that if you're local you get even more out of the experience since you're able to properly appreciate everything you're looking at.
9) The shopping districts
Calgary doesn't mess around when it comes to shopping (I'm looking at you, Chinook Centre), and along with big name brands there are also hundreds of boutique shops in Kensington, Inglewood, and along 17th Avenue, Stephen Avenue and 4th Street SW.
I always make a beeline for The Livery Shop and Plant (crazy plant mama here) when I head to Inglewood which are some independent, local favourites. Oh, and if you're visiting from the USA everything is 30 per cent cheaper thanks to the exchange rate!
10) The community spirit
Finally, what I love most about Calgary is the community spirit.
We may live in a big, fast-paced city, but when push comes to shove it feels like we're all just small town folks looking to lend a helping hand. Frankly, we don't actually have a choice since we'd never be able to get anywhere if we didn't spend entire mornings pushing each others' cars out of four-foot high snow banks…but that's a story for another day. Anyway, the point is we really like to help each other out, and us Albertans have the second highest national volunteer rate.
At no time is this more apparent than when tragedy strikes. Who could forget the devastating flood of 2013, when more than 100,000 people were evacuated from their homes and raging waters damaged thousands of homes.
For weeks, complete strangers showed up on doorsteps with shovels to dispose of debris, cleaned out their own closets to donate to families who had lost everything, and brought fans to try and dry off beloved keepsakes like family photos. I honestly still tear up thinking about that summer.
Calgarians rally together during the best of times too: I'll never forget how fun the spring of 2004 was when the Calgary Flames made a surprise Stanley Cup run, and tens of thousands of ecstatic fans transformed the entire 17th Ave. strip into the 'Red Mile' after every win. The crush of people cheering at the top of their lungs for hours, high-fiving everyone around them, the honking horns and chanting ('shirts off for Kiprusoff!') made international headlines.
It was absolutely incredible to be part of, and just one of the many, many reasons I love my hometown, Calgary.
Globe Guide shared her love of Calgary in collaboration with Tourism Calgary. You can find more tips about planning a trip to Calgary here.
YOU MIGHT ALSO ENJOY:
SHARE THE PINSPIRATION! CLICK THE IMAGES BELOW TO PIN: