2022, you were a whirlwind.
I saw polar bears, lions, penguins, elephants, a leopard and walked up to a trio of cheetahs. Yes, apparently that's a thing you can do?!
This post may contain affiliate links, which Globe Guide receives compensation for with each click or purchase at no additional cost to you. Thanks for your support!
Took a dream trip to Fiji. Bought a house. Partied at an Offspring concert—twice!
Explored 9 countries. Paraglided. Went on my #1 bucket list trip to South Africa (and cried the happiest damn tears you ever did see).
Had oh-so-many heart to hearts. Won awards, and Globe Guide had its biggest year yet. Lost Dudley.
Kayaked with belugas. Moved back to Canada. Saw first-hand the power of manifesting, journaling and vision boards. Fell in love with my first love, all over again.
Here's my top highlight from each place I explored this year–wishing you all a great 2023 ahead!
Hawaii
SUPing with giant sea turtles. Need I say more?
Fiji
The most common question I get as a travel writer is 'what's your favourite place you've ever been to?' And I could never answer that until now–Fiji!
Romantic resorts, sailing alongside dolphins, the kindest people, idyllic beaches, gorgeous sunsets…the list goes on and on. Truly the most special place. Here are more deets about why I think it's so bloody amazing.
Bonaire and Curacao
After visiting Aruba a couple years ago, I had the itch to finish off the ABC islands so off we went to Bonaire and Curacao.
It's incredible how unique each island is despite being so close, and I loved the chill, somewhat undiscovered vibe of Bonaire and it's unexpected treasures like pink lakes, flamingos and blokarting!
Over on Curacao, we tracked down the island's best beaches (tough assignment, I know) and also managed to convince the only bar in the country that was showing the NHL playoffs to stay open all night so we could cheer on the Flames.
We won in OT, thank God.
Alaska x 2
Not only did I make it up to Alaska this summer for the first time ever…but I got to go a second time just a couple of months later! So many highlights to share, but the top one was probably a breathtaking flightseeing tour over Denali National Park.
Also, so rad to experience a place where the sun doesn't set during that time of year.
Icefields Parkway, Alberta
My sister and I got to test out a new Nissan Rogue on this trip up Alberta's scenic Icefields Parkway (I actually drive a 2008 version, so this was a sweet upgrade!) and write all about it for Reader's Digest.
My fave part of the whole trip was hopping in a huge Ice Explorer and driving right onto the imposing Athabasca Glacier, walking around on it and filling up our water bottles with glacier water!
Manitoba
A trip up to Churchill, Manitoba was on my bucket list, and there are only about two months a year where you can see both polar bears and belugas which is why I timed my trip up north for summer. Not only did I get to see both, but the friendly belugas even bumped up to the bottom of my kayak!
Ireland
I adore finding unusual, quirky things to do in each destination, and this trip fit the bill. We started off with a seaweed bath, went surfing (who knew that was a thing in Ireland?!), rappelled down sea stacks and even found a sauna perched right on the beach!
Oh, and my fave travel buddy Andrea joined me on this one too, which made the trip even better!
Wales
One of my besties moved across the pond (*sob*) so obvs I was one of the first to head over and check out her newly-renovated digs. The best day was our last one together, where we headed out to Brecon Beacons National Park for the most gloriousssss hike, then spontaneously decided to do a whole other hike afterwards in the searing heat to the aptly-named Four Waterfalls trail.
Exhausting? Yes. Worth it? Always.
England
Did not have England on my 2022 bingo card but here we are. I ended up here a couple of times during the Wales trip, because apparently there aren't a lot of tour operators in Wales and you def need a car (learn from my mistakes, people).
So onto the train I went, straight to the elegant, limestone city of Bath which has a UNESCO designation. The main draw is the Roman Baths, and became more recently known as the filming location for the steamy TV series Bridgerton.
Nova Scotia
One of my favourite campaigns this year was with Tourism Nova Scotia, who said 'here are your hotel reservations and the car keys, now go explore!'
I hit the road for a solo road trip to track down the best places to enjoy fall in the Annapolis Valley, and get to spend as much time as I wanted photographing the coastline and farmlands, playing in a pumpkin patch and of course, sampling all the fantastic wine. 10/10 recommend this region for an autumn trip!
Tennessee
Ah Tennessee, one of my fave states. This was my third visit here in just five years, and every time I make a stop in Franklin which is just the gosh darn most charming city you'll ever see.
This time, we timed the visit for the Pilgrimage Festival where we got to check out some incredible acts like Chris Stapleton, Lennon Stella (love her!) and a high-energy set from Jon Batiste. Just wow.
Napa Valley
Since apparently all I do now is cover concerts and booze, my buddy Eric invited me to help him out with a campaign at an exclusive wine + music festival that happens in Napa every year called Live in the Vineyard. Umm hello, I booked my flight immediately.
Every artist's set was truly so, so special and intimate, and gave me a whole new appreciation for all the heart that goes into songwriting and the hard work that goes into making sure we get to hear it.
I have about 100 new songs on my Spotify as a result, some new pals (oh hiiii O.N.E. The Duo who are the sweetest gals ever), and oh yeah the wine was pretty good, too.
South Africa
This dream trip came together incredibly last-minute. I saw a sale on a tour package departing two weeks later, spontaneously booked it and then some of my family members found out and wanted to come along for the adventure too!
That's how I ended up on my sixth continent and first trip to Africa. And holy cow it absolutely lived up to my wildest dreams.
Spotting the Big 5, glamping at a swish safari lodge, seeing the penguins on Boulders Beach and even paragliding over Cape Town. So many bucket list checks on this trip, and an epic way to finish the year.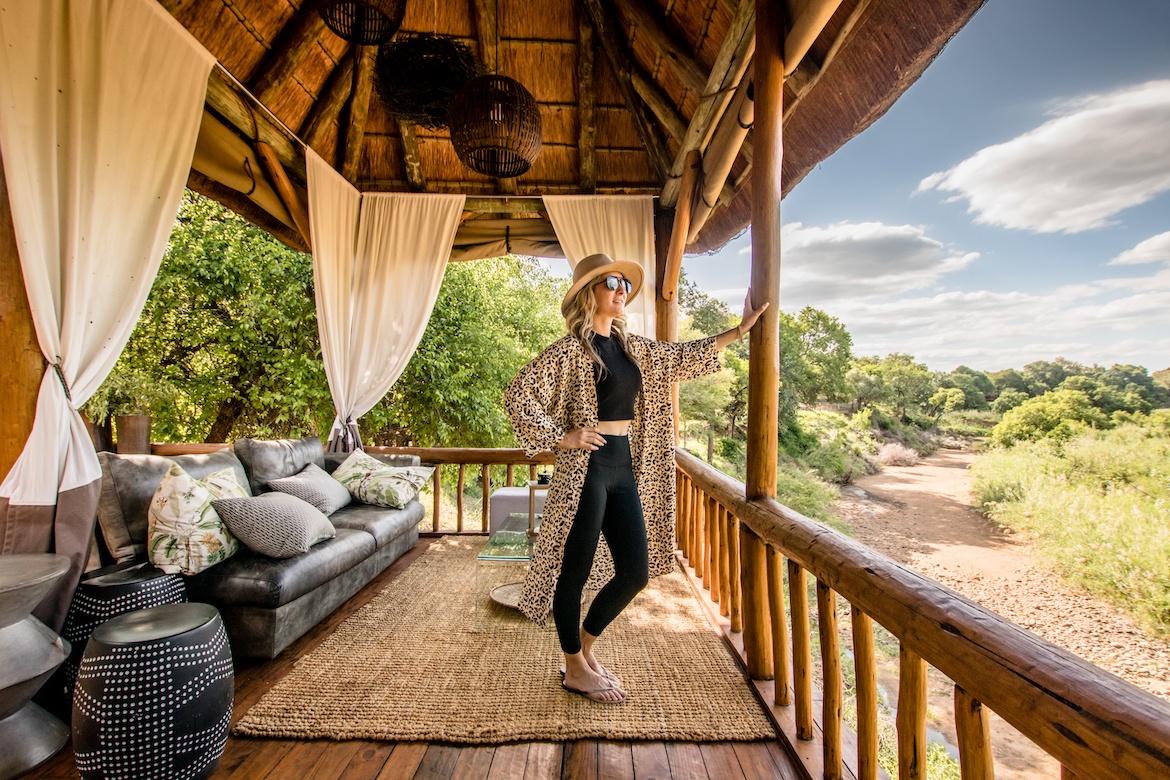 2022 travels by the numbers:
Countries: 9– USA, Canada, Fiji, Curacao, Bonaire, Wales, England, Ireland, South Africa
Flights: 47
Travel days: 105
YOU MIGHT ALSO ENJOY: