This post may contain affiliate links, which Globe Guide receives compensation for with each click or purchase at no additional cost to you. Thanks for your support!
If travelling to 14 different countries on four continents in a single year sounds insane, try doing it while rockets are being launched at your hotel.
Yup, that legit happened right as I landed in Tel Aviv, Israel one March night (thanks, Hamas), which was a rather unnerving way to kick off my first trip into the Middle East–travelling solo, no less. A flood of tears and frantic phone calls from family ensued, as I maniacally scanned news reports to try and figure out if there was danger of another airstrike. Over the next few hours I rearranged all of my travel plans and booked a flight out of the country set to leave at noon the next day, before finally falling asleep around 4 AM to try and catch a few hours of sleep before heading straight back to the airport.
What a difference a day makes. I woke up a few hours later to find the sun shining, everyone going about their business as usual, and was like…'wait, I don't want to leave!' I ended up changing all my plans AGAIN, and stayed put for the next week crossing off bucket list items like swimming in the Dead Sea, exploring the fun, vibrant city of Tel Aviv, petting camels and touring biblical spots like Nazareth and the River Jordan. Proof that sometimes even in the bleakest situations, everything usually works out as it's supposed to in the end.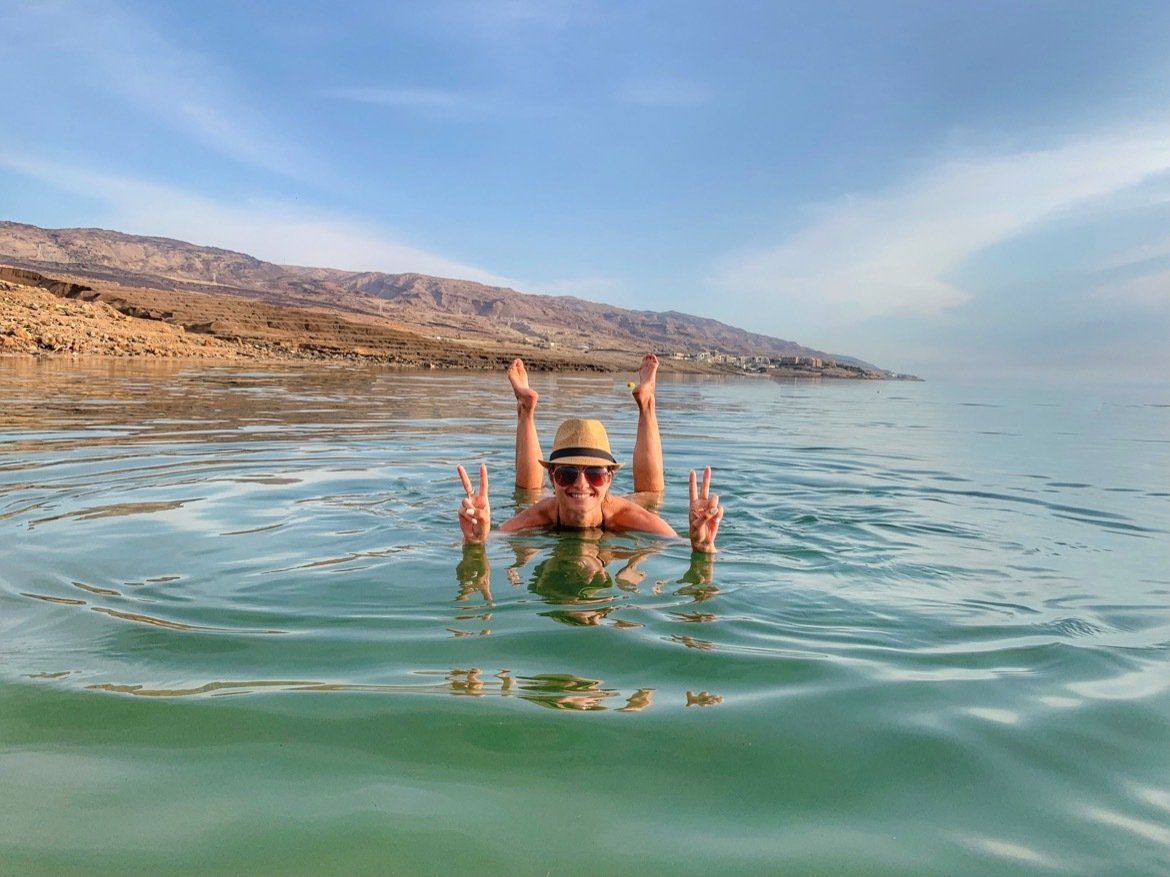 That's just kind of crazy year 2019 ended up being. It was also my first full year as a full-time travel writer which, combined with a moving/visa situation, meant I was on the road more than I've ever been–122 days in fact. Interestingly, out of the 14 countries I explored only five were places I hadn't been before, which is highly unusual for a country counter like myself. It was awesome to properly explore places like Grenada and Prague which I'd previously only seen during quick day trips, and fall in love with them all over again. Here are some of my highlights of 2019.
Bungee jumping in Costa Rica:
That time that I found out what I thought was a zipline tour through the serene cloud forest actually included a bungee jump…NOT COOL when your biggest fear is falling! Here's how that turned out.
Road tripping through Ireland:
The weather was god-awful (of course it would snow the same morning the Canadians arrived), but the fabulous company during my trip to Ireland more than made up for it…I can't remember the last time I laughed that hard, that many days in a row! Plus, it turns out that staying overnight in castles is badass, and the scenery was pretty darn incredible too:
Crossing the Panama Canal:
My honey and I went on a fantastic adventure cruise through Costa Rica and Panama with UnCruise, which included a chance to sail through the Panama Canal– holy bucket list! Even though our crossing didn't start until sunset and lasted throughout the night (read: we were sound asleep for most of it), it was a cool experience to watch our captain expertly maneuver through the crowded harbour and see the lock systems up close.
A glimpse of Palestine:
My week in Palestine wasn't exactly a seamless experience (let's just say the bedouin camp where we slept on a thin mat on a slab of astroturf in a plywood structure didn't make it on my 'top hotels' list…did I mention it had a UN sign on the front warning the government not to bulldoze it down?). But on the plus side, I ended up making some great friends on that trip, and we still laugh about some of the epic fails. Like having to e-bike through the crowded, cobblestone streets of Bethlehem in nerdy sunshine-yellow safety vests with a huge police escort. So subtle.
Conquering the Jordan Bike Trail:
Oh, where do I even begin with this adventure? Perhaps it was the stunning sites (oh hey Petra and Wadi Rum), the great company, or successfully completing a tough challenge (guys, have you ever cycled across a COUNTRY before!?). All I know is the couple of weeks I spent in Jordan was an experience I'll never, ever forget.
A quirky trip through Czechia:
I drank out of a gnome. And took a beer bath. And toured a church decorated entirely with human bones. So yeah, I guess you could say my week in the Czech Republic was pretty cool.
Going glamping:
You've probably figured out by now that I'm a huge fan of glamping, but this year I took it to another level by staying in four different set ups in three countries this fall. From an airstream in Arizona to tents in the stunning Canadian Rockies and a Montana dude ranch, all of them had serious wow factor. Oh, and how about this one perched under a castle in the Czech Republic?!
Beach bliss:
Thanks to doing not one but two adventure cruises through the Caribbean this spring, I got the chance to relax on some ahhh-mazing beaches that are normally really tough to get to. My faves were the San Blas Islands in Panama which are inhabited by the indigenous Kuna Yala tribe, Michaels Rock Beach in Guanaja, Honduras where the water was such an intense cerulean blue it felt like we were swimming in an infinity pool, Panama's Granito de Oro which looks like a postcard, and the Rosario Islands in Colombia where I drank a pina colada out of a pineapple bigger than my head!.
Partying at Hot August Nights in Lake Oswego:
Every summer, the fortunate folks who are lucky enough to live around this private lake near Portland, OR gather for a night of absolute debauchery called Hot August Nights, and this year I snagged an invite. Everyone anchors their boat to a dock in the middle of the water and proceeds to drink copious amounts of rosé while hopping into each other's vessels, rocking out to a live band, or even jumping into the water with all their clothes on and swimming over to the floating stage (which usually turns into a sinking stage by the end of the night). So now you know how rich people do pub crawls.
Relaxing in Grenada:
My final trip of the year just so happened to be one of the best, where I got to spend a week at the luxurious Sandals Resort in Grenada. With fun excursions, incredible rooms, butler service (!!) and even an infinity pool attached to our room, it was the perfect place to enjoy being seriously spoiled.
There you have it, my fave travel moments of 2019!
By the numbers:
Countries explored: 14- Costa Rica, Panama, Ireland, Israel, Cyprus, Jordan, Colombia, Honduras, Belize, Mexico, Czech Republic, Grenada, Canada, USA
Travel days: 122
Number of flights: 41
Favourite trip: Grenada wins this one, because helllllo butler service and private infinity pool!
Biggest fails: That time I blew out my knee by riding a bike across Jordan (still hasn't properly recovered), experiencing an airstrike, or being violently seasick throughout an entire Caribbean cruise.
Bucket list accomplishments: 4- Float in the Dead Sea, explore the ancient city of Petra, sail through the Panama Canal, see Ireland's famous green hills.
YOU MIGHT ALSO ENJOY:
Globe Guide's top 18 adventures of 2018
Globe Guide's 2017: Epic adventures and some seriously deep thoughts
Globe Guide's 2016: Karma, a new gig and a whole lot of Canada